Easy Chicken Fried Rice
Savor the extraordinary and delightful flavors of Easy Chicken Fried Rice, a mouthwatering dish crafted with minimal effort and just a handful of simple ingredients. Embrace the ease and relish the homemade goodness of this delightful meal today!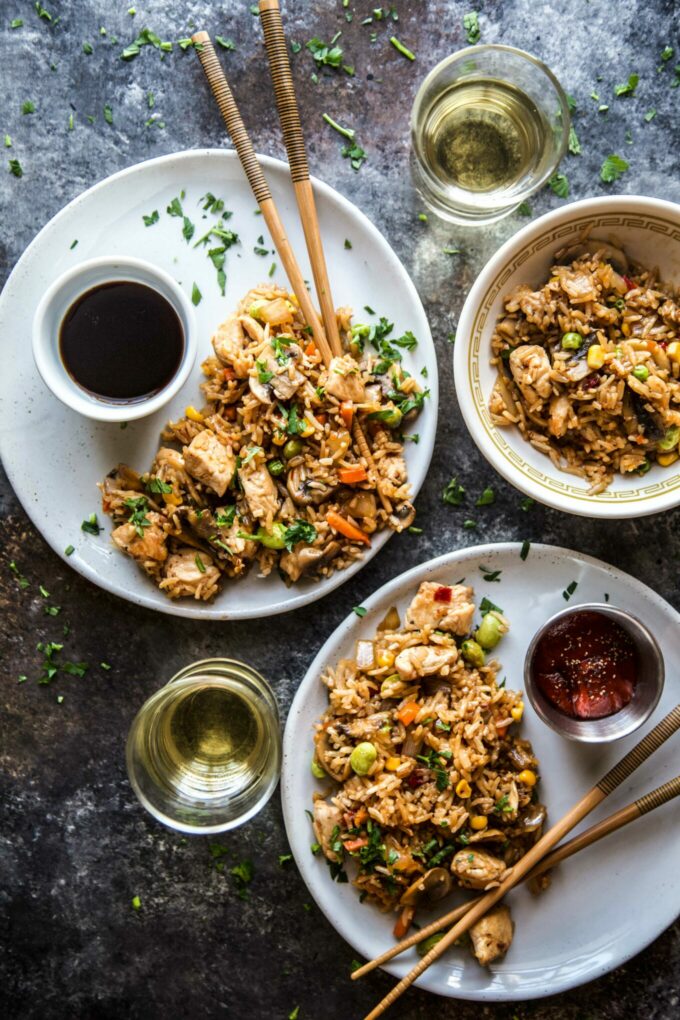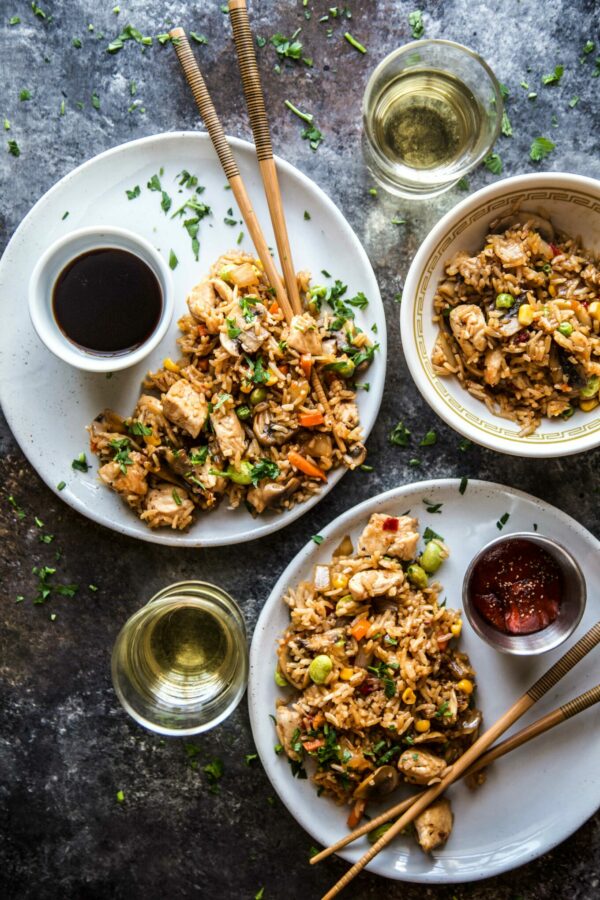 Howdy!
How was your holiday weekend? Better yet, what did you make? I hope y'all were able to get your hands on some marshmallow peeps!
Easter was very strange with the whole social distancing and SNOW situation. I really can't complain though. I got to be with my family, eat some delicious food, and laugh with Charlie because she thinks she is hysterical.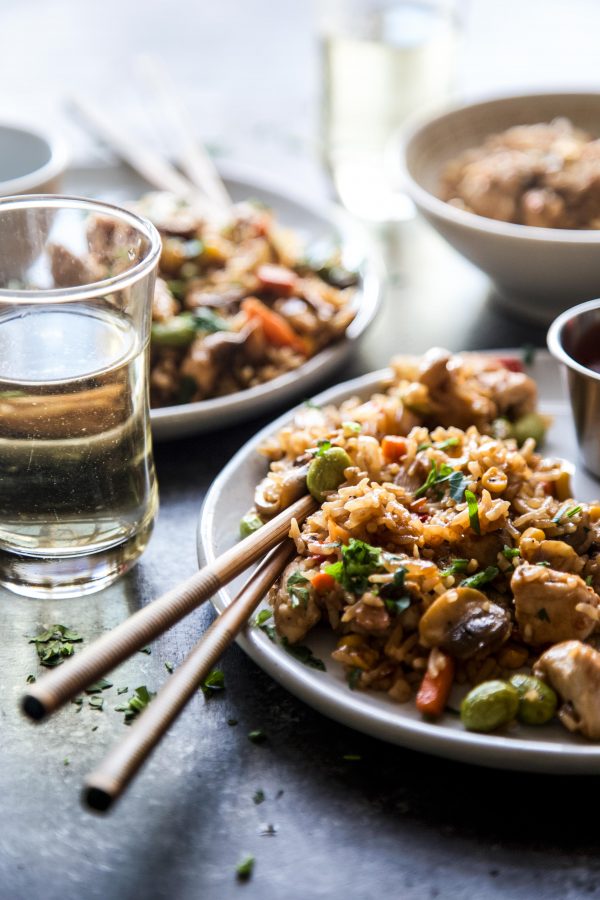 Also, homegirl has discovered that she can yell really loud for long periods of time. She's not in pain or needing attention, she just yells. Is that a thing? I'm hoping it will pass once she's mastered that skill. That might be wishful thinking.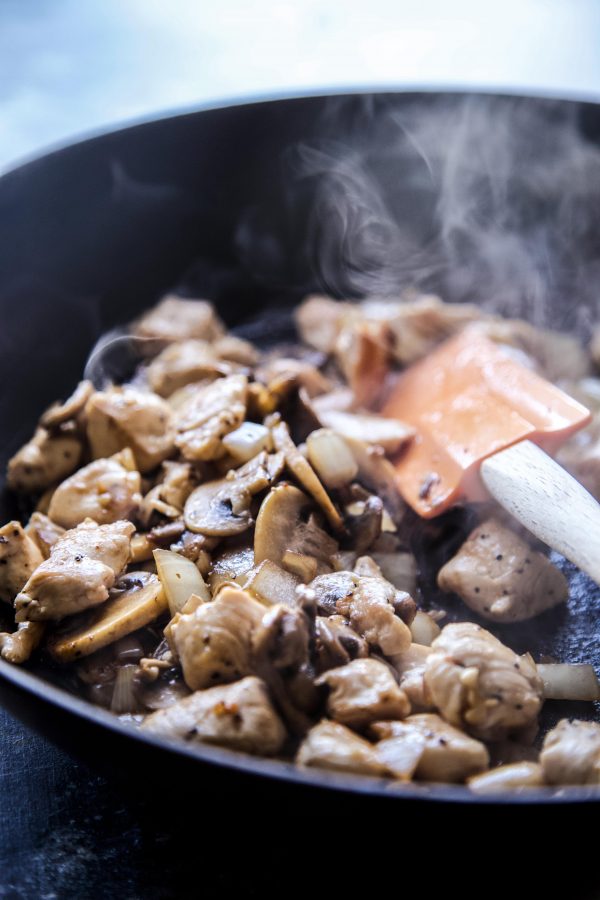 Anyway, it's another day of quarantine. Does anyone else feel that with the stay-home order that Monday's feel worse? Like saying, "I have a case of the Mondays" doesn't even cover how grumpy I've been feeling lately. Is that just me? Sweet.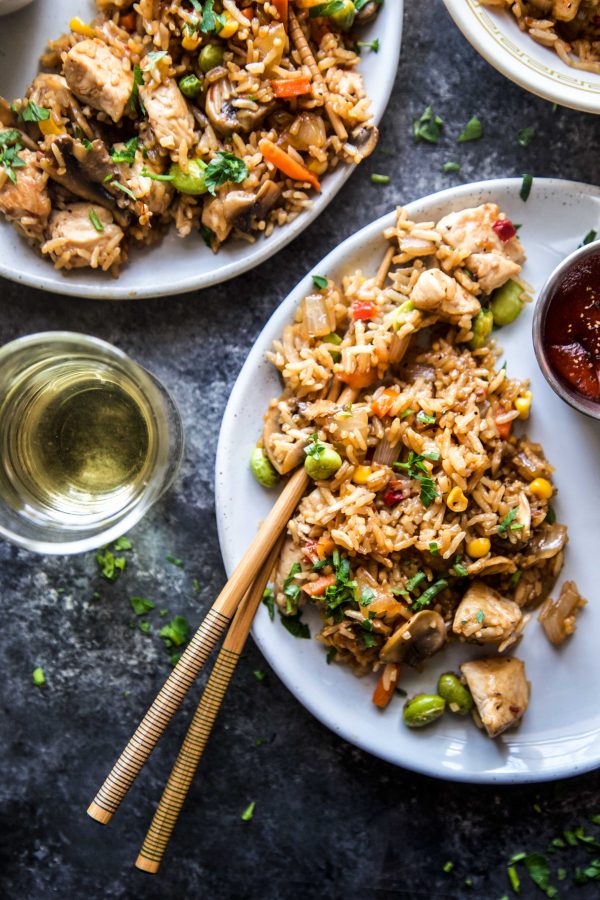 Well, I hope today's recipe will put a little pep in our step. I know we are supposed to be ordering out to help keep restaurants open, but I must say this Easy Chicken Fried Rice is better than any take-out. GASP!
This is a great recipe to use up leftover rice or chicken. Plus, with the quick sauce it tastes luxurious. But! Whatever you do make a big a$$ batch because this Easy Chicken Fried Rice will go fast!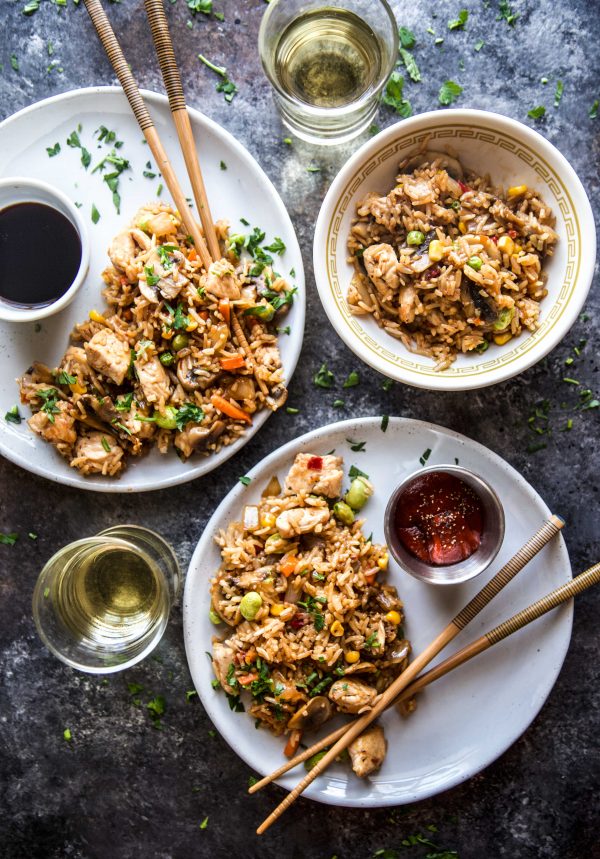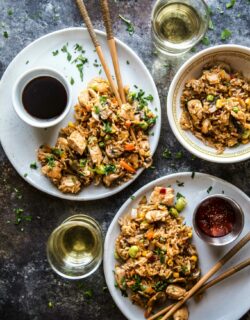 Easy Chicken Fried Rice
Ingredients:
1/4 cup soy sauce
2 tbsp toasted sesame oil
2 tbsp hoisin
1/4 tsp red pepper flakes
2 tbsp olive oil, divided
1/2 lb boneless skinless chicken thighs, cut into 1-inch cubes
2 cups baby bella mushrooms
2 cups spinach
1/3 cup frozen or fresh peas
2 garlic cloves, minced
4 cups cooked rice
Fresh cilantro, basil or parsley, for garnish salt and pepper to taste
Directions:
In a small bowl combine the soy sauce, toasted sesame oil, hoisin, and red pepper flakes. Set aside.
In a large skillet preheated to medium-high heat, add 1 tbsp olive oil, chicken thigh cubes, salt, and pepper. Saute the chicken until golden brown and cooked through about five to seven minutes. Remove chicken from the skillet and set aside.
In the same skillet as the chicken add the remaining 1 tbsp olive oil, mushrooms, salt and pepper. Saute the mushrooms for a few minutes and then add in the spinach, peas,garlic, salt, and pepper. Keep cooking for a few more minutes. Next, add in the chicken, rice, and reserved sauce. Stir everything together and cook until heated through about five minutes.
Divide the rice among four bowls and garnish with fresh herbs!
All images and text ©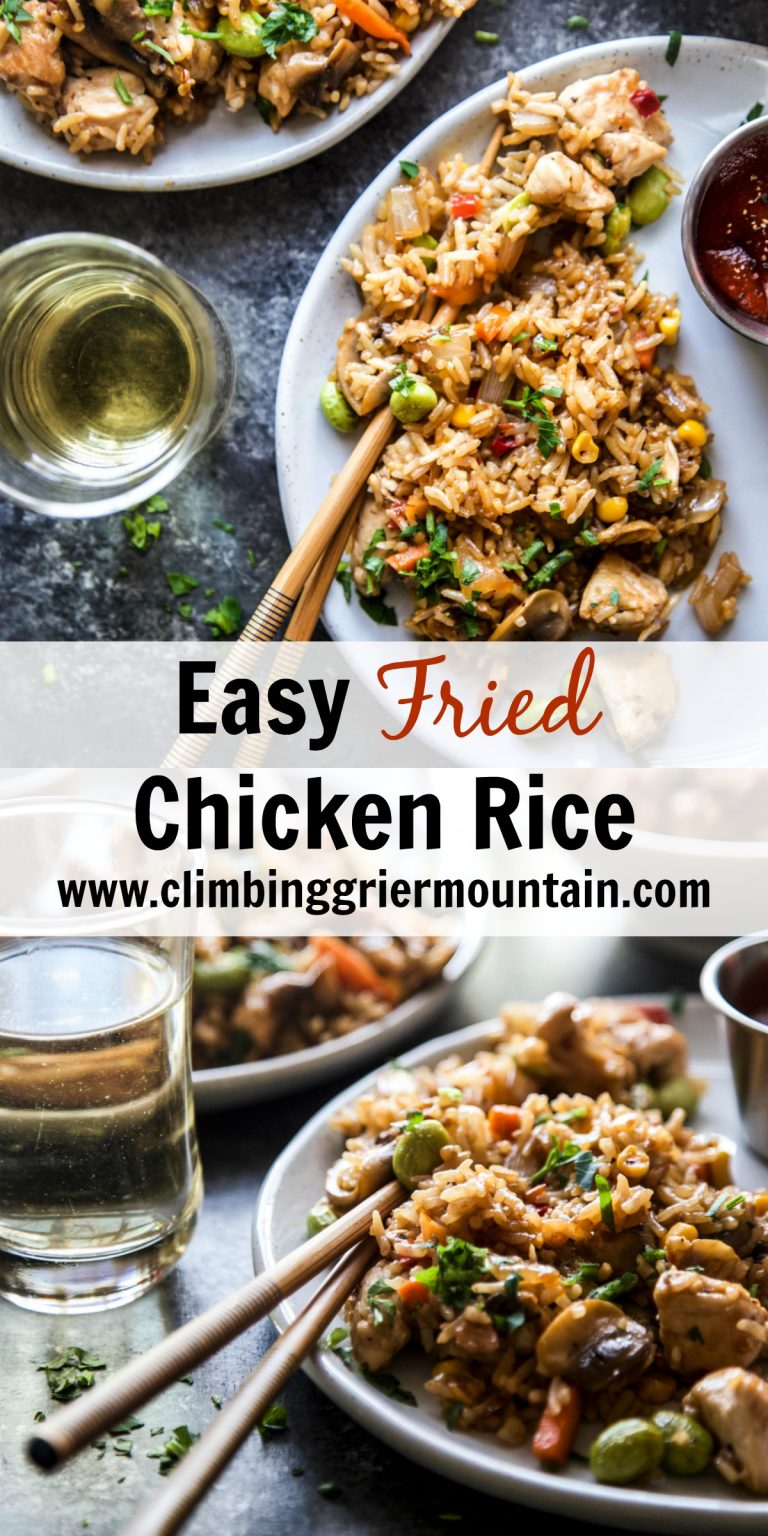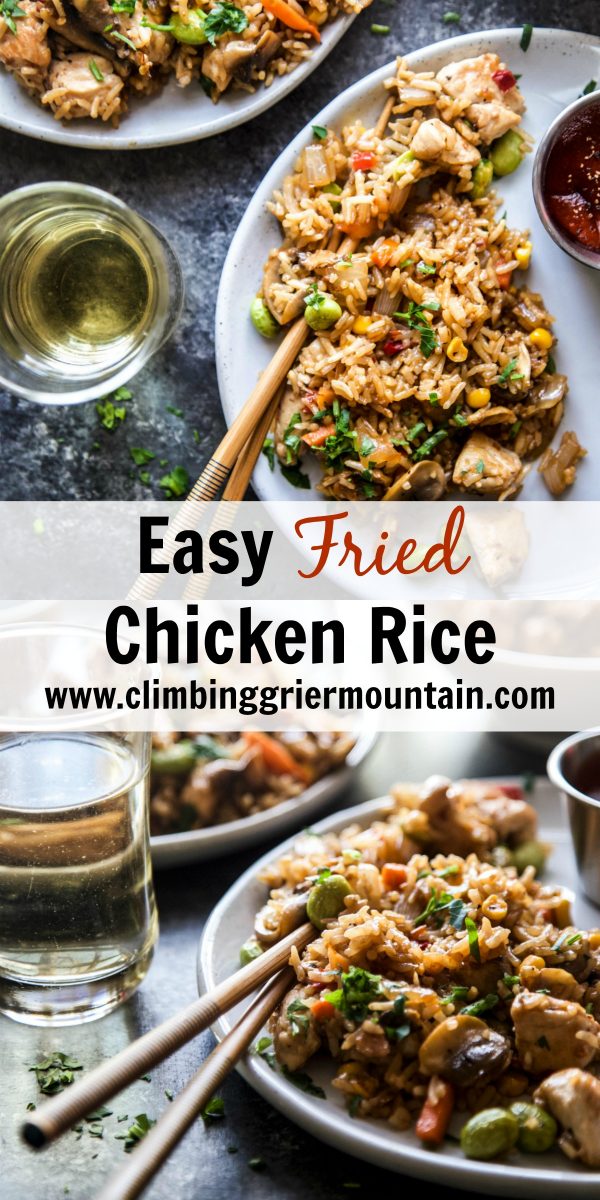 In summary, Easy Chicken Fried Rice is your answer to a hassle-free, flavorful meal. Its simplicity and deliciousness make it the ideal choice for a quick and satisfying homemade dinner. Enjoy the convenience and taste today!