White Mushroom Pizza with Crispy Pepperoni
White Mushroom Pizza with Crispy Pepperoni is an easy, cheesy meal that's full of flavor!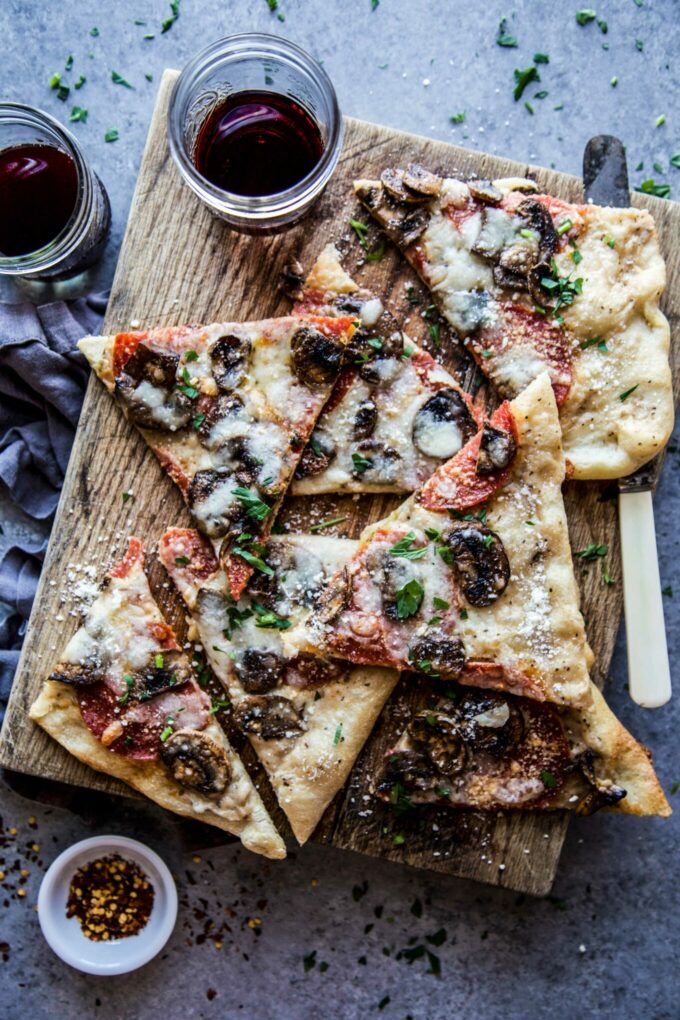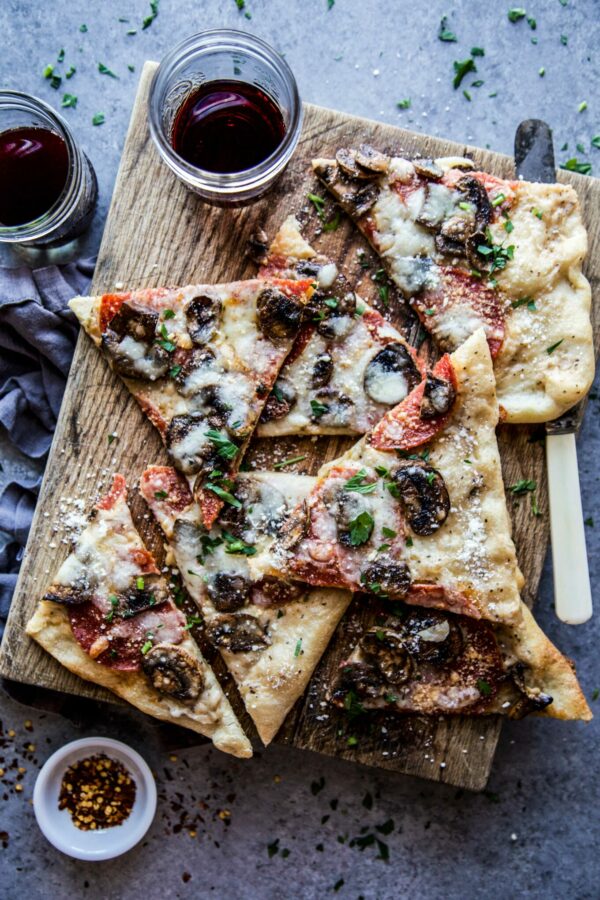 Fact: there's never a wrong time for pizza.
I'd be curious to know how many pizzas were delivered in the U.S. in March? The number has to be crazy high, right?
I'll be the first to admit that we've ordered our fair share of pizzas. If Carl's (our local pizzeria) went out of business I would cry! Their crust is extraordinary. No, really. I don't know how they do it, but it's the perfect balance between thick and thin. Just thinking about it makes me want to order a pie!
Curious, what else have you guys been ordering out? Or are you still cooking a bunch at home? I will say it's been super fun to watch folks try to use up ingredients in their pantry. The creativity alone has been inspiring!
Which is how I cam up with this White Mushroom Pizza with Crispy Pepperoni. I had mushrooms that were going bad, I had a spoonful of all-purpose flour left, and packaged pizza dough that was just staring at me. What to make? What to make?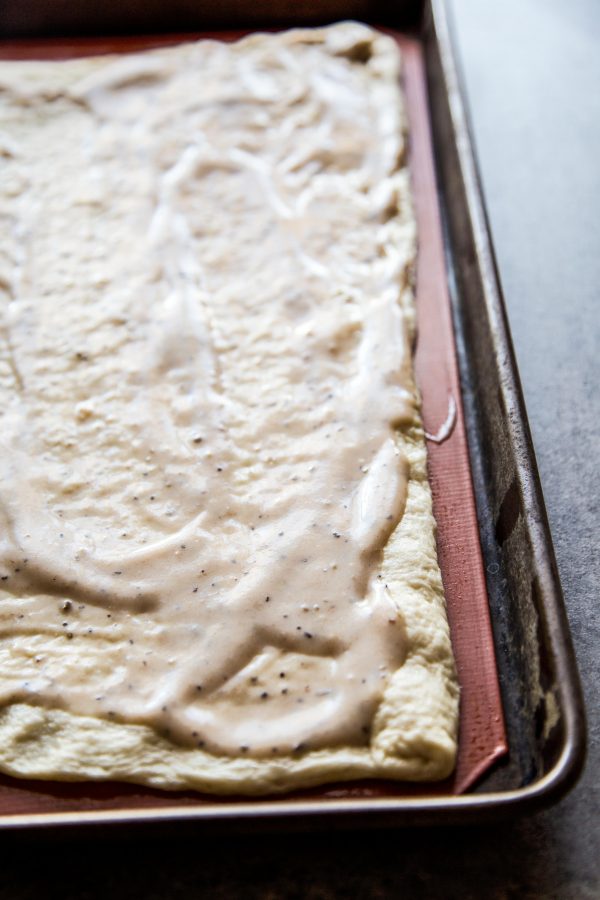 BAZINGA. I know! I am always using a red sauce as a base for my pizza. BUT! You guys, white sauce is sooooooooo much better. It's made exactly like a gravy only you add a copious amount of cheese at the end. As Ina Garten would say, "how bad could that be?"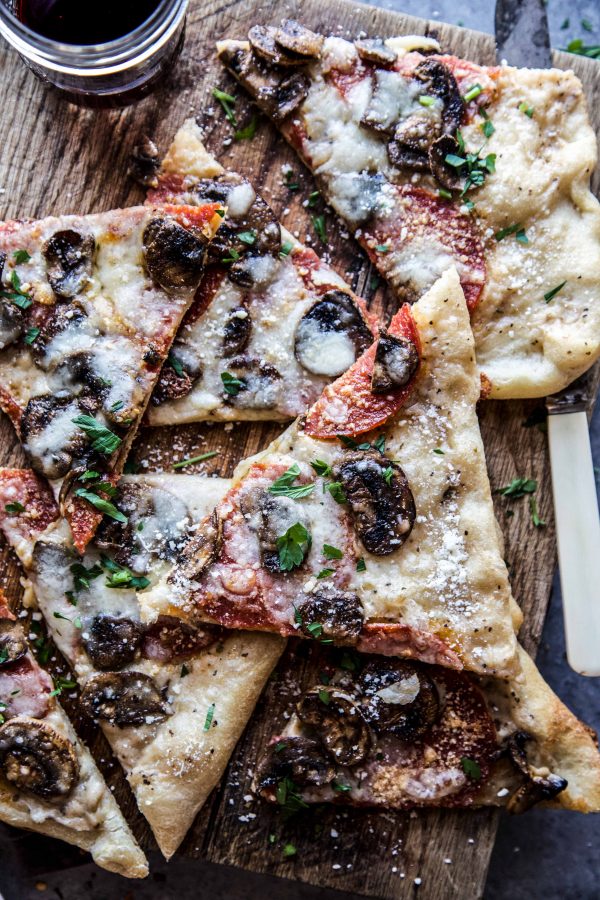 This pizza is quick, easy and so delicious! Again you can swap out the toppings for whatever you have on hand. I'm telling you this white sauce is a game changer!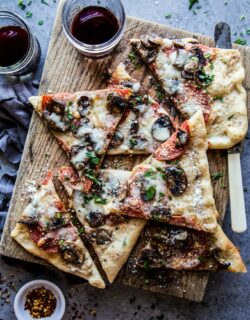 White Mushroom Pizza with Crispy Pepperoni
Ingredients:
1 pkg pizza dough or homemade
1 tbsp unsalted butter
3 tbsp all-purpose flour
1 1/4 cups whole milk
1/2 tsp garlic powder
1 tsp Italian seasoning
salt and pepper to taste
8 oz baby bella mushrooms, cooked
8 to 10 slices pepperoni
1 cup shredded mozzarella
1/2 cup finely shredded Parmesan, divided
Directions:
Preheat the oven to 400 degrees. Spray a baking sheet with non-cook sticking spray or use a slipmat.
Roll the pizza dough into a 9X13 rectangle. Partially bake the crust for about six to seven minutes. Remove from the oven and set aside.
Meanwhile, preheat a medium skillet to medium high heat. Add the mushrooms and cook for a minute or two. Next, add a little bit of olive to the skillet with some salt and pepper. Continue to saute the mushrooms until golden brown. Remove from the skillet and set aside.
In the same skillet as the mushrooms, melt the butter over medium heat. Add in the flour and begin to whisk. Keep whisking until a roux forms about a minute. Gradually pour in the milk, keep whisking. Turn the heat to a medium low and keep whisking until slightly thickened about four minutes. Stir in the garlic powder, Italian seasoning, 1/4 cup Parmesan cheese, salt, and pepper. Keep whisking until desired consistency is achieved.
Take the sauce and spread it on top of the pizza crust leaving a one-inch border all the way around. Top the white sauce with pepperoni slices, sauteed mushrooms, shredded mozzarella, and 1/4 cup Parmesan cheese. Bake the pizza for about 15 minutes or until golden brown. Remove from oven and slice and enjoy!
All images and text ©