Hotel Boulderado: A Hotel Review
Hotel Boulderado: A Hotel Review. Located in downtown Boulder, Colorado this historic hotel boasts over 160 rooms, fine-dining restaurants and prime location for shopping!
Two weeks ago I headed north of Denver on an easy 30-minute drive to Boulder.
Boulder is home to University of Colorado, Flatiron Mountains, fine-dining, boutique shopping, and the historical Hotel Boulderado. I had the opportunity to stay at the Hotel Boulderado for a night; and, since this was my first time staying at this hotel, I didn't know quite what to expect.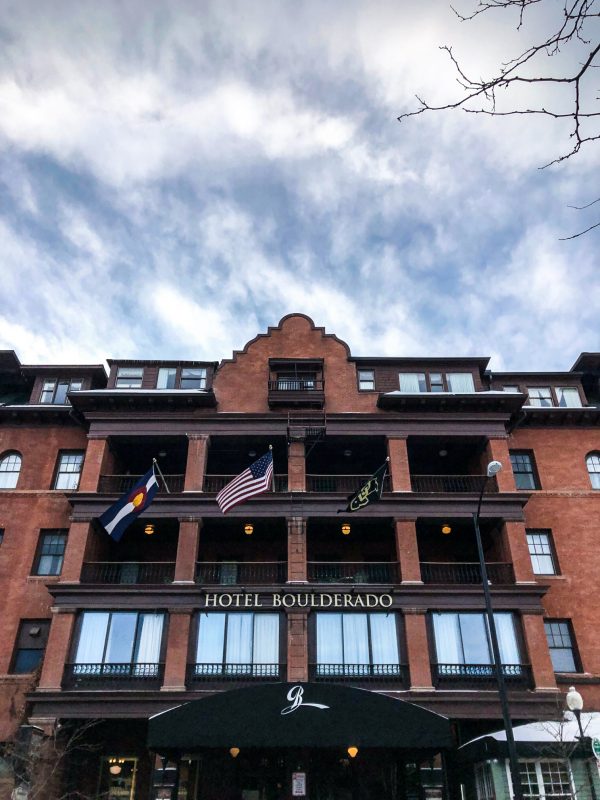 I arrived in the afternoon and found the hotel to be situated in the best location possible – one block away from the famous outside pedestrian mall called Pearl Street. To say I was excited to shop is an understatement.
Before I hit Pearl Street, I checked into the hotel. I chose to valet my car since parking is a little tricky in downtown Boulder. The hotel lobby makes a remarkable first impression with this gorgeous ornate ceiling. Hotel Boulderado first opened its doors on New Years Day in 1909! Listed as a Historic Hotel of America, another charming feature is the original Otis elevator that is still in operation!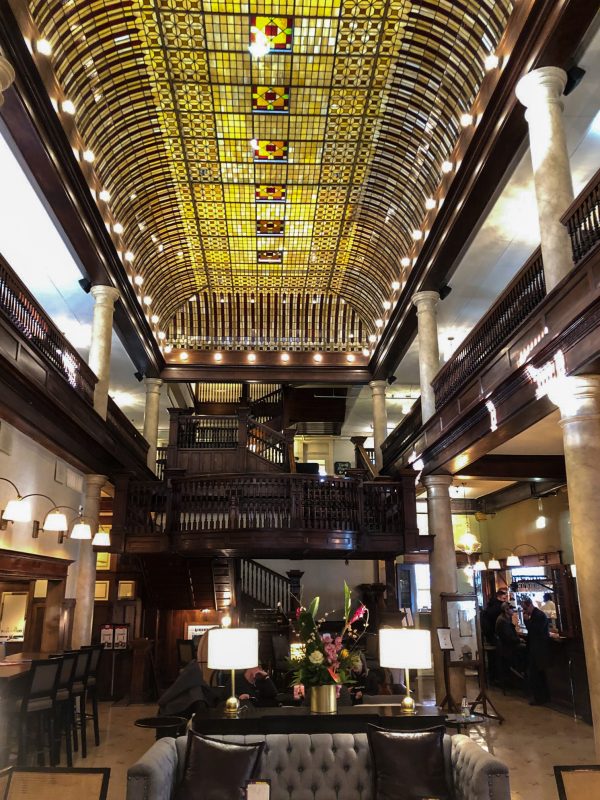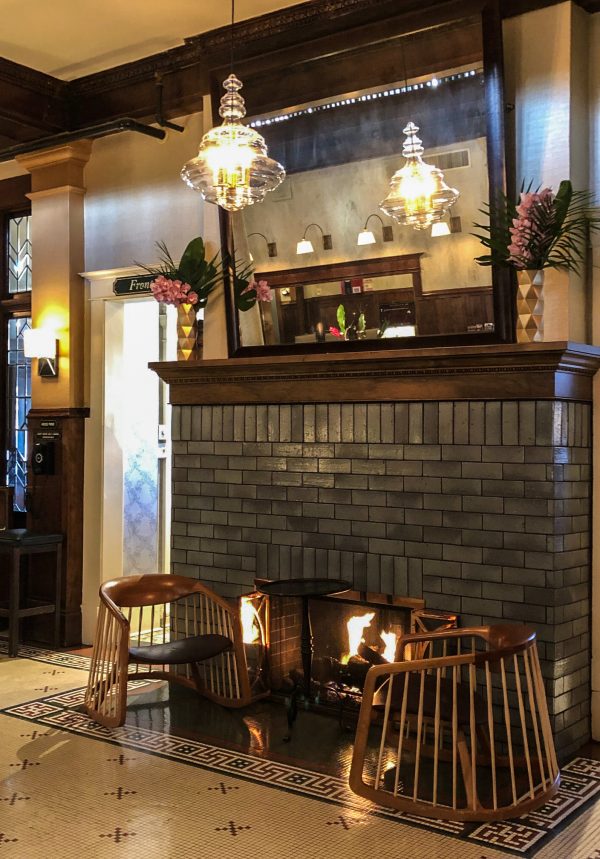 After I received my room key, I walked up to my Victorian-style suite on the third floor. After a renovation, half of the 160 rooms were converted to a modern rustic mountain style, and the others maintained their true Victorian charm. My historically Victorian room included a parlor greeting area complete with a dining room.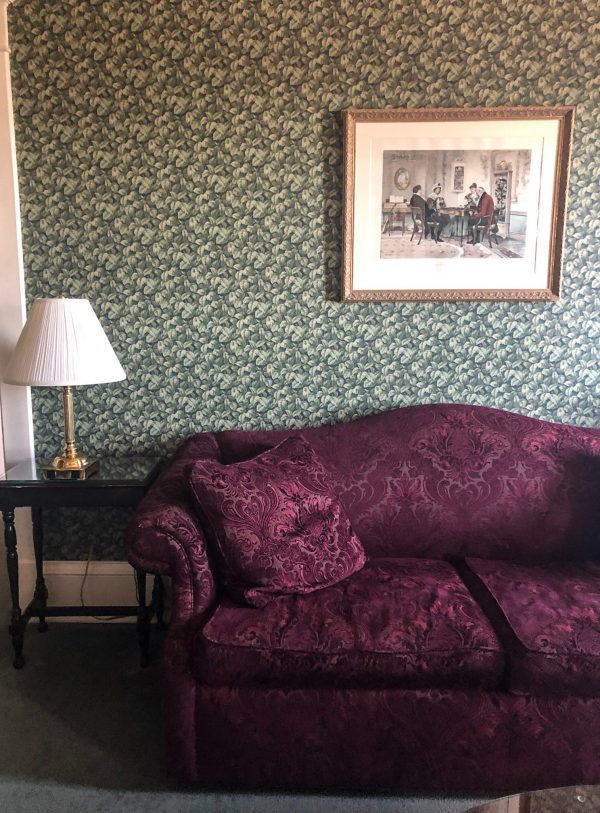 Additionally, the suite had an updated bathroom with a beautiful marble-esque counter and glitzy gold mirror. The bedroom was complete with a fluffy king bed and an outside balcony that one could enjoy during the warmer months. Overall, the suite was comfortable and made you feel as though you had stepped back in time.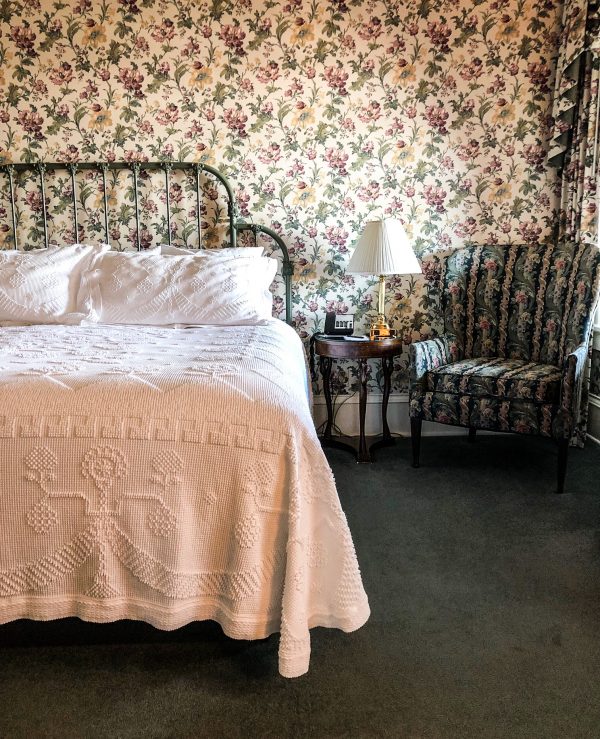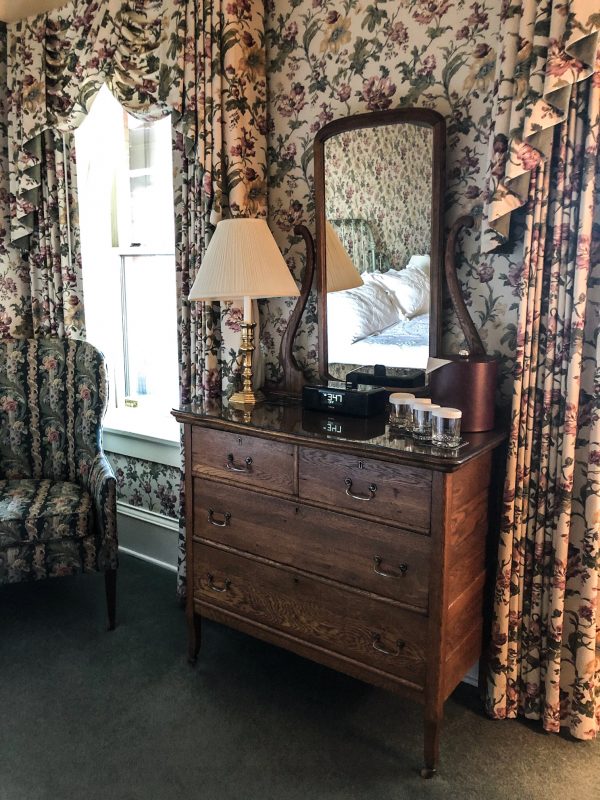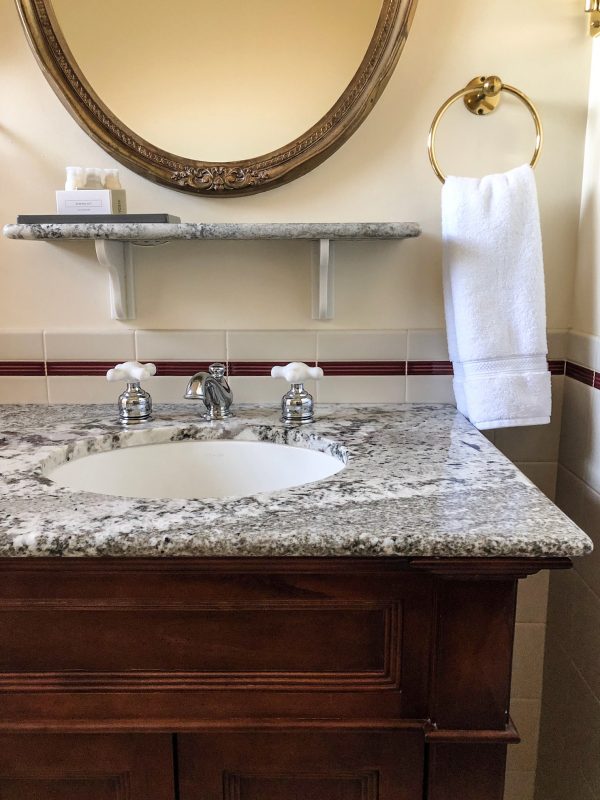 I wanted to take a stroll down Pearl Street before dinner. Yes, you'll find boutique shops like Peppercorn, but I was so excited to find the FJallraven flagship store. I just love this store. Besides shopping, Pearl Street offers many restaurants, bars and cafes to enjoy.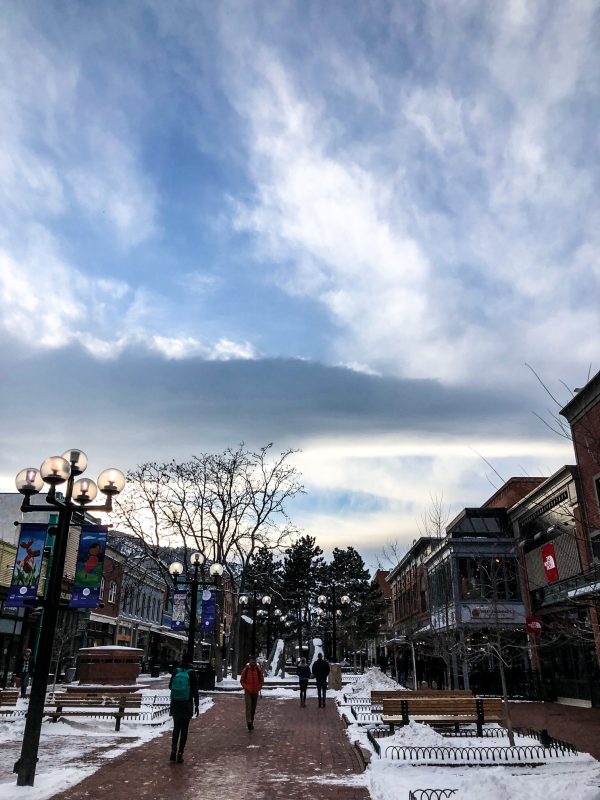 With the weather a bit frigid, I decided to head back to the hotel and order room service from Spruce Farm and Fish. There are two restaurants located inside the Hotel Boulderado: 1) Corner Bar which offers cocktails and a collection of comforts like oysters, wings and steak & frites, and, 2) Spruce Farm and Fish which offers seasonal, local familiar favorites like Colorado Bison or Lamb Ribs.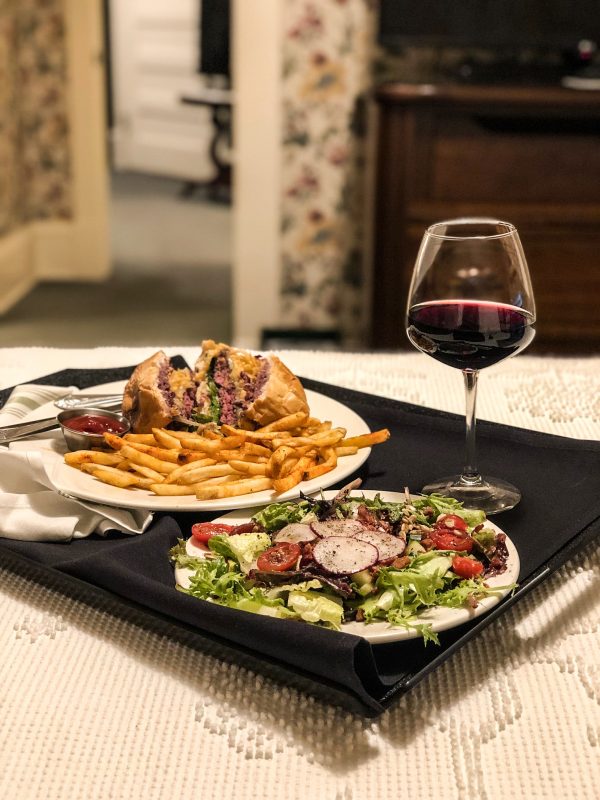 I decided to go with the Spruce Burger (beef and bacon blend, crispy onions, white cheddar, peppercorn aioli, sweet onion jam and bibb lettuce), with a side of frites, house salad and a glass of cabernet.
The next morning, I strolled downstairs to dine-in at Spruce Farm and Fish. If you are in hurry and need a pastry or coffee-to-go, grab a to-go cup at Boxcar Coffee. It's right at the hotel entrance and makes for a quick stop without sacrificing flavor or your need for a caffeine boost.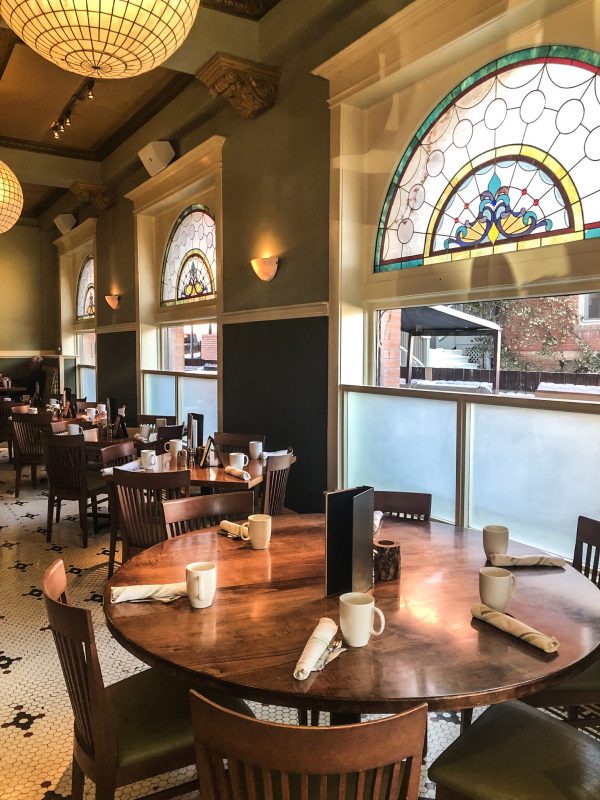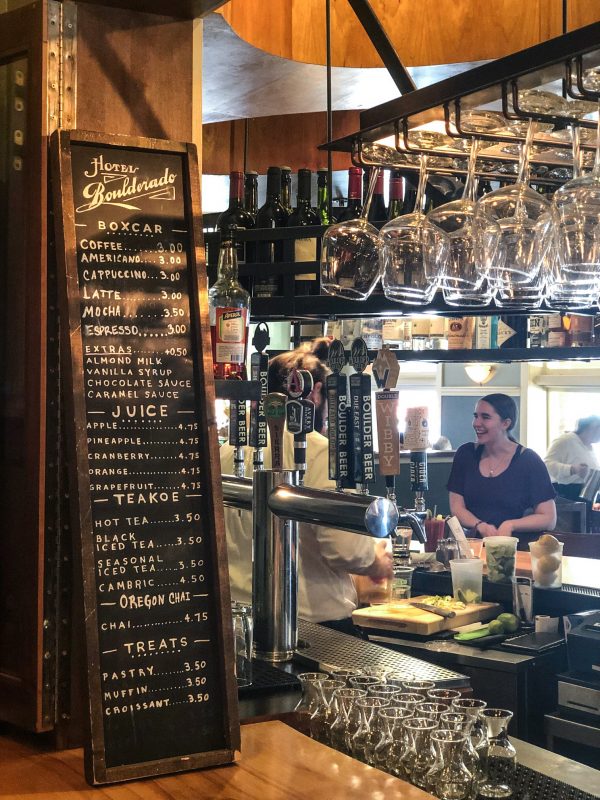 My breakfast of choice was a cup of Boxcar coffee, a bowl of fresh fruit and the best Huevos Rancheros I have ever had. The house-made pork green chili hit the spot and was full of spice. I could have sat in this restaurant all day.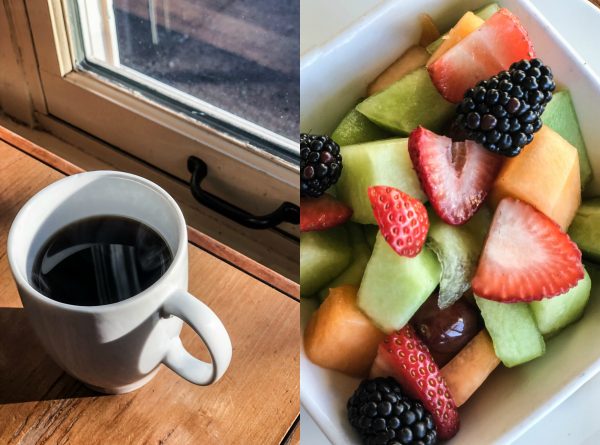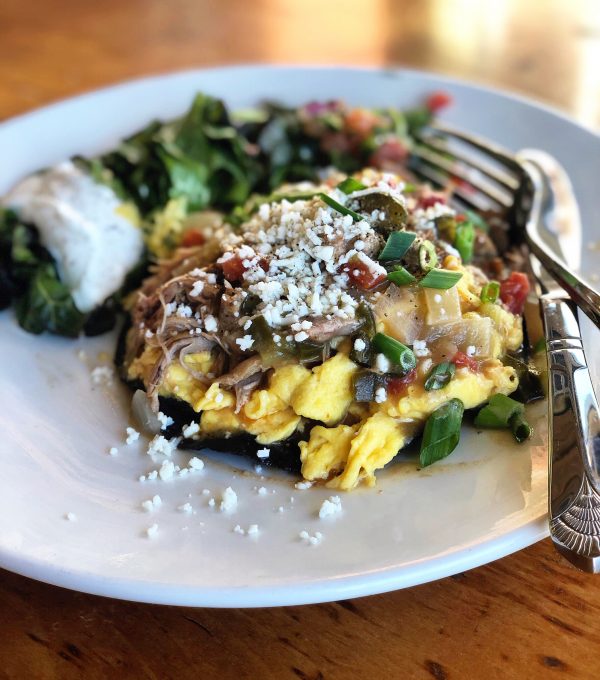 But sadly, I could not. I bid farewell to the Hotel Boulderado and hope to return sooner rather than later. The service and staff were amazing. The hotel was comfortable yet still honored the past. The food, the food was on point in every way. Until next time!
***This post was sponsored by Hotel Boulderado. As always all opinions expressed are 100% my own.***