Turkish Cauliflower Breakfast Hash
Turkish Cauliflower Breakfast Hash is a low-carb, delicious dish to whip up during the week or weekend!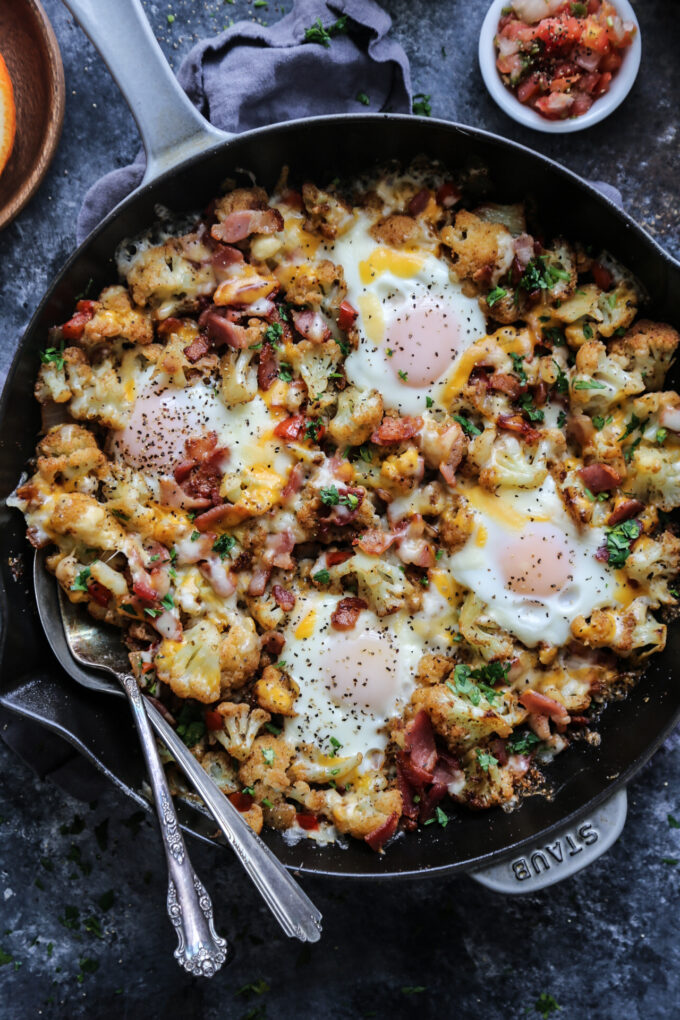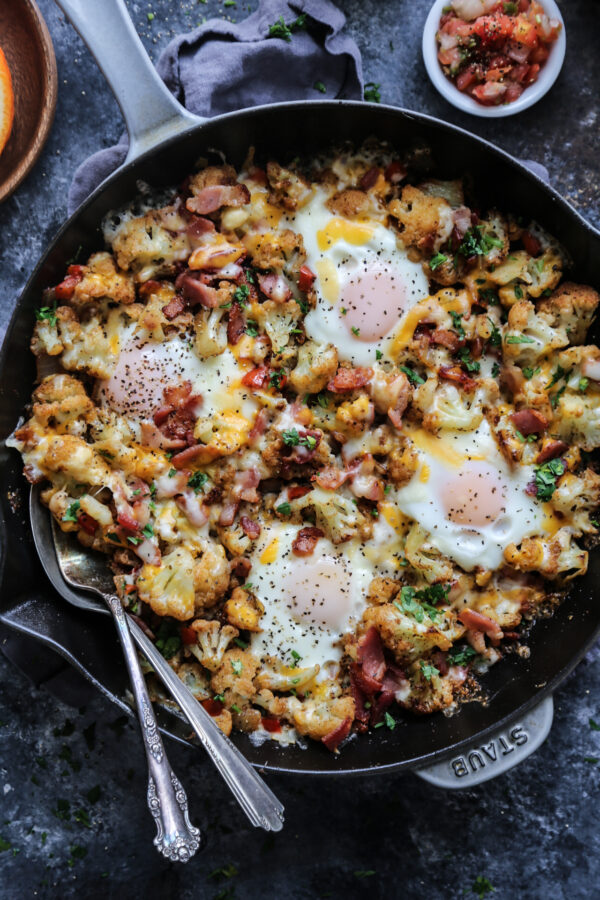 Raise your hand if you're feeling a rough this morning. *raises both hands*
I think we all might have a Super Bowl hangover.

Maybe it's from all the carbo loading? Maybe it's the extra cocktail I sipped because Maroon 5 makes me feel a little somethin', somethin'? Maybe I should have kept my wing count under ten? I dunno.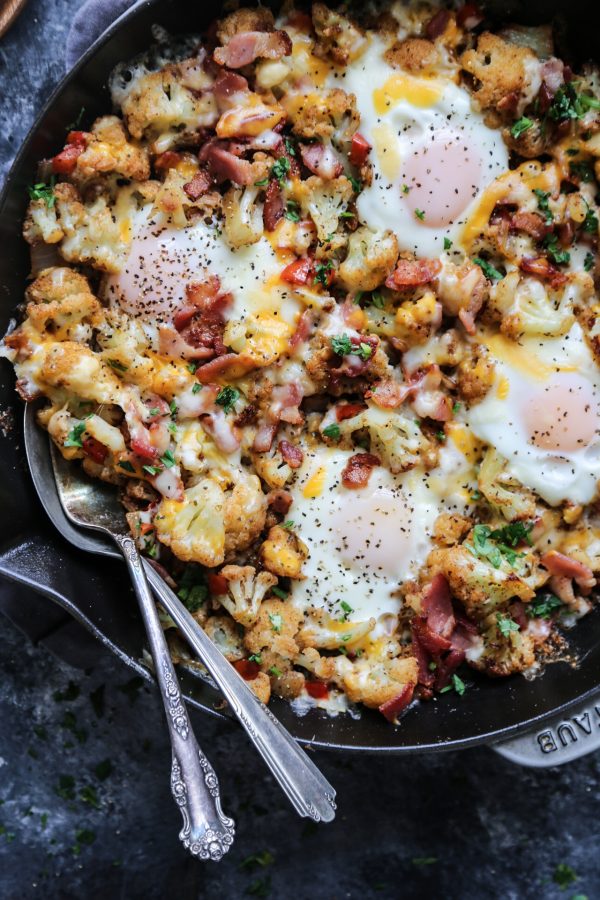 Whatever the reason for our sluggish energy this morning, I have a solution to our woes. The answer comes in the form of a hash. Okay, not that kind of hash, but clearly if that is something that would clear your head GO FOR IT. You'll find no judgement here.

This kind of hash is of the breakfast variety. Made entirely of cauliflower and sprinkle of bacon because I'm not super serious about vegetables in the morning. What I love about this dish is the Turkish spice mixture. It's got a bit of zing, but not a spicy zing. Does that make sense?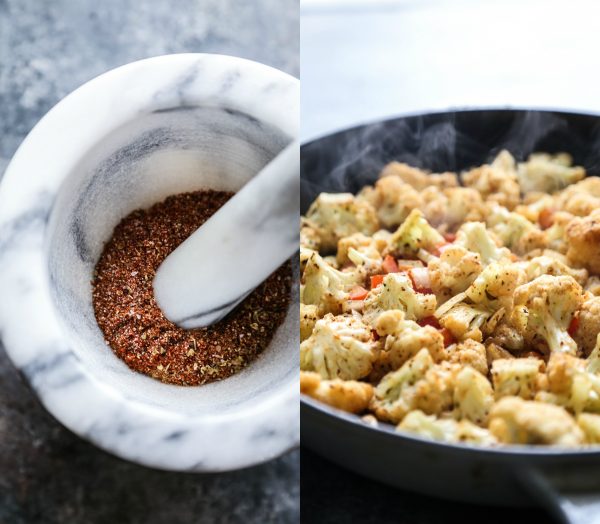 The spices give the cauliflower dimension. Add in some bacon, sauteed onions, cheese and an over-easy egg, what you get is a explosion of delicious breakfast goodness. Another bonus of this recipe it's all done in one skillet which is always a win in my book.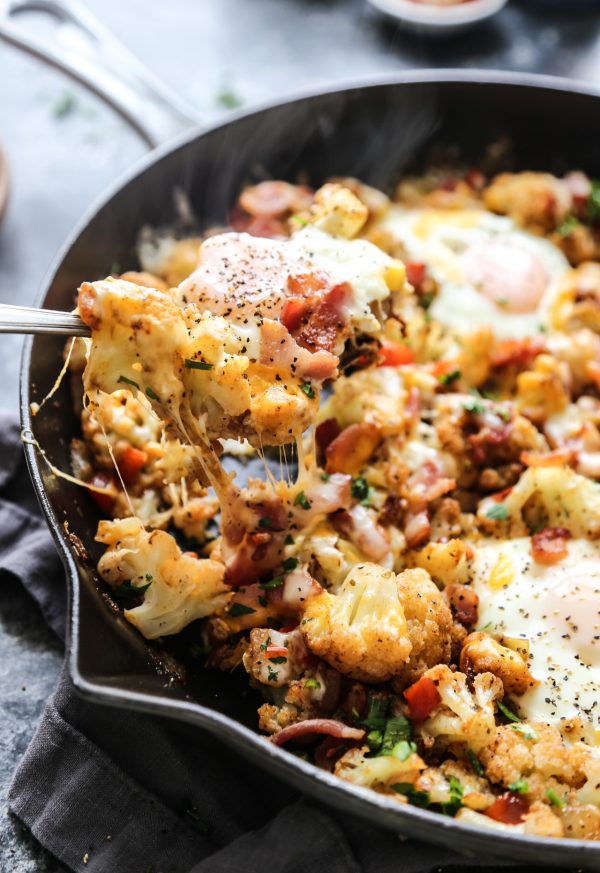 So, pour yourself a cup or two of coffee, grab a spoonful of this Turkish Cauliflower Breakfast hash and crank Maroon 5 to about a seven. Now, your Monday can officially begin.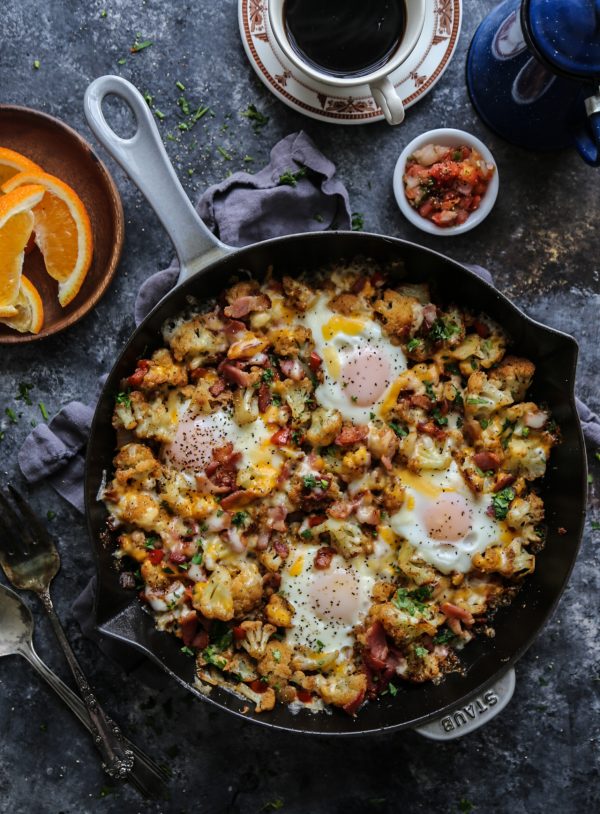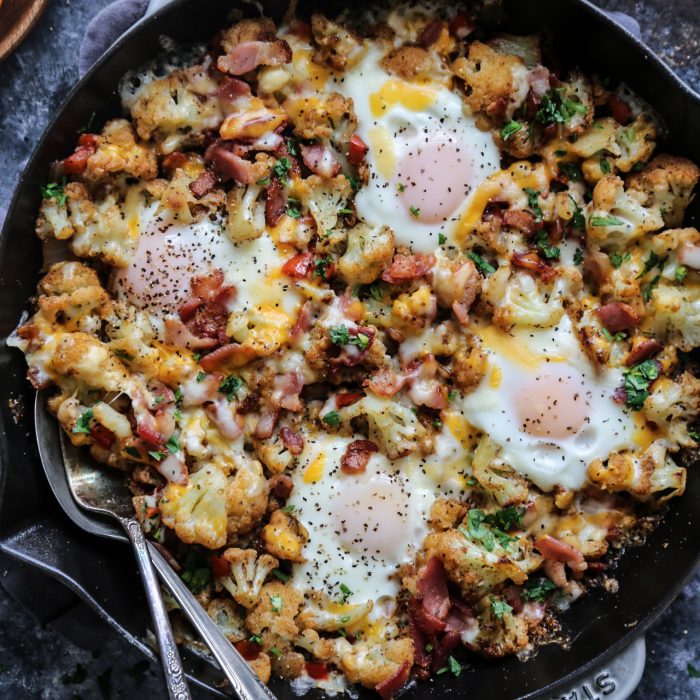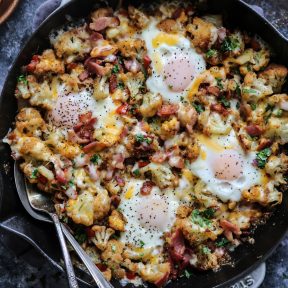 Turkish Cauliflower Breakfast Hash
Turkish Cauliflower Breakfast Hash is a low-carb, delicious dish to whip up during the week or weekend! 
Ingredients
1 tbsp cumin
½ tbsp black ground pepper
1 tbsp paprika
½ tsp cayenne
1 tbsp oregano
1 tbsp dried cilantro
1 tsp sumac
½ tsp kosher salt
5 slices of bacon, cut into one-inch pieces
⅓ cup chopped onion
⅓ cup chopped red pepper 
2 cups cauliflower florets 
3 tbsp water
¾ cup shredded cheddar cheese
4 large eggs
Fresh parsley for garnish
Instructions
In a medium bowl combine cumin, black pepper, paprika, cayenne, oregano, cilantro, sumac and kosher salt. Set aside. 

In a large skillet preheated to medium heat, add the bacon. Cook the bacon until crispy. Remove the bacon from the skillet using a wooden spoon to a plate lined with a paper towel. Try to keep most of the bacon fat in the skillet. 

In the same skillet as the bacon add the onion, pepper and cauliflower. Cook until the veggies have soften about five minutes. 

Next, take 2 tsp of the Turkish seasoning mixture (yes, you will have extra!) and sprinkle it over the veggies. Stir to combine. Add 2 tbsp of water to the skillet, cover and allow the water to evaporate and cook the cauliflower. Add more water as need until the cauliflower has softened. 

Take the lid off and create four holes for the eggs. Crack an egg into each hole. Sprinkle the cheddar cheese over the top and cover until the eggs are cooked. Remove the skillet from the heat and garnish with fresh parsley. 
Did you make this recipe?
Please leave a comment below and share a photo on Instagram with the hashtag #thecuriousplate!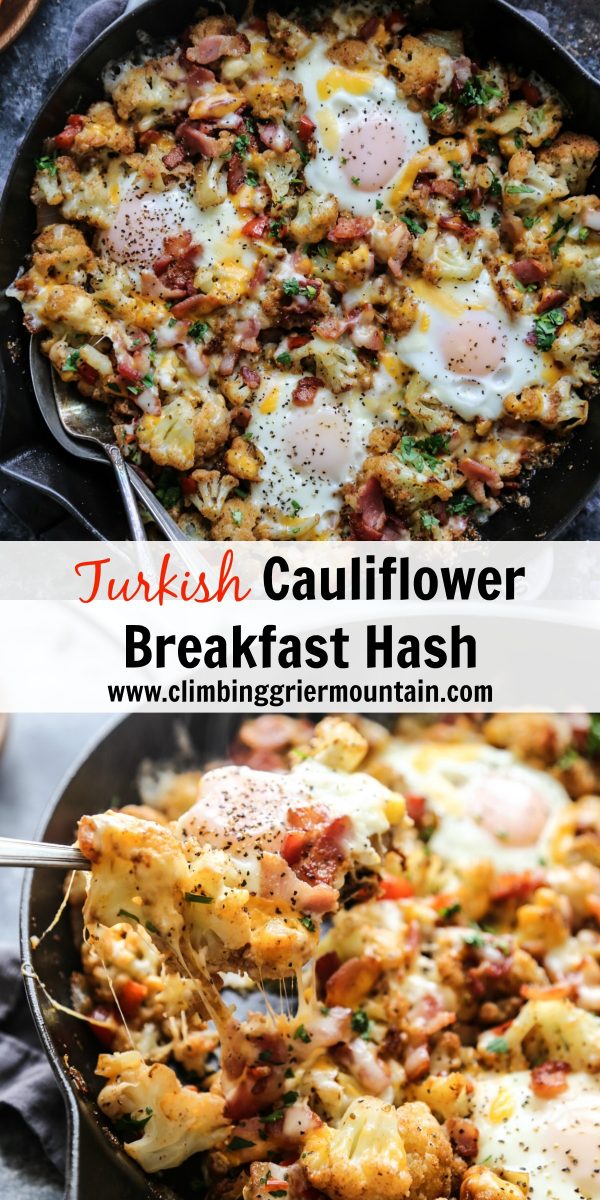 In conclusion, this Turkish Cauliflower Breakfast Hash is a delightful and nutritious addition to your menu, perfect for both busy weekdays and leisurely weekend mornings. Enjoy a flavorful start to your day!