cordon bleu stuffed shells with crispy prosciutto
Cordon Bleu Stuffed Shells with Crispy Prosciutto is a fun twist on a classic dish. Perfect for a weeknight dinner or impromptu party!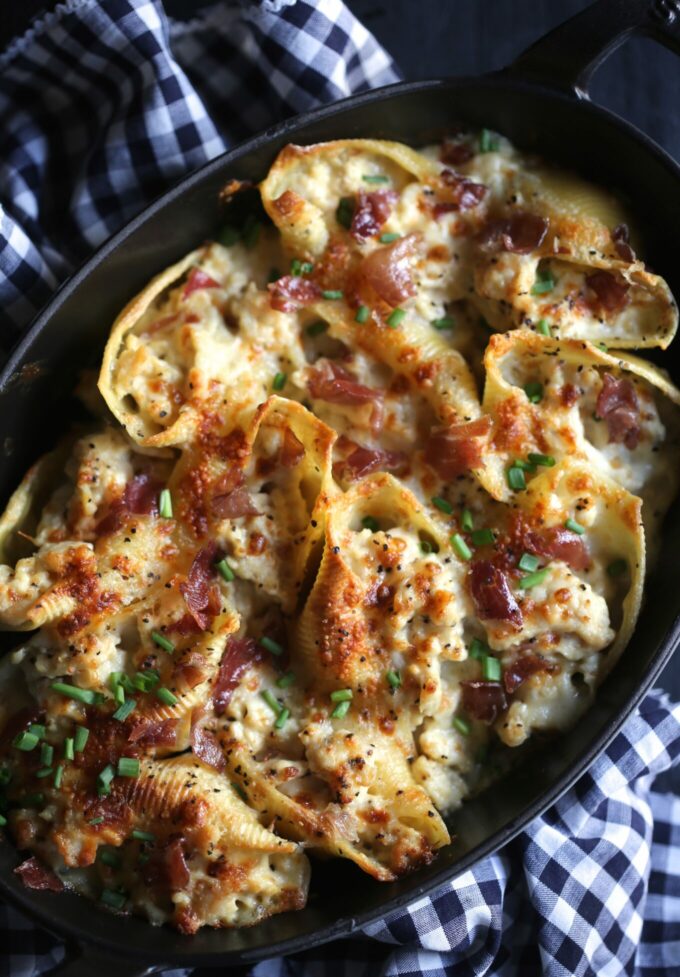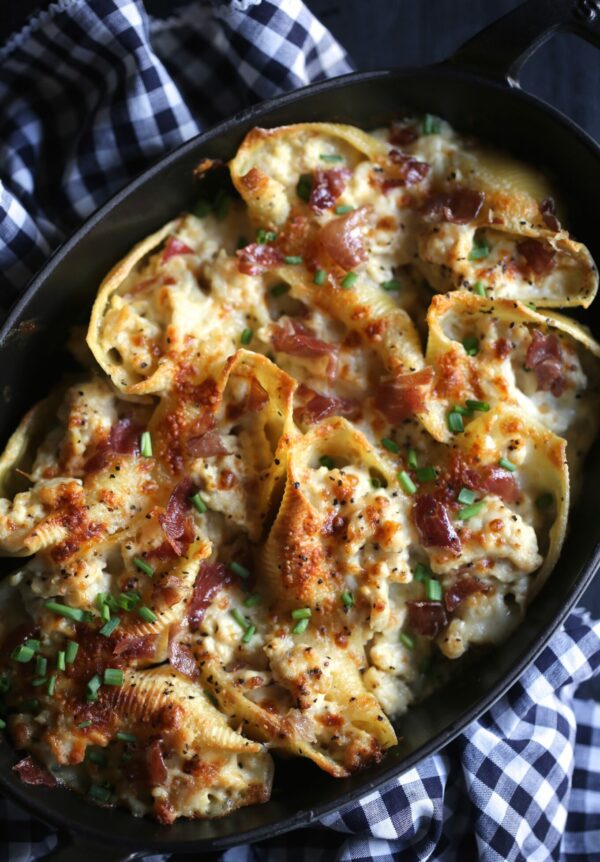 Mr. B and I got into a discussion over the weekend about caramel.
I believe the conversation came about after a Snickers commercial appeared. Somewhere between my immediate craving for said Snickers, I turned to Mr. B and asked if he fancied the chocolate, peanut, caramel candy bar?
Mr. B replied assertively, "Babe, I had one last week while we were skiing. I like Snickers, but am not a huge fan of cold caramel." "Cold caramel?", I replied inquisitively. Mr. B quickly responded, "Yes, there are levels of caramel and I prefer my caramel to be warm rather than cold. The texture is creamier and softer when melted on a cake as opposed to stuffed inside a candy bar."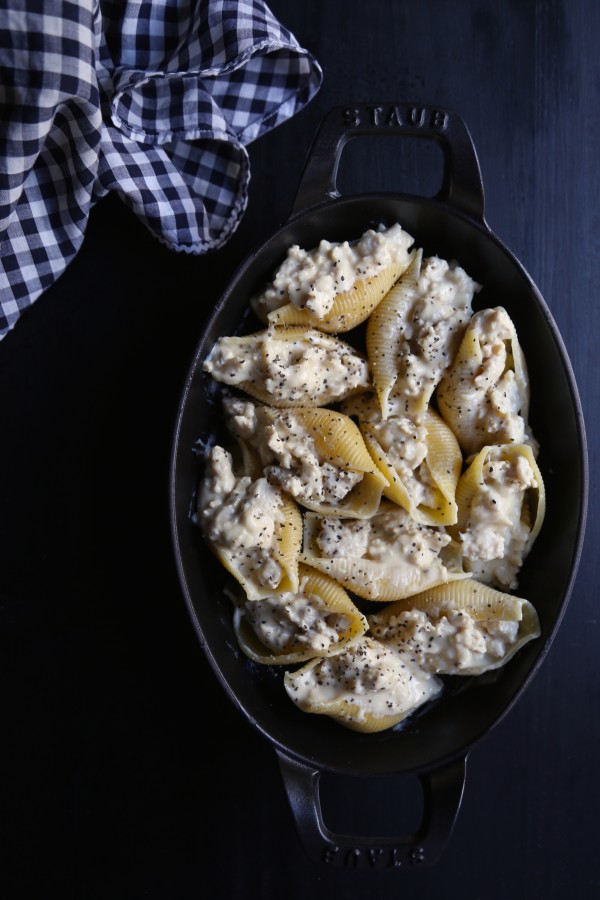 It took a moment for his caramel expectations to set in, but after reviewing the facts, he kind of has a point. Hot caramel over ice cream far out ways a Twix Bar. Shit, I am glad we cleared that mystery up! Heaven forbid I surprise Mr. B with a candy bouquet…remember those? Wait. They still make them don't they? GEEZ.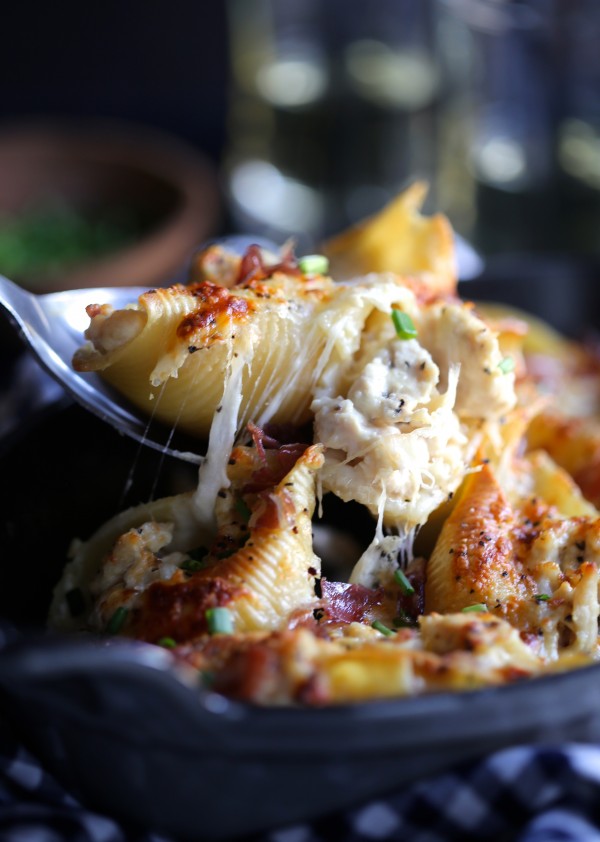 Well, before I forget, let's move onto a totally different subject all together, stuffed shells. For some reason, I always forget about shells in the pasta aisle. In my mind I put them in the category of super complicated, but really that's my laziness talking. These Cordon Bleu Stuffed Shells with Crispy Prosciutto are so flipping EASY to make.
Satue chicken, stir in some Dijon mustard, make a white sauce, stuff the mixture into the shells, top with Gruyere, and bake. If this dish doesn't get you through a Monday, I don't know what will.
Okay, maybe a jar of warm caramel.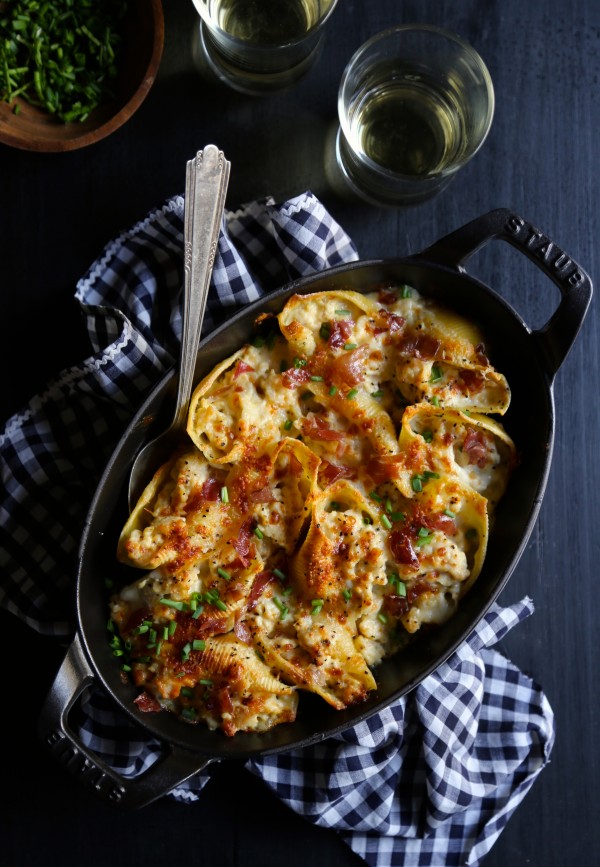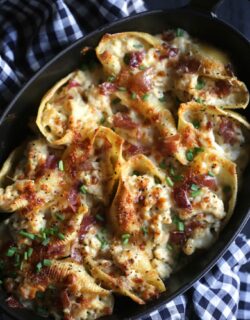 Cordon Bleu Stuffed Shells with Crispy Prosciutto
Ingredients:
for the stuffed shells:
9 large pasta shells
1/2 lb ground chicken
1 tablespoon
3 tablespoons all-purpose flour
3 tablespoons unsalted butter
1 1/4 cups whole milk
1 tablespoon Dijon
1 1/2 cups Gruyere, shredded
Chives, garnish
salt and pepper to taste
for the crispy prosciutto:
4 slices prosciutto
Directions:
Preheat oven to 400 degrees.
for the stuffed shells:
Fill a large stock pot with water and bring to a boil. Add the shells and cook, stirring to make sure the pasta shells don't stick. Cook until slightly al dente. Remove shells from pot and set aside to cool before filling.
Meanwhile, preheat a skillet to medium-high heat. Add the olive oil, ground chicken, Djon, salt, and pepper. Cook the chicken until no longer pink about five minutes. Remove from skillet and set aside. In the same skillet, melt the butter. Whisk in the flour and stir until a roux forms. Gradually add the milk and continue to stir until thickened. Remove skillet from heat. Add the ground chicken, 1 cup Gruyere, salt, pepper, and stir.
Spray an 8X5 baking dish with non-stick cooking spray. Take about one tablespoon of the chicken filling and put it inside the shell. Repeat until all shells have been use. You may have extra filling leftover. Top the shells with remaining 1/2 cup Gruyere, cover the top with foil, and bake for about 25 minutes. Remove from oven and garnish with fresh chives and crispy prosciutto.
for the crispy prosciutto:
Spray a small baking sheet with non-stick cooking spray. Place slices of prosciutto on the baking sheet. Bake for about 3 to 5 minutes or until crispy. Remove from oven, cool, and then chop.
All images and text ©