slow cooker carnitas kimchi fries
Slow Cooker Carnitas Kimchi Fries are a fun smash-up of Asian and Mexican cuisine! Great as a snack or hearty enough for dinner!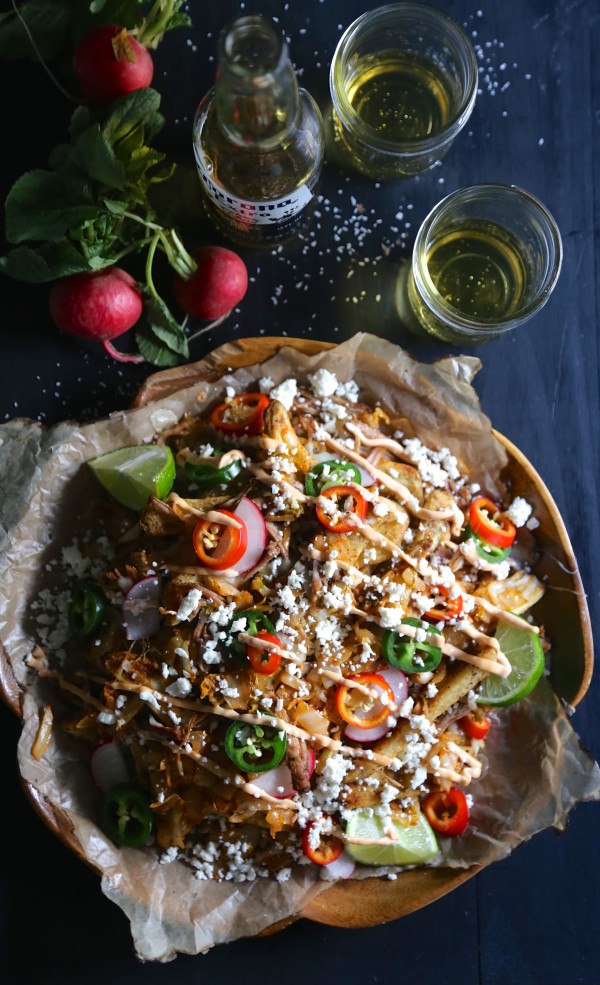 I need your help!
I say that as if I am treading water and need to be thrown a life preserver. It's not that type of physical help, more like, I need to borrow a few of your brain cells for two seconds. If you follow along on Snapchat (griermountian), then you've probably noticed a few times during the week where I play songs either from a band I've completely forgotten about (hello 80's & 90's!), or a song I feel fits the mood of the day.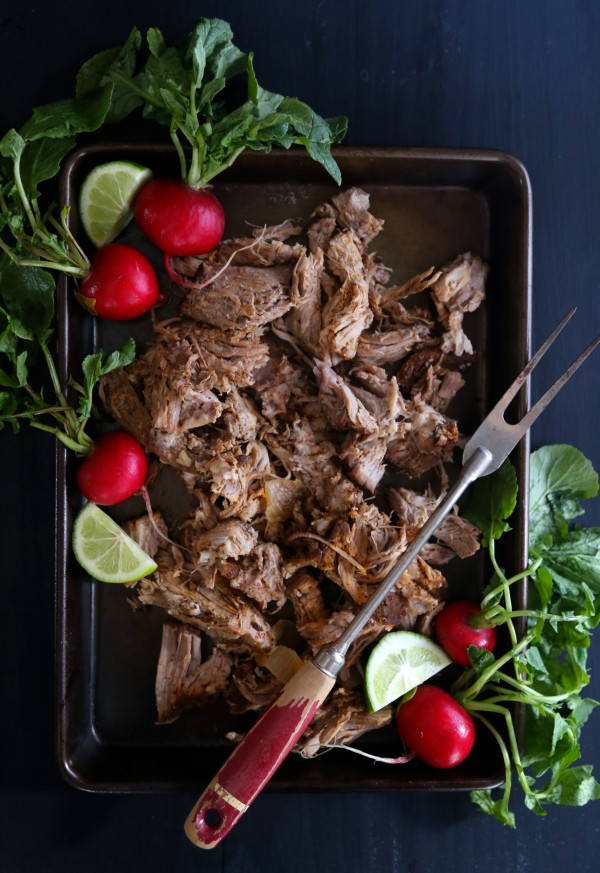 So far I've covered: Queen, No Doubt, Salt-n-Pepper, The Temptations, Pearl Jam, En Vogue, Paula Abdul, James Brown, The Spice Girls, Stone Temple Pilots, Huey Lewis, etc. Well, I need your input. Suggestions. Thoughts. Concerns. Because I (and I mean "we" since this is really Mr.B's brainchild) am having a bit of a brain fart. So, PA-lease snap me some tunes you would like to hear when you have a hot second. K. Thanks.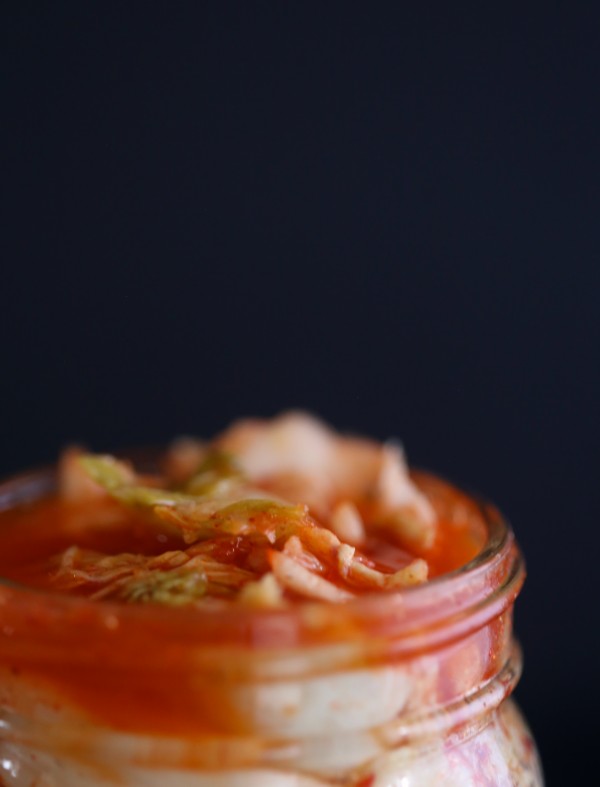 Also, besides music ideas, I desperately need you to help me eat these Slow Cooker Carnitas Kimchi Fries. I realize the name sounds a little off with the whole kimchi- carnitas mixture, but it works! You guys know that I am big fan of mixing together Asian and Mexican flavors. Remember these kimchi enchiladas and kimchi chilaquiles? So I am asking you again to trust me and get down on these loaded fries with yours truly.
And double bonus servings to whomever can give these Slow Cooker Carnitas Kimchi Fries a theme song?
Bueller?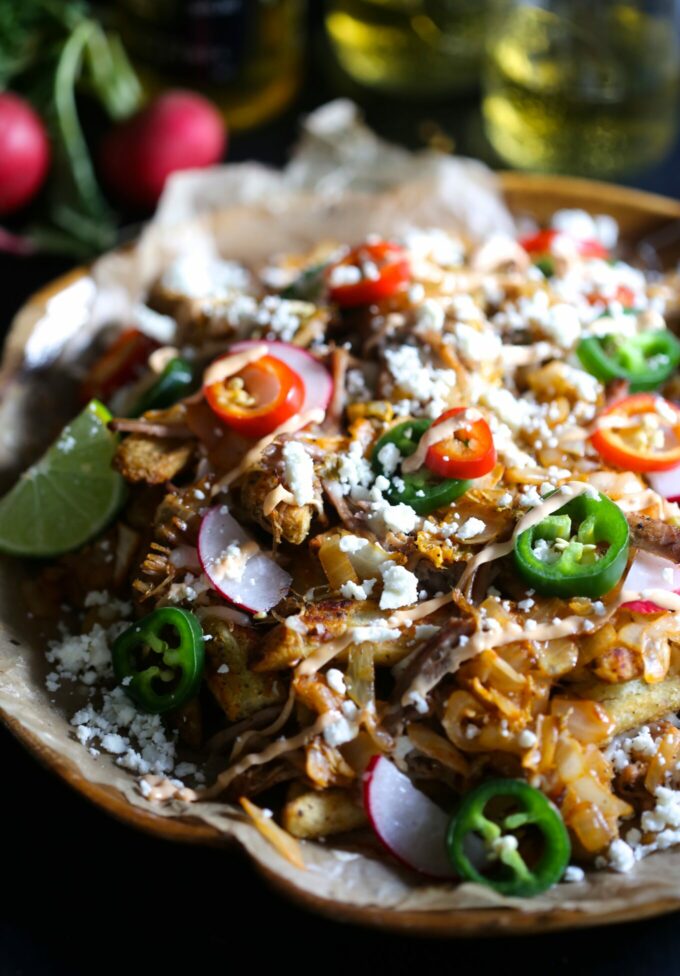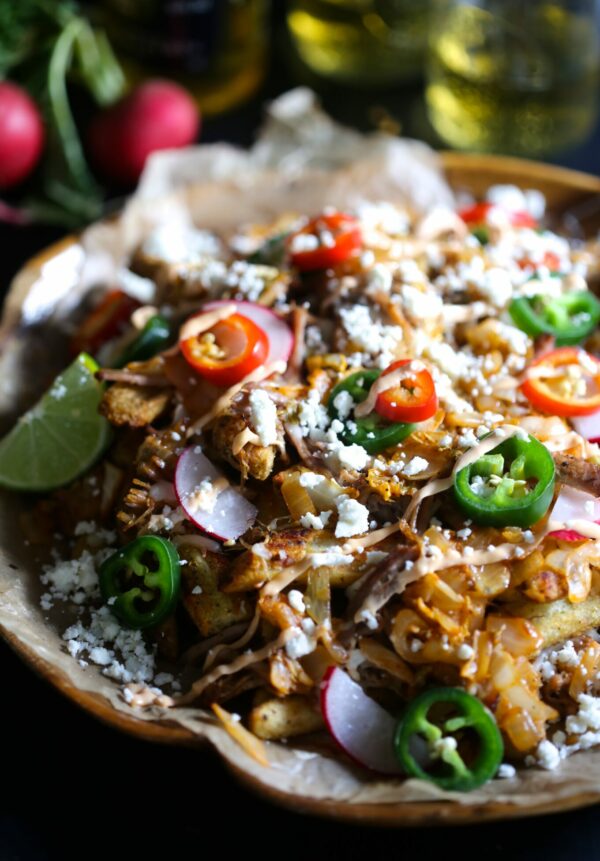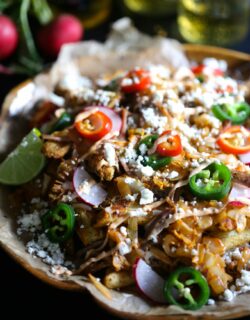 Slow Cooker Carnitas Kimchi Fries
Ingredients:
2 lbs pork shoulder
1 yellow onion, sliced
1 cup orange juice
1 tablespoon chili powder
1 tablespoon cumin
1 tablespoon garlic powder
1 teaspoon liquid smoke
3 cups chicken stock
2 tablespoons unsalted butter
1 cup kimichi, diced
2 large shallots, diced
4 cups homemade french fries
2 cups mozzarella, shredded
Cojita cheese, garnish
Radish slices, garnish
Jalapeno rounds, garnish
Serrano rounds, garnish
Cilantro, garnish
Chipolte Cream, garnish
salt and pepper to taste
Directions:
Combine chili powder, garlic powder, cumin, salt, pepper in large bowl. In a slow cooker, add the onions, pork, liquid smoke, and chicken stock. Set the slow cooker on low for eight hours. Once cooked, remove the carnitas from the slow cooker and shred. Next, in a medium skillet pre-heated to medium-high heat, melt the butter. Add the shallots, salt, and pepper. Saute for a few minutes until softened and then add the kimchi. Stir to combine and cook until the kimchi is heated through. Remove skillet from heat and set aside.
To serve, place a handful of french fries onto a baking sheet or oven proof serving tray. Top the fries with carnitas, kimchi mixture, and mozzarella. Repeat process two more times. Place the sheet under the broiler for a few minutes until the cheese has melted. Remove sheet from oven and serve immediately with all your favorite garnishes!
All images and text ©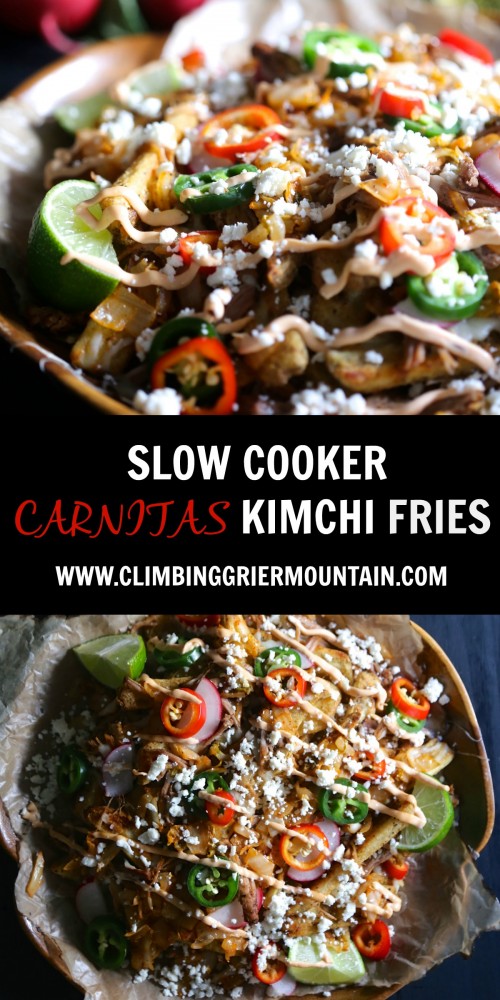 Experience the fusion of flavors with our Slow Cooker Carnitas Kimchi Frie. This satisfying and savory dish marries tender carnitas and spicy kimchi atop crispy fries. It's a taste adventure that's sure to leave you craving more.