reese's puffs chocolate cake with chocolate peanut butter frosting
This Reese's Puffs Chocolate Cake with Chocolate Peanut Butter Frosting is a simple, but decadent cake that's perfect for any occasion!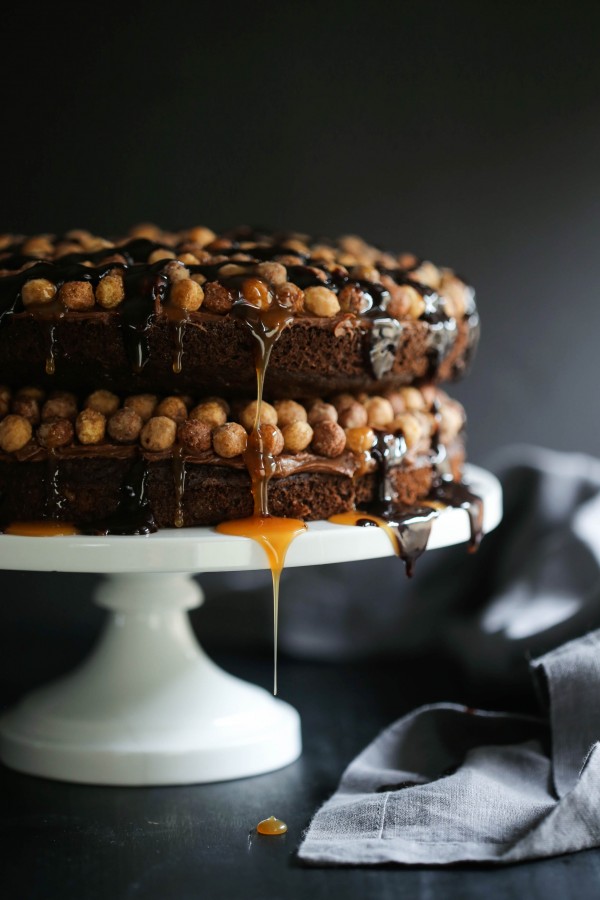 Have you seen it?
GAH. It was so, so, so good.
As an active member of the Netflix/Amazon Prime binge watching club, I believe it took Mr. B and I two full days to watch the entire first season of Jessica Jones. Not only is Krysten Ritter a fantastic actress, but the whole plot has crazy twists and turns that will keep you on the edge of your couch seat. Also, it will make you want to fight crime and believe mind control is real pain in the tookus.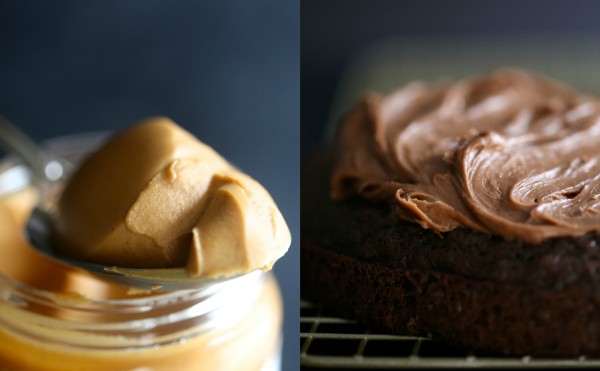 The only thing Mr. B and I didn't like (mind you this is totally random sauce) is whoever picked out her wardrobe did a terrible job. I swear she was wearing Z Cavariccci jeans the entire season which made her butt look all sorts of funky. If you are going to be an Marvel comic super hero, you kind of have to respectable jean wearing apparel. Am I right?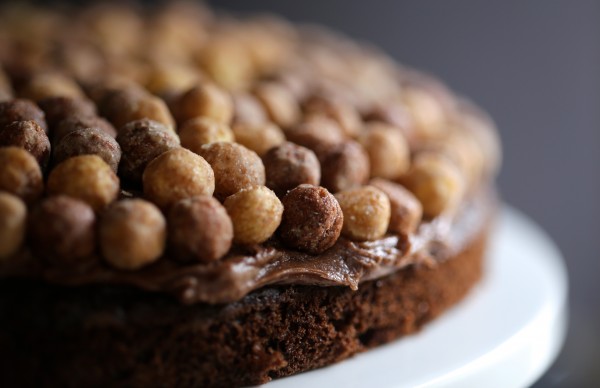 Anyway, speaking of respectable matters, it is my birthday in t-minus three days. I thought about posting this Reese's Puffs Chocolate Cake with Chocolate Peanut Butter Frosting on Thursday, but I couldn't WAIT. Every year for my birthday when I was little girl my mom would make this chocolate cake with marshmallow frosting & sprinkles. Well, I have been craving peanut butter like it's going out of style (MA, I'm not preggers).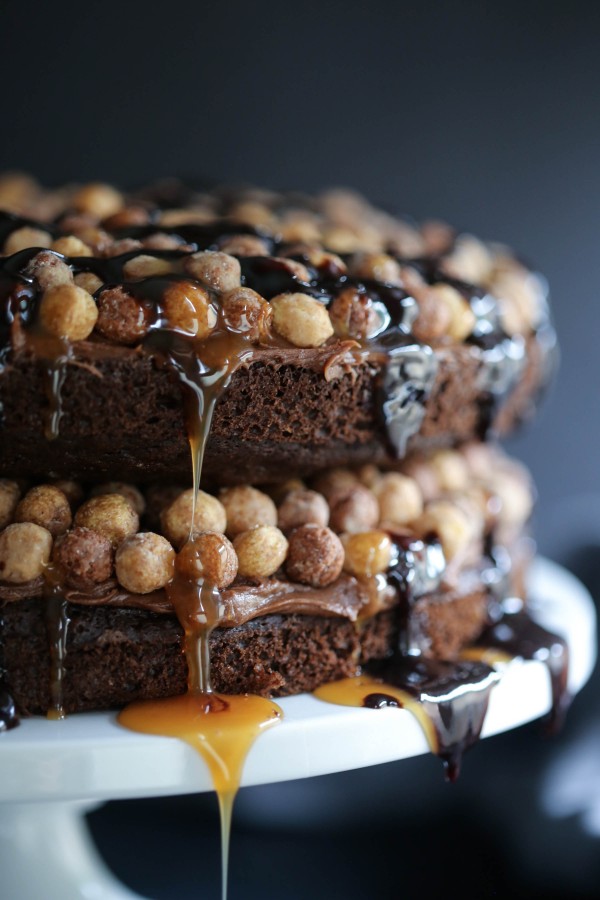 So, to satisfy my peanut butter addiction and pay homage to my birthday cake past, this Reese's Puffs Chocolate Cake with Chocolate Peanut Butter Frosting had to be made. The beauty of this cake is that it's simple to make, which means you need to action it tonight and then binge watch Jessica Jones while wearing your Z Cavariccci jeans. I mean Levis. Wait. Jeggings. Deal? Deal.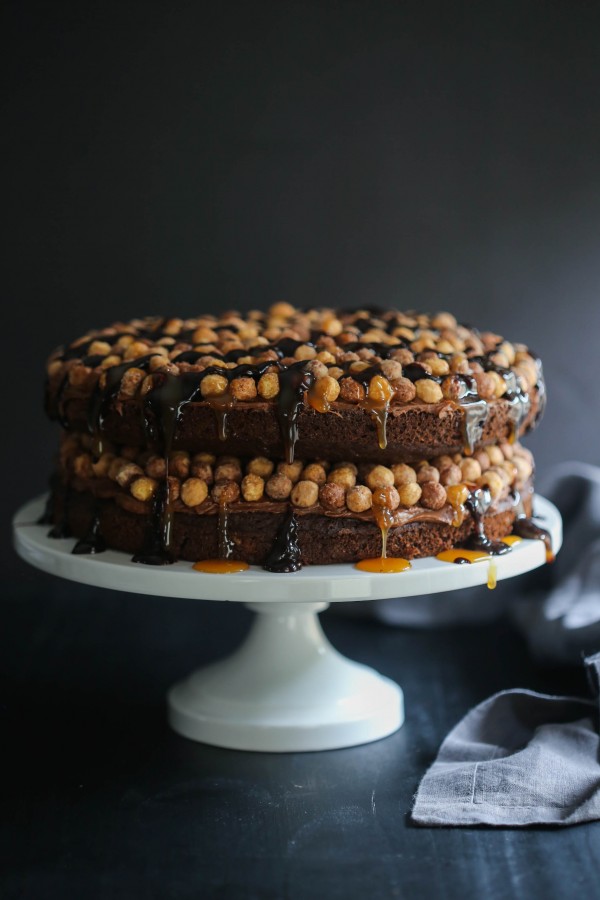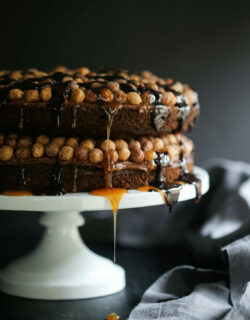 Reese's Puffs Chocolate Cake with Chocolate Peanut Butter Frosting
Ingredients:
for the cake:
1 egg, beaten
1 cup buttermilk
2/3 cup vegetable oil
2 cups all-purpose flour
1 3/4 cups granulated sugar
1/2 cup unsweetened cocoa powder
1 tablespoon baking soda
1 teaspoon salt
1 cup hot brewed coffee
Reese's Puffs, garnish
Chocolate syrup, garnish
Caramel syrup, garnish
for the chocolate peanut butter frosting:
1 cup granulated sugar
1/2 cup whole milk
6 tablespoons unsalted butter
2 cups semi-sweet chocolate chips
1 to 2 teaspoons hot brewed coffee
1/2 cup creamy peanut butter
Directions:
for the cake:
Preheat oven to 350 degrees. Spray two 9-inch round cake pans with non-stick cooking spray. In a large bowl, combine egg, buttermilk, and vegetable oil. In another large bowl, combine flour, sugar, salt, cocoa powder, and baking soda. In thirds, combine dry ingredients to the wet ingredients. Gradually add the hot coffee to the mixture and stir until well combined. Pour the batter between the two cake pans and spread the cake batter evenly. Place in oven and bake for about 25 minutes or until you insert a tooth pick into the middle of the cake and it comes out clean.
Cool cake completely on wire racks. Once cooled, remove layer one and place it top side down on a cake stand. Take some of the chocolate peanut butter frosting and cover the top of the cake. Take a handful of the Reese's Puffs and spread them evenly onto the frosting. Next, take the second layer of cake and place it top side up on the first layer.Spread more of the frosting on the top along with the Reese's Puffs. Garnish top with chocolate syrup and caramel if desired.
Notes: You will have leftover frosting because I didn't cover the entire cake. If you would like, you can certainly frost the whole cake.
for the chocolate peanut butter frosting:
In a small saucepan, combine the milk and sugar. Add the butter and bring to a slight boil, stirring so nothing burns to the bottom. Remove the saucepan from the heat, and stir in the chocolate chips. Add the hot coffee and stir until smooth. You may need to add more coffee if the frosting is to thick. Next, stir in the peanut butter and continue to stir until smooth.
All images and text ©