Easy Mashed Potatoes with Crunchy Potato Chip Topping
Easy Mashed Potatoes with Crunchy Potato Chip Topping is a delicious side that is perfect for any day of the week or Thanksgiving feast!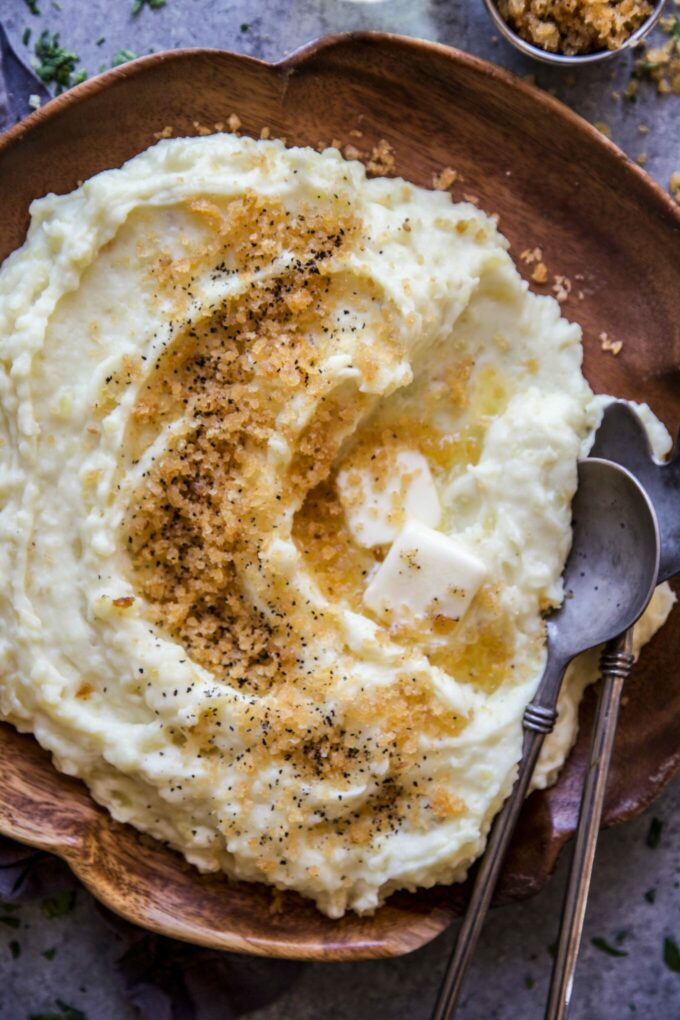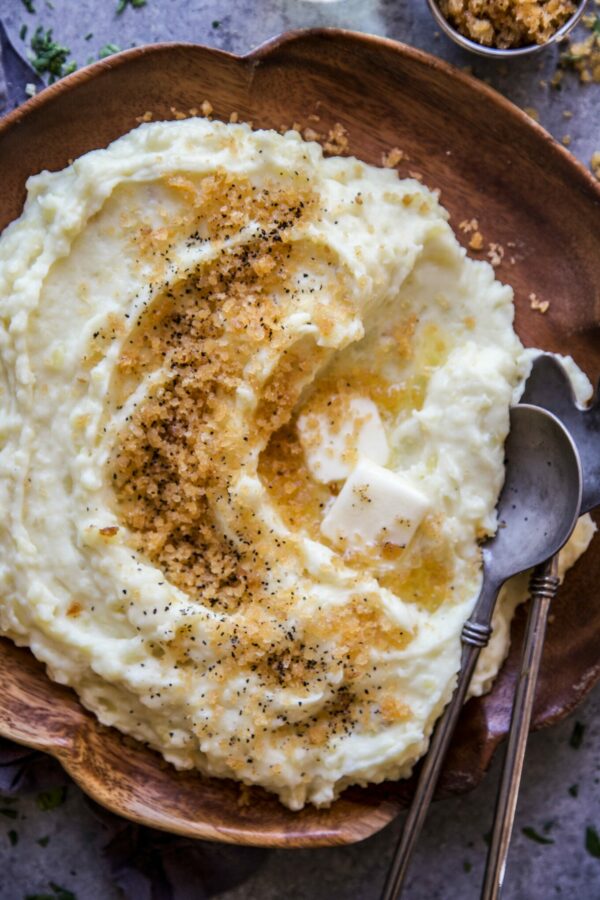 Thanksgiving feast continues.
Guess what?
More sides!!! I can't help myself. I mean I feel like I have the turkey recipe dialed in as well as desserts. By the way, if you need all the links for Thanksgiving make sure to check out last week's round-up.
I collected all my recipes for Thanksgiving in one spot so it's easy to pick and choose what you want.
Case in point: I will be adding these Easy Mashed Potatoes with Crunchy Potato Chip Topping to that list. As I was searching through the CGM archives I noticed I had a sweet potato recipe, but no tried and true mashed potato recipe. Um, how rude am I?
So, today, let's make some taters!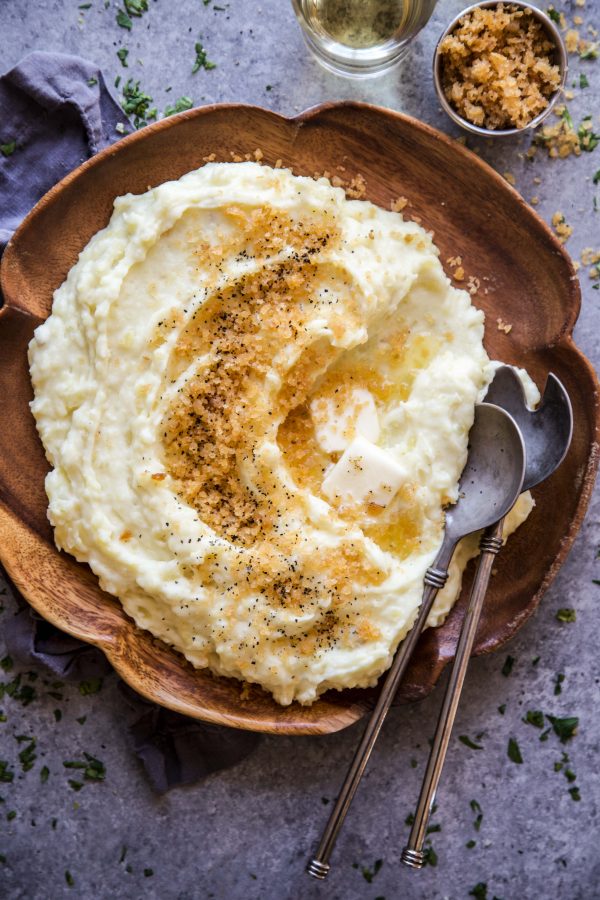 What's in these Mashed Potatoes?
Truth? Kidding. Actually this recipe is very straightforward. The ingredients I used are:
Yukon Gold Potatoes
Unsalted butter
Whipping Cream
Whole Milk
Kosher salt
Coarse ground pepper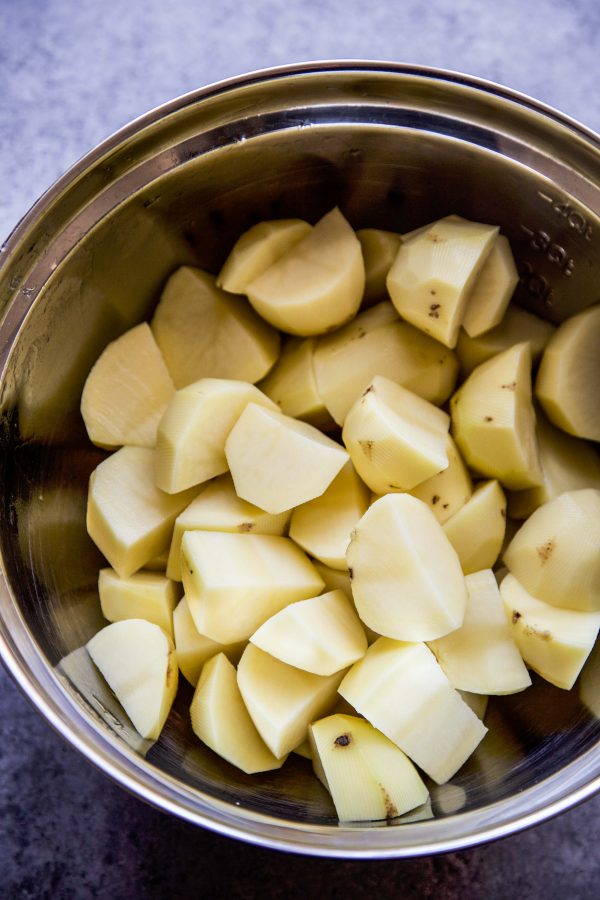 Tips for Cooking Mashed Potatoes:
1) Peel and Quarter your potatoes. I KNOW peeling is annoying, but if you want them creamy you need to do this step. Also, you'll want to quarter the potatoes into even portions so they cook evenly.
2) Cold water. Place the quartered potatoes in a stock pot filled with cold water, add kosher salt, and then bring to a boil.
3) Fork tender. Cook the potatoes until fork tender. Try not to over cook because they will start to fall apart which makes a difference when you whip them later.
4) Potato Masher. Once you've got the potatoes drained use a potato masher to help get it started before a hand mixer. You don't want to over mix the potatoes because they will become dry!
Can I substitute using Russet potatoes?
You can! I personally think the Yukon Gold potatoes provide the creamiest potato.
Do you have to make the Crunchy Potato Chip Topping?
No! I just find this topping to be an extra bonus! Plus, it's also good on top of salads, brussels sprouts, etc.!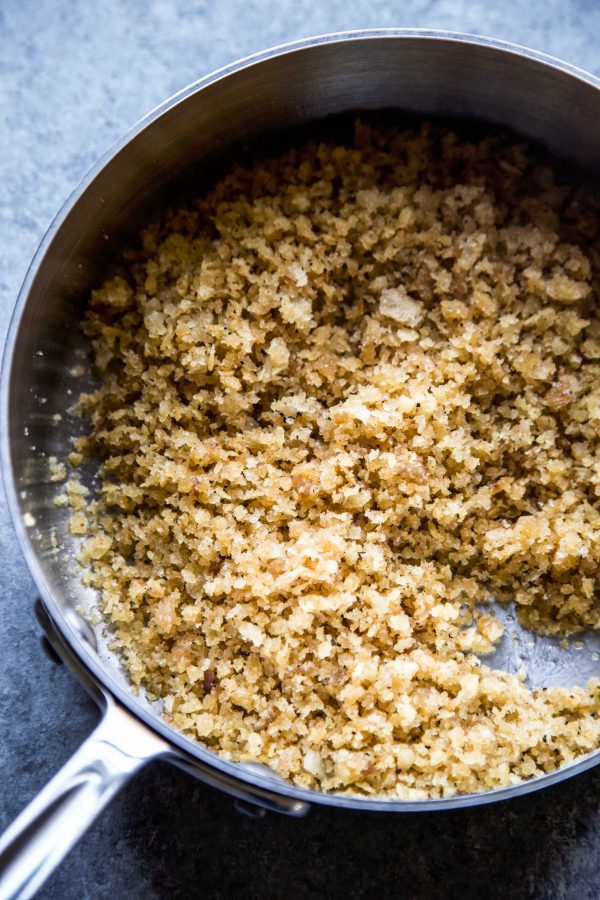 Tips for making the Crunchy Potato Chip Topping
1) Use day old bread if you can.
2) Any plain flavored potato chip will work
3) Mix up the flavors! I used paprika, but you could try Italian seasoning, thyme, or even just garlic powder!
4) Keep an eye on the topping while you cook it in the oven. It can burn quickly if you aren't careful!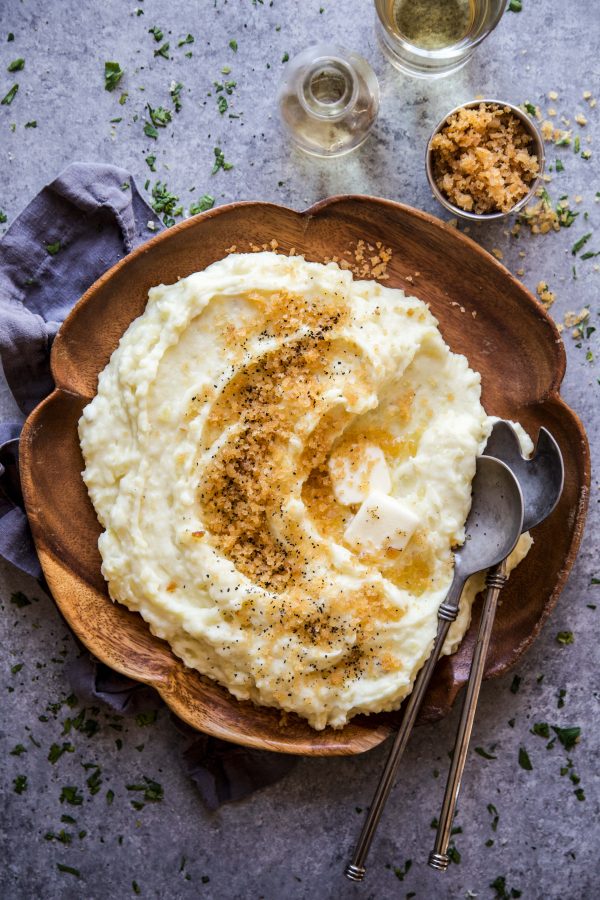 Can the Mashed Potatoes be made ahead of time?
Yes! You can peel and quarter the mashed potatoes the day of and place them in a bowl with cold water to keep from browning.
I hope y'all enjoy this recipe! Remember if you need more inspiration on what to make for Thanksgiving make sure to check out my round-up!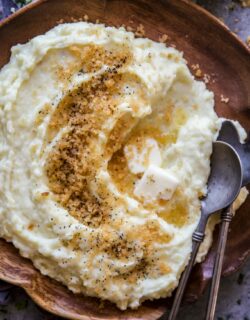 Easy Mashed Potatoes with Crunchy Potato Chip Topping
Ingredients:
for the mashed potatoes:
3 lbs Yukon Gold potatoes, peeled and cut into quarters
1 tsp kosher salt
1 1/4 cups heavy whipping cream (+ more if needed)
12 tbsp unsalted butter
salt and pepper
for the Crunchy Potato Chip Topping:
4 garlic cloves
2 1/2 thick slices sourdough or white bread, torn into 1-inch pieces
2 cups potato chips
4 tbsp unsalted butter
1 tsp paprika
salt and pepper to taste
Directions:
for the mashed potatoes:
Fill a large Dutch oven with cold water. Add the potatoes and 1 tsp kosher salt. Turn the heat to high and bring the water to a boil. Reduce the heat to low and simmer the potatoes for about 15 to 20 minute or until folk tender.
While the potatoes cook, in another saucepan melt the butter and warm the cream.
Drain the potatoes and place the potatoes into a large mixing bowl. Pour half the heated cream and melted butter over the potatoes. Using a potato masher, mash the potatoes.
Pour the remaining cream and butter over the potatoes and use a hand mixer if desired to whip the potatoes. Careful not to over whip. Season the potatoes with salt and pepper.
Place the mashed potatoes in a serving bowl and garnish with Crunchy Potato Chip Topping if desired.
for the Crunchy Potato Chip Topping:
Preheat an oven to 400 degrees.
In a food processor add the garlic cloves. Pulse a few times until finely chopped. Next, add in the bread and potato chips. Process in long pulses until a coarse crumb forms.
 Heat butter in an oven proof skillet over medium until melted. Add the breadcrumb mixture to the skillet; season with salt and pepper.
Cook the breadcrumb mixture until it has absorbed the butter and starts to become fragrant. Transfer the skillet to the oven to bake. You'll want to check every 5 minutes to make sure it's not burning. Should only take about 10 minutes or so.
Once cooked remove from the oven and toss with paprika.
All images and text ©