Edinburgh, Scotland: Where to Stay, Eat, & Visit!
Edinburgh, Scotland: Where to Stay, Eat, & Visit! The capital of Scotland is full of adventure! Castles, restaurants, shopping, and more! Edinburgh is definitely a must-see city.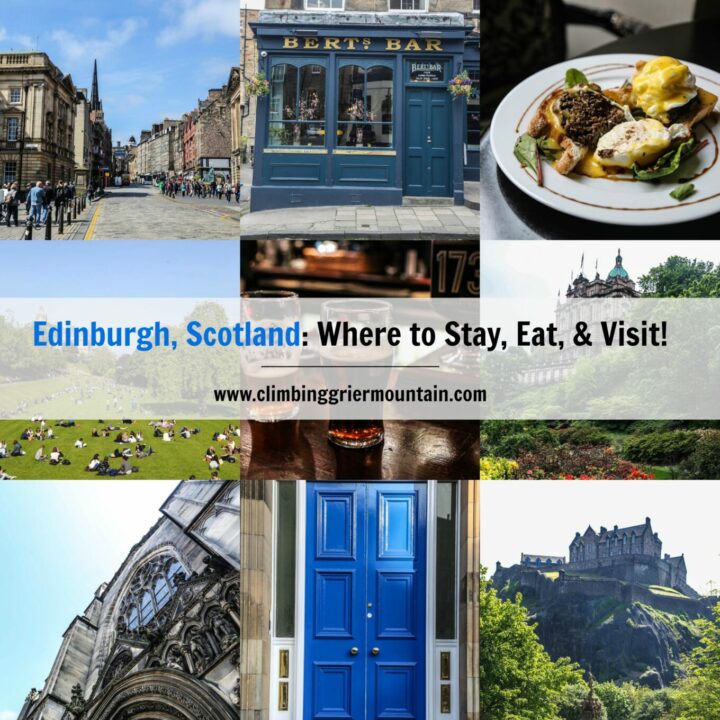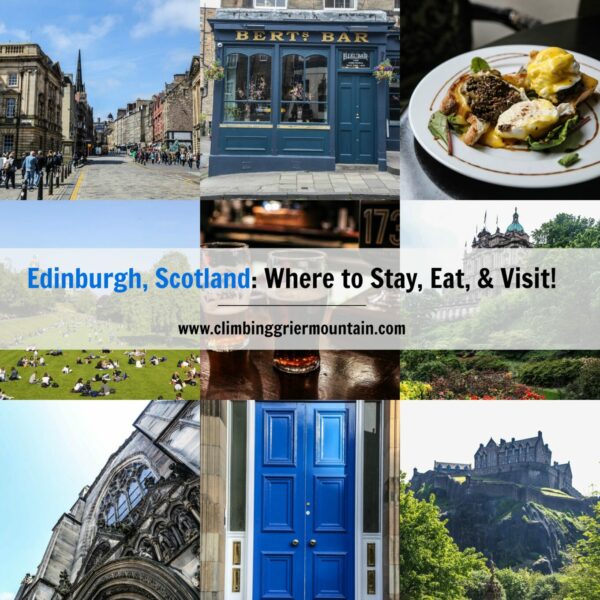 Across the pond.
4,405 miles to be exact.
A few weeks ago, Mr. B and I journeyed to a region where passion, honor, sacrifice, history, and generosity are unmatched. Being of Scottish of decent, I have a little bias when it comes to boasting about Scotland. And, after seeing my 'homeland', I am certain that Scots are one of a kind.
Mr. B and I spent a week 'touring' across every type of terrain while leaving no pint or whiskey glass untouched. As we drove through the countryside, we were captivated by the spirit of this proud land, with hundreds of glimpses of centuries past. Castles off in the distance remind us as to what life was like for the Scottish people who constantly had to battle for their independence from the English, and still do today.
But before we dive deep into Scottish history and our trip recap, I want to set the stage. Over the next couple of posts, I am going to take you on our journey through several cities – Oban, Glencoe, Fort William, Inverness, Perth, and Edinburgh. Each of these cities has unique characteristics that help capture the tone of Scotland, and I explain reasons why you need to visit.
So, buckle your seats belts because I am about to take you on a journey that will make you fall deeply and madly in love with Scotland.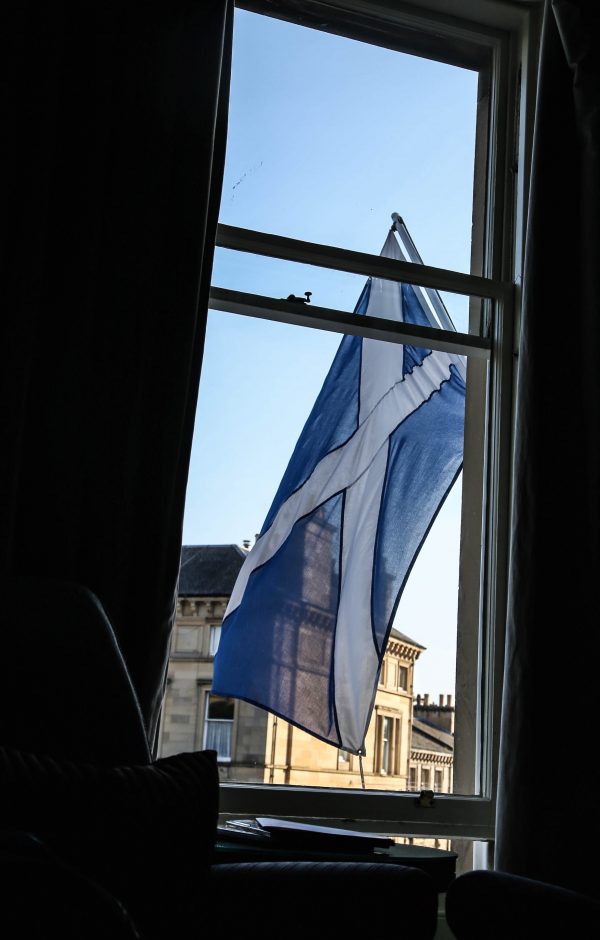 We arrived in Edinburgh the capital of Scotland bright and early – 7:32 am to be exact. With jet lag not setting in quite yet, we took a moment to collect our bearings and noticed the airport was bustling with folks from all over the world. Of course, one couldn't help but notice a sea of khaki pants with golfers discussing their excitement for their noon tee time at St. Andrews.
With are our bags arriving in one piece, we made way to the car rental. This is where things can get a little sporty. If you visit Scotland, make sure someone in your party can operate a manual shift and is comfortable driving on the left side of the motorway. Also, either print out directions or get GPS because the streets aren't well marked and the roundabouts, let's just say we didn't see eye-to-eye. The good news? Scottish drivers are very polite and courteous.
After a few rough right turns and getting lost for a hot second in a gaggle of marathon runners, we made it to our hotel located in the West End. The Bonham Hotel is a luxurious 4-star boutique hotel complete with 49 individually styled superior modern rooms, fine dining serving seasonal fresh ingredients, car parking, and a short walk to main attractions.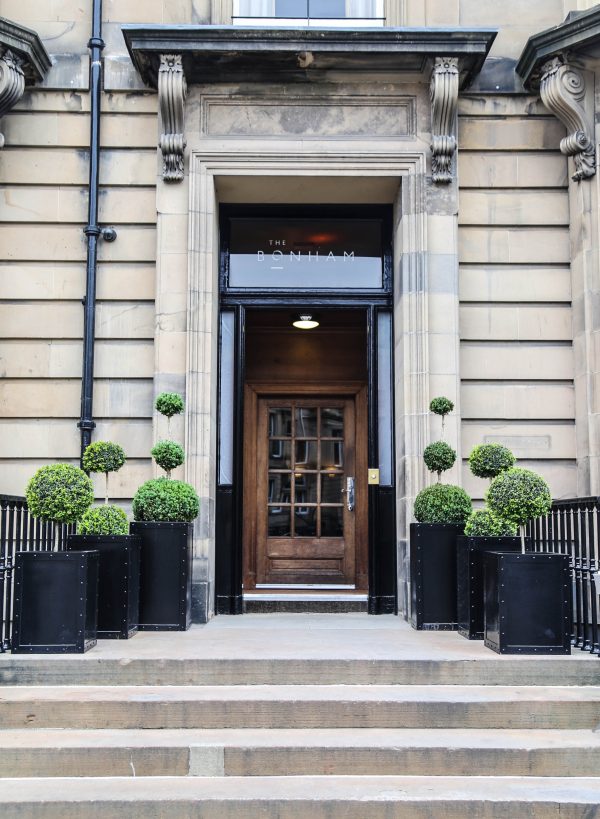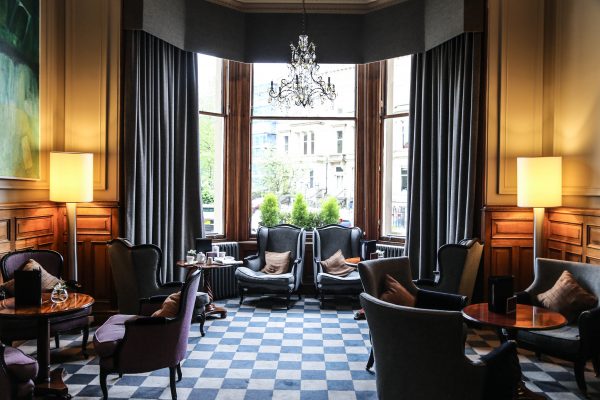 Our spacious room was perfect for settling in after our long journey. Comfortable beds, fluffy towels, a view of the city of Edinburgh, and a welcoming treat from management made our transition to Scotland a breeze.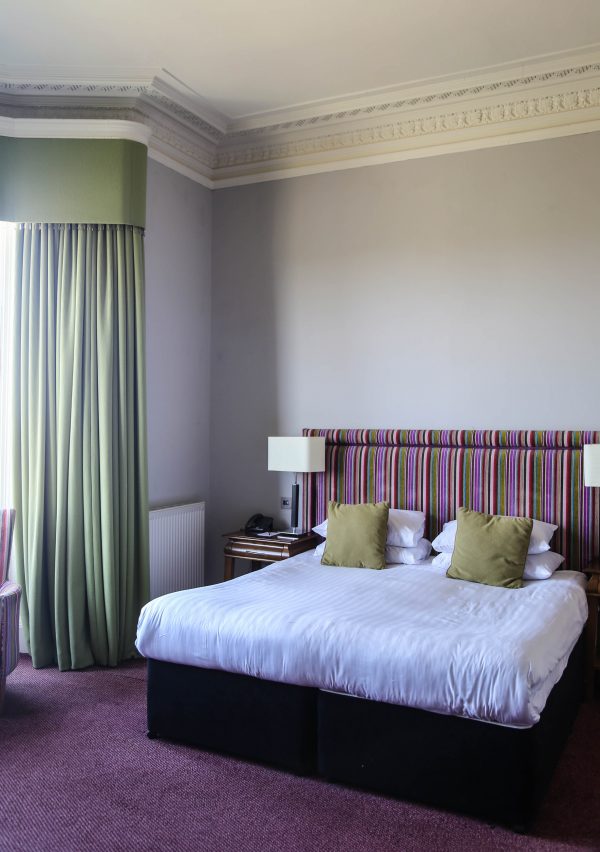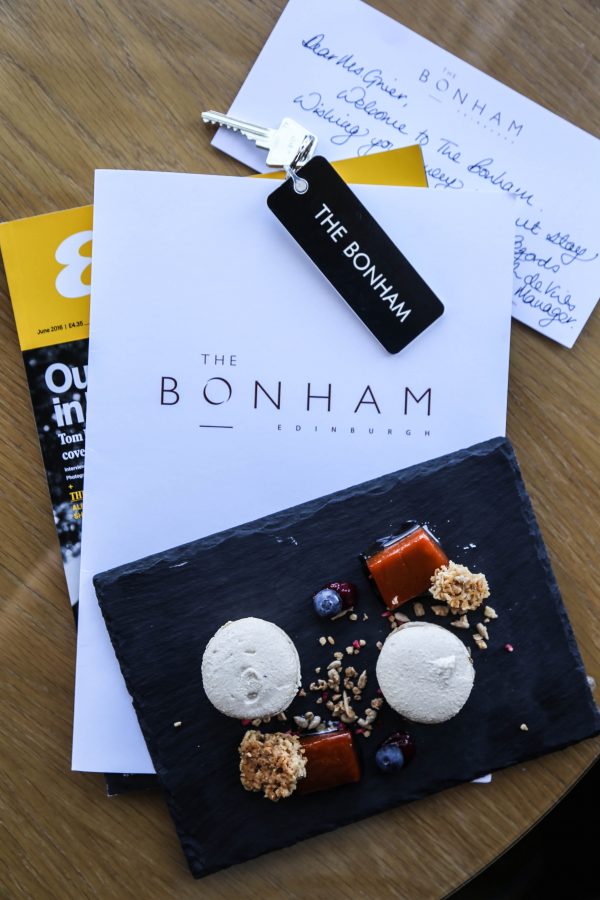 The Bonham Hotel is a stone's throw away from main attractions (12 minute walk); so with the sun shining, we made our way to city center. Our first objective was tasting Scotland's national dish, haggis. Put your stink-eye away for a second and let me tell you that even though haggis is comprised of sheep innards, it's so buttery and delicious you would never know what you are eating. We found a small restaurant called the Arcade, which served up a delightful version of Haggis Egg's Benedict.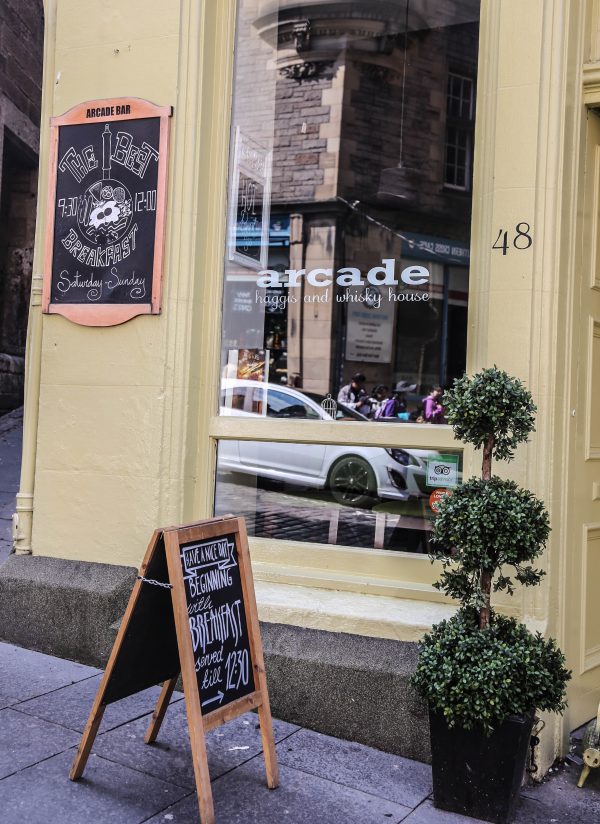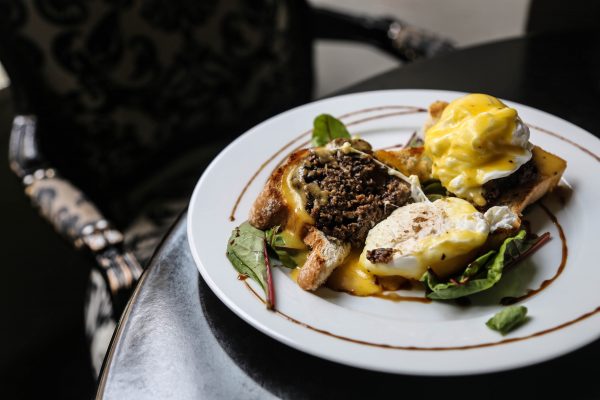 With our bellies full, it was time to walk a mile. The Royal Mile to be exact. The famous stroll is located between two historic landmarks – Holyrood Palace (which is the official residence of the British monarch) and Edinburgh Castle located at the top of Old Town. Along the Royal Mile are more significant landmarks like St. Gile's Cathedral, John Knox's house, and Parliament Square.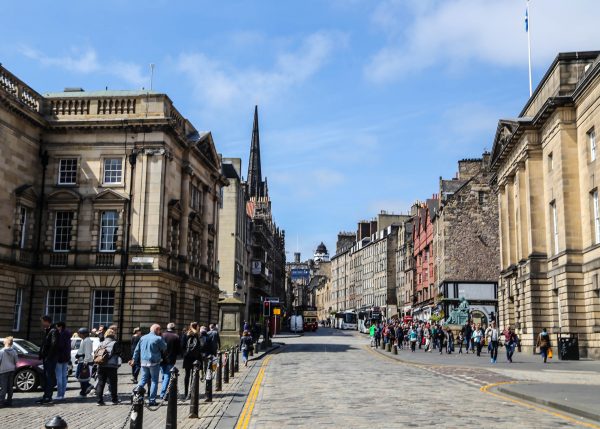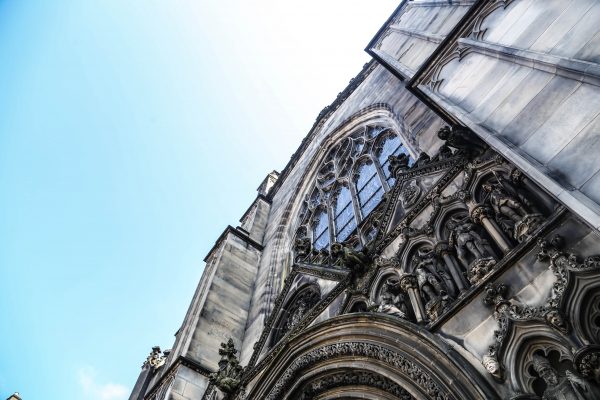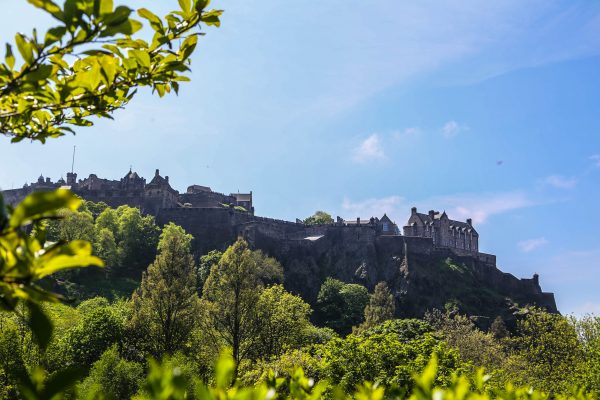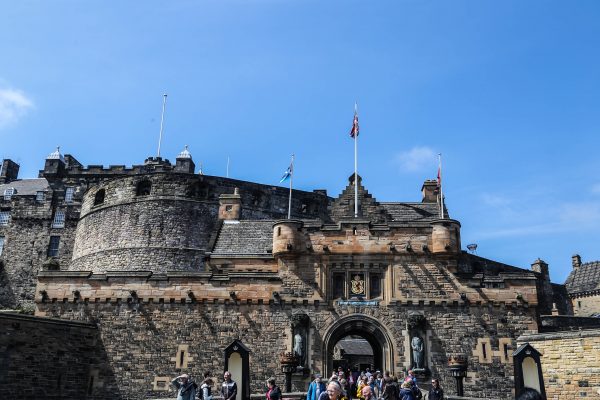 A visit to Edinburgh Castle is a must. This castle dates back to the11th century and was built upon a volcanic rock. One of the oldest surviving buildings is located inside the castle, St. Margret's Chapel. Besides the history, the views are breathtaking. If you tour, I recommend picking up a self-guided book. The castle can be crowded so it's easier to go at your own pace.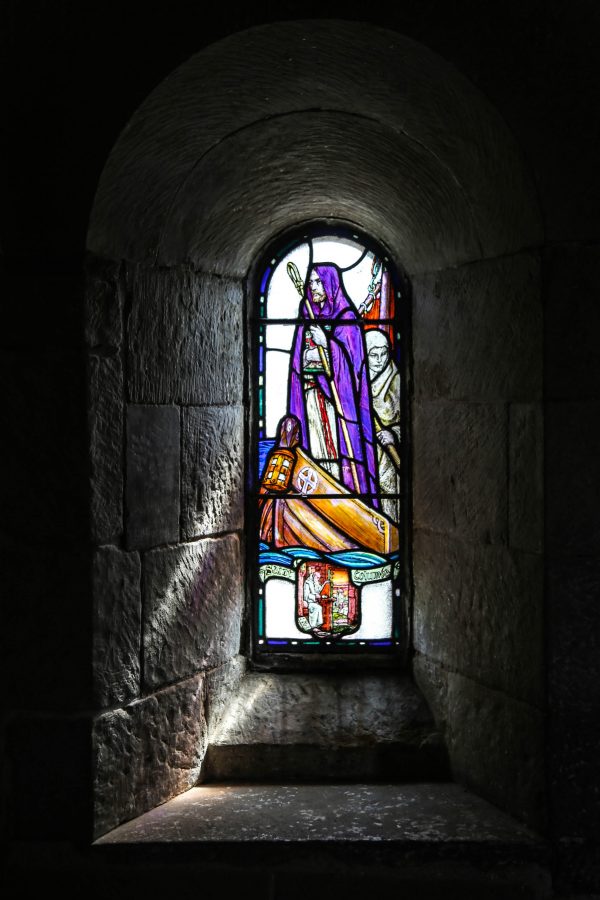 After you venture from the castle, head north to one of the many park areas and take a seat in the lush gardens. One of the benefits of the ample rain is the amount of green and flowers bursting with color.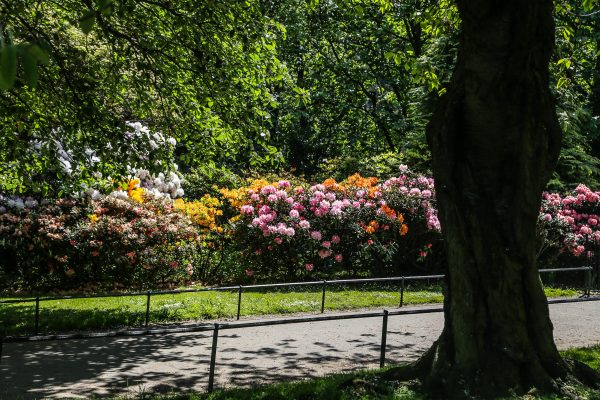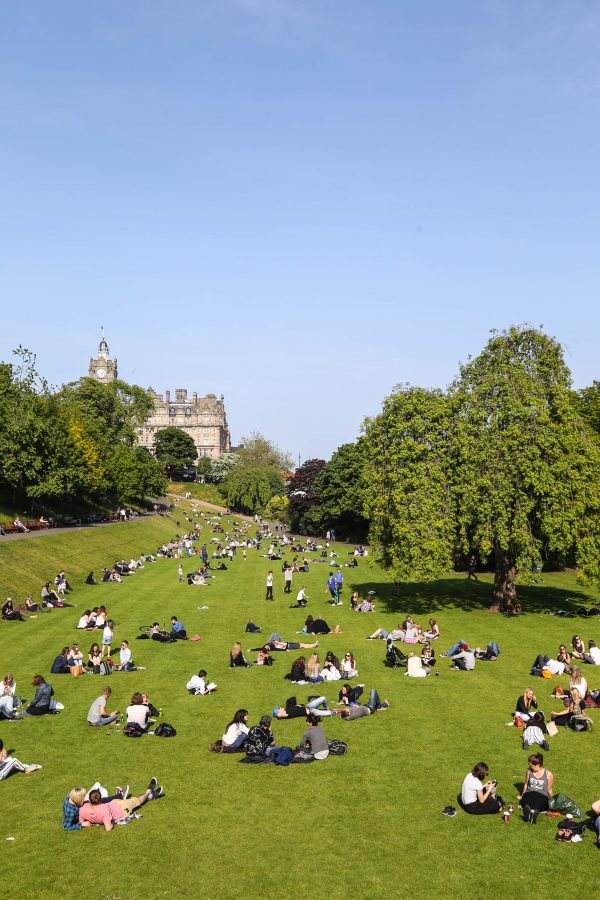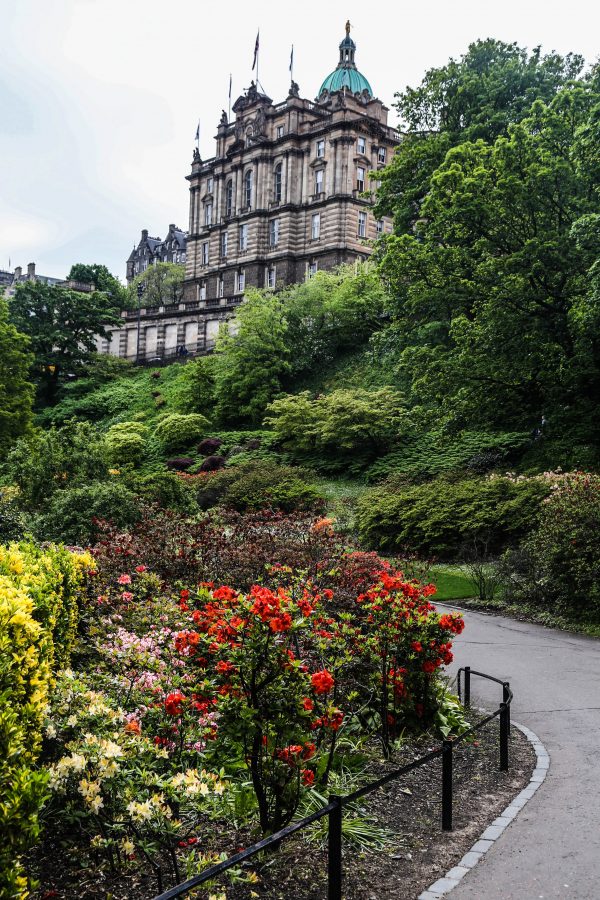 You'll quickly notice in Edinburgh there is no right or wrong way to enjoy a leisurely stroll. Alleyways give a glimpse into the old word, especially along the pathway through Dean Village. Once a city, this milling community dates back to 1800's and can still be visualized today. Even a graveyard makes a somber appearance.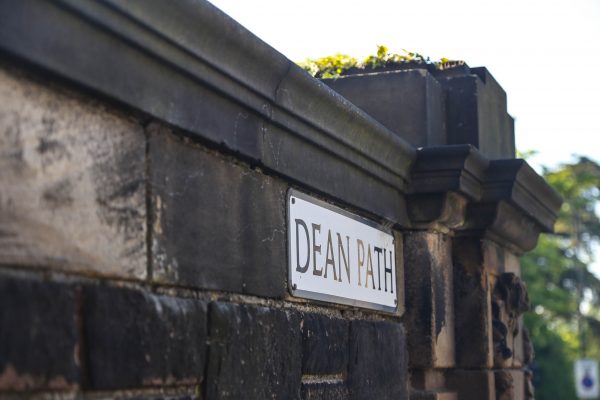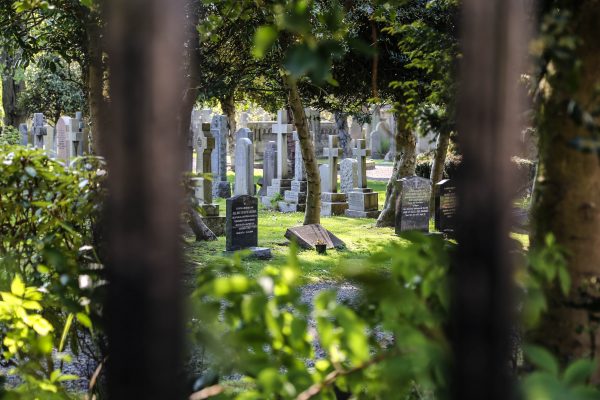 To end our day, we dined at a funky, local spot called The Dogs. With elbow-room only, we shared a collection of plates from ox tail to pork belly to pig ears, and local ales to wash it all down.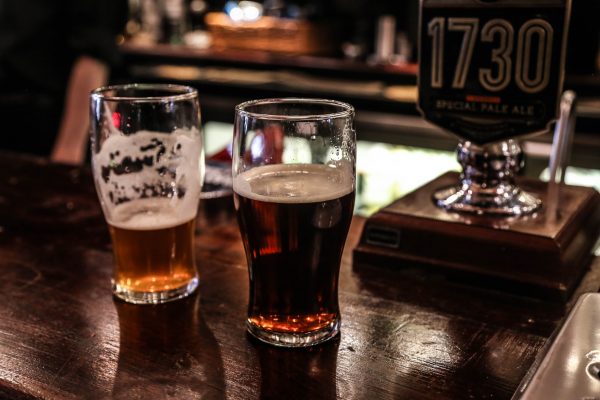 Even though we only had a short time in Edinburgh (first and last night of our trip), I was smitten with the architecture, friendly people, and of course, the food. Next stop on our tour we head to the western coastal city of Oban and then take the A82 to Glencoe and Fort William.
Stay tuned because you don't want to miss out!
***This post was sponsored by Scotland Board of Tourism and The Bonham Hotel. As always all opinions expressed are 100% my own.***