Foodie Fridays: Beets and Fennel Soup with Greek Yogurt
"And the beat goes on…"
Remember that song?
Me either. But it sure makes for a good title to introduce my next subject for Foodie Fridays.
Beets.
Don't look at me like that. Just hear me out.
Beets have had a complete makeover since Grandma was a little girl. They are no longer considered the Rasputin of the root vegetables but now more of a Joan of Arc in the culinary world. Granted, they aren't the sexiest vegetable you will ever lay your eyes on, but I'm telling you beets are where it's at.
Beets are completely nutritious as you might guess. There is a reason why mom and grandma said to eat your vegetables. They rate high in folic acid, potassium, and an antioxidant called betacyanin, which is what gives beets their rich, red color.
But don't forget about the top! Beets are a root vegetable that have a long lacy, dark green top that you pull on to pluck it from the ground. It is also nutritious. Love a double bonus.
Probably the biggest misconception about beets is that they are hard to cook because of their tough skin. Not true. There are basically three ways you can prep these little suckers:
1. Roast
2. Peel with a Knife
3. Steam
Today, I am making a soup so to make things easy I am just going to peel the skins off with a knife. Trust me, it really is easy.


Warning: you may need to wear gloves so as to not stain your hands in case you don't want to look like you just fondled Barney.
Once you have peeled and chopped the beets, start making your soup. Saute vegetables, add beets, and pour in broth.
Puree all of your ingredients once everything has cooked through. Ladle soup into bowl, garnish with fennel fronds and Greek yogurt.
Now, keep the beat going…..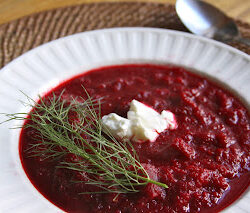 Beets and Fennel Soup with Greek Yogurt
Ingredients:
2 tablespoons olive oil
1 yellow onion, chopped
1 fennel bulb, chopped
2 teaspoons fennel seed
2 large beets, peeled, cut into 1/2 inch cubes
2 cups low-salt chicken broth (*use less and then add more for right consistency)
1 cup Greek yogurt
Greek yogurt for garnish
fennel fronds for garnish
Directions:
Preheat a large saucepan to medium heat. Add olive oil. Then add onion, fennel, and fennel seeds. Saute for a few minutes until veggies start to soften. Add beets. Stir until combined. Then add the chicken broth, bring to a boil, cover, and reduce to a medium-low heat. You will cook the beets until they are tender about 20 minutes. When the beets are tender, you'll want to puree the soup in batches. Once pureed, add Greek yogurt. Salt and pepper to taste. Serve it up with a dollop of Greek yogurt and fennel fronds.
recipe from Bon Appetit
All images and text ©