foodie fridays: apple and onion confit crostini
Can you believe that Easter is on Sunday?
Okay, whoever is pressing the fast forward button on the remote, could you please hit pause for just one second? I am mean seriously. I don't ask for much but it feels as though my life is zooming by like a high speed train! May is in two weeks. Whoa baby.
Back to Easter.
I remember as a kid, loving Easter. Not the whole church part because I hated wearing dresses. Me in pink frills, no thank you. But my mom was always good about giving my brothers and I Easter baskets filled with Cadbury eggs, jelly beans, and peeps. God, my brothers loved those little sugar chicks. We would even have Easter egg hunts in our back yard. I loved frolicking through the wet grass barefooted and feeling sheer joy when I found an egg. Those were the days.
Now things are different as an adult. Don't get me wrong, I still enjoy candy but now I get excited about planning Easter dinner. Two years ago I hosted our entire Denver village at our tiny apartment and had a blast cooking and entertaining. This year my good friend Listy and I are cooking dinner at our place in Vail, which is going to be interesting to say the least. So I thought I would share with you a new recipe that I plan to shovel out for this year's feast.
This recipe is a quick appetizer that you can make a day ahead and reheat. If that sentence doesn't convince you to make this recipe I don't know what will. The ingredients are simple.
You throw all of the ingredients into a pot and cook, low and slow until everything is softened. There is a term for such action called confit, meaning to immerse something in it's own substance to add flavor. You should throw out that term to look smart at the dinner table.
Once everything has cooked and softened, slice a baguette and toast slightly. Top the bread with slices of Gorgonzola and top it with the confit.
I am telling you this appetizer will melt in your mouth. I am drooling just thinking about it.
Happy Easter!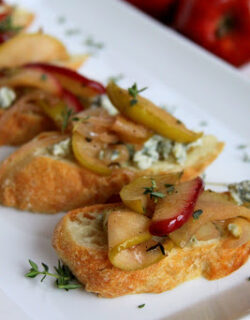 Apple and Onion Confit Crostini
Ingredients:
2 tablespoons unsalted butter, room temperature
2 tablespoons olive oil
1 large onion, thinly sliced
1 green apple, thinly sliced
1 red apple, thinly sliced
1/2 teaspoon kosher salt
1/4 teaspoon ground black pepper
1/4 cup apple cider vinegar
2 tablespoons maple syrup
1 tablespoon chopped fresh thyme leaves
1 French baguette, thinly sliced
Olive oil for drizzling
3 ounces Gorgonzola cheese sliced
1 tablespoon thyme leaves, chopped
Directions:
Preheat oven to 350 degrees.

Preheat a large skillet to medium heat. Add olive and butter. Once the butter melts, add onions, apple slices, salt and pepper. You'll want to let them saute for a few minutes. Then add vinegar, syrup, and thyme. Turn the heat to low and simmer for about 50 minutes. Remember to stir often so nothing sticks.

Spray a baking sheet with non-stick cooking spray. Lay slices of baguette on baking sheet. Drizzle with olive oil and bake for about 10 minutes or until golden brown. Remove bread from oven and immediately place Gorgonzola slices on top so the cheese can start to melt. Add about a tablespoon of apple/onion mixture. Garnish with thyme leaves.

recipe from Giada de Laurentiis

All images and text ©