foodie fridays: french onion soup wonton bites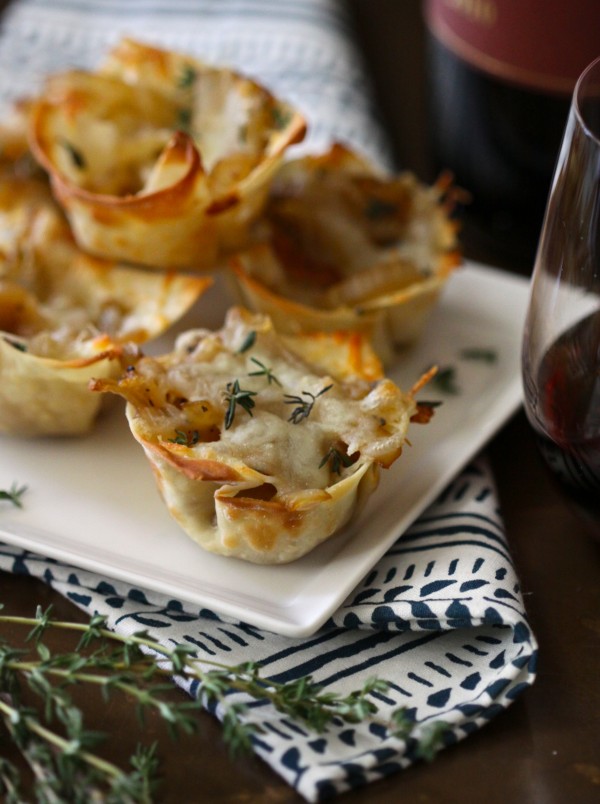 Happy beginning of summer everybody!
Y'all are going to flip-the-flippy-flop-fun-out.
Guess what?
I totally made you French Onion Soup! Yay!!
**crickets**
Wait. I thought everyone made French Onion Soup to welcome the warmth of summer? Oh. Okay, so what you're telling me is that French Onion Soup doesn't scream summer to anyone? Not even the caramelized onions or baked, gooey cheese? Not even a smidgen with the fresh thyme?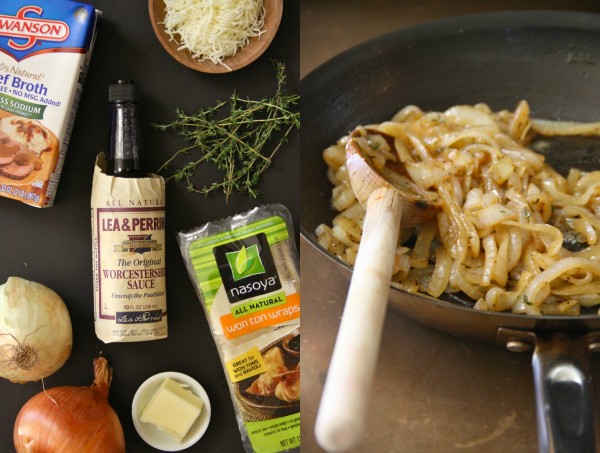 Well, what if I told you the French Onion Soup that I made wasn't a "soup-soup." It's more of a. . .tastes like a soup, but doesn't require a spoon to consume. I'm not entirely sure how these bad boys came to fruition. Well, actually, it was probably between the eight feet of snow Denver had at the beginning of May followed by rain, and then a brief heat wave. My brain was caught somewhere between the yearning for comfort food and the thought of standing over a hot stove for more than 10 minutes would cause me to go bonkers.
Thus, the French Onion Soup wonton bite was born.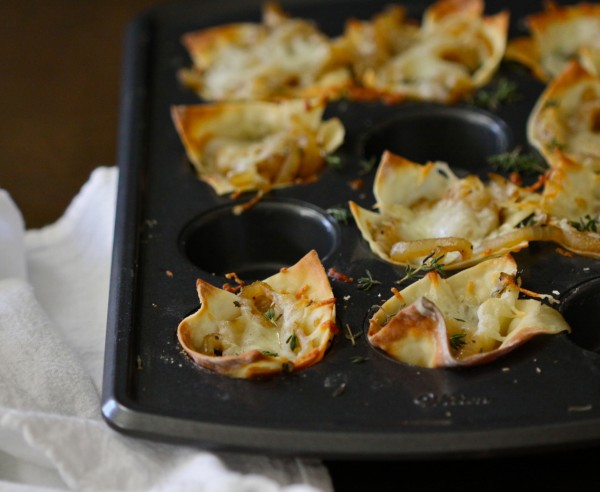 You get all the gooey goodness from the melted cheese and caramelized onions without having to encounter the slurps. Oh, the slurps, my, how I hate wiping you up. Does anybody else hate when soup somehow magically escapes your lips and a splash ends up right between your bottom lip and chin? It happens every time I sit down to eat soup! 
Even though French Onion Soup doesn't necessarily bring you backyard barbecue visions, this is still a fun appetizer you can whip up in a couple of minutes. Plus, it gives you an excuse to make caramelized onions with sinfully delicious cheese. Need I say more?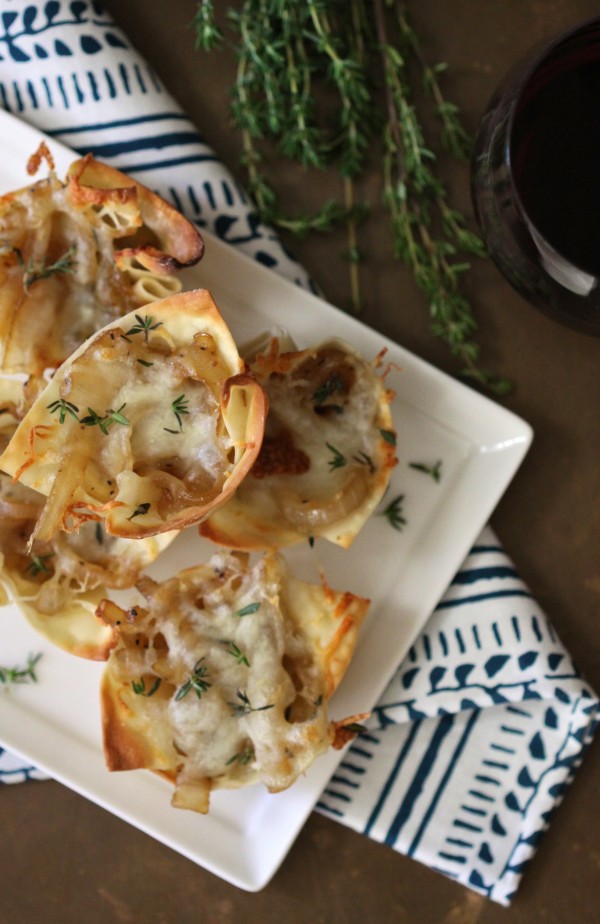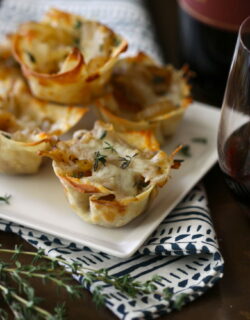 French Onion Soup Wonton Bites
Ingredients:
12 small wonton wrappers
2 large yellow onions, sliced thinly
2 teaspoons granulated sugar
1.5 teaspoons fresh thyme, chopped
2 tablespoons butter
1/2 cup beef broth
1 tablespoon Worcestershire sauce
1 cup fontina cheese, grated
salt and pepper
Directions:
Preheat oven to 400 degrees.
In a skillet preheated to medium heat, melt butter. Place onions into skillet and cook for a few minutes. Add salt, pepper, sugar, Worcestershire sauce, and thyme. Stir and cook for another couple of minutes. Add beef broth and cook until onions are golden brown about 20 minutes. Make sure to stir occasionally to keep the onions from burning.
Spray a mini-muffin tin with non-stick cooking spray. Gently place a wonton wrapper into each hole. Spoon about a tablespoon of the onion mixture into each wonton. Top with fontina and bake for about 10 minutes or until golden brown. Garnish with more thyme.
adapted from Iowa Girl Eats
All images and text ©