foodie fridays: fudge brownies with marshmallow frosting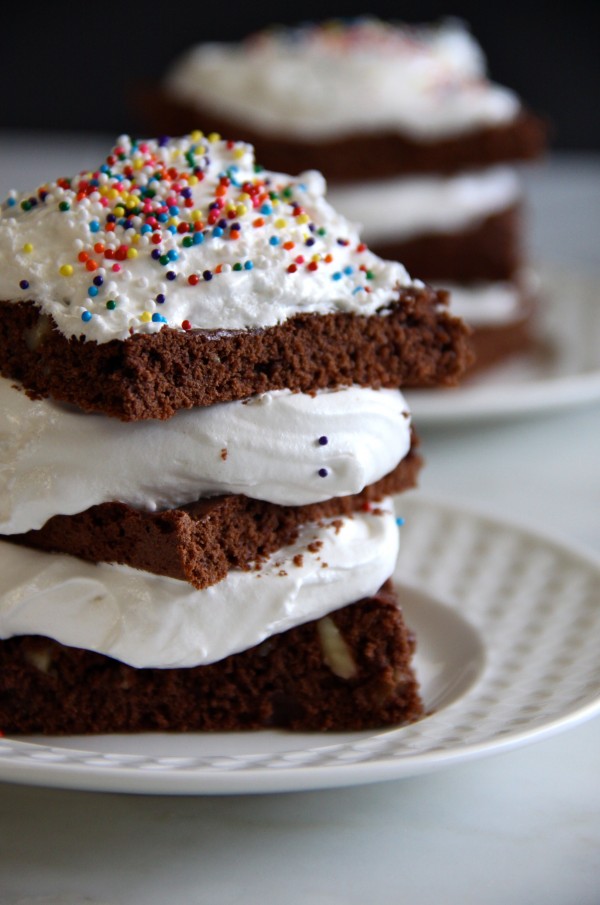 On Monday, I turn the big 3-0.
Yep, yep.
I'm officially entering the last days of my "true" youth. A part of me is sad. I kind of feel like Cameron Diaz in the movie The Sweetest Thing. Do you remember the scene where Christina Applegate and her are getting ready to do the movie montage in the dressing room before they go to Peter's wedding?
Cameron Diaz was complaining to Christina about her boobs, saying, "You know, when I was 22 my breasts were up here, nice and perky, but gravity has taken them. . . (raises arms in the air) It's like 22, (pulls her arms down to her side) 28. 22, 28, 22." Then Christina responds, "Buy some new ones!"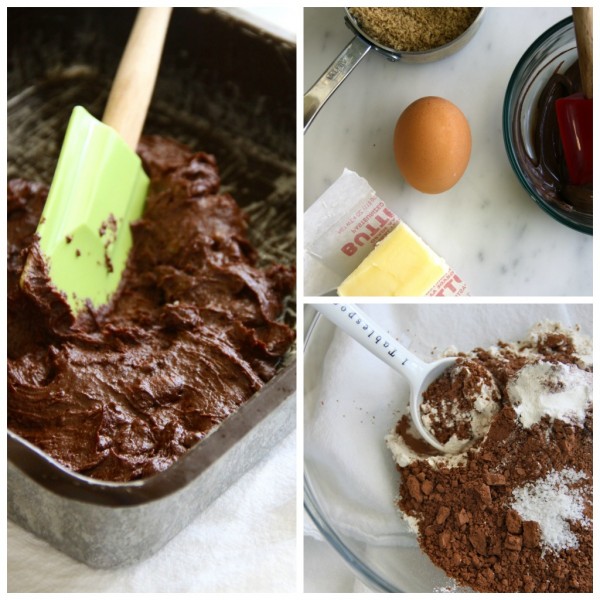 Even though I am completely sympathetic to Cameron Diaz's character, Christina does have a point. When you're in your twenties, you have all the advantages of youth – perky boobs, zero wrinkles, and the ability to wake up without feeling the effects of a hangover. However, I think entering the thirty zone has it's advantages, too.
First of all, you start seeing the benefits of working hard at your job for the past five to six years, which leads to more scrilla' in your pocket. This leads to opportunity to buy a glass of champagne instead of a can of Natty Light (i.e. less chance of a hangover). The "no hangover" bit leads to non-baggy eyes, which keeps you looking fresh and perky!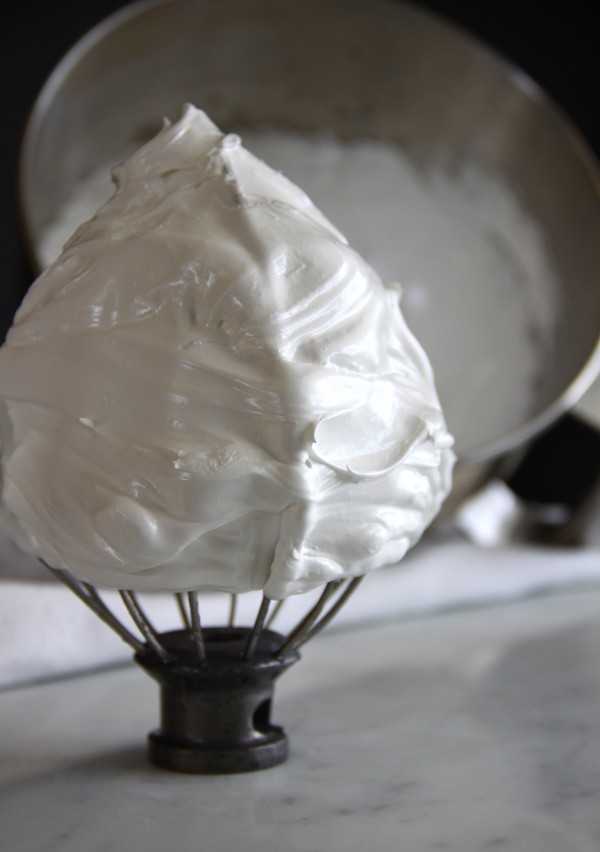 So in honor of making the decade jump, I figured I'd whip up a new version of my favorite birthday treat. When I was growing up, my mother used to bake my brothers and I a chocolate cake with marshmallow frosting. It was the bees knees in our household. In fact, this cake is so legendary, I'm requesting it be made when I travel back to Kansas City this weekend!
I.can't.wait.
Anyways, the thought of face planting into this giant cake got me so jazz hands excited that I felt I needed to make some complimentary version to this childhood treat just for good measure. I figured fudge brownies dolloped with this sugary, glossy icing would be the perfect compliment. The best part, you can even stack the brownies for a faux cake look. Oh, I die!
No matter how old I will get, I bet my taste buds will always be perky – and crave birthday cake!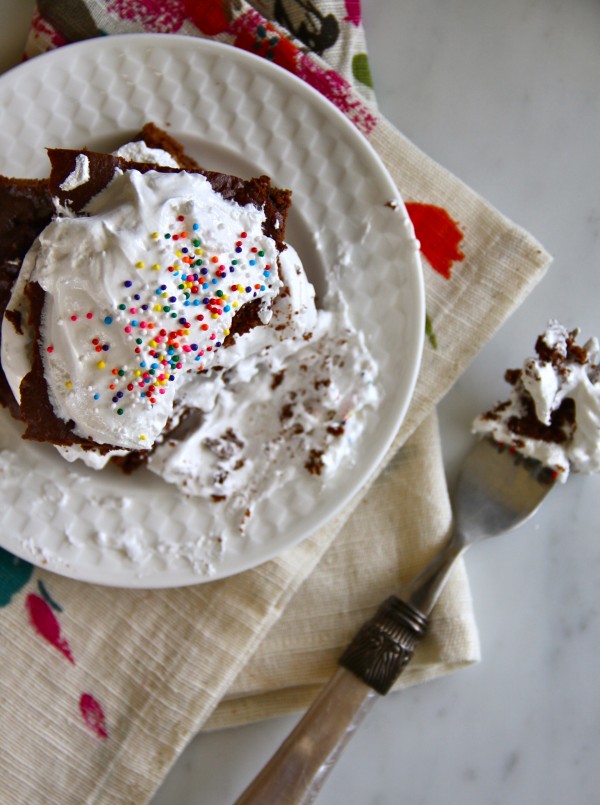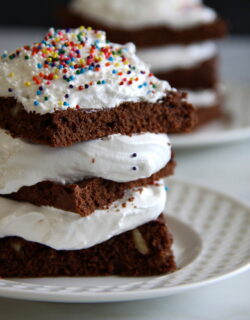 Fudge Brownies with Marshmallow Frosting
Ingredients:
for the brownies:
3 tablespoons unsalted butter, room temperature
3/4 cup all-purpose flour
1/3 cup unsweetened cocoa powder
1/2 teaspoon salt
1 cup dark brown sugar
1 large egg
1 teaspoon vanilla extract
2 tablespoons semi-sweet chocolate chips, melted
1/4 cup unsweetened applesauce
1/4 cup walnuts, chopped
for the marshmallow frosting:
2 egg whites
1/4 teaspoon salt
1/4 cup granulated sugar
3/4 cup corn syrup
1 teaspoon vanilla extract
sprinkles, garnish
Directions:
Preheat oven to 350 degrees.
for the brownies:
Spray a 9x9 baking pan with non-stick cooking spray. Using a stand mixer with a paddle attachment, beat sugar and room temperature butter. Add egg and vanilla extract, incorporating slowly. Then add the melted (cooled) chocolate and applesauce, combine well. In a large bowl, mix together flour, cocoa powder, and salt. Working in batches, slowly add the dry ingredients to wet until fully combined. Take the batter and spread it evenly into pan. You may have to spray your spatula with non-stick cooking spray because the batter is pretty darn thick. Bake for about 20 minutes. Cool the brownies before you cut and dollop with marshmallow frosting and sprinkles.
for the marshmallow frosting:
In a stand mixer with a whisk attachment, beat 2 egg whites with salt until frothy. Gradually add sugar, beating until soft peaks form. Heat syrup in a glass microwaveable dish until it boils. Pour syrup in thin stream over egg white mixture, a little at a time. Beating on high speed until harder peaks form. Add vanilla and beat until glossy!
fudge brownies recipe from Food and Wine Magazine
All images and text ©