Foodie Fridays: Pork and Lemongrass Meatballs in Lettuce Cups
Did you know that Asian fusion is back?
Well, if your like me, you didn't even know Asian fusion was in and then left. Food trends, like fashion, go in and out of style and frankly, it's hard to keep up.  In the 1990's, Asian cuisine was the main flavor in every restaurant in New York City. From wasabi mashed potatoes to soy-infused dumplings, nothing was left out of this West meets East mashup.
However, this time around, things are different. Subtle is the keyword. American chefs are no longer virgins when it comes to cooking Asian cuisine. They've had time to develop their skills and palate. With Asian markets being accessible and information pouring in from the Internet, what seemed to be intricate step-by-step processes with ingredients that were hard to pronounce, chefs are now experts in the art of showing their love for Asian food.
Now in most relationships, experts will tell you that it's the little things that matter most. And with cooking it's the same way. How do you develop flavor using the simplest ingredients?
Meet lemongrass.
Lemongrass is a fibrous, foot-long stalk of slender green leaves primarily used in Asian cooking. The basic compound of lemongrass is similar to lemon zest, thus the lemony taste without being tart. The stalk is most commonly used in teas, soups, and curries to infuse flavor. But lemongrass can also be chopped and minced and put into meats and sauces much like the meatballs I made today.
Grinding up lemongrass and combining it with pork imparts a citrius flavor to this otherwise bland piece of meat. It awakens the palate in the simplest way.
You can also grind up some additional lemongrass to make a fresh dipping sauce.
This is a great meal to make during the week because it requires little to no effort! Plus, you can impress your loved ones with your fancy lemongrass talk and then make some Asian cusine…wink, wink.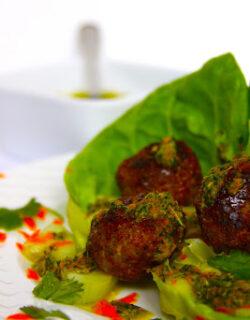 Pork and Lemongrass Meatballs in Lettuce Cups
Ingredients:
for the meatballs:
1 pound ground pork
1 lemongrass stalk, diced
1/4 cup shallots, chopped
2 tablespoons cilantro, chopped
2 tablespoons fish sauce
2 garlic cloves, chopped
1 tablespoon vegetable oil
1 teaspoon sugar
1/2 teaspoon ground white pepper
for the dipping sauce:
1 lemongrass stalk, diced
1/4 cup fresh lime juice
1/4 cup fish sauce
2 tablespoons cilantro, chopped
2 tablespoons carrot, grated
4 teaspoons golden brown sugar
2 teaspoons green Thai chile, minced
2 tablespoons vegetable oil
1 head butter lettuce, leaves separated
1 small cucumber, sliced
Directions:
for the meatballs:
Preheat oven to 400 degrees. In a food processor, add lemongrass, 1/2 teaspoon salt, and remaining ingredients. Pulse until paste forms. Add ground pork, pulse again to blend. Shape into mixture into 24 balls. Place meatballs onto two baking sheets and bake for about 10 minutes or until golden brown.
for the dipping sauce:
In a medium bowl, combine all ingredients.
to serve: Put butter leaves on a plate. Place meatballs inside. Garnish with cucumber and drizzle with sauce on top.
recipe from Bon Appetit
All images and text ©