foodie fridays (special edition): holiday stay-cation party: tips and tricks with mark addison
The Holidays. Here we are in the thick of 'em. Only a couple more days before the big guy in a red suit makes his final delivery for all the good boys and girls. I don't know about you, but I am way behind the curve this year. I wish I had some of Santa's magical holiday touch. Can you imagine having all of your Christmas shopping finished in one day? Or the tree decorated and lights displayed on the house in a matter of minutes? Or better, a tropically-inspired dinner party at your house for 10 of your closest friends that comes to together in seconds?
What if I told you that your wish of easy holiday entertaining could come true? I want to introduce you to a guy that has a magical entertaining touch, Mark Addison.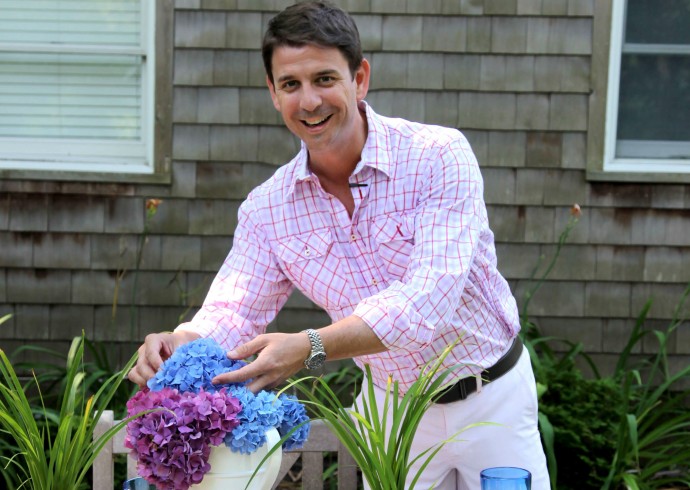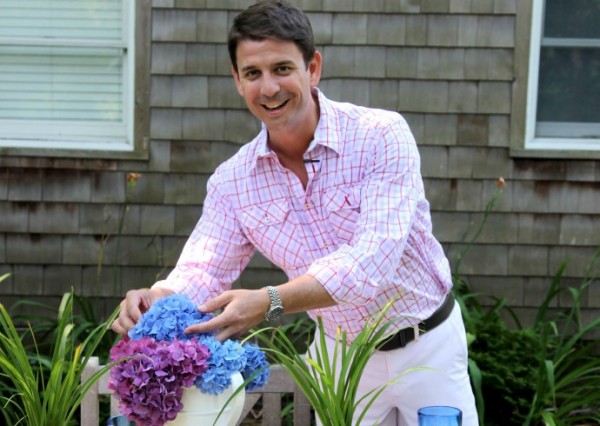 (source: KDHamptons)
In no way does he resemble that jolly good fellow, but don't let that fool you. Mark is a designer and entertaining expert that has been featured on Access Hollywood, Martha Stewart, and the Today Show! His passion is making entertaining – especially during the holidays – easy and fun.
When I was approached to interview Mark about creating a celebrity-inspired holiday stay-cation party, I immediately said yes! And Mark was exactly how I pictured him to be – easy going, funny, and extremely knowledgeable. I really wish he had been my wedding planner back in the day!
Anyway, I thought I would share with you y'all his trips and tricks for creating that luxurious and exclusive holiday stay-cation feel at your next party. If you can't go to St. Bart's for the holidays, why not bring the tropical vibe to your house? It's an excuse to have a frozen, fruity drink while it's snowing outside! Plus, you'll save money, experience zero jet leg, and have fun with your family and friends.
Climbing Grier Mountain (CGM): What are your top three tips to keeping your holiday stay-cation party under budget?
Mark Addison (MA): 1.) Plan ahead. Do a little research. It doesn't have to be weeks of planning – keep it simple. Use things like Pinterest to generate ideas or party boards. 2.) Plan a menu. Once you know the "theme" of your party, start pairing down ingredients. You don't want to run to the grocery store 11 or 12 times. Use ingredients more than once. 3.) Set a limit with invitations/RSVP's. You don't have to invite the world. Ten to 12 is the magical number of people to invite to create an intimate feel. Also, if you don't want to do the Evite route, buy some stock card and cut pictures out of a travel magazine. Paste the "themed" pictures on the card and make a quick invitation to mail.
CGM: How do you create a luxurious and exclusive feel using local resources (i.e. TJ Maxx, Target, Marshalls)?
MA: Know what you're looking for, but also be open to looking at things in a new way. Take a vase for example. It doesn't have to hold flowers, why not use it as holder for serving utensils? If you're sticking with a tropical theme, why not use a beach towel instead of table cloth? Or instead of tiki torches (because they could get tricky inside), use candles and a couple shells instead. These small details help give life to the theme.
CGM: What are three go-to appetizers for a tropical themed party?
MA: 1.) Grilled skewers with tropical fruit. Skewers are simple. They are easy to prepare ahead of time, grill, and really make a nice presentation. 2.) Ceviche. People think ceviche is a very complicated dish, but that couldn't be further from the truth. All it takes is a little white fish, vinegar, citrus juice, and spices. Mix it all together, and voila! Plus, you can make this ahead and serve it when people arrive in small, clear plastic cups. 3.) Mez of things – arrangement of fondue crudite, banana chips and salsa, etc. The best thing you can do with food is keep the serving platters eclectic. They don't all have to be on white platters.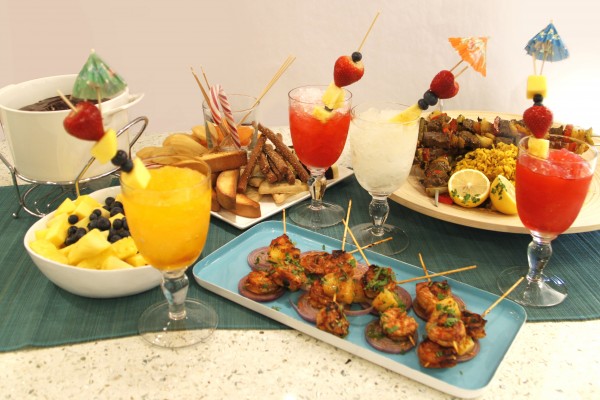 (source: Taylor Global Inc.)
CGM: What cocktail is easiest to serve and well-received by guests?
MA: If you're sticking with the tropical themed stay-cation, I love the Parrot Bay Frozen Pouches. For $1.99, you can buy an assortment – pina colada, strawberry, or mango. Put these in the freezer overnight, and when the party starts, squeeze some in a glass, and serve. A fun drink to serve is the mango pouch with a cherry for a sunset-themed cocktail. Also, don't be afraid of using canned fruit as garnishes. It's quick, easy, and looks fun!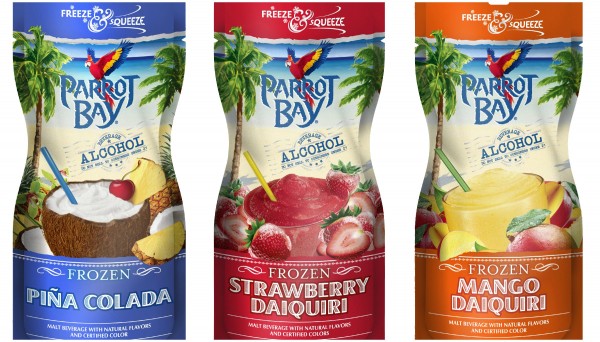 (source: Taylor Global Inc.)
CGM: Is a good playlist important?
MA: YES! Have fun with your playlist. Throw a song in the mix that will make people get up and dance. Guests love surprises.
CGM: Are there one or two things people shouldn't worry about when hosting a stay-cation holiday party?
MA: Absolutely. 1.) Where the furniture goes. It's not as big of deal as you think. People always end up by the food or bar. 2.) Not everything has to match. Like I mentioned earlier, you don't have to use 18 white platters. Get creative. Mix things up.
CGM: Any final tips or tricks?
MA: Three things: 1.) Clean your bathroom. You would be surprised how many don't keep it clean. People are nosy. Don't keep things in cupboards you don't want other people to see. They will look. And remember to keep the theme flowing into the bathroom. Put some candles or shells in there. 2.) Don't ask guests to help cook food or make drinks. You are the host and you invited them over to relax and have a good time. 3.) Have fun! If you plan right, you will actually be able to enjoy your party.
Once again, I would like to thank Mark for taking the time to let me interview him. I had a blast! For more information about Mark, check out his website: www.markaddison.com. There you will find even more tips and tricks for your next party!
***I was not compensated for writing this post. All questions asked were generated by yours truly. Thanks! ***