wonton veggie pizza bites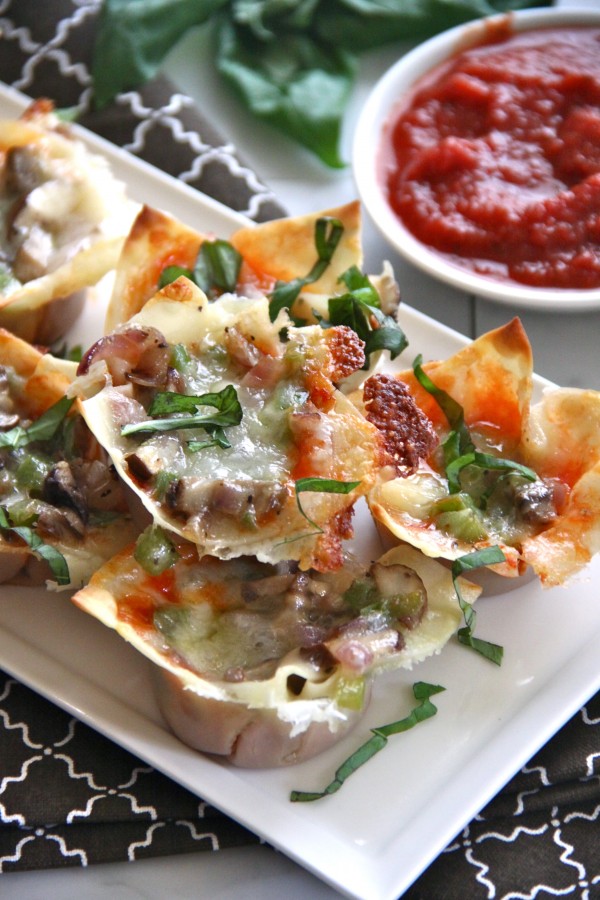 Merry Christmas Eve!
I must say, I think Christmas Eve is probably my favorite times of the year. Just like the famous Christmas song, "All is quiet and all is calm." There's something magical in the air. On Christmas Eve, the world becomes quiet, reflective, and grateful. A true peace exists among mankind. The world takes one giant, deep breath. . . .sigh.
Besides the peaceful bliss of Christmas Eve, one of my favorite memories growing up was eating pizza for Christmas Eve dinner. Yep, yep! After hours of sitting in Catholic mass wearing a polyester red dress, you could imagine as a kid how stoked I was for some Pizza Hut pizza.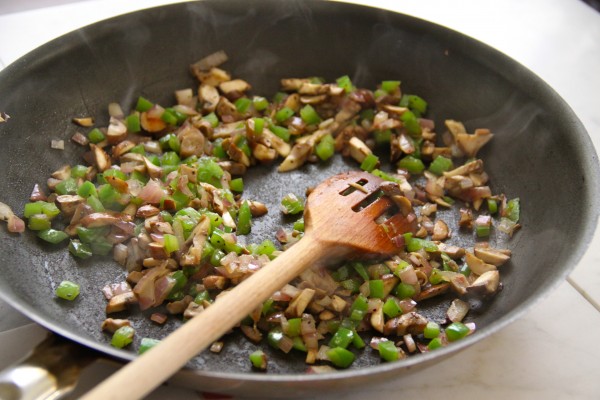 I'm not quite sure how the tradition started (Mom, maybe you'll leave the details in a comment below?), but it's definitely a favorite Wurth family tradition. We'd eat pizza around my grandparents table and talk about how my parents met while working at Pizza Hut back in the day. I remember always wanting more and more Parmesan cheese from the green bottle on top!
Once our bellies were full, we would immediately open presents. Oh, yes. We always celebrated Christmas early with my Grandpa Ray and Grandma Arlie. It was my favorite. Not only did we get to open presents early, but my grandmother would always hide a chocolate goodie in the Christmas tree and let my brothers and I find it. Man, I really miss them.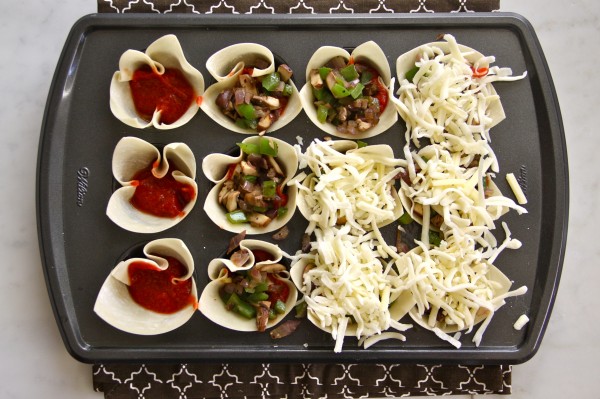 So, in honor of Christmas past, I thought I would make pizza, but with a twist. These wonton veggie pizza bites are super simple and easy to make. They are a great appetizer for the holiday party. Kids will love them because they are easy to eat. Plus, you can switch out any of the ingredients and make your favorite kind of pizza. Just remember, the more cheese, the better!
Merry Christmas, friends. I wish you a blessed and loving holiday from my home to yours.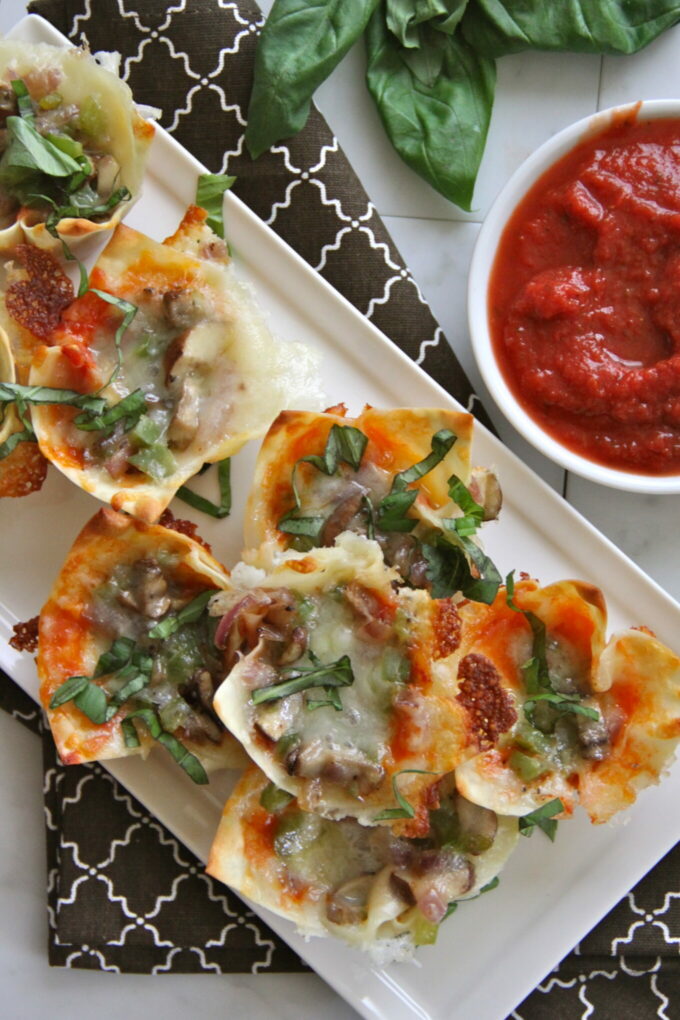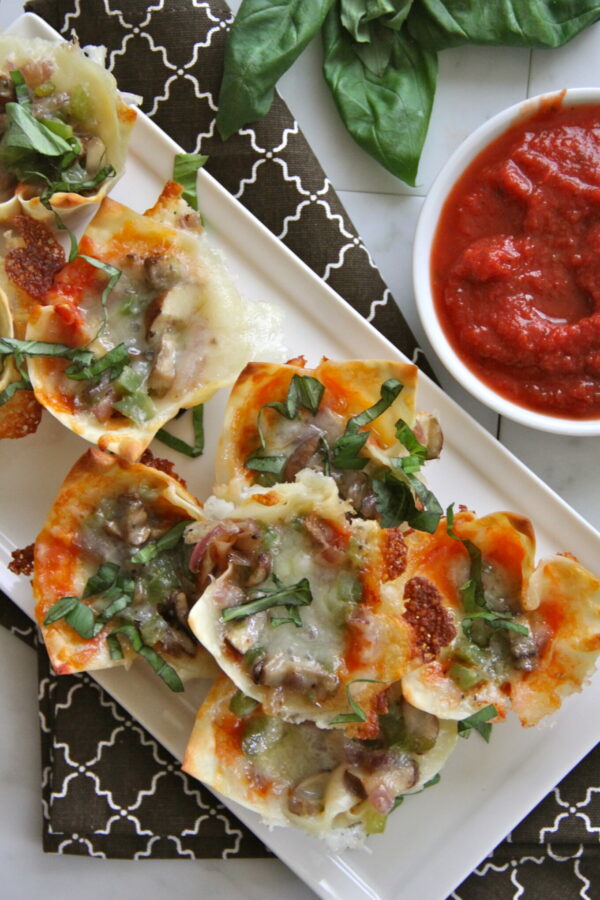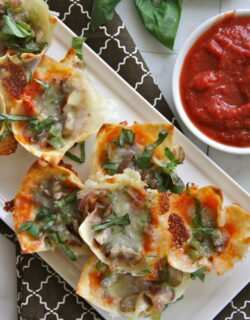 Wonton Veggie Pizza Bites
Ingredients:
2 tablespoons olive oil
1 package small wonton wrappers
1 cup baby bella mushrooms, chopped
1 green pepper, chopped
1 small red onion, chopped
2 cups favorite marinara sauce (extra for dipping)
3 cups + more, mozzarella or pepper jack cheese, shredded
fresh basil, chopped
salt and pepper
Directions:
Preheat oven to 400 degrees. In a medium skillet over medium-high heat, cook mushrooms, onion, pepper in a little bit of olive oil. Add a pinch of salt and pepper, cook until softened. Set aside.
In a mini muffin tin, gently press a wonton wrapper into the each hole. Top each wrapper with about a tablespoon of marinara sauce. Then top with about a tablespoon of the mushroom mixture and top with lots of cheese! Bake for about 10 minutes or until golden brown.
Remove bites and place on tray. Garnish with basil and more marinara for dipping sauce alongside.
All images and text ©