foodie fridays: spiced spaghetti squash crostini with chorizo & chickpeas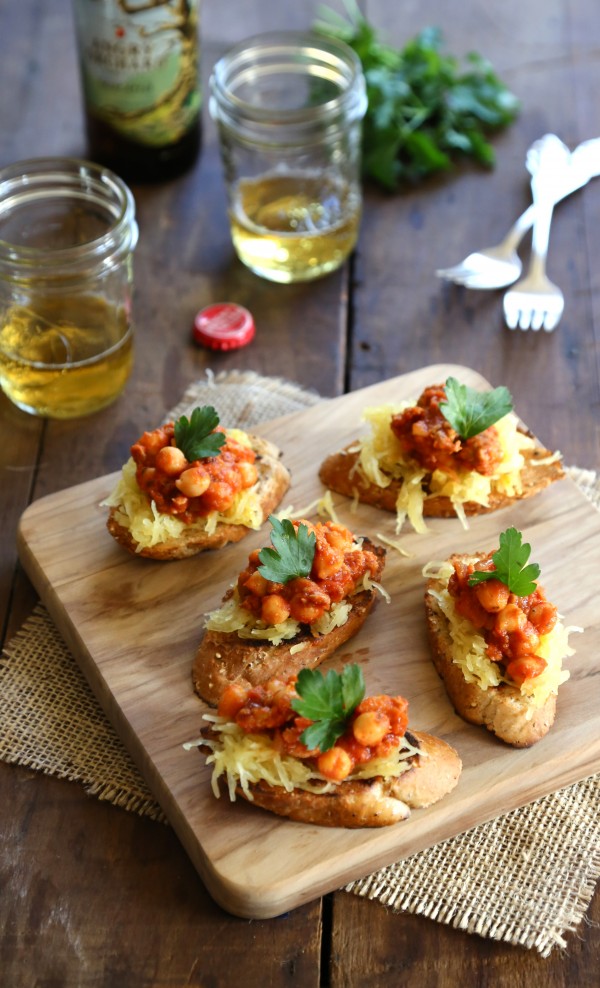 Spaghetti squash is a true example of God's humor.
That, and a giraffe.
If you think about it for a second, the long neck with tiny ears, and black tongue make for a good chuckle. And while we are on the subject of funny looking animals, isn't the komondor dog a freaking riot? Seriously, you know God lost a bet making the dog look like a Rastafarian rolled into a display of carpet samples.

Even though spaghetti squash doesn't have weird looking extremities, this winter vegetable is quite humorous. I wonder if God got bored (or smoked some doja) one day while he was shopping in the heaven grocery store for some butternut squash. He might have declared: "if I saute or caramelize one more cube of squash, I am going to make it rain for 40 days"!!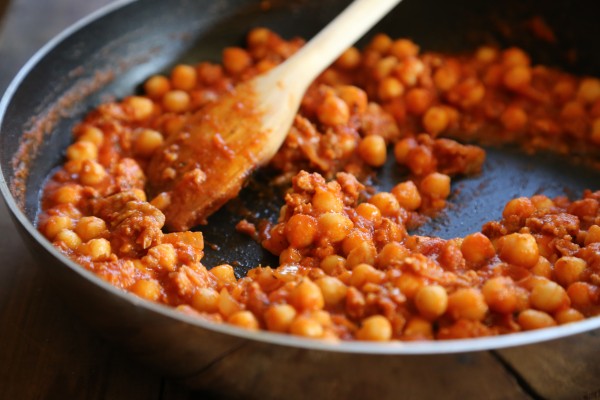 And that's how spaghetti squash came into being. God just wanted a squash that he could scrape the tender vegetables bits out easily. Okay, not really, but it makes for a great story. It does give you a better chance to explain how when you rake the inside of the squash, spaghetti like noodles appear.
Well, these spiced spaghetti squash crostini don't require the inhalation of medical marijuana nor a trip to heaven to enjoy. These crostinis are easy to whip and have a ton of flavor. Simple for a weeknight dinner or an impromptu holiday party.
Make these crostinis and chuckle your way through the holidays.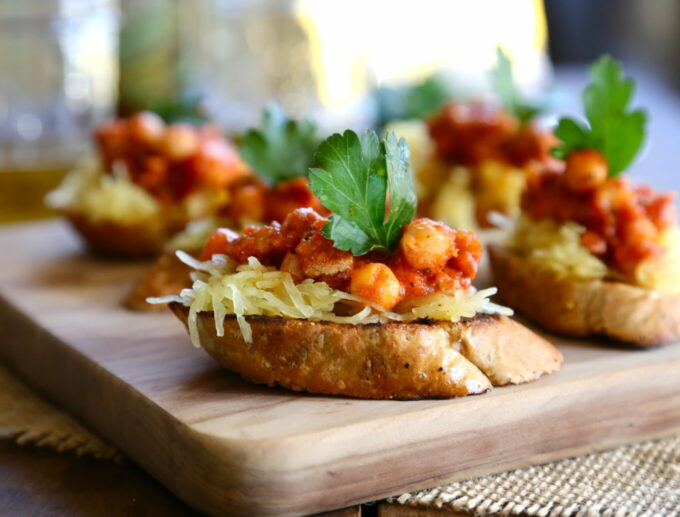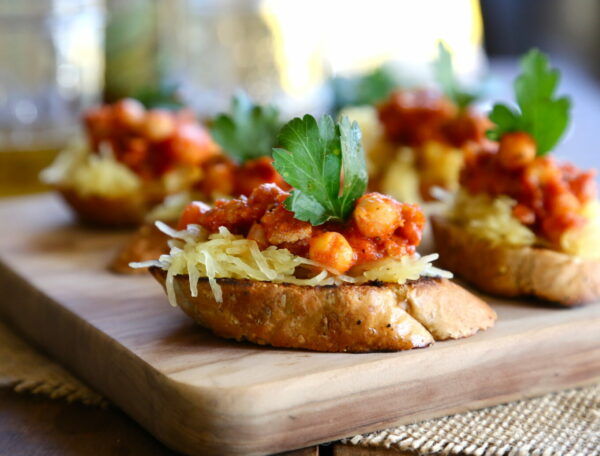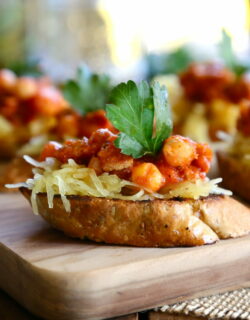 Spiced Spaghetti Squash Crostini with Chorizo & Chickpeas
Ingredients:
1 medium spaghetti squash, halved, seeds removed
3 tablespoons olive oil
salt and pepper
1 lb ground chicken chorizo
1 15 oz Chickpea, drained, rinsed
1 cup marinara sauce
dash red pepper flakes
1 baguette, sliced, grilled
salt and pepper
parsley, garnish
Directions:
Preheat oven to 350 degrees. Spray a baking sheet with non-stick cooking spray. Place the halved squash on the baking sheet, cut side up. Drizzle the tops with 2 tablespoons olive oil and a pinch of salt and pepper. Bake the squash for about 45 minutes or until golden brown. Let it cool slightly before you start to rake the squash with a fork.
Preheat a skillet to medium heat. Add a tablespoon of olive to the pan and then add chicken chorizo. Begin to brown. After 5 minutes, add the chickpeas, marinara sauce, and red pepper flakes. Stir to combine. Once the chorizo has been cooked through, remove the skillet from the heat and set aside.
to serve: place a tablespoon or more of the spaghetti squash on the grilled baguette. Dollop another tablespoon of the chorizo-chickpea mixture on top. Garnish with parsley.
recipe adapted from Food and Wine Magazine
All images and text ©