pumpkin naan pizza with gruyere & fresh herbs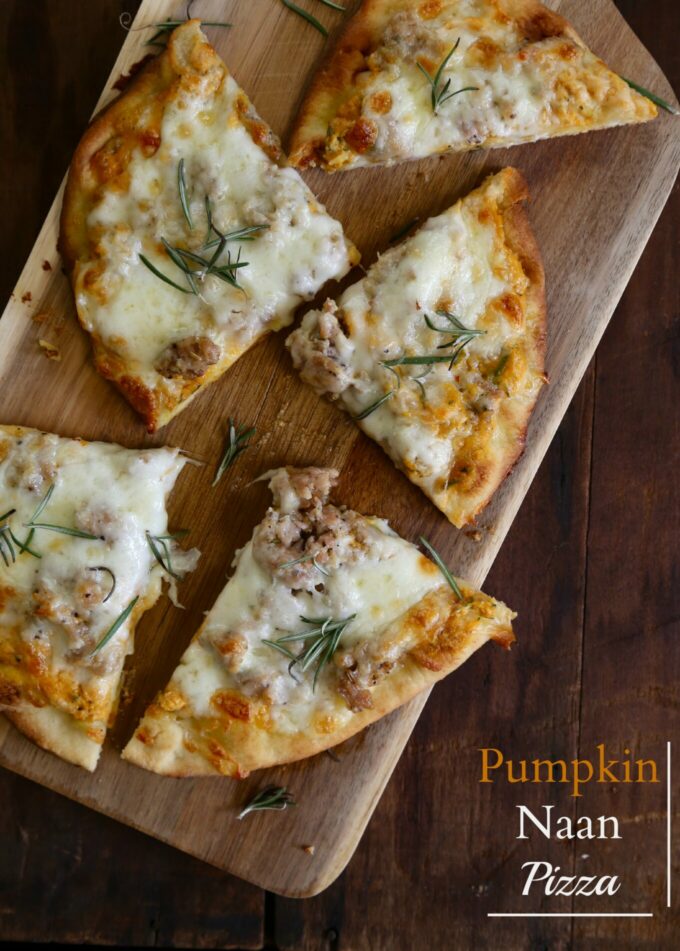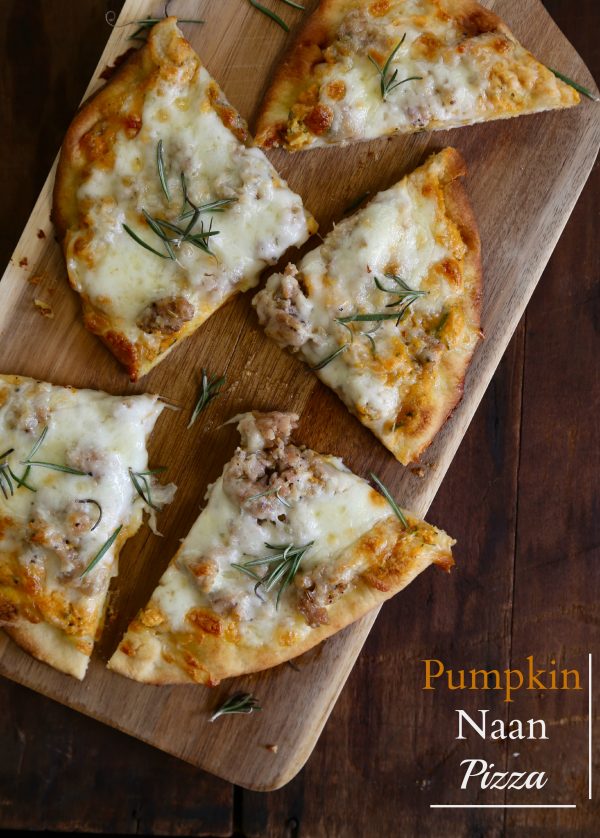 The other day, I was reading (and drooling) through my friend, Liz's post on butternut squash puree with honey and smoked paprika. I adore Liz because she loves everything under the savory-spicy sun like yours truly. Anyways, she asked an interesting question: have you started menu planning for the holiday?
I was like, do wha?!
Wait. Have you started? I, alone, have not boarded the holiday menu planning ship?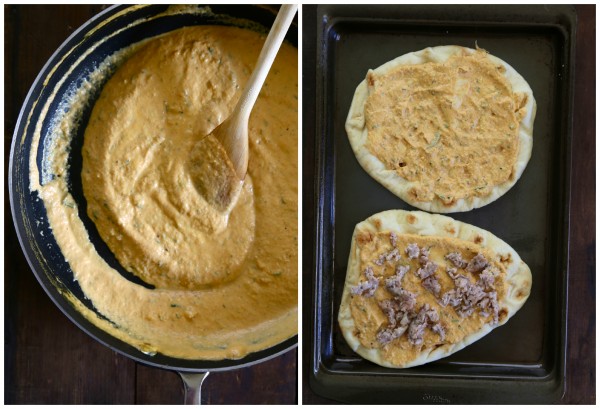 Even though it's only November 6th, my mind has yet to grasp that the holidays are approaching. I know some of you have started prepping, and even possibly have done a rehearsal with the old turkey (seriously, you get like 4,367 gold stars!), but I take the holidays with more of a sling shot approach.
You know, put a turkey in a sling shot and let'er rip! Okay, not really, but I am more let's-take-the pressure/tension-off the holiday menus, and go with the "leave it where Jesus flung it approach."  Every year people are running around with their heads cut off and missing the reason we are all together in the first place. Sometimes you have to let and go and see what happens. Trust me, some of the best memories are created this way!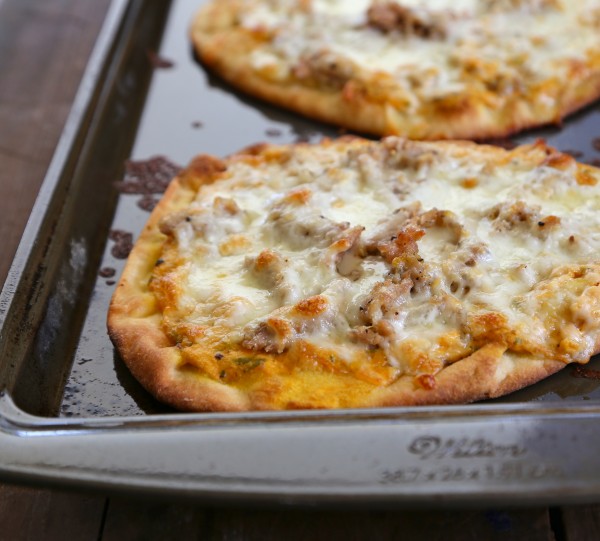 Case in point: If you are telling yourself that watching paint dry is more fun than making a big ol' bird for the T-Giving this year, why not make a pizza? I'm pretty sure the Indians or the Puritans wouldn't judge. I think this is one of my favorite pizzas to date. There's something about creamy pumpkin mixed with gooey Gruyere cheese that makes the world seem brighter.
So, if you feel like putting Thanksgiving into a sling shot, I highly recommend you make this pizza. You never know where things are going to land.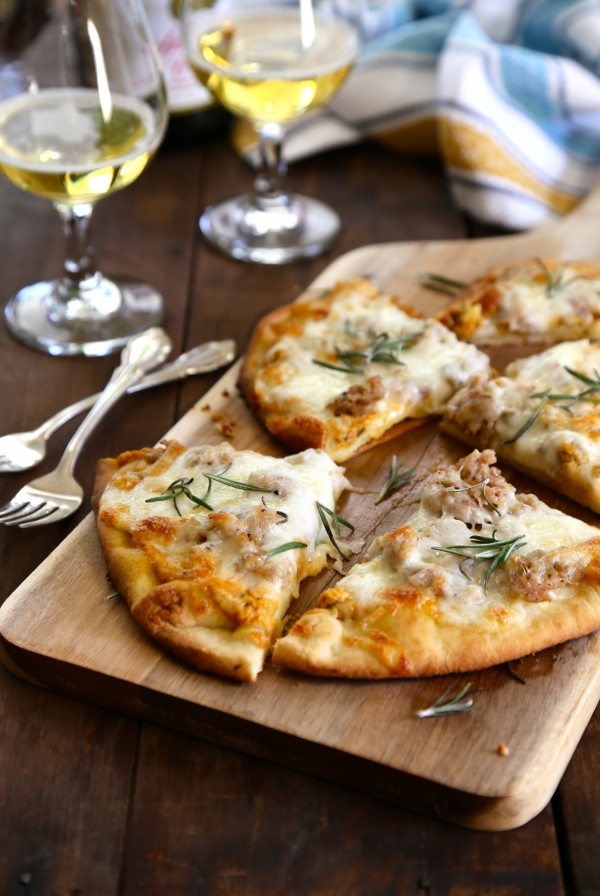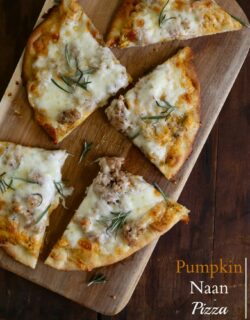 Pumpkin Naan Pizza with Gruyere & Fresh Herbs
Ingredients:
for the pizza:
4 pieces Naan
1 tablespoon olive oil
1/2 pound ground chicken sausage
1 cup mozzarella cheese, shredded
for the pumpkin sauce:
1 large shallot, minced
1 garlic clove, minced
1 tablespoon olive oil
1 cup chicken stock (+more if needed)
1 cup pumpkin puree
3 or 4 sage leaves, chopped
1 tablespoon rosemary, chopped (+more for a garnish)
1 tablespoon thyme, chopped
1 egg
1/2 cup Gruyere cheese, shredded
1/2 cup cream
Directions:
for the pizza:
Preheat oven to 400 degrees. Spray baking sheets with non-stick cooking spray. Place two pieces of Naan on each baking sheet. Preheat a medium skillet to medium-high heat. Add olive oil to skillet, and then chicken sausage. Saute for a couple of minutes or until golden brown. Remove from heat and set aside.
Pour 1/4 cup of the pumpkin sauce on each Naan piece leaving a border. You will have leftover sauce so maybe use it as a sauce in pasta. Top each piece of Naan with chicken sausage. Next, top 1/4 cup of the mozzarella cheese on top. Place in oven and bake for about 15 to 20 minutes or until golden brown. Remove from oven and let the pizzas cool slightly. Garnish with fresh rosemary. Cut and serve!
for the pumpkin sauce:
In a medium bowl, combine pumpkin puree, cream, sage leaves, rosemary, thyme, egg, Gruyere cheese, and a pinch of s&p. Stir to combine. In a medium skillet preheated to medium-high heat, add olive oil. Then add shallots and garlic with a little s&p. Cook and stir for a few minutes until the shallots have softened. Add the pumpkin mixture. Stir and then gradually whisk in the chicken stock. Add more if the sauce is to thick. Once the sauce has cooked for a couple of minutes and is at the desired consistency.
All images and text ©