cheesy meatloaf stacks with grilled eggplant & fresh basil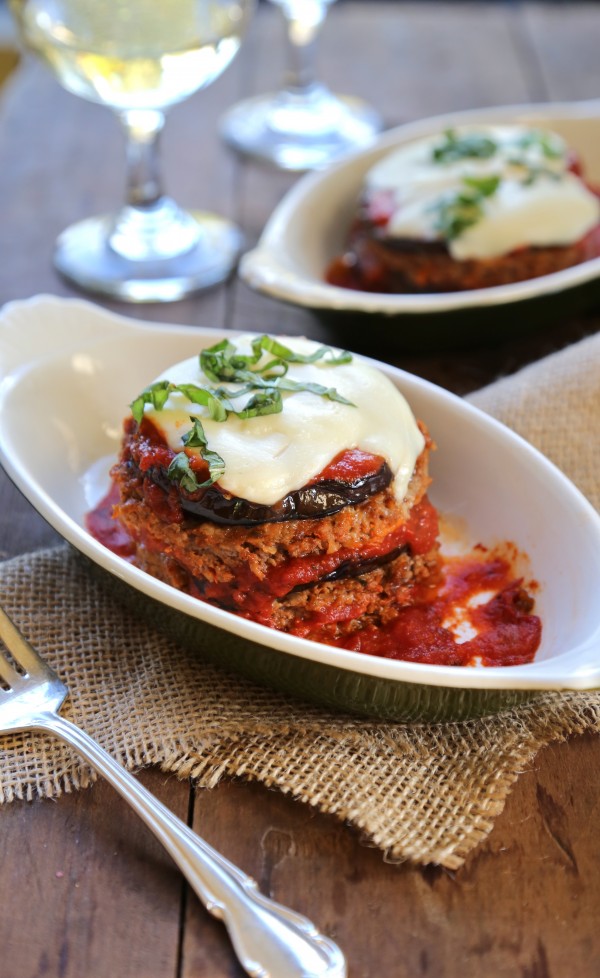 Mr. B made it back safe and sound on Friday night.
Phew.
After flapping his wings around the world for the past three weeks, it was nice to settle into a "normal" weekend. Of course, what defines normal anymore? I honestly think we are going to be playing the shuffle, reshuffle game for the next couple of years. Let's hope we don't end up doing the truffle shuffle in the end. Wait. What?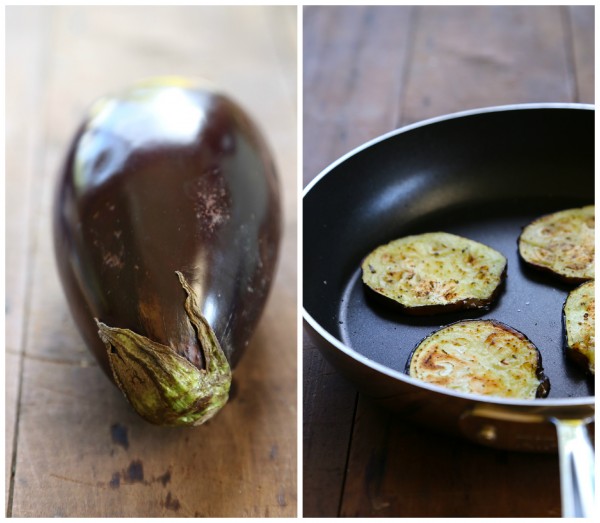 Anyways, it was nice to cuddle on couch, make dinner together, watch football, and gab about all of the shenanigans we've experienced while being a part. One of these days I hope to travel with Mr. B so I can chit-chat with y'a'll about my experience to Moscow, Amsterdam, and Abu Dhabi! Climbing Grier Mountain needs an updated travel page! Am I right?
But until I book my ticket and fly across the pond, I will have to entertain you with the meatloaf stacks. Remember my warning I gave you guys when I made those Elvis Waffle Stacks? I asked, "Would you leave me if I made more stacked foods?" Well, I've up and done it again. I don't know what it is. Stacking food is wayyyyyyy fun. Please tell me you are on the stacking bandwagon with me? I couldn't do this without your stack seal of approval.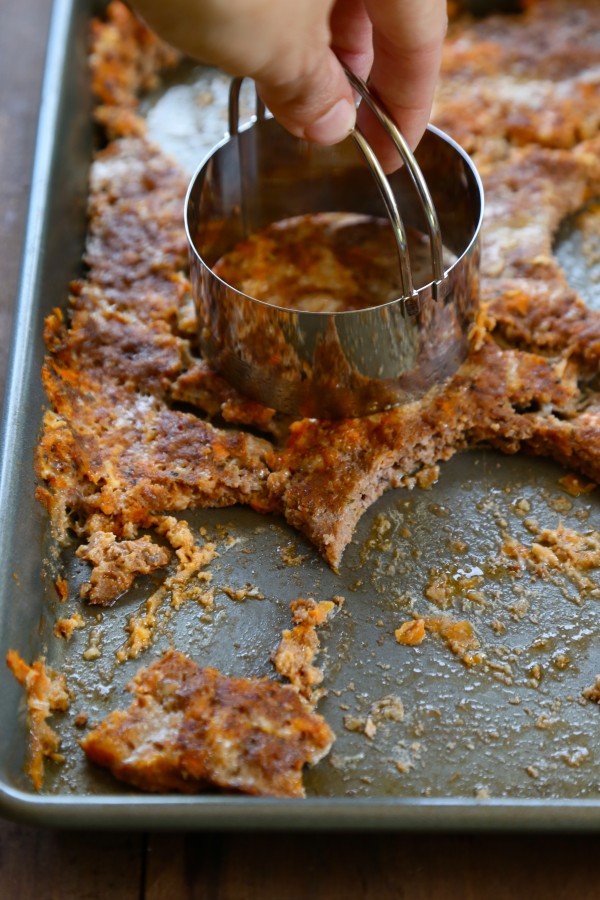 If you are a big fan of meatloaf, this is a fun spin on the classic dish. Instead of baking it like a loaf, press the meatloaf mixture into a jelly or baking pan. Then, bake it and cut little circles out with a biscuit cutter and let the stacking begin. You can use whatever circle cut veggies you like. For this recipe I went with eggplant, but zucchini could be fun! Then all you do is melt a little cheese on top and you have one stack-alicious dinner!
Now, about those first class seats….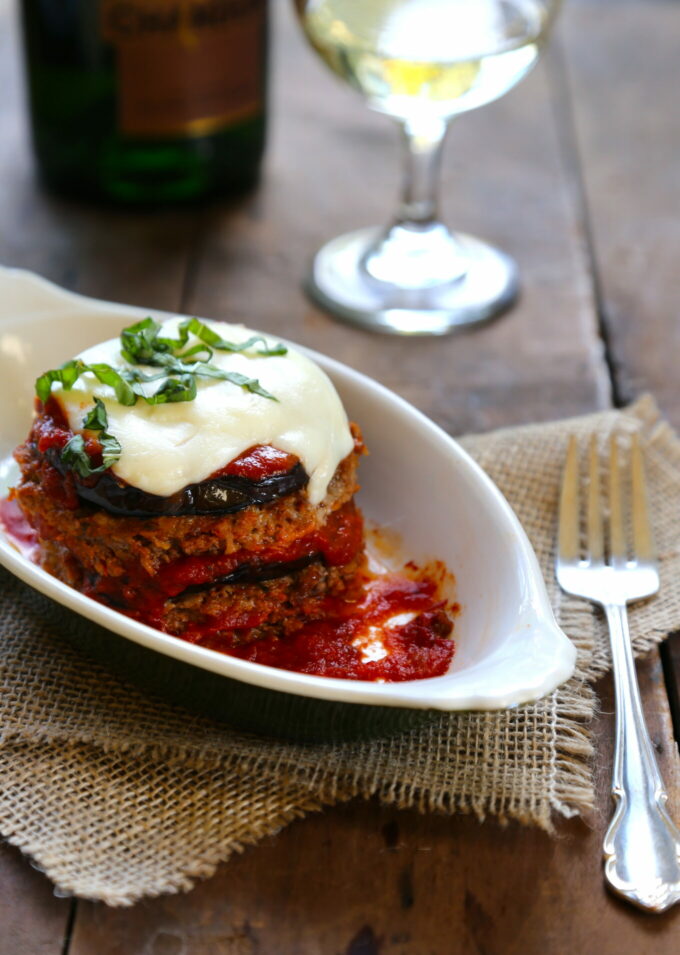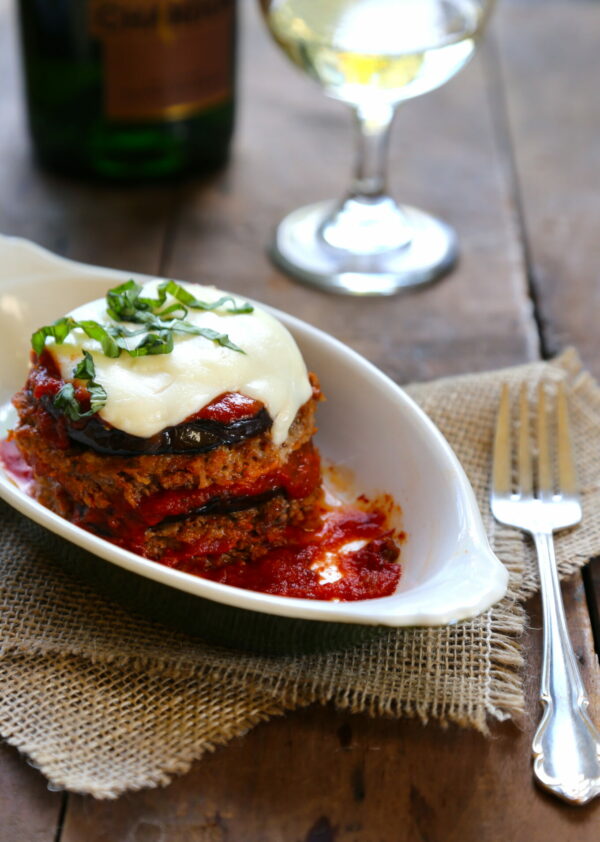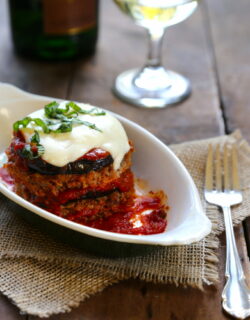 Cheesy Meatloaf Stacks with Grilled Eggplant & Fresh Basil
Ingredients:
1 pound ground beef
1/2 carrot, grated
1/3 cup tomato sauce
1/4 teaspoon dried oregano
1/2 teaspoon salt
1/4 teaspoon ground pepper
1 egg
1/2 cup Parmesan cheese, shredded
1 large eggplant, cut into 4 large round slices
1 cup marinara sauce
2 slices fresh mozzarella cheese
Fresh basil, garnish
Directions:
Preheat oven to 350 degrees.
Spray a small baking sheet with non-stick cooking spray. In a large bowl, combine the first eight ingredients. Take the meatloaf mixture and press into the baking sheet. Instead of baking it as a loaf, we are making a flat meatloaf to divide into circles later. Bake the meatloaf for about 20 to 30 minutes or until golden brown. Let it cool slightly and then take a 3-inch biscuit cutter and cut four rounds out of the meatloaf. You will have leftovers.
Preheat a large skillet to medium-high heat. Lightly salt and pepper both sides of the eggplant slice. Place slices into skillet and saute for a couple of minutes on both sides or until browned. Set aside when done.
to serve: in a mini oven proof dish, spoon about a tablespoon of marina sauce on the bottom. Place one meatloaf slice on the bottom and place one eggplant slice on top. Spoon another tablespoon of marina on sauce. Repeat step again. Top marinira sauce with a slice of mozzarella cheese. Place oven proof dish under brolier to melt cheese. Remove from oven and garnish with fresh basil. Repeat same process for second stack. Sere immediately.
All images and text ©