spiced chicken leg quarters with brown sugar & rosemary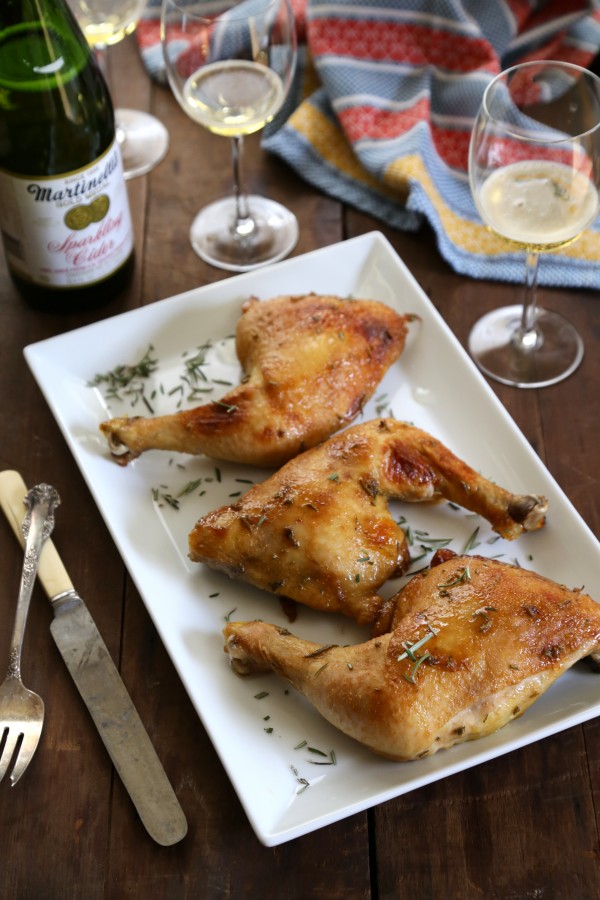 Clearly, I am off my rocker.
I'm wondering if a time-out in a rocker would be a the best thing for me.
Wait. I don't even own a rocker. Hold up. Can adults have time outs? I thought time outs were strictly for a five year-old melt down in the Wal-Mart toy section because she wants a Cabbage Patch Doll instead of a Dream Barbie. P.S. Would totally go with the Cabbage Patch Doll, by the way.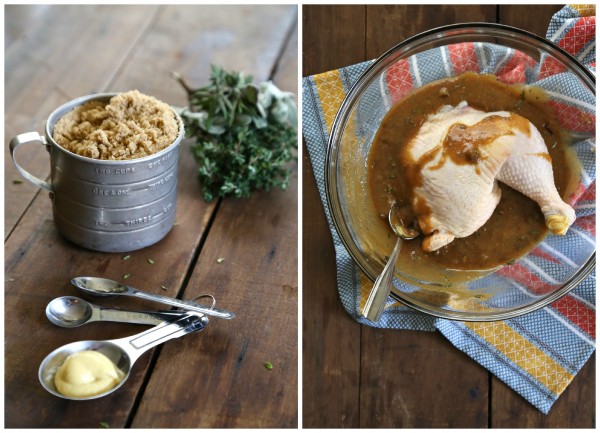 I have noticed lately my recipes are kind of Thanksgiving, but not-quite Thanksgive-y. I've made you guys Brussel Sprout Bacon Naan Stuffing, Pumpkin Naan Pizza (apparently I have a serious addiction to Naan), and today, I've whipped up Spiced Chicken Quarters. Plus, you don't even know what's coming at you on Wednesday. Let's just say, you better hold on to your tots Napoleon!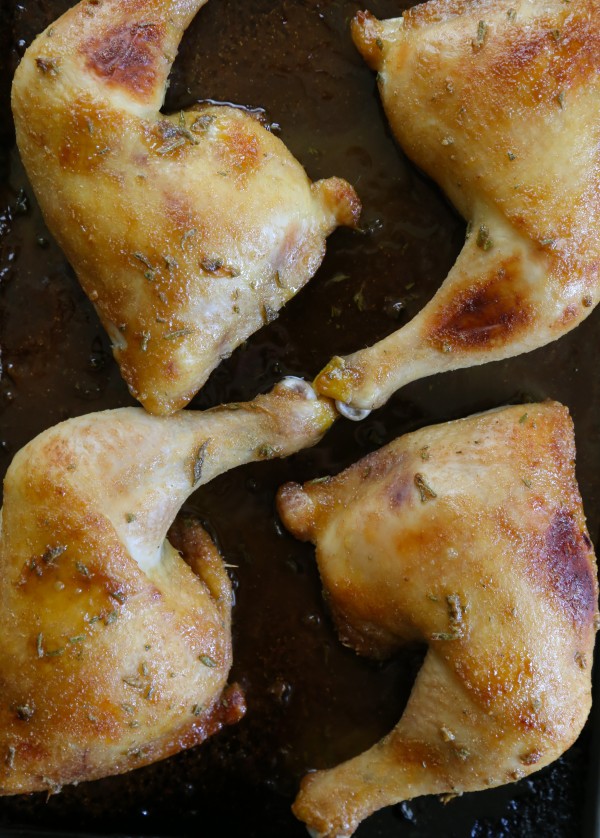 Now, before I completely fall off the rocker, let's talk about these Spiced Chicken Quarters. I realize chicken doesn't scream Thanksgiving, but hear me out. If want to mix up your T-Giving menu and make something that doesn't require babysitting or constant attention, these chicken quarters are a great alternative. You still get all the of juicy meat and the best part, crisp golden skin. Plus, the flavors from the brown sugar and fresh herbs makes you forget a big ol' bird was even an option.
So, what do you say? Want to join me in this year's "fall of your rocker" menu?
**Rockers not included**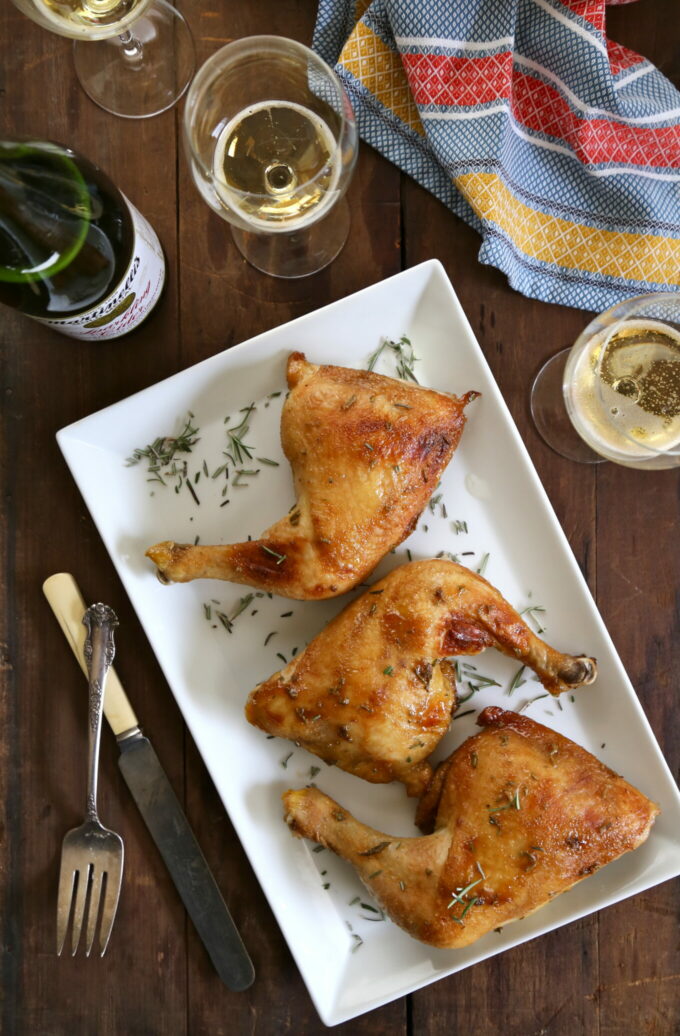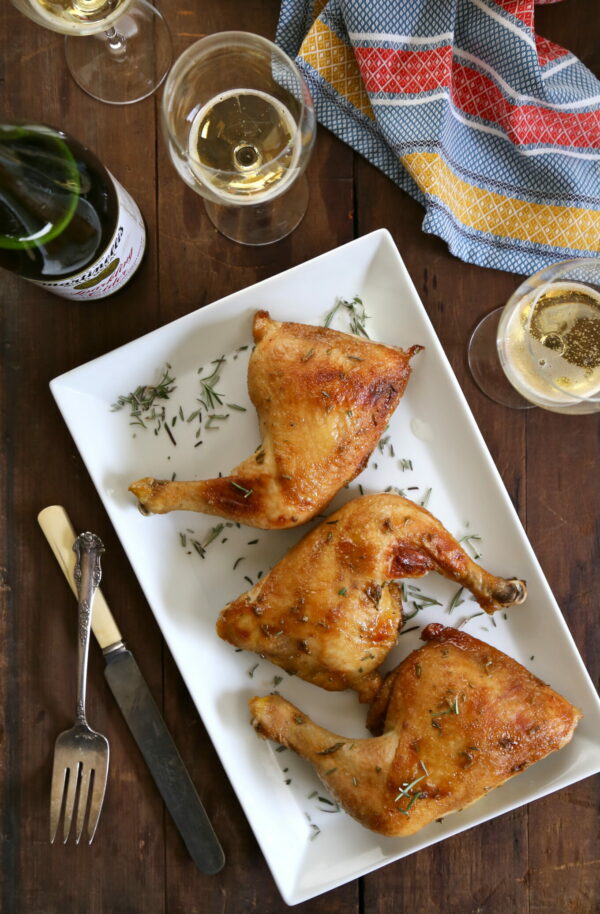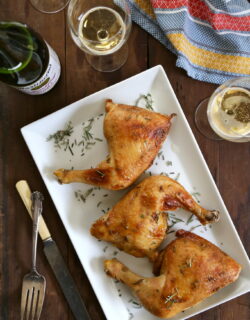 Spiced Chicken Leg Quarters with Brown Sugar & Rosemary
Ingredients:
4 chicken leg quarters
2 cups brown sugar
1/2 cup Dijon
1 Tablespoon Sage
1 Tablespoon Rosemary (+ more for garnish)
1 Tablespoon Thyme
1 Tablespoon Coriander
salt and pepper
Directions:
Preheat oven to 400 degrees. Line a baking sheet with foil and spray with non-stick cooking spray. In a large bowl, combine brown sugar, Dijon, sage, rosemary, thyme, coriander, and a dash of salt and pepper. Take a chicken quarter and place it into the bowl and covering the quarter with the brown sugar-Dijon mixture. Once covered, place quarter on baking sheet. Repeat with remaining quarters. Bake for about 30 to 40 minutes or until cooked through and golden. Remove from oven, let it cool slightly. Plate the quarters family style and garnish with rosemary!
recipe adapted from Food and Wine Magazine
All images and text ©