grapefruit pound cake with ginger marshmallow icing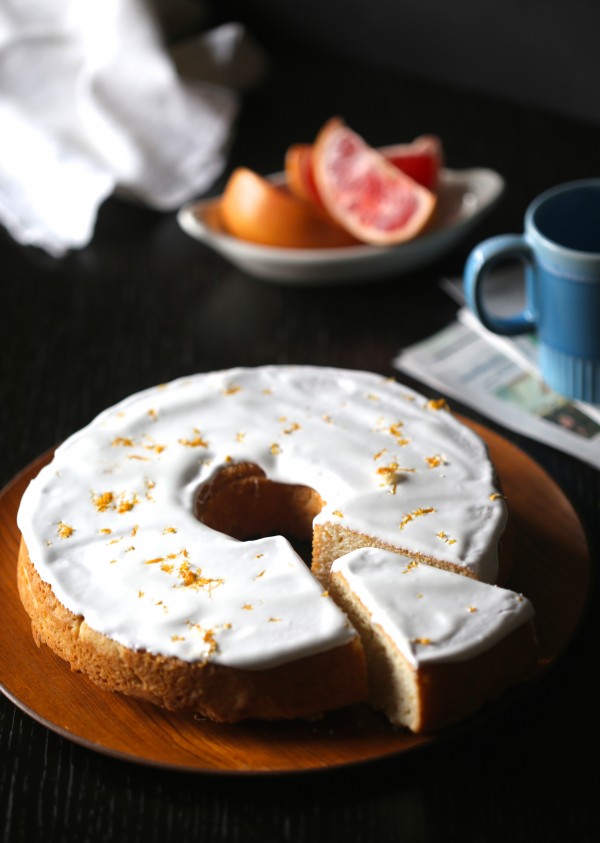 I'll never forget the first time I tried grapefruit.
My mother used to cut a grapefruit in half, sprinkle sugar on top, and eat the slices with a spoon as if it was a version of cereal or something. Weren't grapefruits for breakfast all the rage back in the 80's? Thought so.
Anyways, I distinctly remember one morning thinking to my curious seven year-old self that the grapefruit looked like a lot like an orange. Well, I like oranges so there must be a reason why mom eats this every morning. I reached for the spoon, scooped out a slice, and placed the spoon into my mouth. In nano seconds that grapefruit membrane shot out of my mouth like a cannonball halfway across the room. "OHHHH….YUCK!"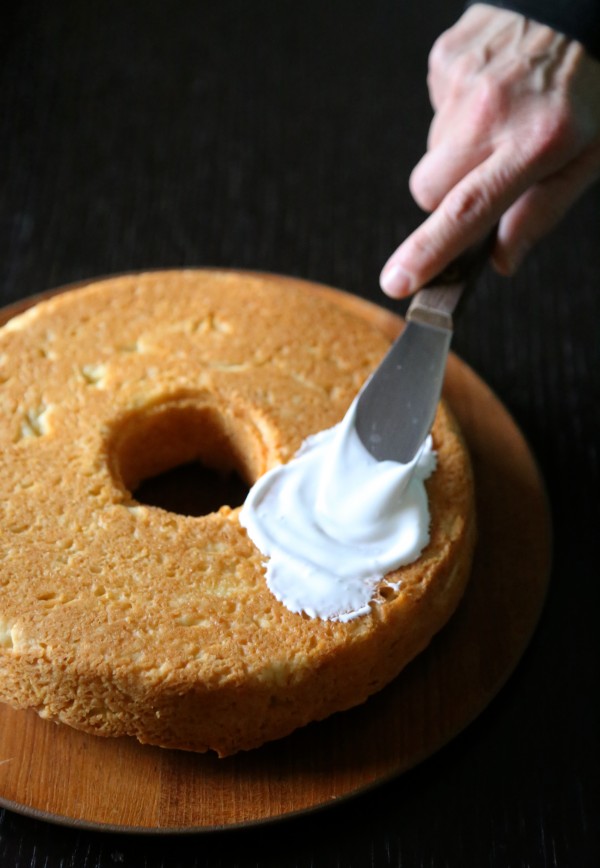 So, the moral of this story: grapefruits do NOT taste like oranges in case you didn't know. The funny thing, to do this day, I still can't eat a fresh grapefruit. I might need to go to therapy in order for me to digest a grapefruit slice. I get the chills thinking about it.
You may be thinking, Lauren, then why on earth did you make a Grapefruit Pound Cake with Ginger Marshmallow Icing? I have no logical answer other than the grapefruit taste is disguised in this wonderful, moist cake covered by the my new favorite icing, ginger marshmallow. I like to think of this cake as baby steps towards my grapefruit healing.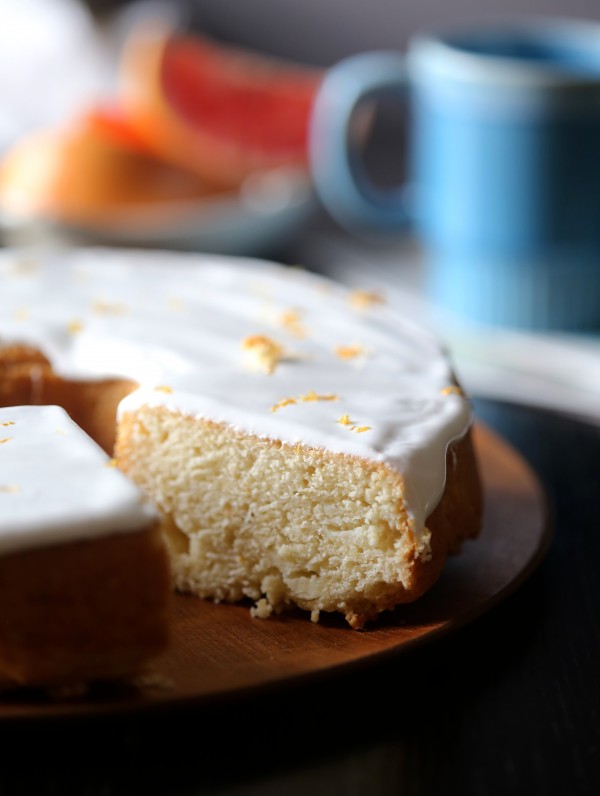 Eat Seasonal Series: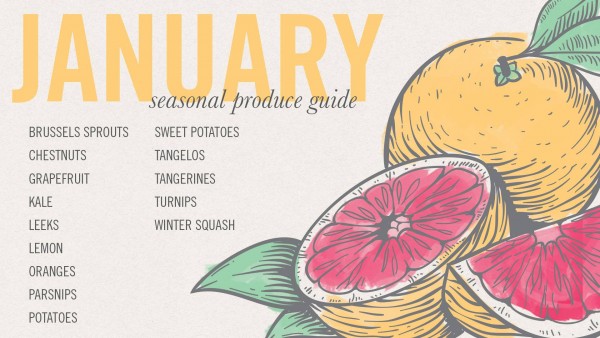 Each month my friend Becky provides a Seasonal Produce Guide, which you can save on your iPhone or desktop so you can get in the seasonal eating spirit.
Not only does she provide a beautiful illustration each month like the one above, you can also join me and a few fabulous food bloggers who are serving up seasonally inspired recipes. Follow us on Instagram and tag your photos with the #eatseasonal hashtag!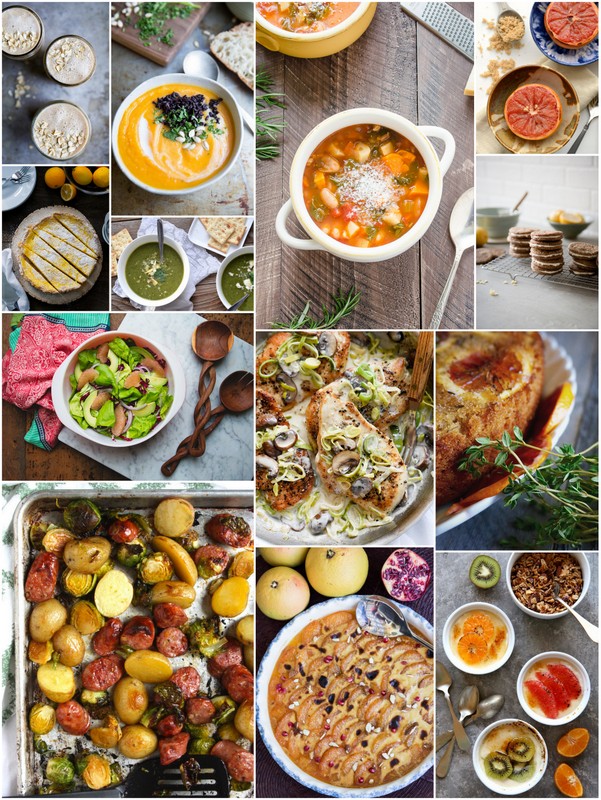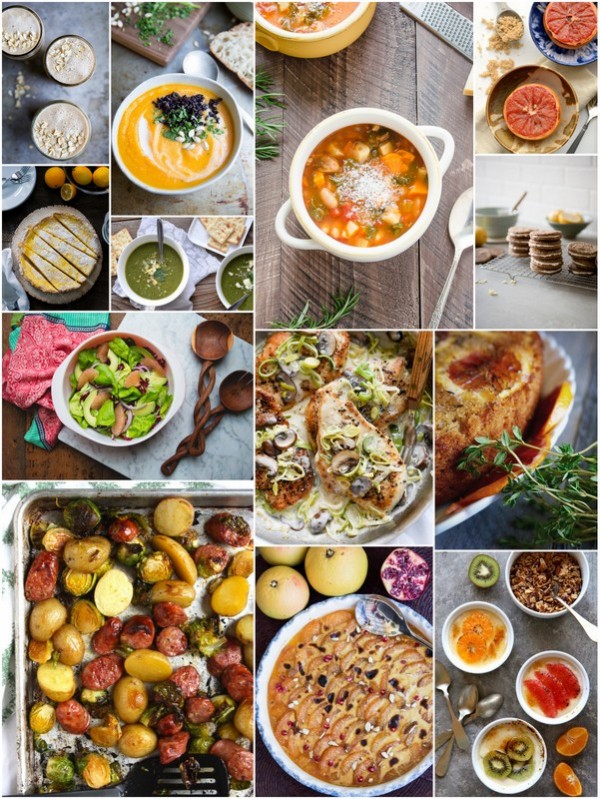 Oatmeal and Citrus Smoothie by Floating Kitchen
Butternut Squash, Carrot and Orange Detox Soup by Vintage Mixer
Winter Minestrone Soup with Pancetta by Flavor the Moments
Broiled Grapefruit by Bless This Mess
Gluten Free Gingersnaps with Lemon Cream Filling by Cafe Johnsonia
Meyer Lemon Tart by Kitchen Confidante
Potato and Leek Soup with Kale by Mountain Mama Cooks
Grapefruit and Avocado Green Salad with Citrus Vinaigrette by Food for My Family
Creamy Mushroom and Leek Chicken Breasts by Foodie Crush
Blood Orange Brûlée Upside Down Cake by Suitcase Foodist
Maple-Cayenne Sausage, Brussels Sprouts and Potato Sheet Dish by Project Domestication
Pink Grapefruit with Brunt Honey Custard by Letty's Kitchen
Yogurt Brûlée with Winter Fruit by Completely Delicious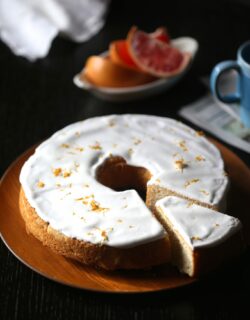 Grapefruit Pound Cake with Ginger Marshmallow Icing
Ingredients:
for the grapefruit pound cake:
2 cups all-purpose flour
1 teaspoon baking powder
5/8 teaspoon salt, divided
1 2/3 cups granulated sugar
6 tablespoons unsalted butter, room temperature
6 ounces plain cream cheese, room temperature
2 large eggs
1/4 cup vegetable oil
2 tablespoons grapefruit zest (+more for garnish)
1/2 teaspoon vanilla extract
1/2 cup whole milk
for the ginger marshmallow icing:
2 egg whites
1/4 granulated sugar
1/4 teaspoon salt
3/4 cup corn syrup
1 teaspoon vanilla extract
1 teaspoon fresh ginger, grated
1 teaspoon grapefruit zest
Directions:
for the grapefruit pound cake:
Preheat oven to 325 degrees. Spray a 10-inch bundt cake pan with non-stick cooking spray. In a large bowl, combine flour, baking powder, and 1/2 teaspoon salt. In another large bowl, mix together granulated sugar, butter, and cream cheese. Add the eggs, oil, zest, and vanilla to the butter mixture. In thirds, add the flour mixture to the butter mixture until the batter is smooth. Pour batter into the bundt cake pan and bake for about 1 hour and 10 minutes or until golden brown. Remove from oven and invert onto a wire rack to cool.Once cooled, frost top with ginger marshmallow icing.
for the ginger marshmallow icing:
In a stand mixer with a whisk attachment, beat 2 egg whites with salt until frothy. Gradually add sugar, beating until soft peaks form. Heat syrup in a glass microwaveable dish until it boils. Pour syrup in a thin stream over egg white mixture, a little at a time. Beating on high speed until harder peaks form. Add vanilla , fresh ginger, and beat until glossy!
recipe adapted from Cooking Light Magazine
All images and text ©