greek yogurt baked doughnut parfaits with fresh berries
Greek Yogurt Baked Doughnut Parfaits with Fresh Berries are a delightful and healthy treat to make for any special occasion!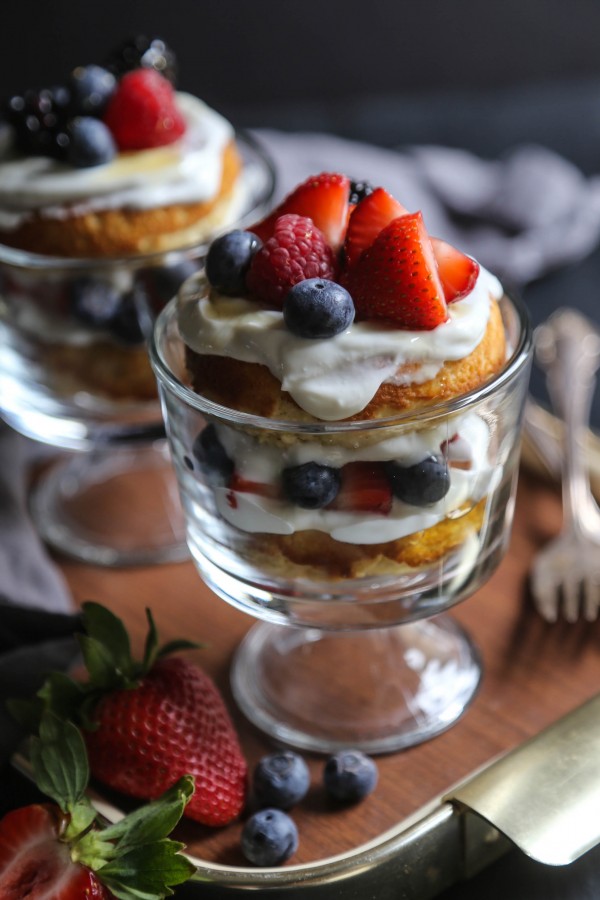 Well, shoot.
I swear I am the worst at remembering certain things. Maybe instead of selective hearing I have selective memory? I dunno. But for the life of me, I always forget that Mother's Day is in May. I feel as though it should be in late April or even July. Am I the worst daughter EVER? Maybe this is why I shouldn't have kids?
However, there is hope. I come baring a gift that will make any mom grin from ear to ear. Forget making a fancy ass dinner that might end up burnt to a crisp. Forget trying to purchase a gift with just the right amount of sparkle. And forget trying to find that perfect pair of yoga pants at Lululemon (pssst.…it only exists for the low, low price of $109). So, what should you get mom?
The answer: Greek Yogurt Baked Doughnut Parfaits with Fresh Berries. Can we talk for 2.2 about breakfast in bed? Why are we not doing this more often? Um, if you watched Downton Abby all the married broads ate breakfast in bed. I kept telling Mr. B while we watched the show that I deserved a beautiful spread filled with pastries, freshly poured coffee and my favorite magazine to read while marinating in our comfy king bed. Oh, how his eyes did roll.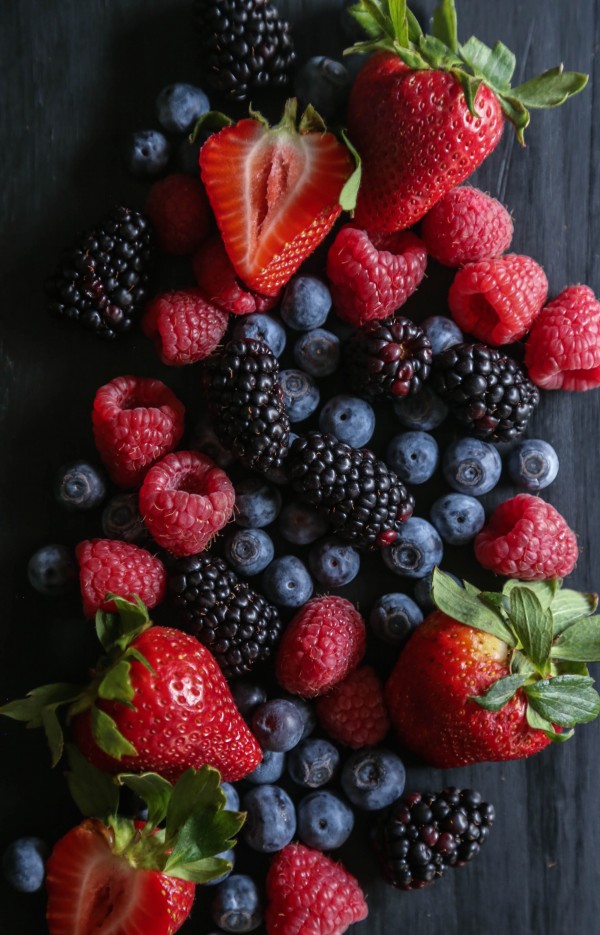 Okay, if anyone deserves breakfast in bed it's mom. These Greek Yogurt Baked Doughnut Parfaits with Fresh Berries come together lickety-split. Place a baked doughnut into a parfait glass, top with more Greek yogurt, fresh berries, and repeat. Garnish the tops with honey and watch mom…..ooooooooh and aaaahhhhhh with delight. The great thing about these doughnut parfaits is they are full of protein and calcium, which will keep mom's energy up throughout the day.
So, make these parfaits, but be sure to serve them in July. Shoot. I mean May.
***This post was sponsored by ADA Mideast. As always, all opinions are 100% my own.***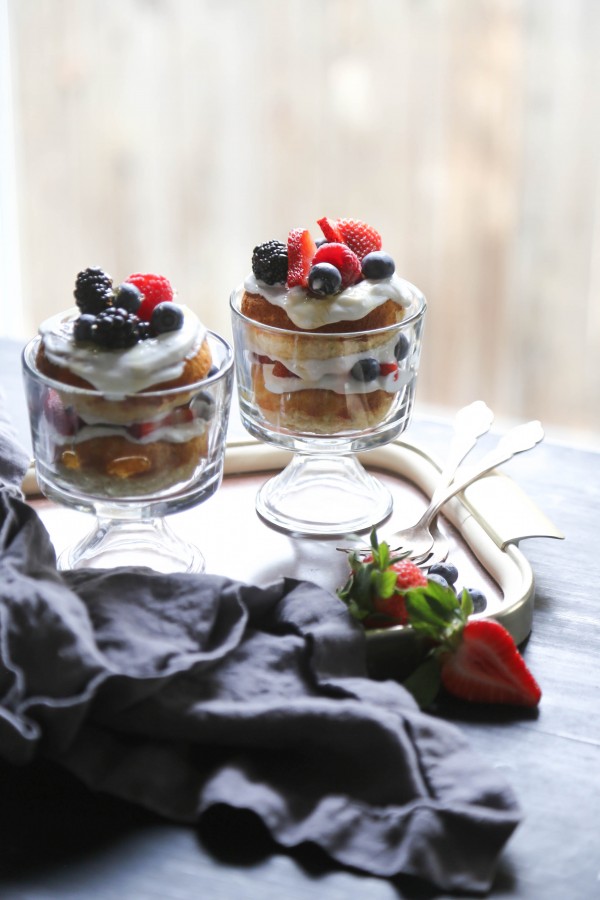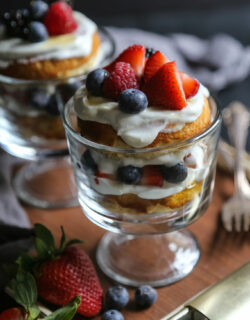 Greek Yogurt Baked Doughnut Parfaits with Fresh Berries
Ingredients:
for the doughnuts:
1 1/2 cups cake flour
1/2 cup brown sugar
1 1/2 teaspoons baking powder
1/2 teaspoon baking soda
1/4 teaspoon cinnamon
1/8 teaspoon nutmeg
1/4 teaspoon kosher salt
1 egg, whisked
3 tablespoons unsalted butter (melted, cooled slightly)
1/4 cup whole milk
2/3 cups plain Greek yogurt
1 1/2 teaspoons vanilla extract
for the garnishes:
3 cups plain Greek yogurt
Fresh strawberries sliced in-half, garnish
Fresh blackberries
Fresh blueberries
Fresh raspberries
Honey
Directions:
for the doughnuts:
Preheat oven to 350 degrees.
In a large bowl, combine cake flour, brown sugar, baking powder, baking soda, cinnamon, and nutmeg. In a stand mixer fitted with a paddle attachment, add the egg, whole milk, Greek yogurt, vanilla extract, and melted butter. Whisk until combined. Next, in the thirds, add the dry ingredients to the wet ingredients until well incorporated.
Spray a doughnut pan with non-stick cooking spray. Spoon the batter into each doughnut hole, filling about 3/4 up the way up. Place the pan into the oven and bake for about 7 to 9 minutes. Remove from oven and place baked doughnuts onto a wire rack to cool. Repeat process with remaining six doughnuts.
Once all the doughnuts have cooled, take a parfait glass. Preferably one that will allow for a whole baked doughnut to fit inside the glass. Place one baked doughnut into the bottom of a parfait. Next, add about 1/4 cup of Greek yogurt on top followed by a mixture of berries. Add another baked doughnut and another 1/4 cup of Greek yogurt on top followed by more berries and a drizzle of honey. Repeat process until all parfait glasses have been filled. Serve immediately.
All images and text ©