How to Host a Budget-Friendly Thanksgiving ( + FREE PRINTABLE GROCERY LIST)
How to Host a Budget-Friendly Thanksgiving is a foolproof guide on how to host Thanksgiving on a budget! Lauren provides actionable steps, kitchen tool suggestions, and a free printable grocery list to make your Thanksgiving budget-friendly.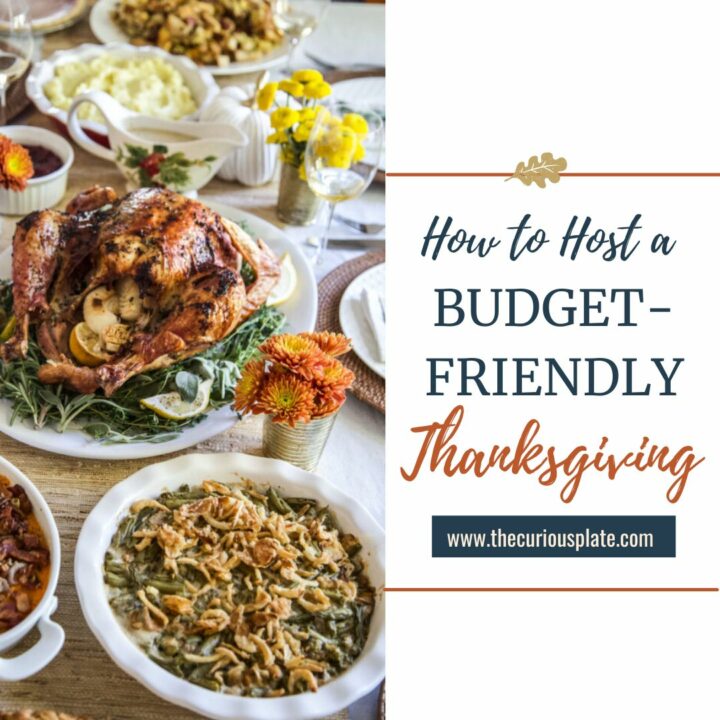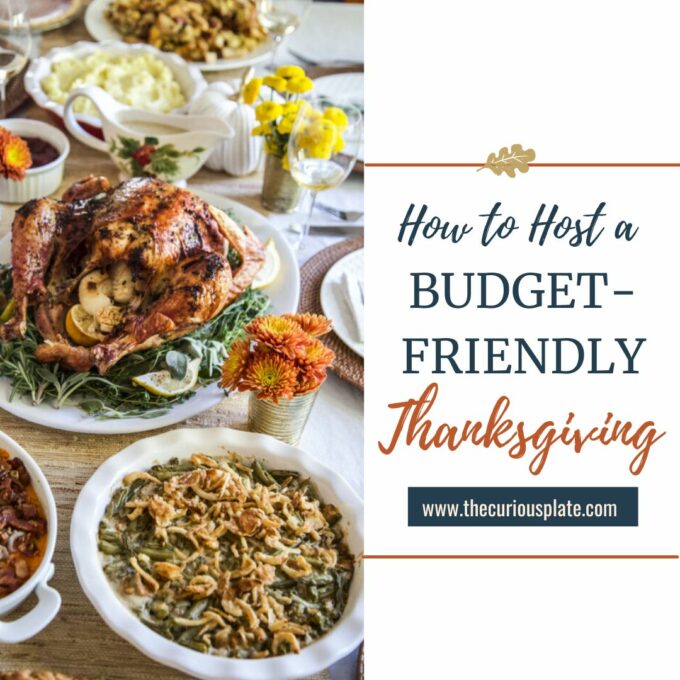 Thanksgiving is the time of year to be grateful.
Gathering with friends and family at the dinner table while feasting on a giant spread of roasted turkey, stuffing, green bean casserole, and pumpkin pie, and telling stories is one of America's greatest pastimes.
However, sometimes Thanksgiving can be stressful. While we want nothing more than to make Thanksgiving special for our family and loved ones, sometimes it can be more than a challenge between cutting costs and hosting the perfect holiday dinner.
Which is why I created: How to Host a Budget-Friendly Thanksgiving!
In this post you will find FIVE approachable steps to ensure that you aren't overwhelmed while still managing to stay on budget. I'm a big believer that the more you plan ahead, keep it simple, and make meals from scratch the more cost effective, and enjoyable Thanksgiving day will be. I've even included a FREE PRINTABLE BUDGET-FRIENDLY WORKSHEET that you can download to keep your plan organized and on track.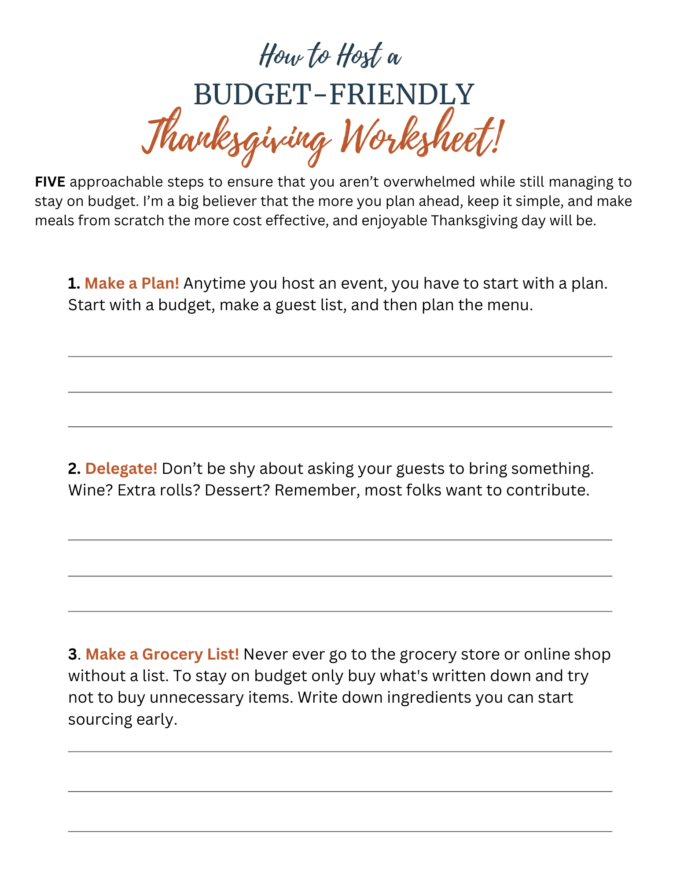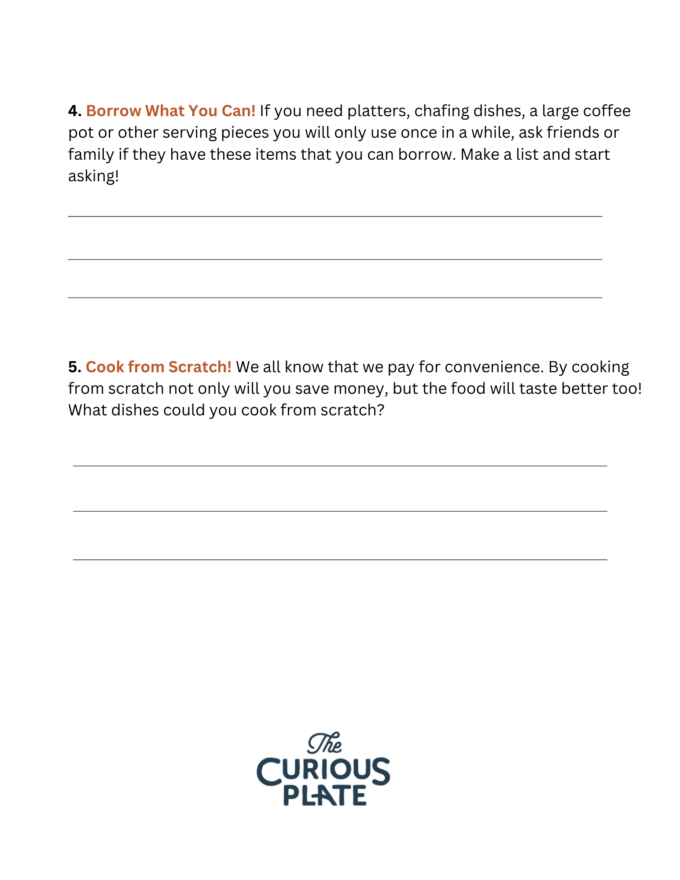 In addition to the approachable steps, I've also created a FREE PRINTABLE GROCERY CHECKLIST that you can download. This checklist is a list of all the recipes I will be sharing over the next two weeks. Can you believe it's only one page and should total to be less than $100? Each recipe is designed to be delicious, no-fuss, and fun to make! Keep this checklist within arms reach while you shop for Thanksgiving ingredients to remind yourself that you don't need to splurge!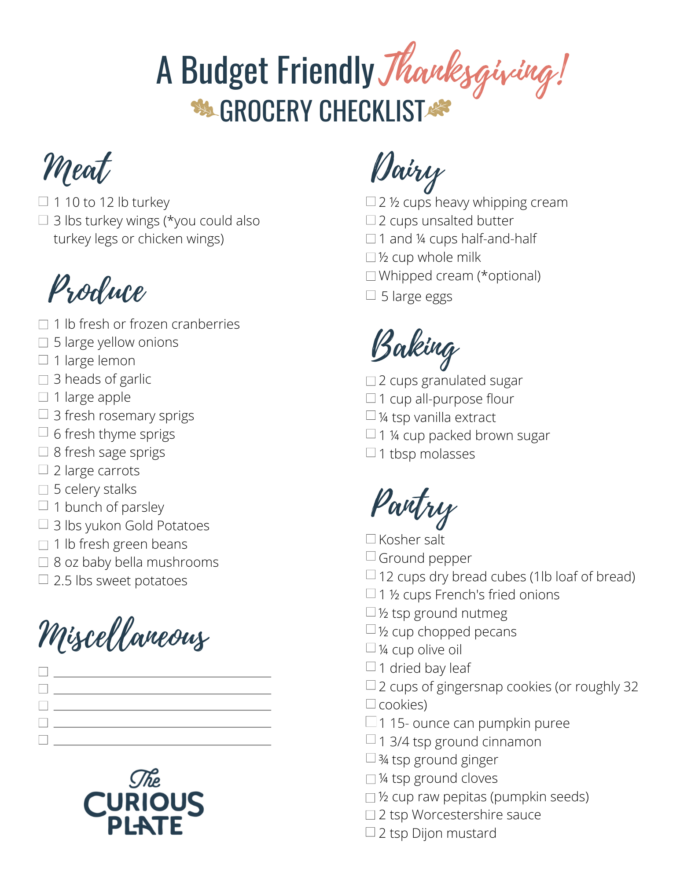 Alright, ready to tackle a Budget-Friendly Thanksgiving? Let's get started!
1. Make a Plan!
Anytime you host an event, you have to start with a plan. First, decide what your budget will be, as this is probably the most important step in your planning phase. This will determine everything from what you will be serving to how many people you will invite. Second, make a guest list. The number of guests you invite determines how big of a bird you will need to purchase, how much food you'll need to have, and where you're going to seat them at the dinner table. Third, plan the menu. Once you've decided on your budget and your guest list, now it's time to plan the menu.
Here is our Thanksgiving menu:
Easy Roasted Turkey with Herb Butter
Homemade Turkey Stock
Homemade Green Bean Skillet Casserole
Ultimate Classic Mashed Potatoes
Classic Homemade Stuffing
Classic Homemade Cranberry Sauce
Old-Fashioned Sweet Potato Casserole
Pumpkin Pie with Gingersnap Crust and Candied Pepitas
FYI: We will be sharing all of these recipes over the next two weeks! Check back as we share the recipe to add it to your menu planning. The good news? The FREE PRINTABLE GROCERY CHECKLIST has this entire menu ready to go so there's no question on what you need to get at the grocery store.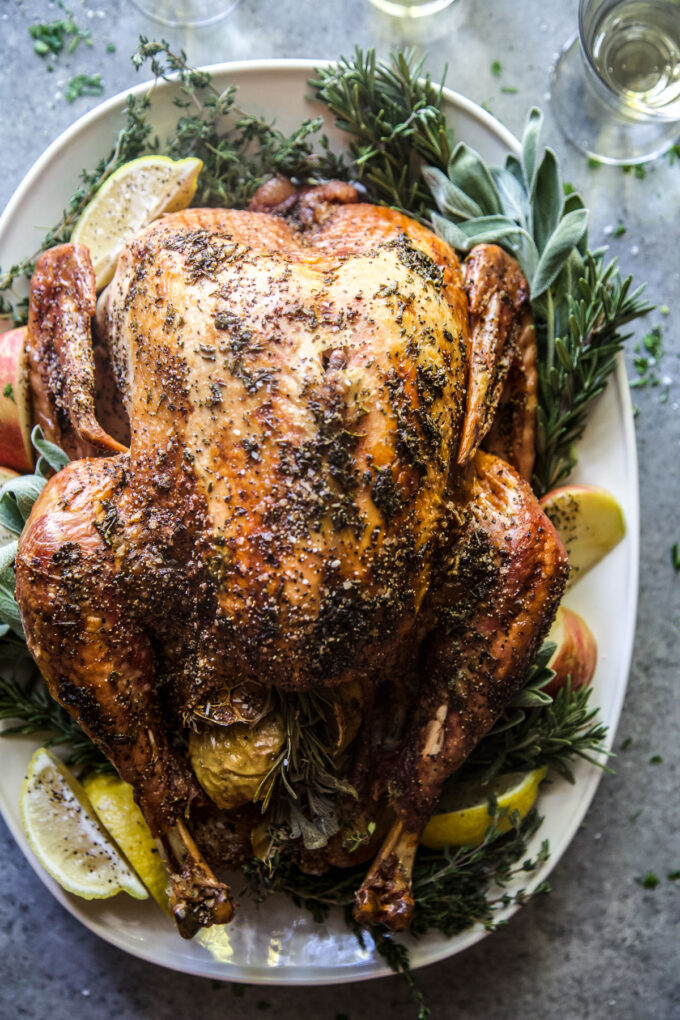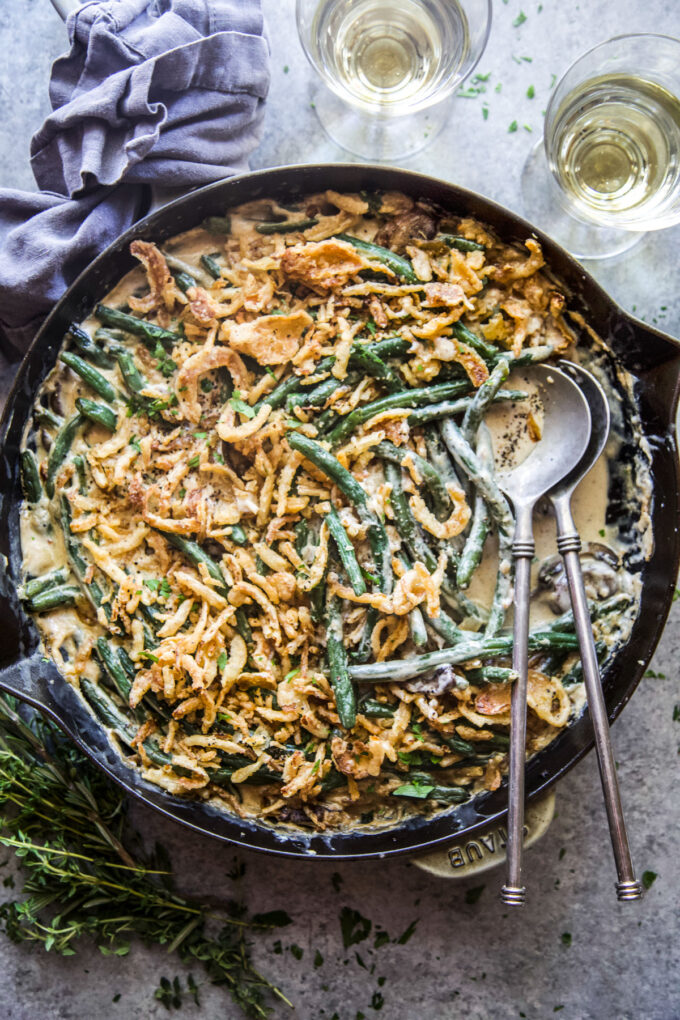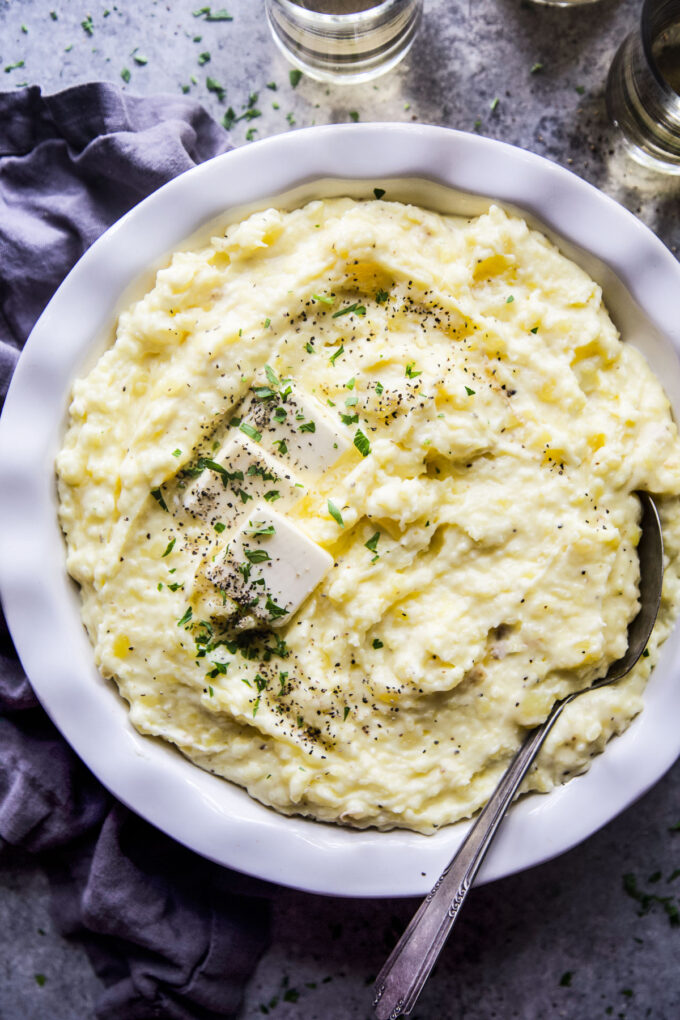 2. Delegate!
Don't be shy about asking your guests to bring something. Most people like to contribute, so if they ask what they can bring, be ready to tell them. There are some things you need to take into consideration, though. If your guests are coming from out of town, it's not always easy to bring food or other things. If they offer, great, but if not, be considerate and don't ask.
Add your items to ask for in our FREE PRINTABLE BUDGET-FRIENDLY WORKSHEET!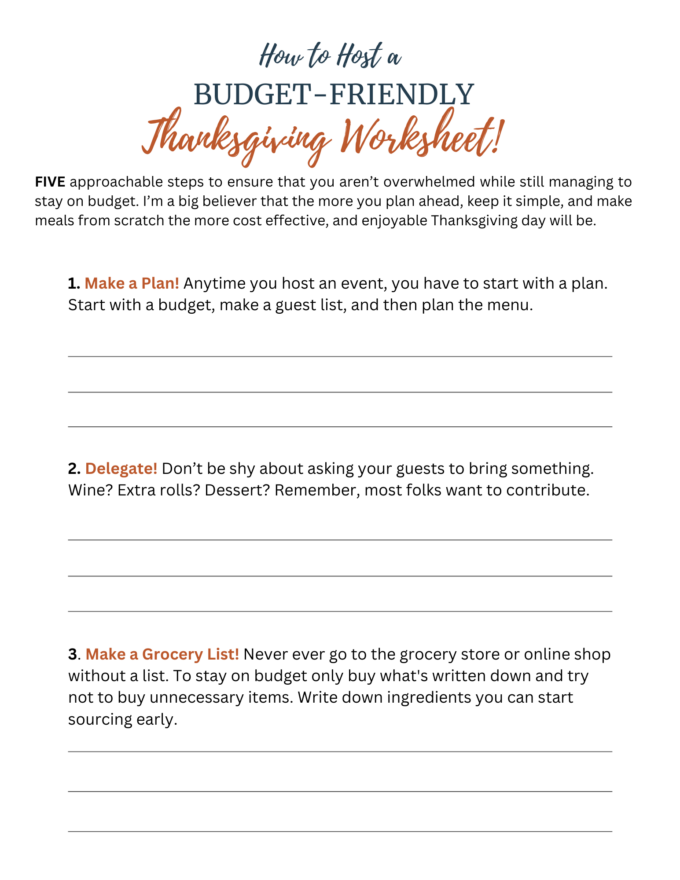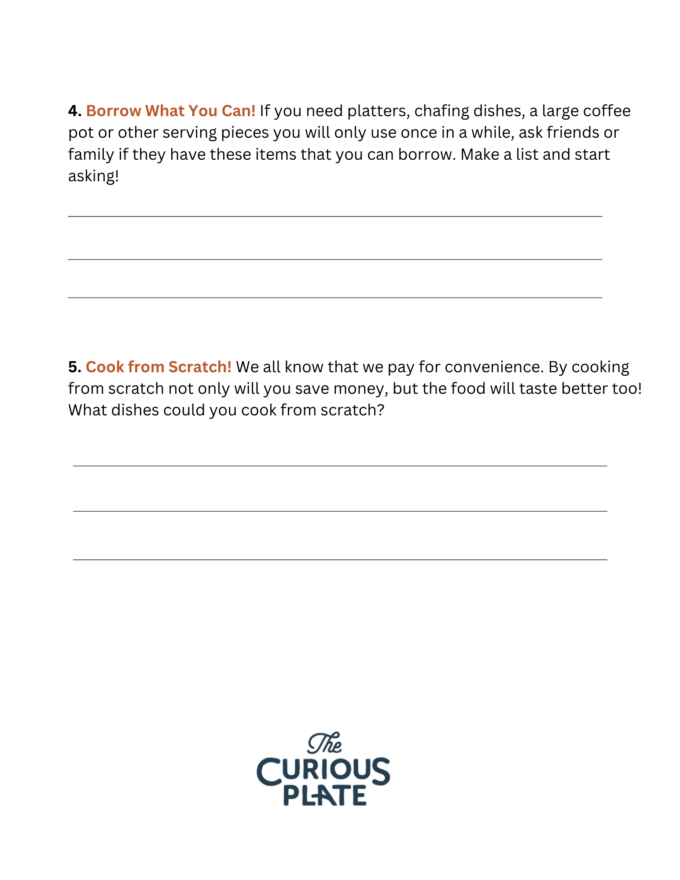 3. Make a Grocery List
Never ever go to the grocery store or online shop without a list. Throwing things into your cart haphazardly will end up costing you a fortune. When you create your menu and decide what you will be responsible for, make your list AND all the ingredients it will take to prepare your dishes. Once you do this, it's imperative that you stick to your list. Don't be tempted to add on unnecessary items. What's even more important is to only cook what you absolutely love. If you're on a budget, now's not the time to experiment with your guests.
Another way to take the sting out of the grocery bill is to start buying your ingredients several weeks ahead of time. Spread the cost out over 2-3 paydays and buy when the ingredients are on sale.
Please find our FREE PRINTABLE GROCERY CHECKLIST.
4. Borrow What You Can
If you don't usually host large gatherings, chances are you may not have things, like turkey roasters or enough dinnerware.
If you need platters, chafing dishes, a large coffee pot or other serving pieces you will only use once in a while, ask friends or family if they have these items that you can borrow. I have also found some great deals at thrift stores. Start looking early!
Another great avenue if you don't have time to hunt and gather is to use these:
Kitchen items are under $30: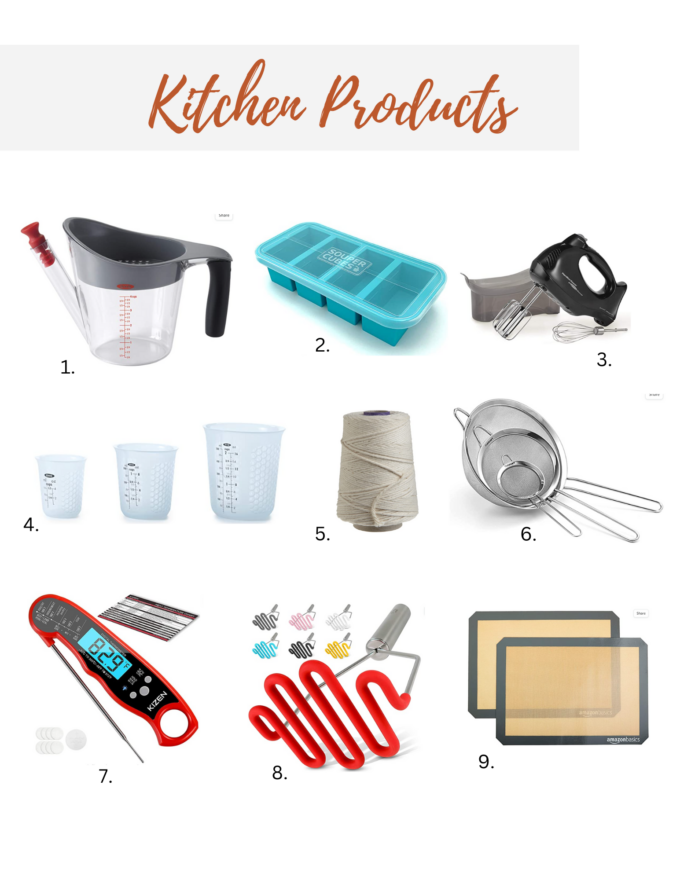 Houseware/Serving for under $30: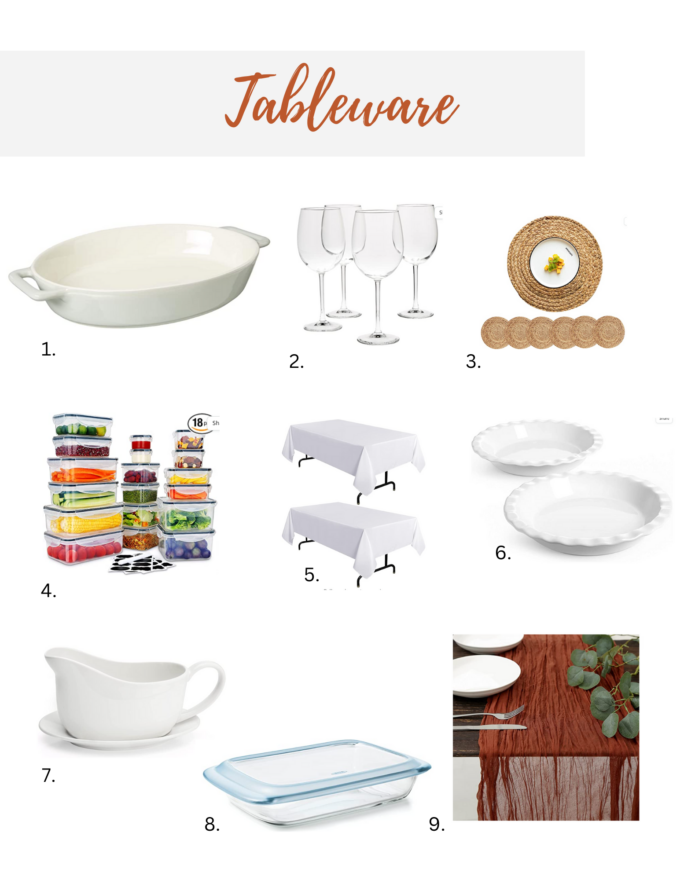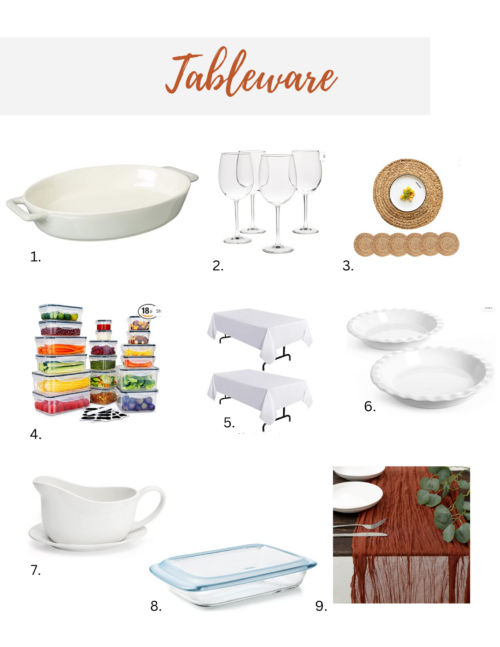 5. Cook From Scratch
We all know that we pay for convenience. While it may be tempting to opt for the pre-made pies or ready-to-heat mashed potatoes, you'll pay more for these conveniences. Honestly, making mashed potatoes from scratch is way cheaper and tastes better too!
Throughout this week we will be sharing a recipe everyday that sticks to the budget guidelines of creating a Thanksgiving meal under $100 for 10 to 12 people. The key to this is minimizing those convenience items and cooking your meal from scratch. And yes, it can be done! All of the recipes are no-fuss, taste incredible, and will make you look like a Thanksgiving pro!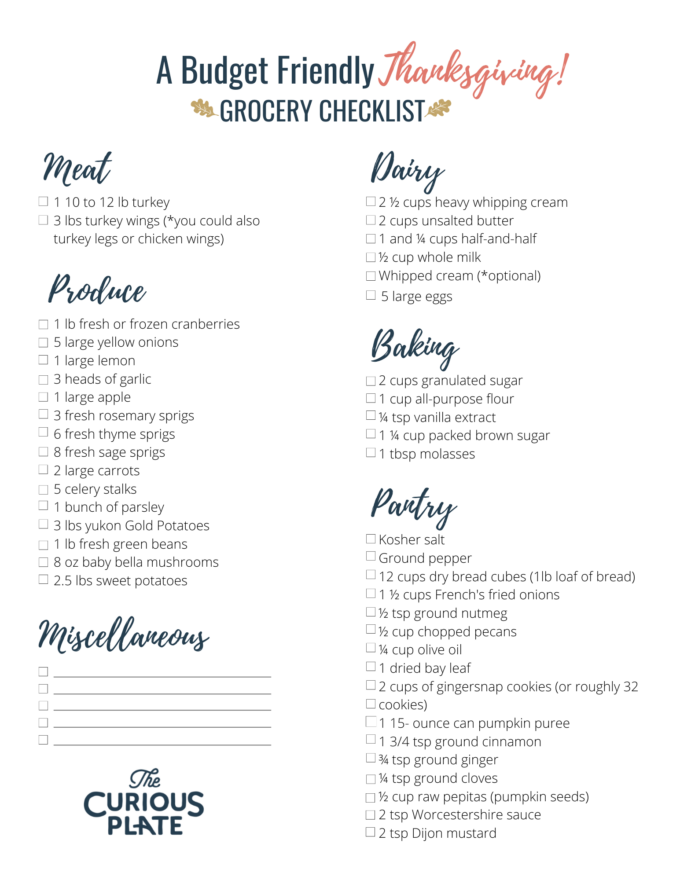 Just in case you need any more inspiration make sure to head to my Thanksgiving page for even more recipes.
Also, don't forget to download my FREE PRINTABLE GROCERY CHECKLIST to ensure shopping for ingredients is a breeze. AND! If you need a foolproof guide on how to host Thanksgiving make sure to download our FREE PRINTABLE BUDGET-FRIENDLY WORKSHEET!
Happy Cooking!