Leftover Thanksgiving Dutch Baby Pizza
Leftover Thanksgiving Dutch Baby Pizza is a quick and delicious way to eat up Thanksgiving leftovers!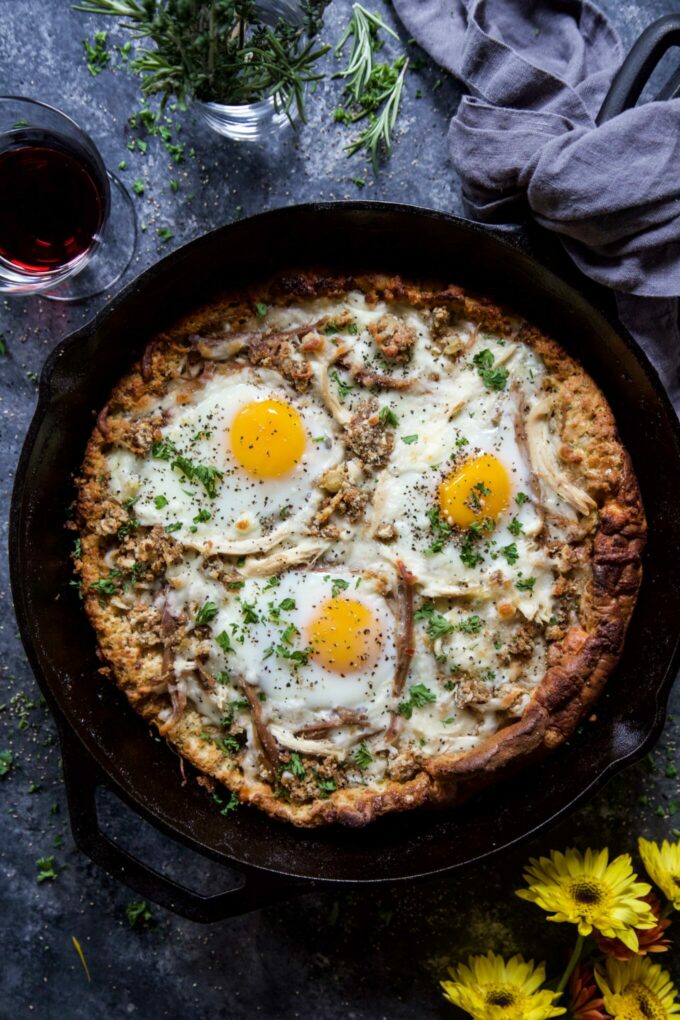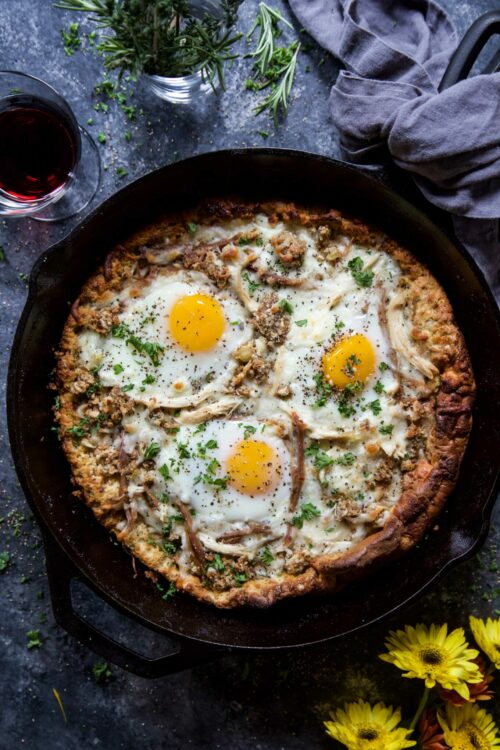 We are Kansas bound today!
Mr. B and I have made the journey across the western plains more times than I can count on my fingers and toes. I know the exact city where I-70 curves just the slightest to give us a break from the straight line monotony. I also know where all the "good restroom" stops are along the way. I'm talking dry floors, scented hand soap and bathroom stall doors that actually stay shut.
However, driving back to my home state is a little different this time around. This time I am sporting a different feather in cap. That of a soon to be published author. As of next week, I will be hosting my first launch party in Wichita and to say I am nervous would be an understatement.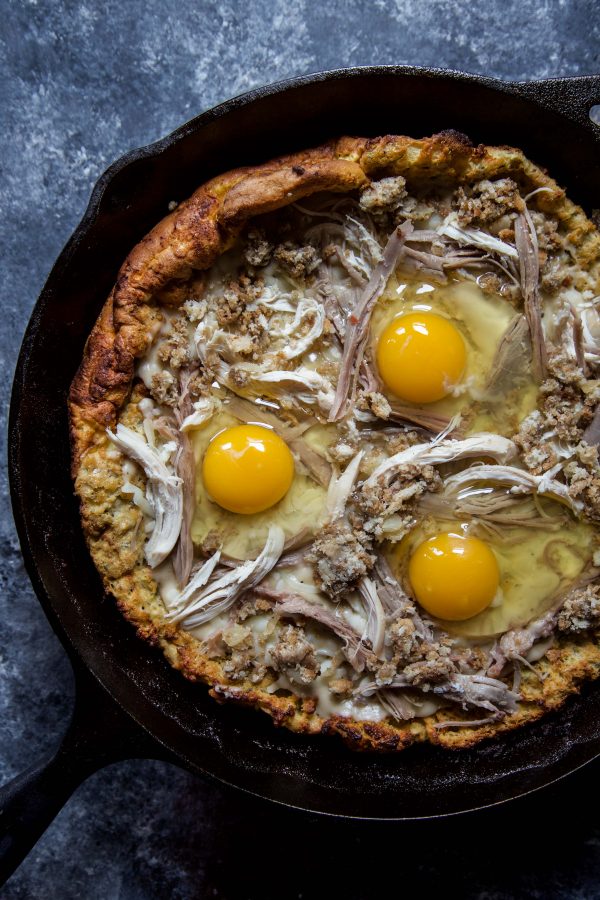 My fears are probably somewhat normal – will anyone show up? What will they think of Modern Comfort Cooking? Will folks recommend it? Crap! Did I leave anyone out of the book? I have nothing to wear! These plague of thoughts run through my mind as a I watch the tumbleweeds blow by.
Yet during this time of uncertainty, I am reminded of something simple my grandpa Chuck would always say, "Sometimes all you can do is show up." I miss his spirit, but knowing that at this point what people think, say, and do is out of your control. I will show up to that launch party and, well, just be me. And that's okay.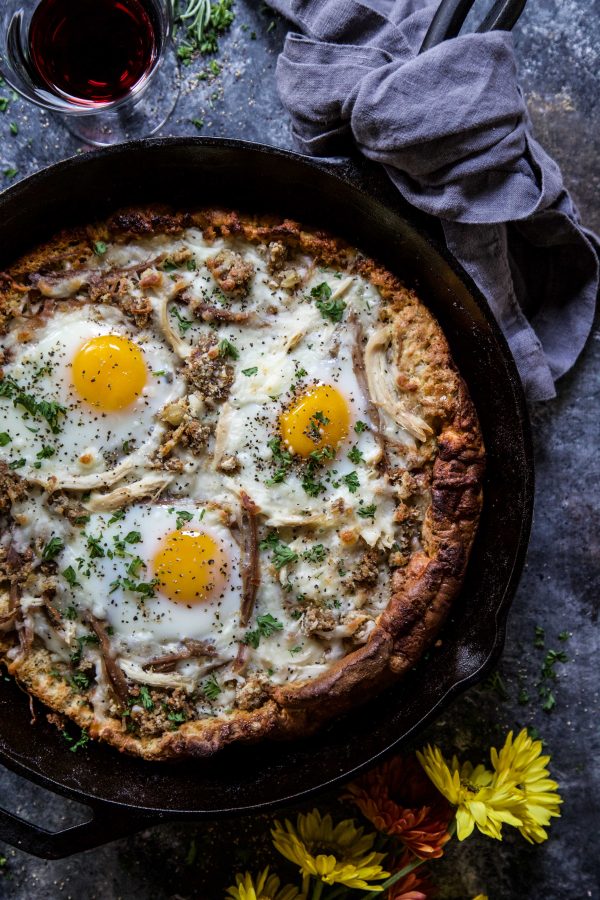 ALRIGHTY! Since Thanksgiving is tomorrow is it to early to talk about leftovers? Don't get me wrong I love the actual feast, but leftovers is really why we all gather anyways, right? I have created a bunch of leftover dishes in the past that are also worthy of checking out: Leftover Turkey Ratatouille with Herbed Dumplings, Open-Faced Turkey Burger with Apple Bourbon Gravy, and Leftover Thanksgiving Brunch Waffles with Fried Egg and Gravy.
But I will say, this Leftover Thanksgiving Dutch Baby Pizza is where it's at. The base of this savory pizza gets extra fluff from the Dutch Baby batter. Top the batter with all the leftover T-Giving toppings like turkey, stuffing, cranberry, etc. Crack a few eggs and bake. What you have is a brunch/lunch approved dish that will keep you statisfied and full as you guard the electronic section at Target during Black Friday.
Happy Thanksgiving, friends!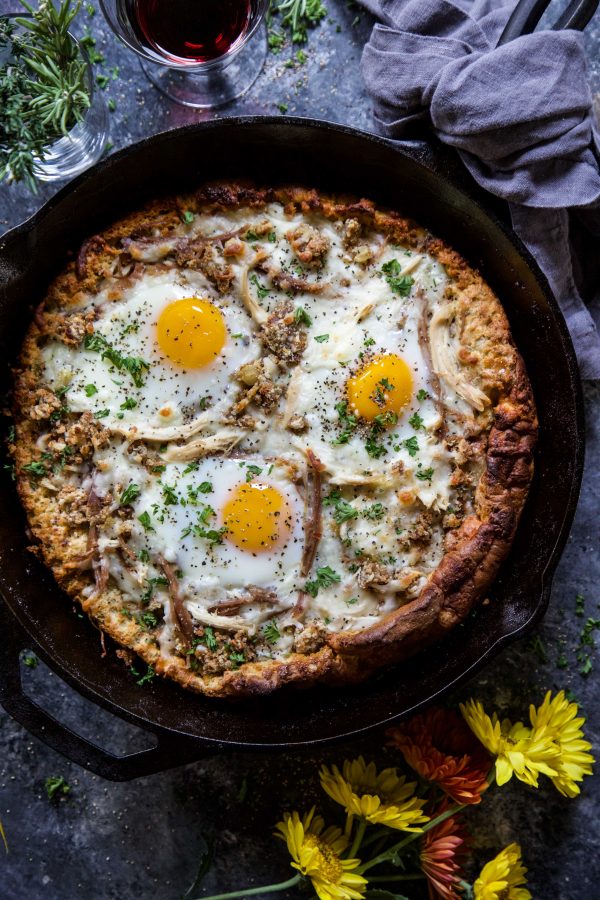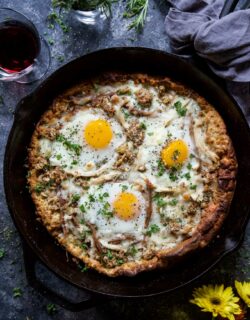 Leftover Thanksgiving Dutch Baby Pizza
Ingredients:
1 cup + 2 tbsp all-purpose flour
1/2 tsp kosher salt
1/2 tsp ground pepper
11 large eggs, divided
3/4 cup milk
2 tbsp chopped rosemary
1 tbsp chopped thyme
1 tbsp chopped sage
4 tbsp unsalted butter
1/3 cup leftover gravy
1 cup shredded mozzarella cheese
1 cup leftover stuffing
1 cup leftover shredded turkey
Directions:
Preheat your oven to 425 degrees. In a large bowl add the flour, salt, and pepper. Stir to combine. In another large bowl whisk together 8 eggs, milk, and herbs. Add the dry ingredients to the wet ingredients and stir until combined.
In a 12-inch cast iron skillet preheated to medium-high heat melt the butter. Swirl the skillet to make sure the butter is evenly distributed. Next, pour in the batter and let it set for about 30 seconds. Turn off the heat and place the skillet into the oven to bake for about 20 to 25 minutes or until the Dutch baby crust has puffed. Once cooked remove the skillet from the oven. The crust will deflate.
Next, pour the gravy over the crust leaving a small border. Top the gravy with cheese, stuffing, and turkey creating three or four nests to gently crack eggs into. Once everything is assembled, place skillet back into the oven to bake for about 15 minutes or until the eggs are slightly opaque. Serve and enjoy!
All images and text ©