lemon chicken and ramen noodle soup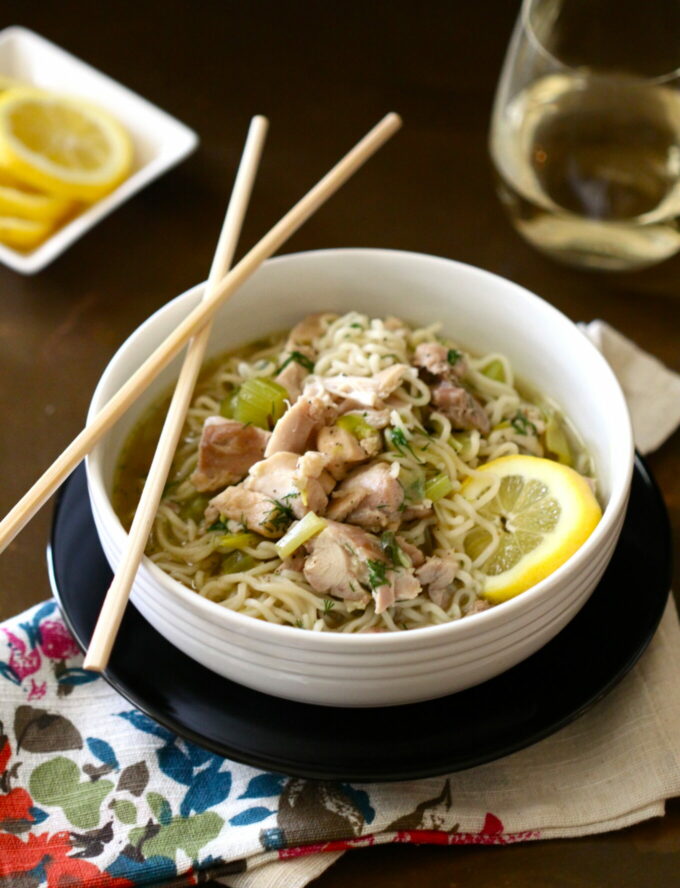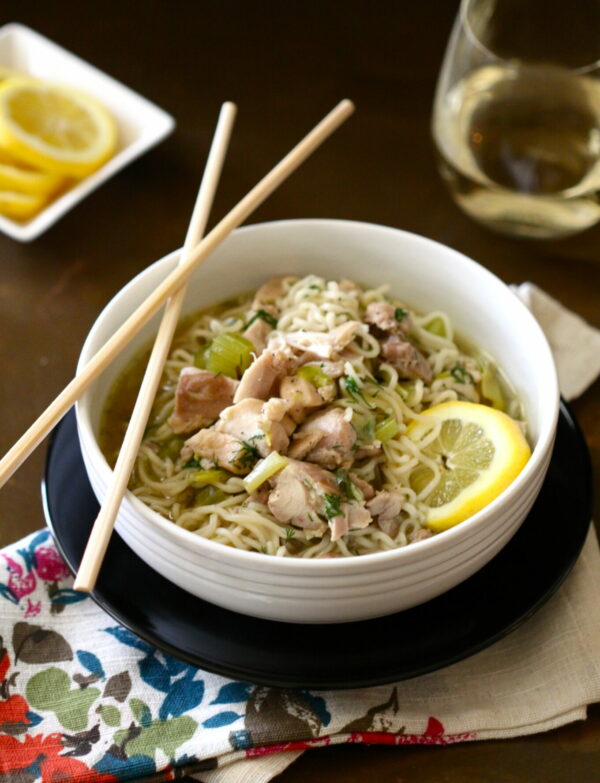 Back in the ol' college days, "cooking" was a relative term.
Cooking, by definition, for a college student is: pressing a button to reheat or the act of pouring liquid into some kind bowl or cup.
So, you could image what my grocery-shopping list looked like as a college student. I was confined to the inner aisles. I would stroll the aisles of the grocery store stopping first in the frozen food section for a DiGiorno pizza. Next, I cruised the cereal aisle for a box of Cinnamon Toast Crunch or Golden Grahams depending on my sugary mood, and lastly a pit stop in the ethnic aisle for Ramen noodles.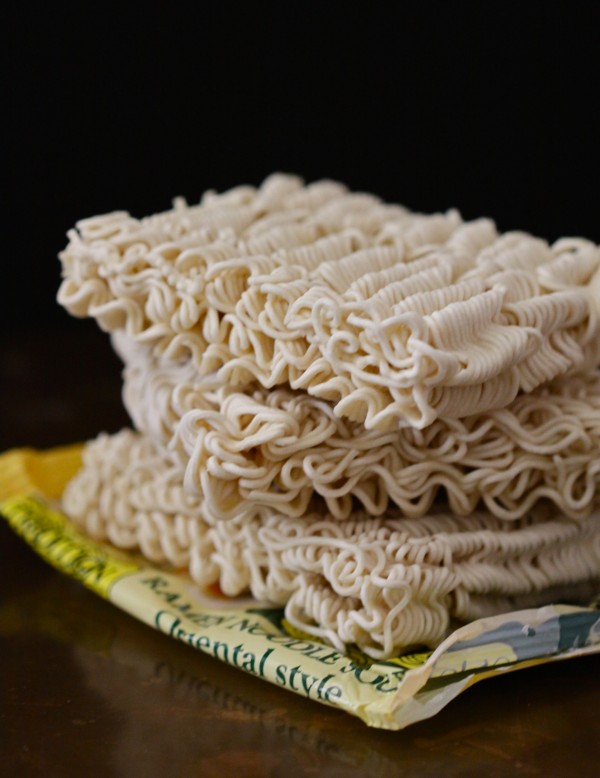 Have you ever noticed in the ethnic food aisle is like hoarders-R-us? There's always 15 different kinds of tortillas (soft taco, carb-lite, whole wheat, etc). How can you possibly choose one? The rice section alone will make you want to cry. If I don't pick the black wild rice, well, the cajun rice is going to hold a grudge against me. And then there's  Ramen. I swear the grocery stores stock packages of Ramen from 1987. Have you ever seen Ramen not on sale? And, it's never just one package that is on sale, you have to buy 10 all at once. They must get crate shipments of Ramen everyday because they never run out.
Anyways, my theory of the endless Ramen supply leads me to believe there's a reason why "Ramen Restaurants" are popping up everywhere. When the world ends, the only thing left on this planet will be those half/half cups they leave on restaurant tables and Ramen noodles. I swear it's a conspiracy to never exhaust the supply of Ramen noodles.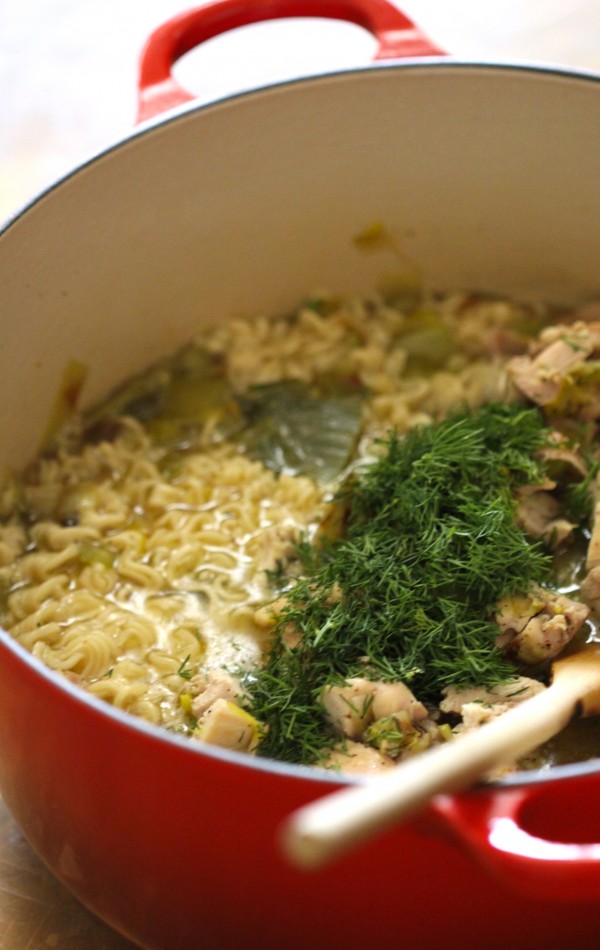 Well, if my conspiracy theory is true, then I have the perfect way to use up those noodles. With spring in full swing, I figured I would take a classic light soup and give it a fun spin. Traditionally, this lemon chicken soup is made with orzo, but I say, why not use Ramen noodles instead? Brilliant, right? Bueller?
The fun part about this dish is that it keeps with the theme of quick and easy. The soup takes less then 30 minutes to make, but doesn't require a microwave or those nasty-mcnasty MSG's. Hip-hip, hooray!
Okay, where did I put the number for DiGiorno delivery?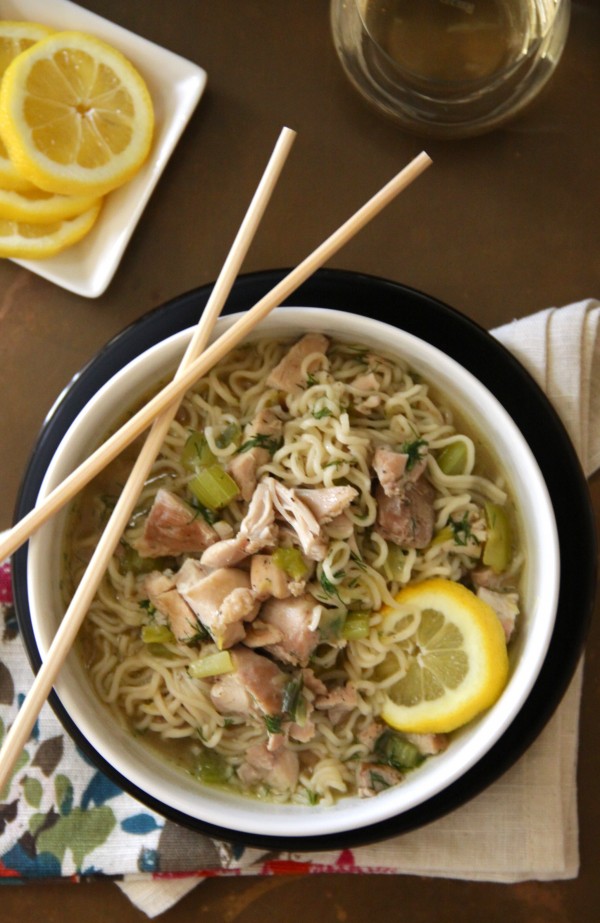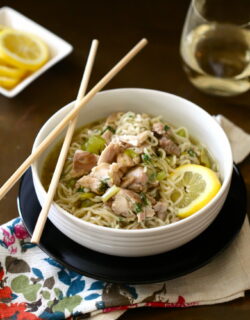 Lemon Chicken and Ramen Noodle Soup
Ingredients:
1 tablespoon olive oil
1 leek, washed, chopped
2 celery stalks, chopped
1.5 pounds boneless skinless chicken thighs
6 cups chicken stock
salt and pepper
2 packages ramen noodles
1/4 cup fresh dill, chopped
Lemon halves (for garnish)
Directions:
Preheat a large dutch oven to medium heat. Add olive oil. Then add leek and celery, cook for a few minutes until veggies begin to soften. Add chicken thighs and stock, with a sprinkle of salt and pepper. Bring the pot to a boil, cover with a lid, and then turn heat to a simmer. Cook for about 15 minutes or until the chicken is no longer pink. Once chicken has cooked, turn heat off, remove chicken, and set aside to cool. Once the chicken has cooled, cut into bite sized pieces.
Return the pot to a boil and add ramen noodles. Cook for about 5 minutes or until al dente. Remove the pot from the stove and stir in chicken and dill. Serve in bowls and garnish with lemon halves.
recipe adapted from Bon Appetit
All images and text ©