mango-ginger bourbon spice freeze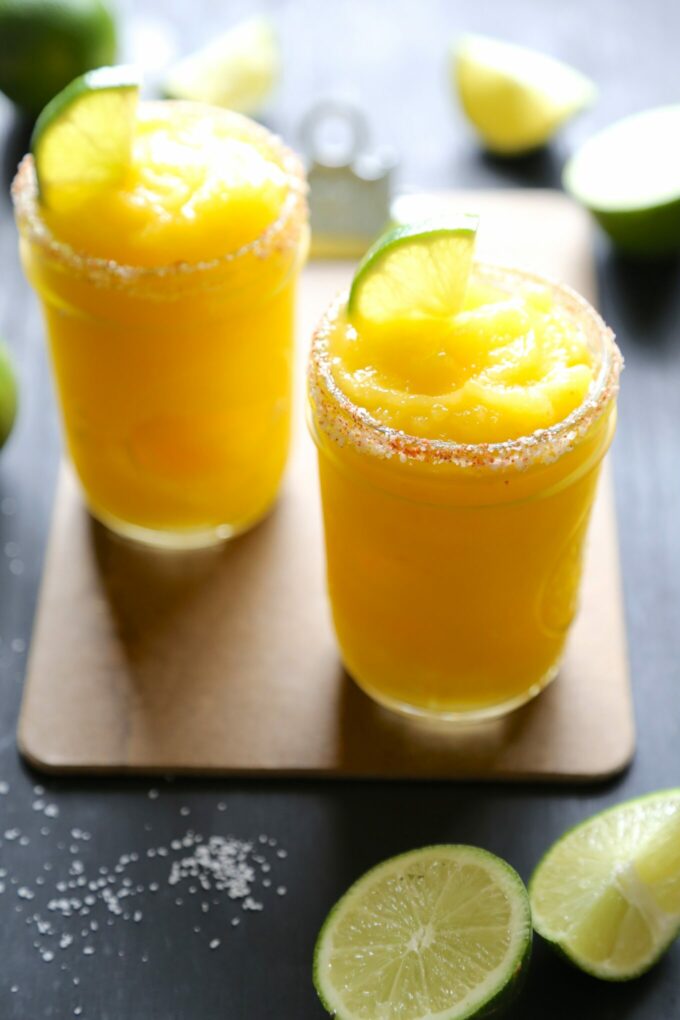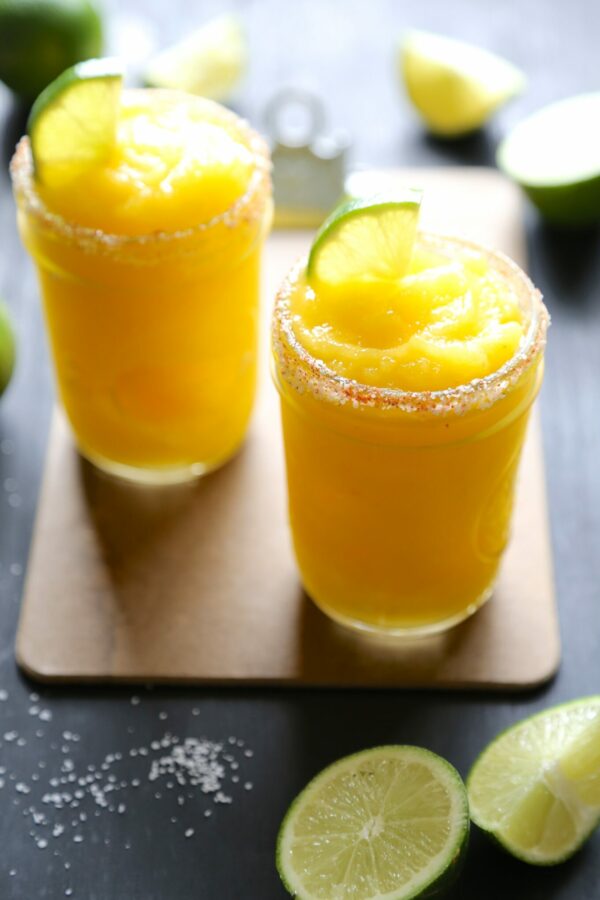 During the summer months, I find myself drinking dinner.
And I'm not talking about slurping down a kale smoothie either. When the days are long and the heat gradually rises, I find myself gravitating towards the backyard with a cocktail in my hand, sitting on an Adirondack chair, and smelling the freshly cut grass.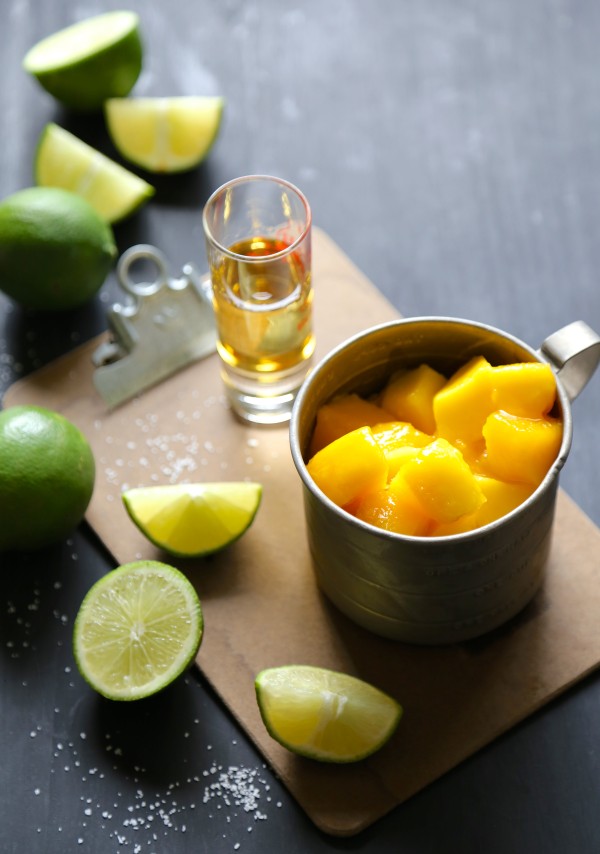 The thought of standing over a hot stove, cooking a big feast, while sweat drips down my forehead makes me not the least bit hungry. I would much rather pour a refreshing cocktail, nibble on a charcuterie plate, and take a moment to breath. Isn't that what summer is for….sipping and breathing?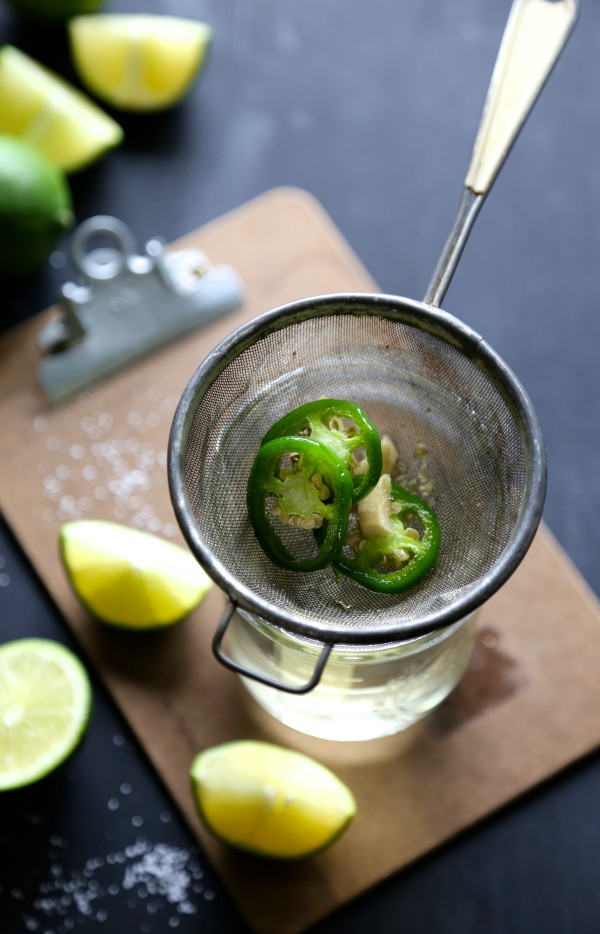 Well, if you are on the sipping and breathing band wagon like yours truly, I have the perfect cocktail for you to try. This Mango-Ginger Bourbon Spice Freeze is a total breeze and comes sans sweat. Everything goes right into the blender and in minutes you have a delightful cocktail that is backyard ready. You could even freeze these as popsicles and have dessert for dinner!
Now, if we could only figure out how to make kale giggle juice approved life would be complete.
Cheers!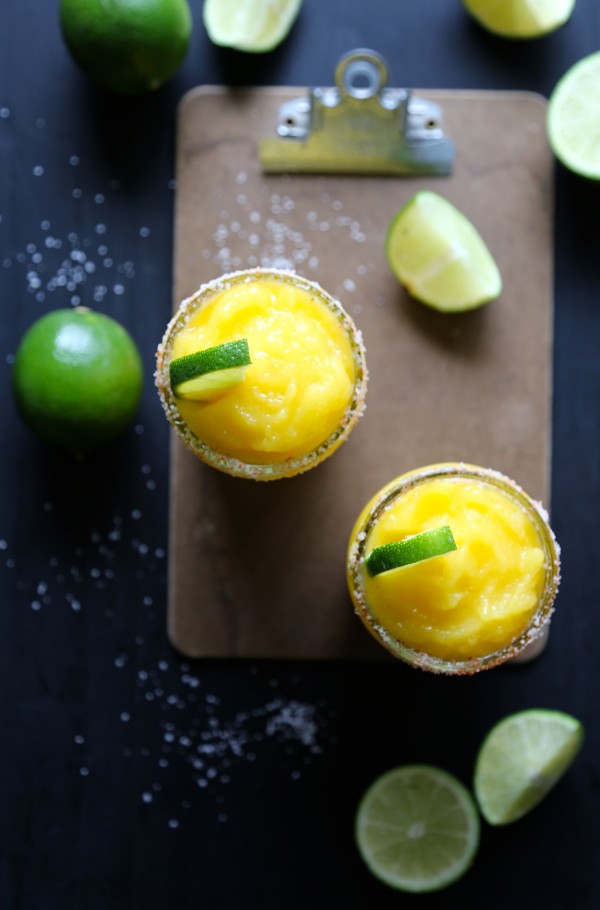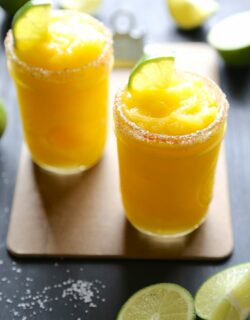 Mango-Ginger Bourbon Spice Freeze
Ingredients:
for the drink:
6 ounces bourbon
5 ounces frozen mango cubes, thawed
5 ounces fresh lime juice
4 ounces jalapeno-ginger simple syrup
4 cups ice
1/4 cup Kosher salt
1/2 teaspoon paprika
lime wedges, garnish
for the jalapeno-ginger simple syrup:
1 tablespoon fresh ginger, grated
4 jalapeno rounds
1/2 cup water
1/2 cup granulated sugar
Directions:
for the drink:
In a food processor, add the first five ingredients. Blend until smooth. Pour kosher salt and paprika onto a plate and mix together. Take a lime wedge and rub it around the edge of the cocktail glass. Take the cocktail class and move the rim around the kosher salt. Next, fill the cocktail glass with the bourbon freeze and garnish with lime wedge.
for the jalapeno-ginger simple syrup:
In a medium saucepan, add all the ingredients. Bring to a slight simmer and stir until the sugar has dissolved. Remove from heat and let it cool completely.
All images and text ©