chocolate cherry cake with chocolate oat streusel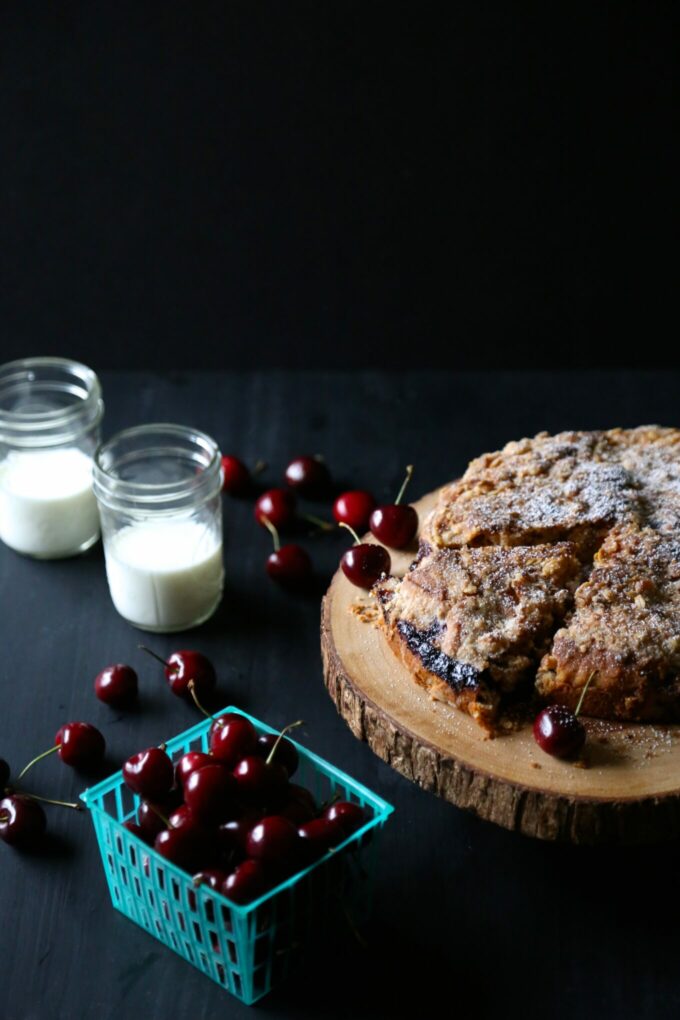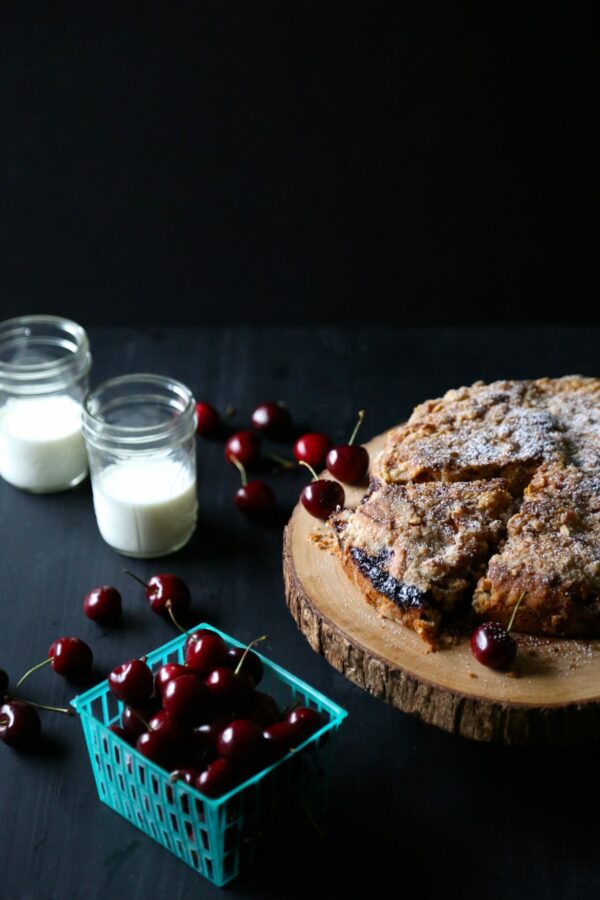 Greetings from Charleston!
I honestly can't believe we are finally here. The last two weeks have been a little crazy on the ol' travel legs, but we made it. Yippee! Over the next week, we will be exploring the Isle of Palms, downtown Charleston (history and of course, FOOD), and marinating on the beach. I should say lot's of marinating with more marinating in between.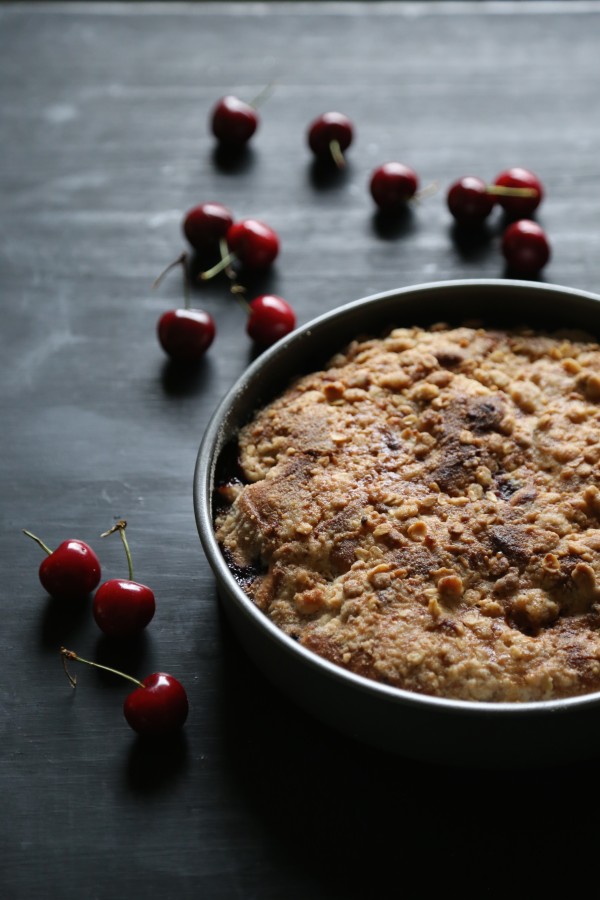 We've been to Charleston before so we kind of know the ins and outs, but would love any recommendations on where to go, see, and eat. Mr. B and I also talked about giving surf lessons a try. Crazy to think last year at this time we were learning how to surf on the other side of the Atlantic Coast in Biarritz, France!
Now, with seventeen of us living under one roof for the week, I figured I better prepare something that could feed a hungry crowd. With cherries in season, I thought a chocolate coffee cake with chocolate oat streusel topping might keep our bellies happy.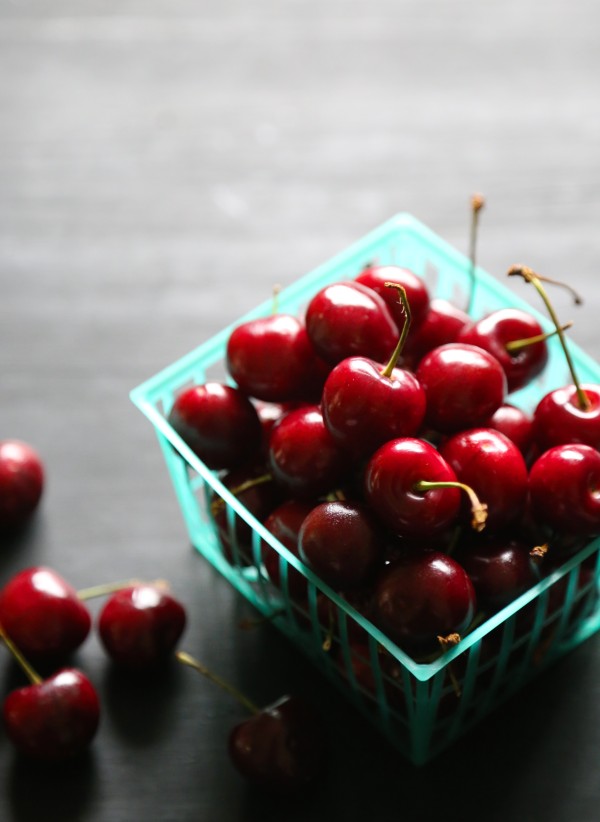 I adore this cake because it comes together super quick and doesn't require a whole lot of fuss. Also, you can put whatever seasonal berry or fruit you have on hand into this cake. Peaches would be amazing and the perfect Southern twist. That, or a splash of bourbon.
Now, off to explore the beach!
Eat Seasonal Series: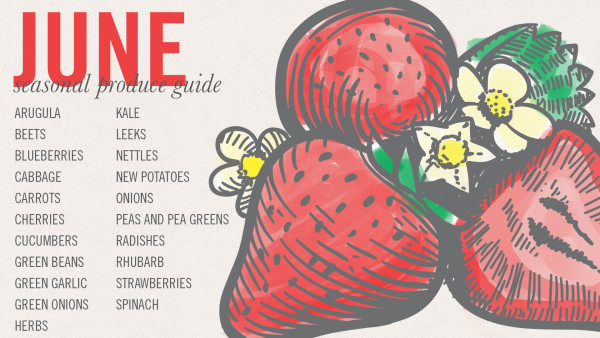 My talented and fantastic friend, Becky, author of The Vintage Mixer, is showing us that eating seasonally can be fun! Each month she provides a Seasonal Produce Guide, which you can save on your iPhone or desktop so you can get in the seasonal eating spirit.
Not only does she provide a beautiful illustration each month like the one above, you can also join me and a few fabulous food bloggers who are serving up seasonally inspired recipes. Follow us on Instagram and tag your photos with the #eatseasonal hashtag!
Blueberry Mint Gin Cocktail by Vintage Mixer
Bourbon-Cherry and Almond Dutch Baby by Floating Kitchen
Breakfast Strawberry Shortcakes by Completely Delicious
Strawberry and Mango Kale Salad by Project Domestication
Spinach Salad with Grilled Strawberries, Asparagus & Walnuts by Simple Bites
Blueberry Greek Yogurt Waffles by The Lemon Bowl
Rhubarb Crumb Bars by Bless This Mess
Mini Lavender Pavlovas with Summer Berries by Cafe Johnsonia
Super Summer Detox Salad by Well Plated
Blueberry, Feta and Honey-Caramelized Onion Naan Pizza by Kitchen Confidante
Cumin Orange Shrimp-Stuffed Cucumber Boats by Cookin' Canuck
Blueberry Buckle by Foodie Crush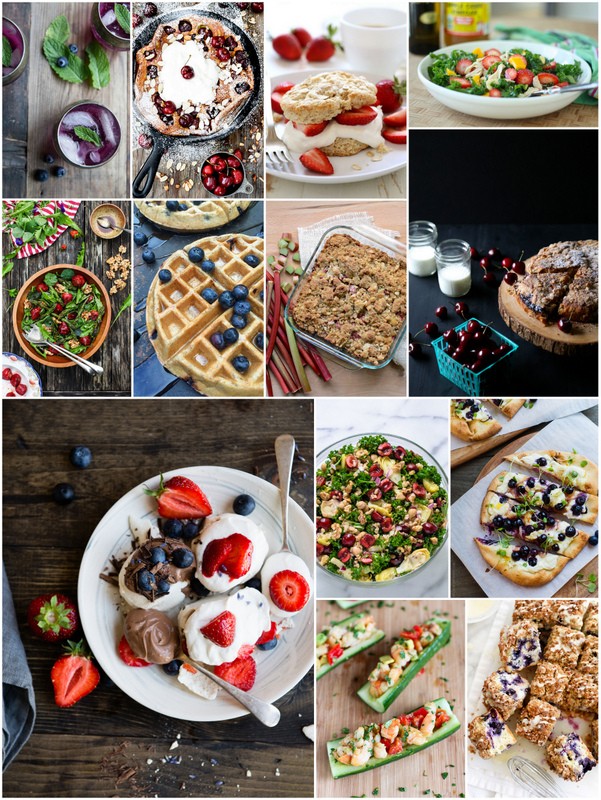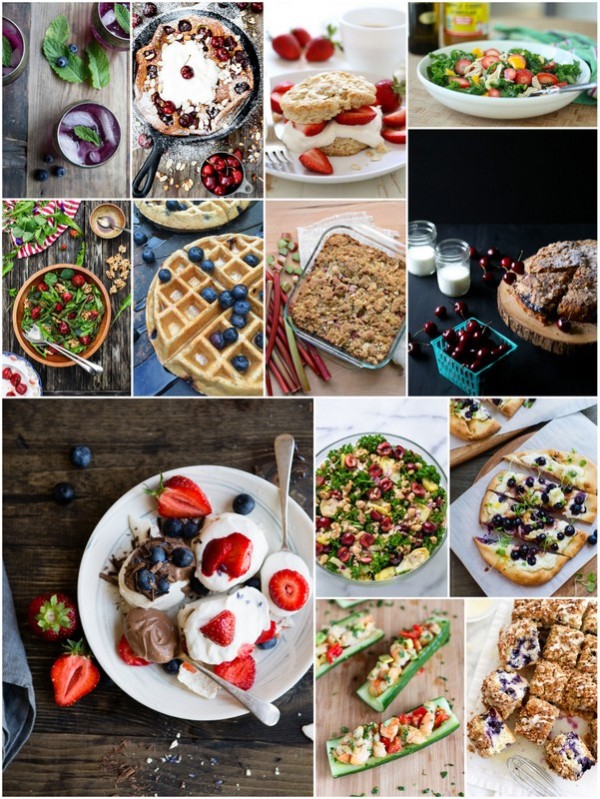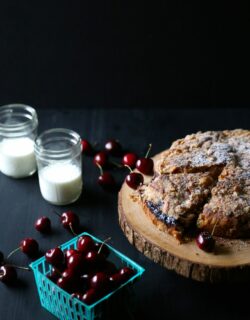 Chocolate Cherry Cake with Chocolate Oat Streusel
Ingredients:
for the cake:
2 cups all-purpose flour
2 teaspoons baking powder
1 teaspoon ground cinnamon
1/2 teaspoon ground nutmeg
1/4 teaspoon kosher salt
3/4 cup granulated sugar
1/4 cup unsalted butter, room temperature
1 large egg
1 teaspoon orange zest
1/4 teaspoon vanilla extract
1/2 cup buttermilk
2 cups fresh or frozen (must be thawed) cherries
1/2 cup mini chocolate chips
confectioners sugar, garnish
for the oat streusel topping:
1/2 cup granulated sugar
6 tablespoons all-purpose flour
3 tablespoons regular oats
2 tablespoons mini chocolate chips (if desired)
1/2 teaspoon ground cinnamon
1/4 teaspoon ground nutmeg
2 tablespoons olive oil
2 teaspoons buttermilk
Directions:
for the cake:
Preheat oven to 375 degrees.
Spray a 9-inch round cake pan with non-sticking cooking spray. In a large bowl, combine the first five ingredients. In a mixer fitted with a paddle attachment, beat butter and sugar together until fluffy. Next, add the egg, orange zest, and vanilla extract making sure it's combined evenly. In thirds, add the flour mixture along with the buttermilk to the sugar and eggs. Fold in the cherries and chocolate chips. Pour the batter into the cake pan and add streusel on top. Bake cake for about 40 to 45 minutes or until golden brown. Remove from oven and let the cake cool. Serve with a dusting of confectioners sugar.
for the oat streusel topping:
Add all ingredients to a bowl and combine.
recipe adapted from Cooking Light
All images and text ©