trip recap: five favs of the indulge conference + portland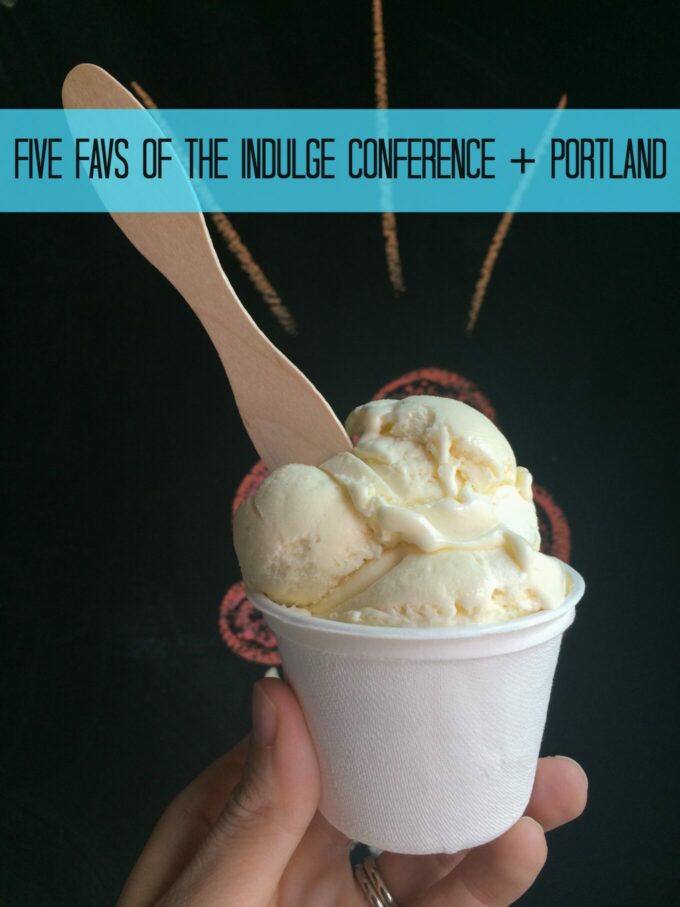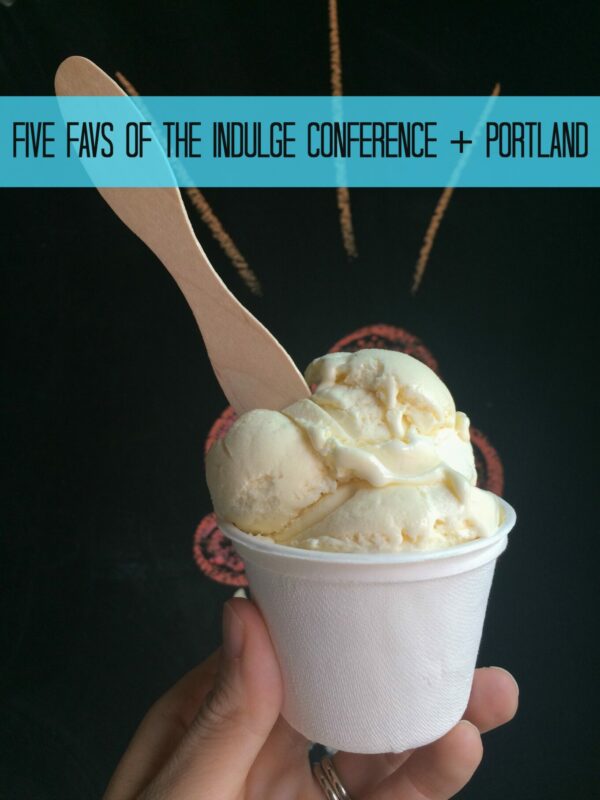 This past weekend, I flew to Portland, Oregon to attend the first annual Indulge Conference hosted by the insanely talented, Lauren and Christie.
I've never been to Portland; which I find strange because I feel the whole hipster, micro-brew, and mountain scene would have drawn me here sooner.  But alas, I finally touched down in the city of roses and I must say, I was instantly smitten.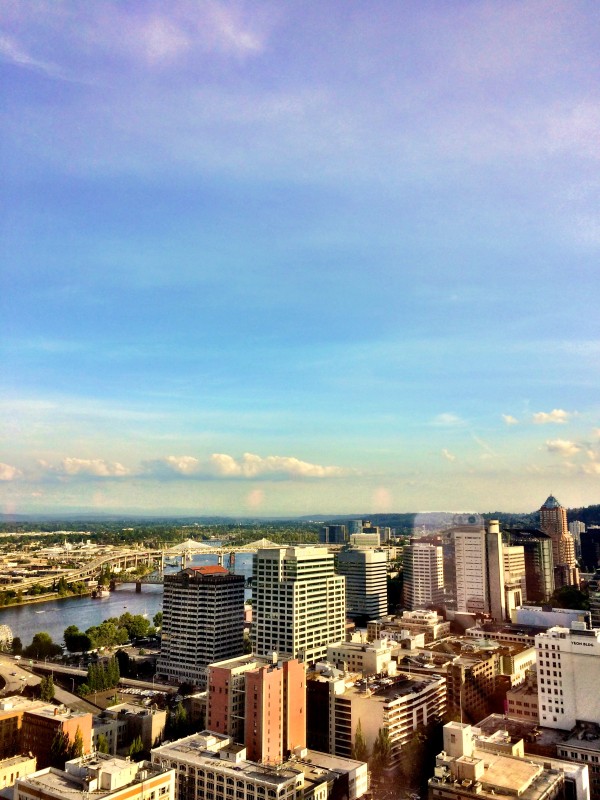 The Indulge Conference was ideally located in downtown Portland, specifically, in Pioneer Square. Here, 100-plus food bloggers gathered at the Hotel Monaco for a two-day, jammed pack conference that would leave us highly enlightened and wanting seconds. We had a wonderful group of sponsors – Harry & David, Tillamook, CA Avocados, OXO, and many more that spoiled us completely.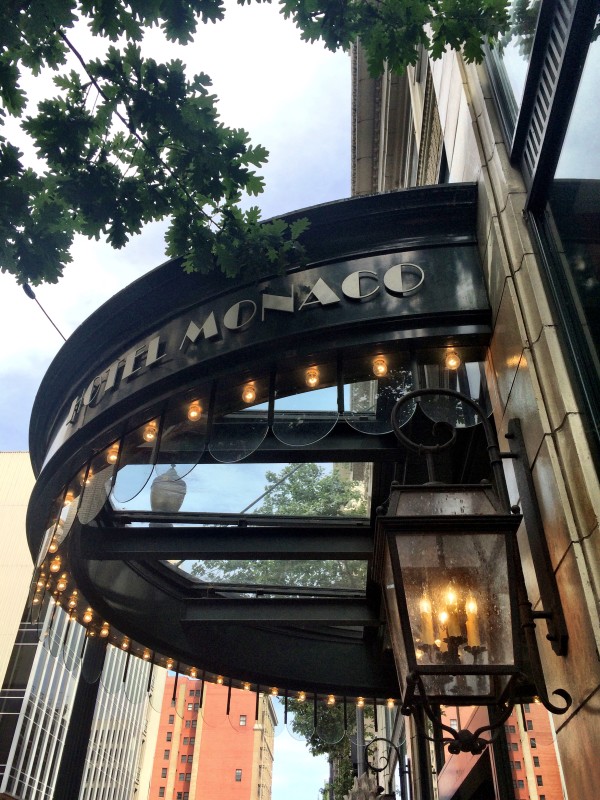 The conference also had an A-list lineup of panelist (Kristen, Bev, Heidi, Ali, Amy, Lori, Deborah, & Shawn) to cover topics such as: How to Stay Authentic, Working with a Virtual Assistant, Monetizing, Working with Brands, Social Media, and Photography. Listening to a well-rounded group of my peers lecture on how to improve, adapt, and believe in yourself was exactly what I needed to hear.
So, I thought today, I would talk about my top five favorite (no particular order) things/moments/experiences/eats while I was in Portland. Are you READY?!
1) Donuts(!!!) – When it comes to donuts in Portland there is definitely a sugar dividing line. You either eat for Team Voodoo or Team Blue Star. Both offer a killer array of buttermilk and eccentric donuts, but if I had to pick one, it's Team Blue Star all the way. Annalise and I consumed the last two donuts they were offering at 3pm on Saturday afternoon. One was matcha flavored and the other Mexican chocolate – and both were stellar!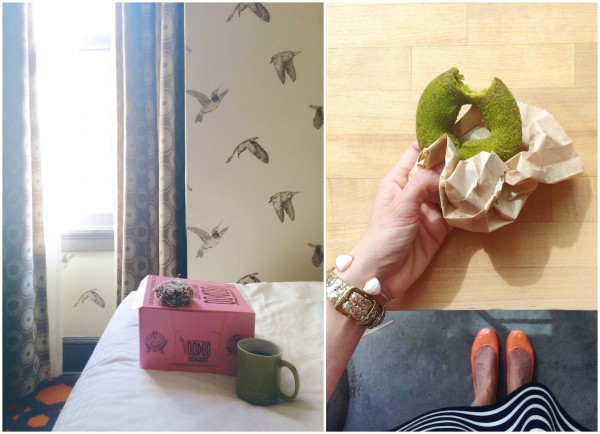 2) Food Trucks – I thought my food truck days were over for a while, after my indulgence in Japan. Um, I was wrong. I have never in my life seen so many unique and spectacular food carts (as they say in Portland because they don't move). During lunch on Saturday, we gaggle of food bloggers walked around 10th and Alder to check out the food cart buzz. Thai noodles, Korean BBQ, Grilled Cheese, Greek, Tacos, and even Egyptian food were among the choices. Trying to decide where to eat was the WORST! After a hot lap, I decided to go with the Thai noodles. For $7, I got a giant box of delicious noodles. Plus, with the nice weather we all sat outside in the pavilion to soak in a few rays!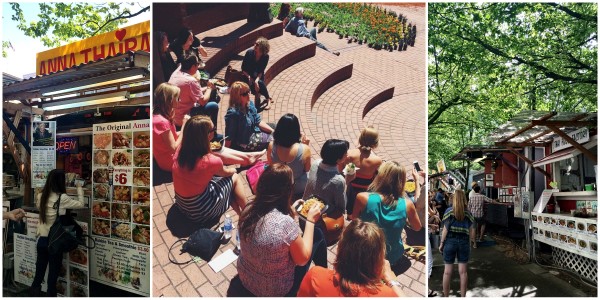 (middle pic via Kelley)
3) Restaurants – Where to begin? One thing I quickly learned while eating in Portland is that there isn't a single bad restaurant anywhere. A few locals recommended, Lardo. Their carnitas pork sandwich with Lardo loaded fries were nothing short of a savory foodie miracle. For dessert, we tried Ruby Jewel Scoops lavender honey ice cream. I rate it two scoops way up! Urban Farmer was such a treat thanks to conference sponsor Harry and David. Urban Farmer offered fresh local greens, halibut, and the best whiskey chocolate cake of my life. For quick pastries, check out Pearl Bakery. Their croissant ham sandwich is buttery and delicious. Also it's worth mentioning to stop by Powell's City of Books to grab a cup of coffee and people watch.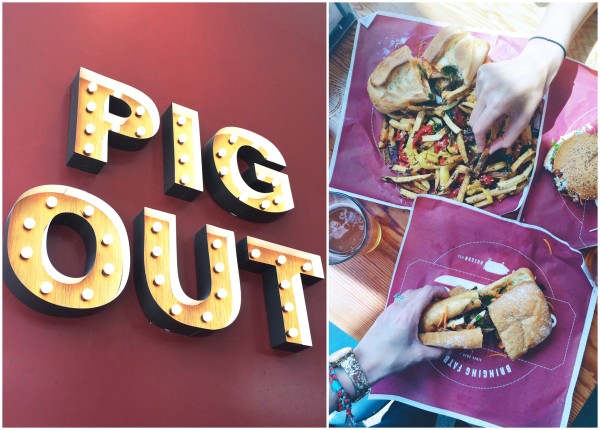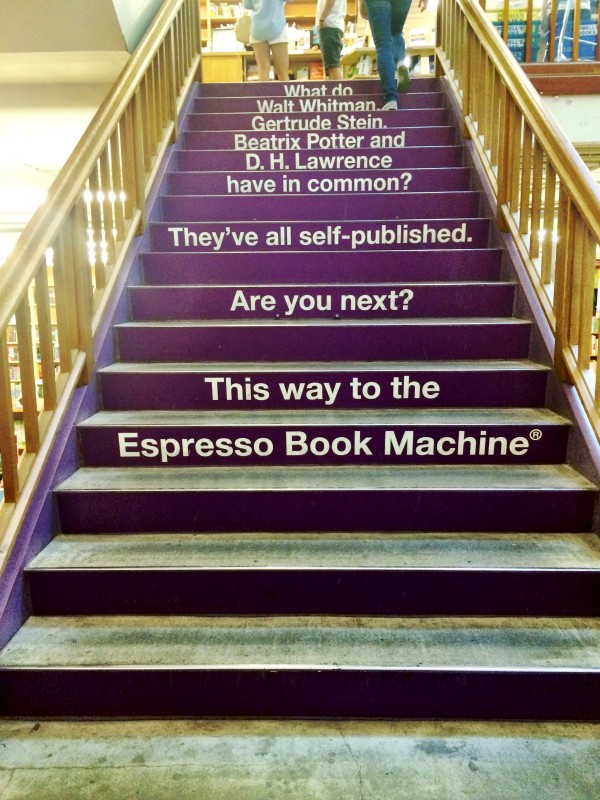 4) Friendships – Being able to spend time in person with my blogging peers is something I value immensely since we work in a virtual world. Getting the chance to word vomit, giggle, contemplate changes outside of my head is so refreshing. I am very blessed to have such a great gaggle of friendships around me. I don't know what I would do without these ladies!
5) Community – It was obvious from the beginning that the city of Portland values community and helping one another. Saturday was the Starlight parade and people began lining up at 7am to reserve a curbside seat. If that's doesn't scream community appreciation, I don't know what it does. But I think the most important takeaway from Indulge was that communities change and grow. Six years ago the food blogging world was a very different place. But being part of a community means you need to accept the change and welcome new opportunities and members. I was amazed at the fresh faces I saw at Indulge. I think it's testament that the food blogging community is here to stay and I'm digging it.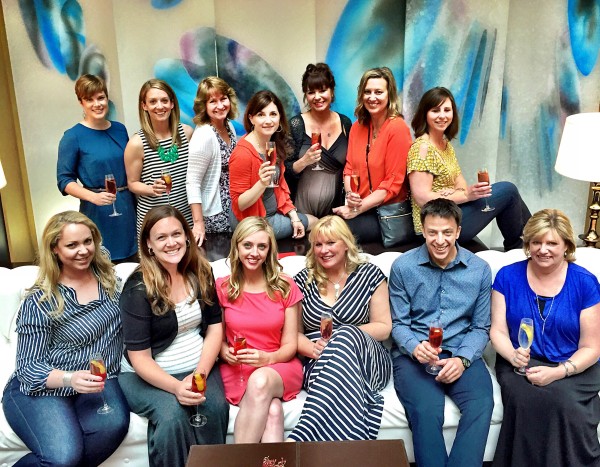 Until next time, Portland.