all-american quinoa cheese sliders with lemon aioli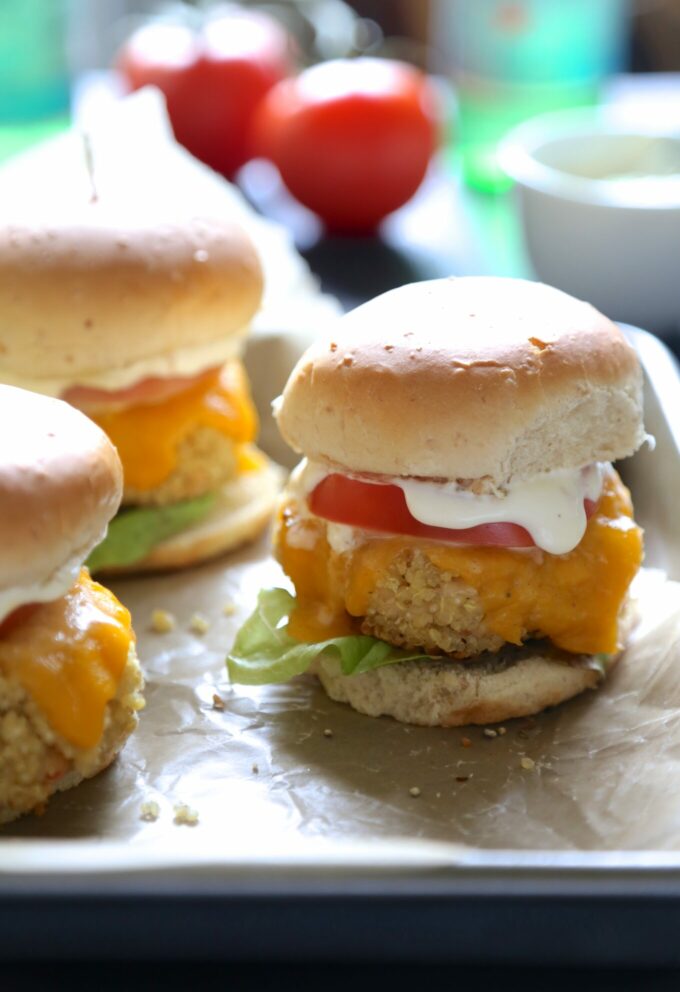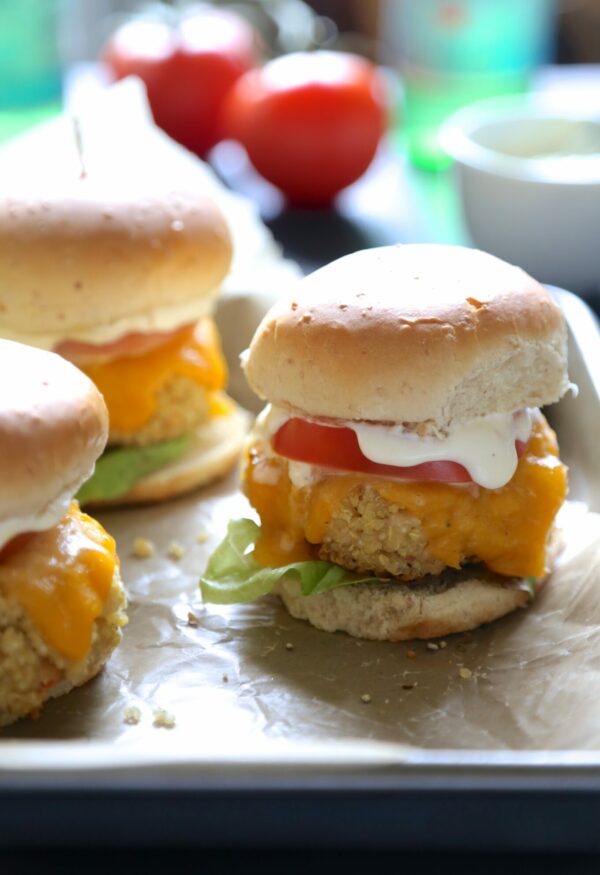 On the road again!
WHEEEEWWW Weeeeeeeeeeeeeeee.
In my head that sentence sounded like a mixture of Elmer Fudd and Foghorn Leghorn talking. Two of the best Looney Tunes characters! Yes, Bugs Bunny is hysterical, but I always thought he was kind of an assface. I felt bed for Wile Coyote because Bugs was always on his butt making his life miserable. Even though Wile was trying to do some seriously stupid stuff, maybe once, JUST ONCE, let the guy blow up some sheep. Mmmmkay?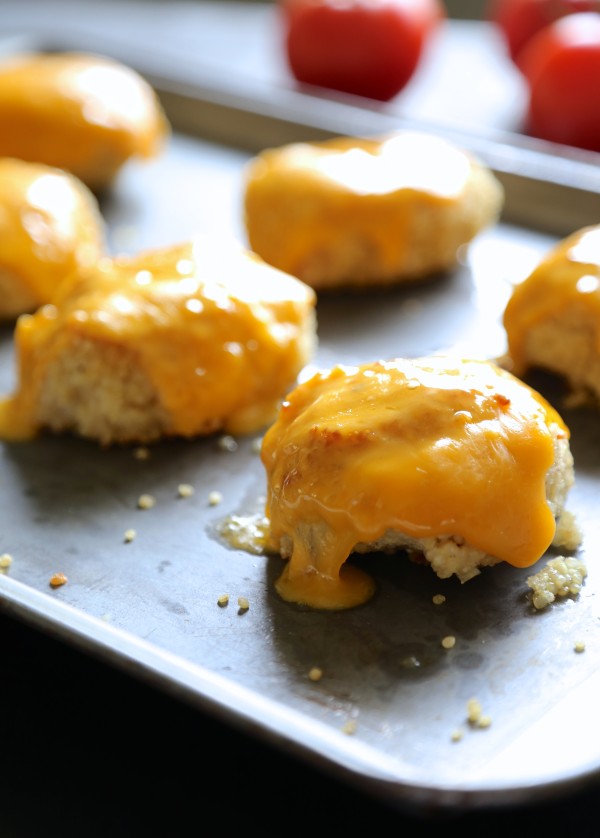 My goodness that was quite the tangent. Where was I? Yes, traveling. Today, I am headed to the east coast, Richmond, Virginia to be exact. I am meeting up with a bunch of fabulous food bloggers to get the ins, outs, and what have you's on Sabra. I can't wait to learn about all things hummus and visit an actual chickpea farm. Let me know if you have any questions about hummus. I can totes ask!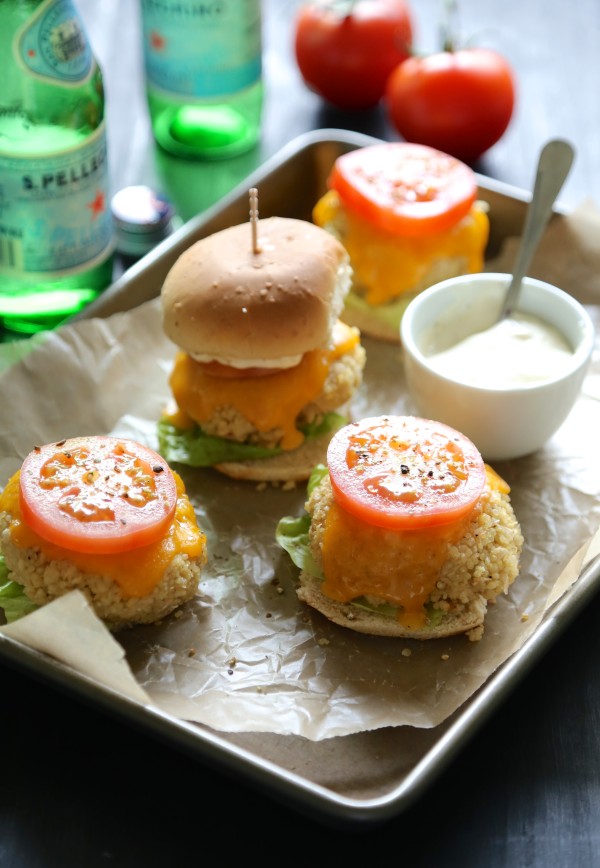 SHOOT! Before I forget, can we talk for 2.2 seconds about these quinoa sliders? Sometimes, I get myself in trouble because I "assume" there's no possible way certain ingredients can taste good as the original. Case in point: I thought quinoa in place of beef or chicken would be no bueno. Well, I'm here to admit, I was sooooooo wrong. These fellows are so tasty! Simple flavors, easy to make, and let's be honest you could eat four of these for a price of a burger.
#winning!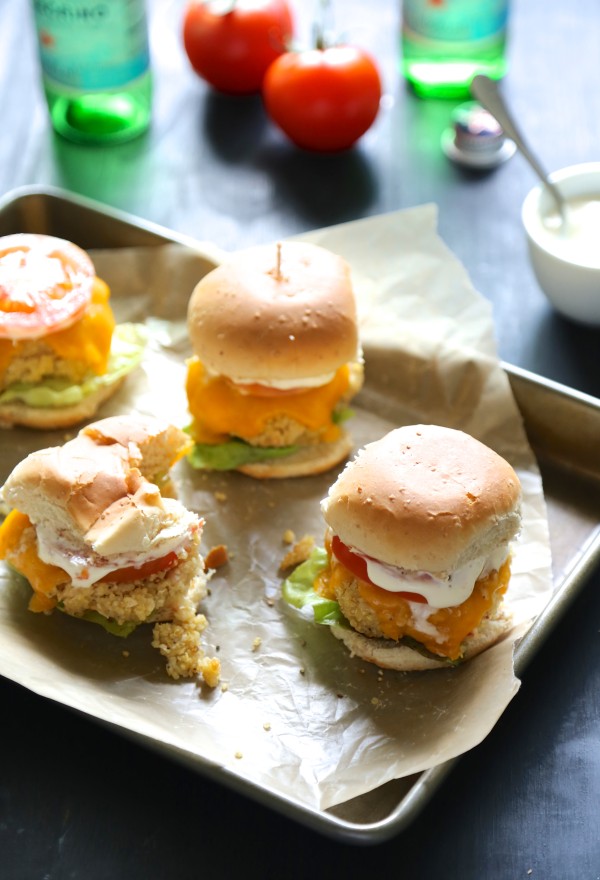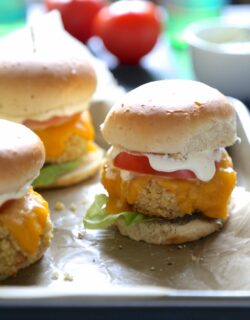 All-American Quinoa Cheese Sliders with Lemon Aioli
Ingredients:
for the sliders:
2 tablespoons olive oil
2 cups quinoa, cooked
1 egg
1/2 cup panko breadcrumbs
dash of Tabasco
1 garlic clove, minced
1 cup white beans, drained, mashed
6 brioche slider buns
6 slices cheddar cheese
Lettuce, garnish
Garden tomato slices, garnish
Red onion, slices, garnish
Salt and pepper to taste
for the lemon aioli:
1 cup mayonnaise
squeeze of lemon juice
1 teaspoon lemon zest
1 garlic clove, minced
salt and pepper to taste
Directions:
for the sliders:
In a large bowl, combine quinoa, egg, panko, Tabasco, garlic clove, white beans, and salt/pepper. Form six slider size patties and place on a plate. Preheat a skillet to medium-high heat and then add the olive oil. Place three patties into the skillet and cook for about four minutes on the first side, flip, place sliced cheese on top, and then continue to cook for additional two to three minutes or until golden brown. Remove from skillet and repeat process with remaining three patties. Serve quinoa sliders with lettuce, tomato, and red onion.
for the lemon aioli:
Mix all ingredients in a bowl. Place in fridge for at least 30 minutes to let the flavors combine.
All images and text ©