Mexican Street Corn Smashed Potatoes
Mexican Street Corn Smashed Potatoes is a super flavorful side dish that is easy to make!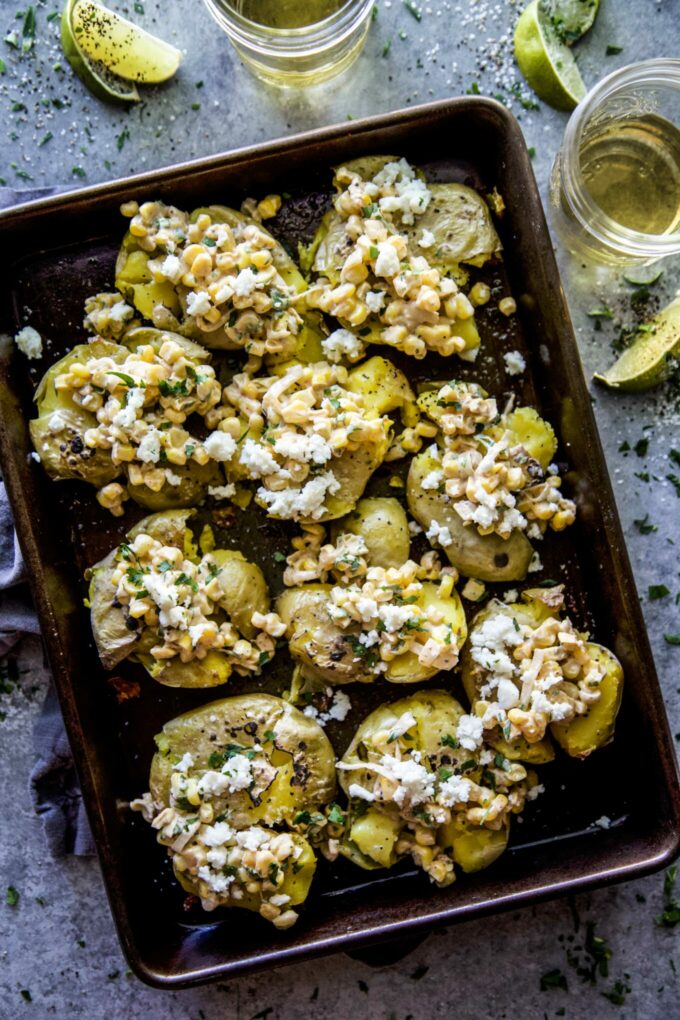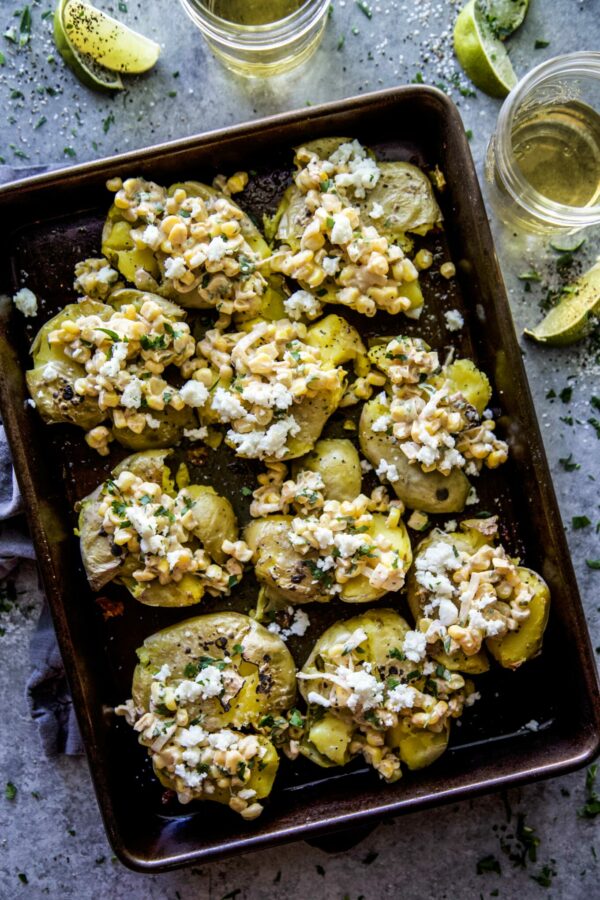 HOT.
Like hot enough to fry an egg on the sidewalk.
This time of year is not my favorite. Honestly, I shouldn't complain because at least I live in a dry heat environment. BUT! The access to water to cool off in Colorado is hard to find.
So, what's worse? High heat with humidity and access to water? Or, dry heat and access to higher elevation? I feel like there is no win-win!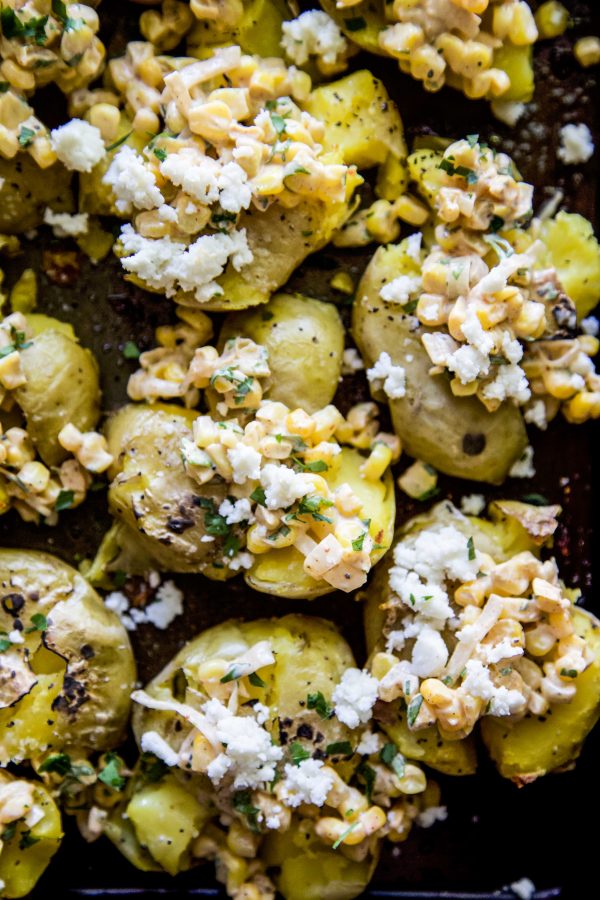 Oh, well. Thankfully summer is only a season because I can't wait for fall. You know we are only 2 months away from all the PSL lovers burping up? I'm not a pumpkin spice latte person, but the thought of something to distract me from all the craziness in the world is welcomed!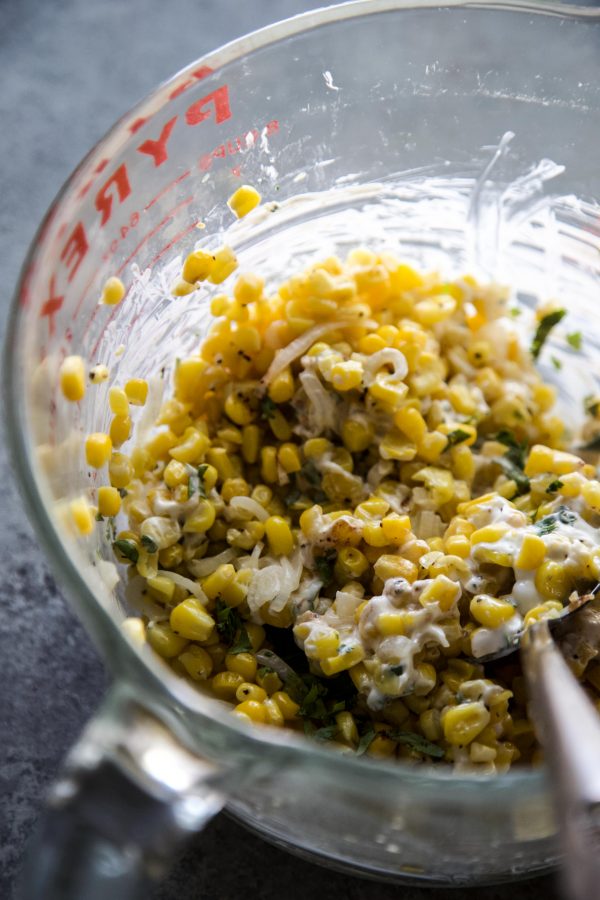 Besides keeping my tookus cool, I want to introduce you to the best side dish ever! If you love Mexican Street Corn and smashed, roasted potatoes then these Mexican Street Corn Smashed Potatoes will reign supreme all summer long. Literally a mash-up of two of my favorites dishes.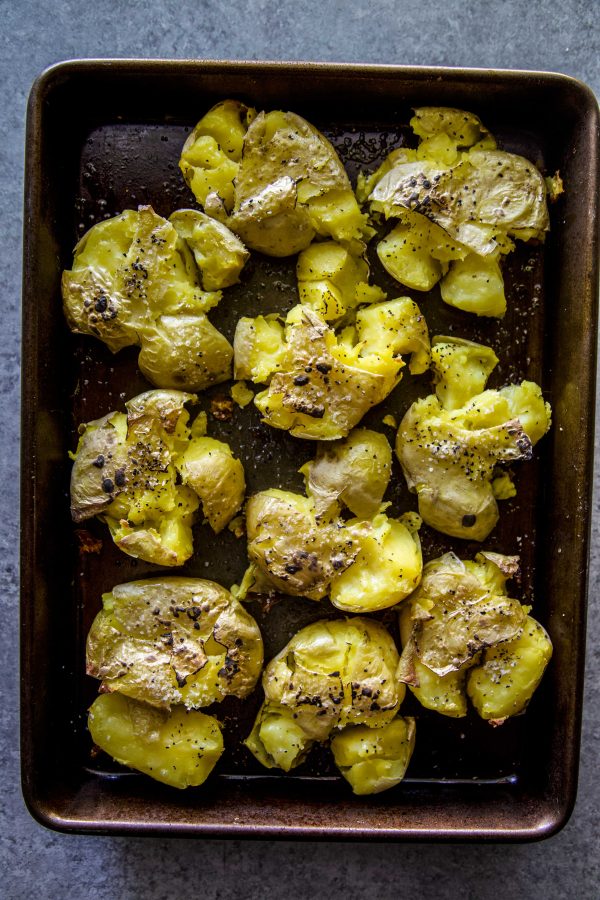 What's great about this side dish is that you can make smashed potatoes while you cook the street corn. I mean if that isn't a two-fer of a win I don't know what is! BONUS: both can be made on the grill to save you from having to turn on the oven. You would need to start the corn first since it takes a bit longer to cook, but that's pretty much it!
Alright, off to fry an egg! Kidding. Maybe.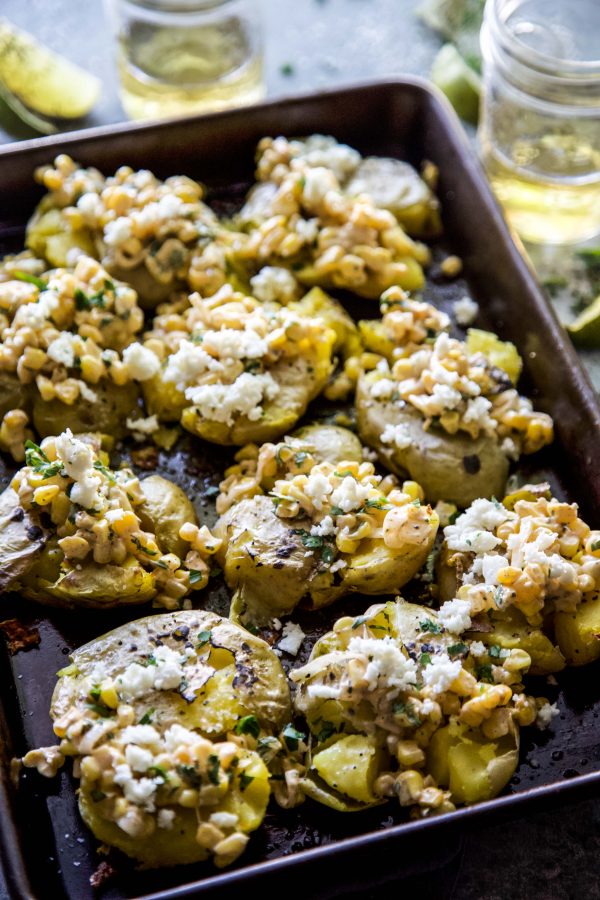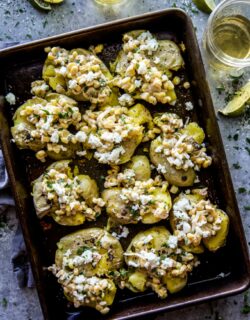 Mexican Street Corn Smashed Potatoes
Ingredients:
for the potatoes:
2 lbs Yukon gold potatoes
olive oil
salt and pepper to taste
for the corn:
4 to 6 ears of corn, husked removed
olive oil
2 tbsp mayonnaise
2 tbsp sour cream
1 tbsp lime juice
1 tsp chili powder
1/8 tsp cayenne
salt and pepper to taste
Queso fresco, for garnish
Fresh cilantro, for garnish
Directions:
For the potatoes:
Preheat your oven to 425 degrees. Line a baking sheet with foil and spray with non-stick cooking spray. Set aside.
Meanwhile, place the potatoes in a large pot filled with salted water. Bring to a boil and cook until fork tender about 20 minutes. Drain well and let cool slightly.
Next, place each potato on the prepared baking sheet. Spread them out evenly and then take a bottom of glass and press gently to smash the potato. Be careful not to push really hard or they will crumble.
Drizzle the tops of the potatoes with olive, salt, and pepper. Cook for about 15 to 20 minutes or until nice and crispy. Remove and set aside.
For the corn: 
Preheat an outdoor or indoor grill. Brush the corn with olive oil. Grill the corn turning every two to three minutes until charred on all sides. Let the corn cool and then remove the kernels off the cob.
In a medium bowl combine corn kernels, mayonnaise, sour cream, lime juice, chili powder and cayenne.
To serve: Place the smashed potatoes on a plate. Garnish the tops with the Mexican street corn followed by queso fresco and fresh cilantro!
All images and text ©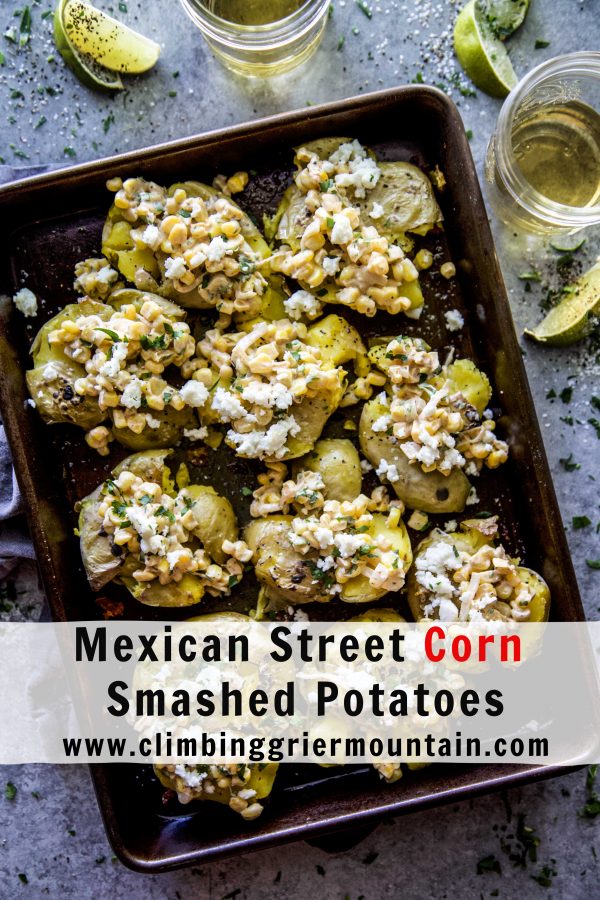 More Delicious Summer Sides: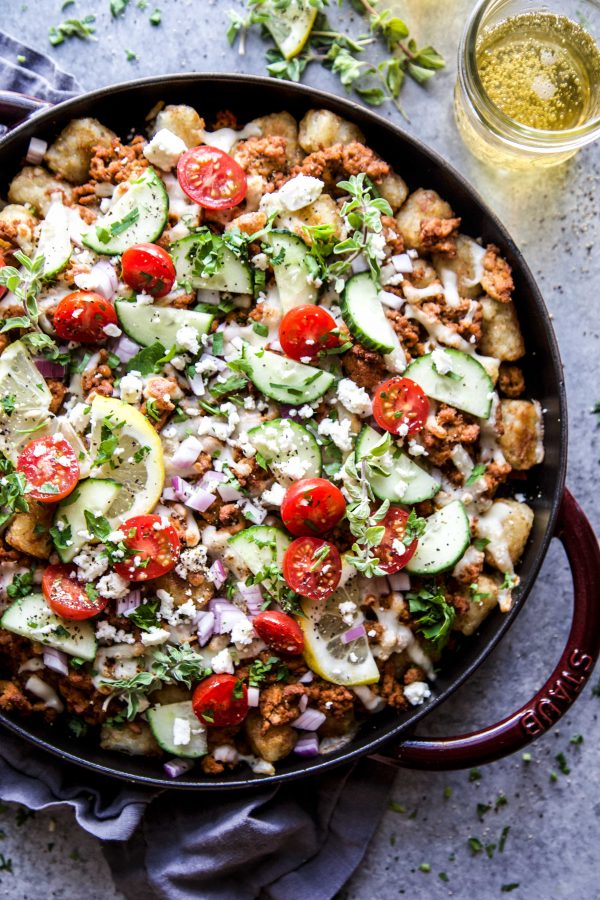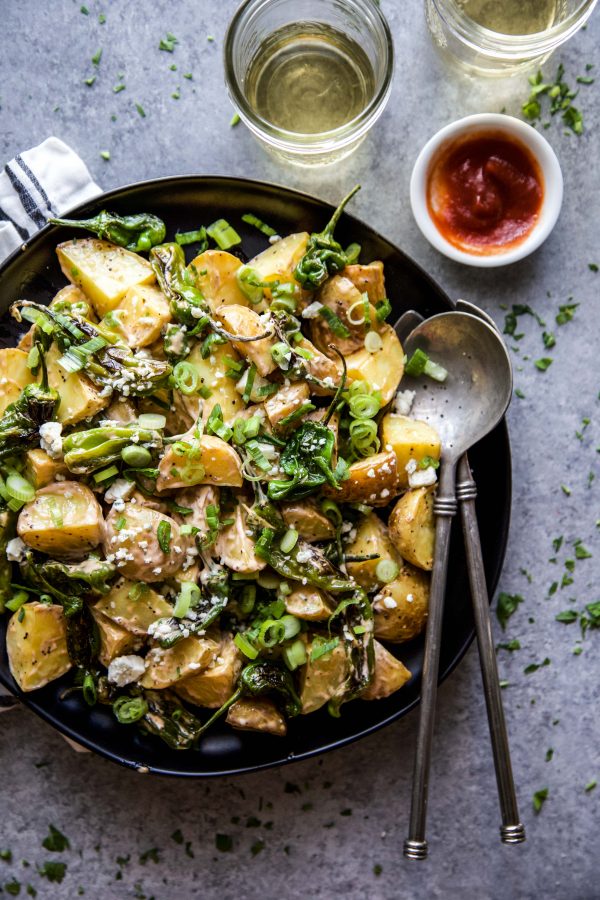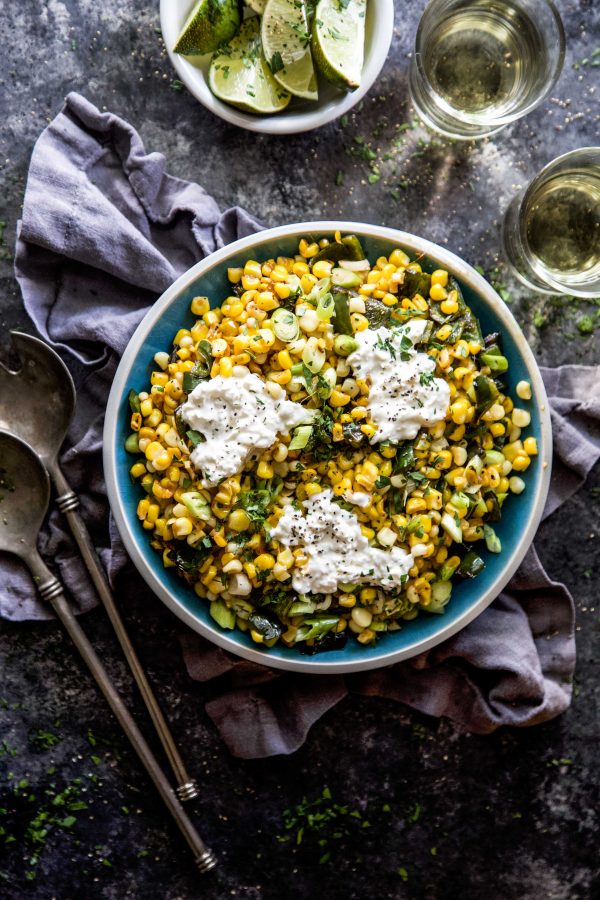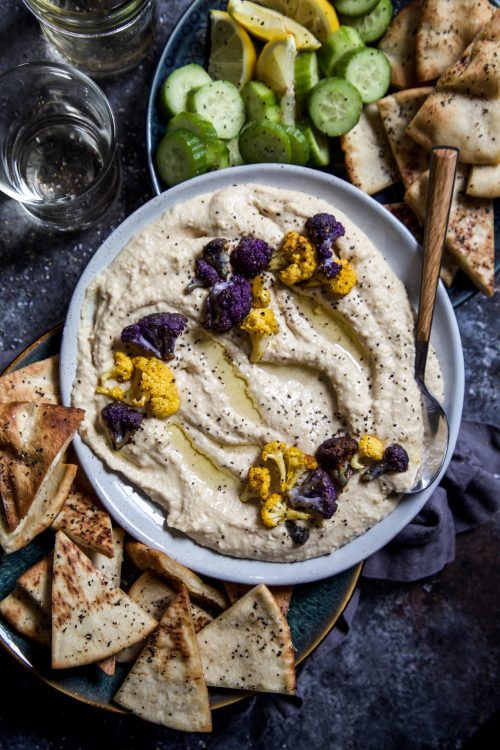 In conclusion, Mexican Street Corn Smashed Potatoe deliver a harmonious blend of flavors that tantalize the palate. This dish embodies the spirit of creativity and comfort, making it a delightful addition to any meal. Enjoy the rich and vibrant taste of this culinary fusion!