Peach Upside-Down Cake
Peach Upside-Down Cake is a delightful cake made with juicy peaches that is sure to be a show stopper!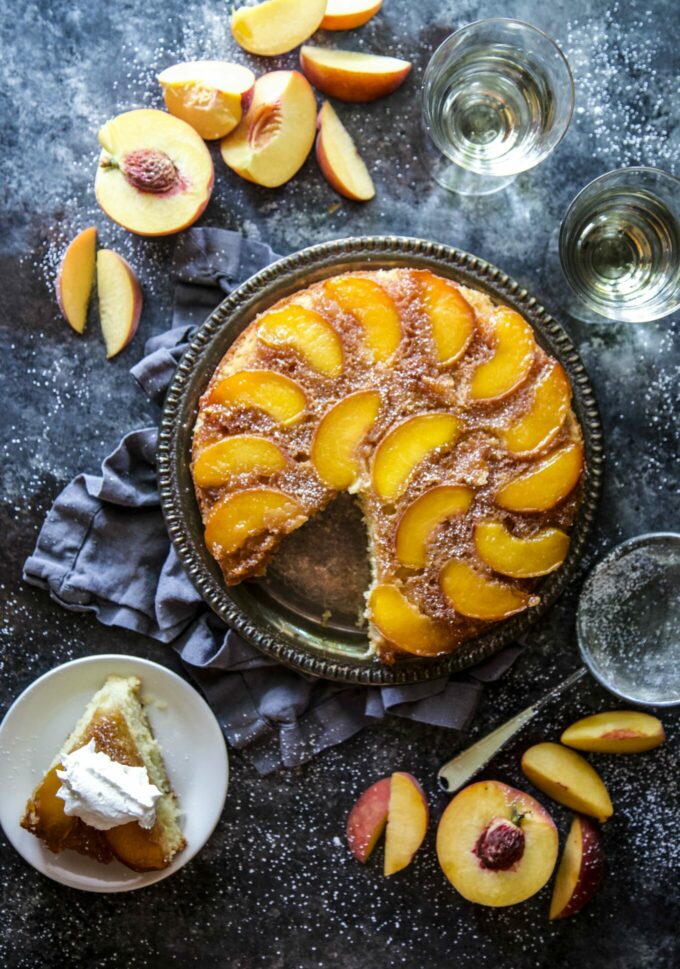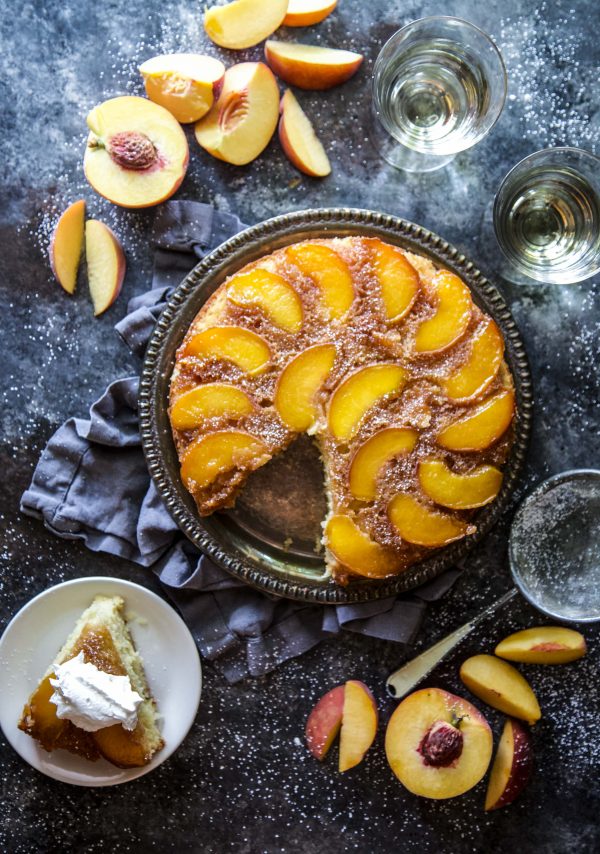 Nine whole years.
Has it really been that long?
Feels like yesterday I hit publish on my very first blog post. Part of me didn't understand the deep dark web and what the heck an actual blogger does for a living. There were no blogging guides, no DSLR photography courses, or virtual assistants to run your social media.
Back in 2010 things were simple. Instagram and Pinterest didn't exist. GASP! The best form of communication between bloggers and businesses was Twitter. And you'll never believe this…..people actually commented on blogs!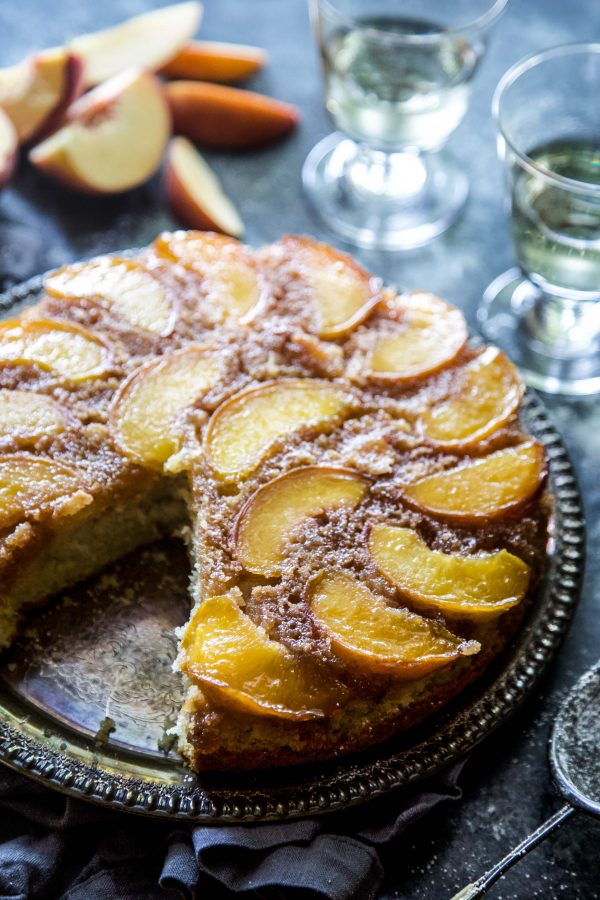 Fast forward to 2019 and whoa bessie have things have picked up speed. Now, you can major in social media/influencer strategy. You can make money by sharing your favorite clothing from the Nordstroms Sale. You can work with tourism companies to have a trip sponsored. The ability to share knowledge and our lives have expanded ten fold.
Looking back on my time as a blogger I am very thankful I was able to capture a portion of the early stages. This is where I spent thousands of hours learning a craft I didn't even know would exist in five years. I taught myself how to cook, how to photograph food, how to write, how to pitch to brands, and how to run a business. All of these tools have paid dividends over the years and I'm so thankful for the opportunity to continue in this ever changing industry.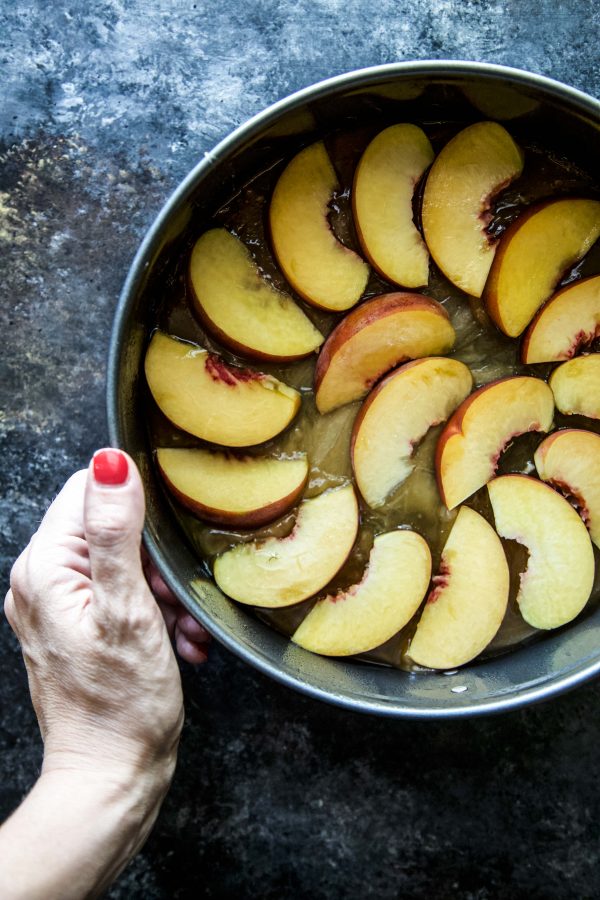 With that, I think it's time we bust out some Peach Upside-Down Cake to celebrate! Peaches are rocking right now. Last year at this time we were harvesting peaches from our peach tree in our front yard! Hopefully next year we will be able to plant one because they are the best.
If you see some peaches at the Farmers' Market or grocery store pick up a few dozen and make this cake. I promise you won't enter the Upside-Down yourself. Although, can someone please verify if Hopper is still alive or not? Part of me thinks he is. But if he's not, I'm going to be so pissed!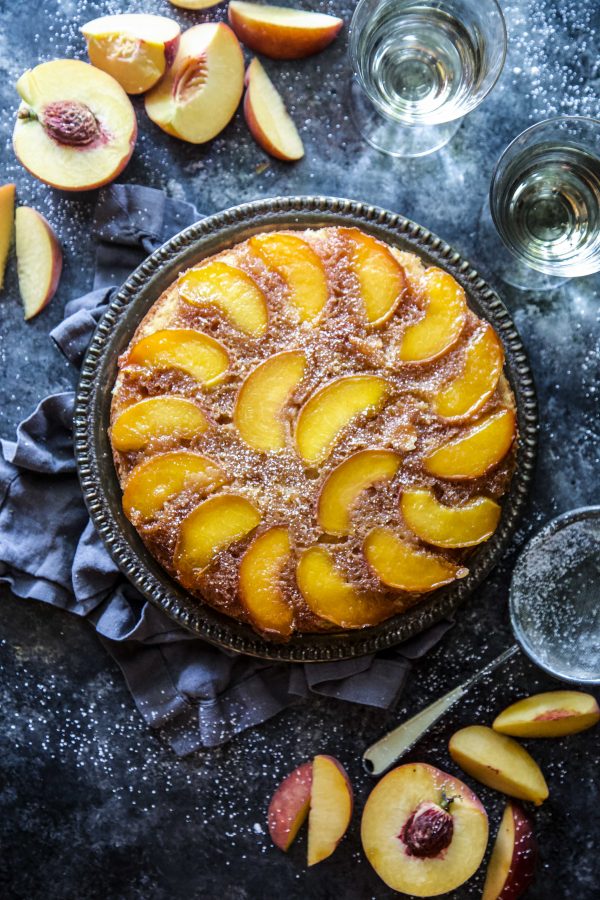 Anyway, what I love about this cake is it's not overly sweet. Just enough sugar from the caramelization of the peaches to make you feel like you are eating an actual dessert. Plus, the cake portion is so damn fluffy!
So grab a fork, a piece of cake and let's celebrate nine whole years. Because truly the best is yet to come!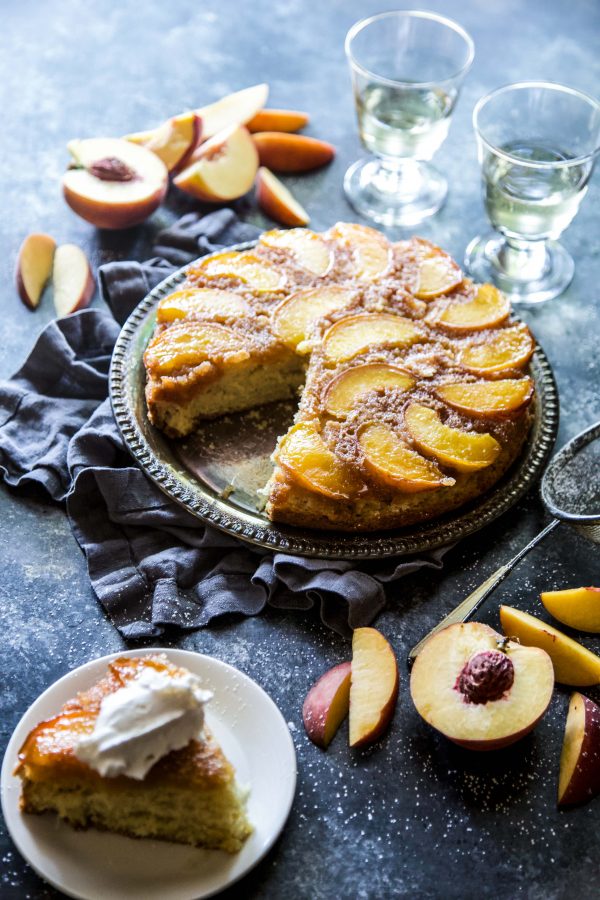 Peach Upside-Down Cake
Ingredients:
for the peaches:
3/4 cup granulated sugar
1/3 cup water
2 tbsp unsalted butter
1 lb peaches (about 4 to 5), pitted and cut into 1/2-inch slices
for the cake:
1/2 cup sour cream
2 tbsp whole milk
2 tsp vanilla extract
1 1/2 cups all-purpose flour
2/3 cup granulated sugar
1 tsp baking powder
1/2 tsp baking soda
1/2 tsp kosher salt
1 1/2 sticks unsalted butter, room temperature
2 large eggs
Whipped cream, for garnish
Powdered sugar, for garnish
Directions:
for the peaches: 
Preheat an oven to 350 degrees. Spray a 9-inch cake pan with non-stick cooking spray and set aside.
In a small saucepan add the sugar and water. Bring the mixture to a boil and stir to combine. Cook over medium-high heat until an amber-color caramel forms about five minutes. Remove the saucepan from the heat and stir in the butter. Next, pour the mixture into the bottom of the prepared cake pan. Place the peaches on top in a decorative circle.
for the cake:
In a medium mixing bowl combine the sour cream, milk and vanilla extract.
In a stand mixer fitted with a paddle attachment mix the flour, sugar, baking powder, baking soda and salt. Next, add the butter and beat until the batter looks like moist crumbs.
Beat the eggs in one at a time followed by the sour cream mixture. Once everything is well combined, pour the batter over the peaches. Bake the cake for about 50 to 55 minutes. Once cooked through let it cool for about 20 minutes and then invert the cake onto a serving plate. Serve with whipped cream and powdered sugar!
All images and text ©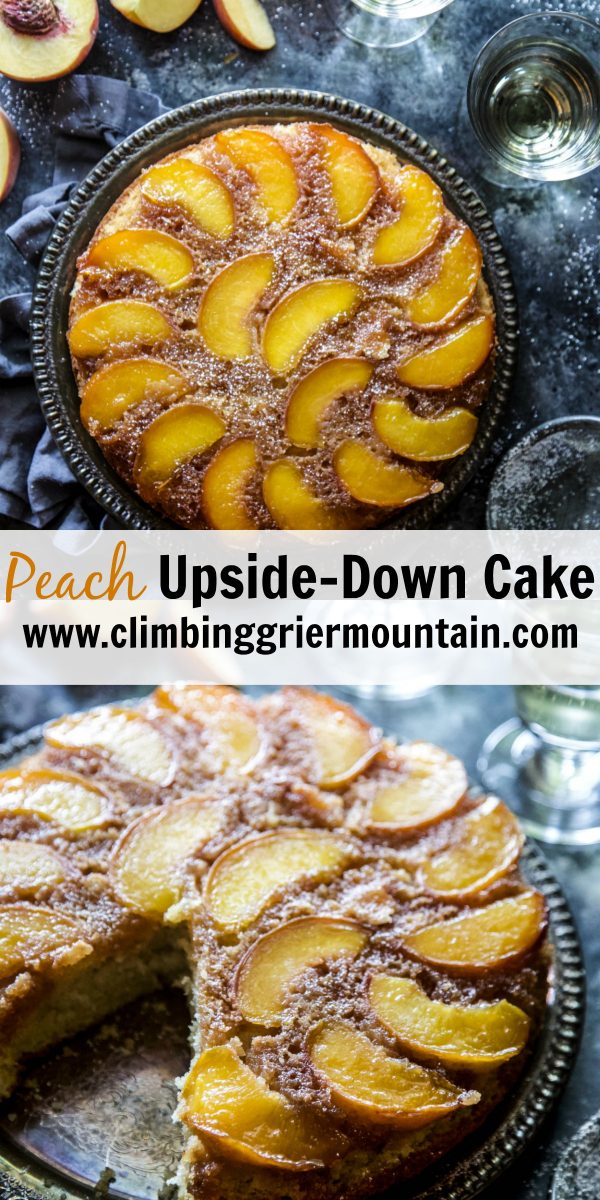 In summation, Peach Upside-Down Cake is a dessert masterpiece that harmoniously blends caramelized peaches and moist cake. It's a delightful and versatile treat, perfect for satisfying your sweet cravings on any occasion. Enjoy its luscious flavors and irresistible charm.