Lobster Croque Madame
Lobster Croque Madame is a decadent, juicy appetizer or main that's perfect for any occasion!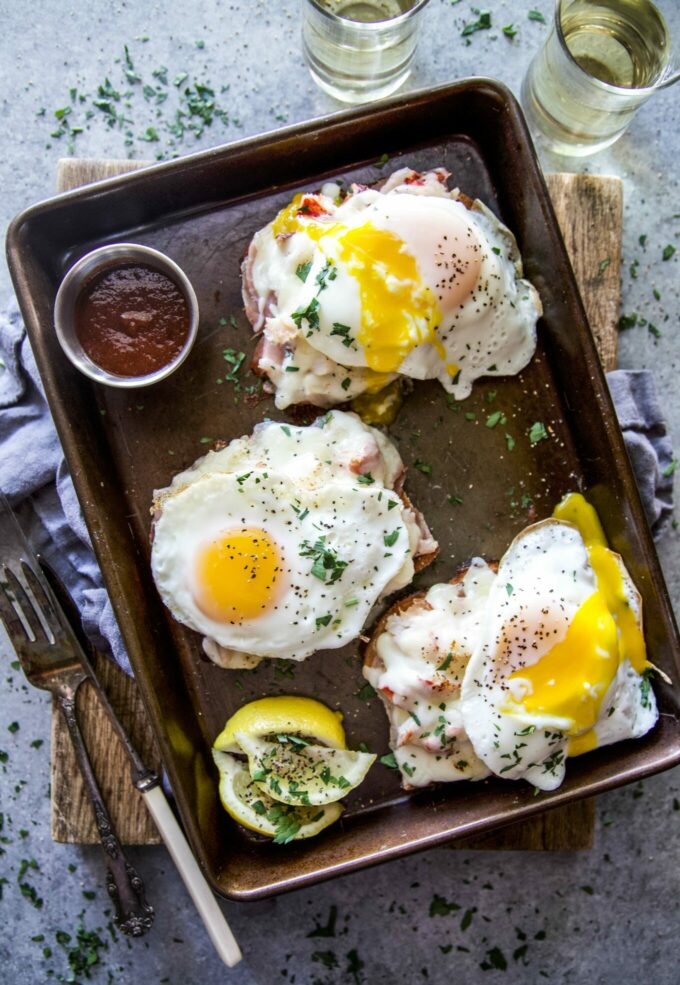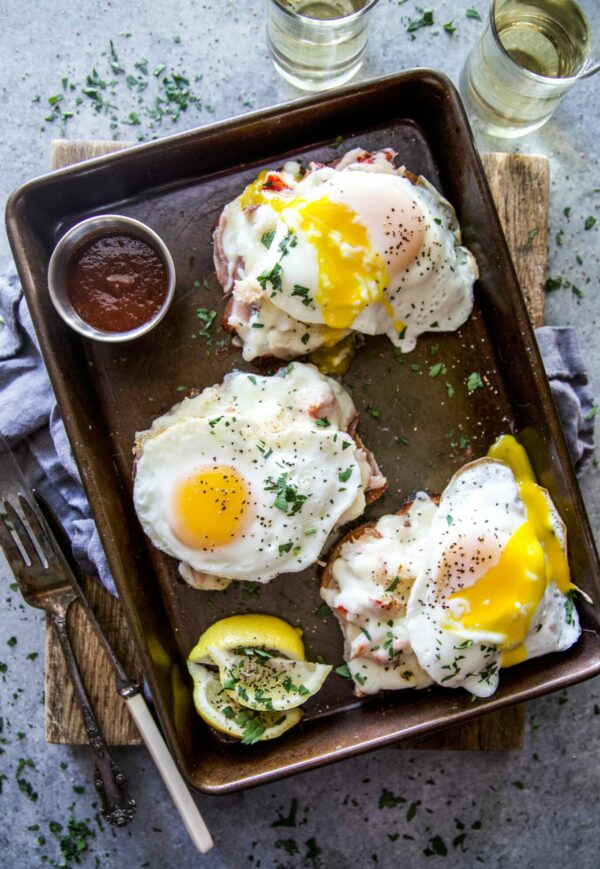 Let's chat.
About Maine that is.
Mr. B and I had an absolute blast on our babymoon. I've never been to the pine street state before and didn't know what to expect. But man, Maine is so majestic. I love the mountain and ocean combo, the sailing vibe, and the ability to eat seafood at every meal.
I told Mr. B that I want to make it a tradition (maybe not every year) to visit Maine. With the direct flight from Denver to Portland it made travel super easy. Plus, traffic is way more manageable than the I-70 shuffle to the mountains. I even think snow skiing at Sugarloaf might be fun next year!
Needless to say, I want to go back especially with Baby G because Bar Harbor was pet and kid friendly. They had movie nights at the park, ice cream socials, blueberry picking, sailing cruises and so much more! Also, I will for sure have to show Baby G South Brooksville. Hopefully the Condon's Garage sign will be back up by then! LOL!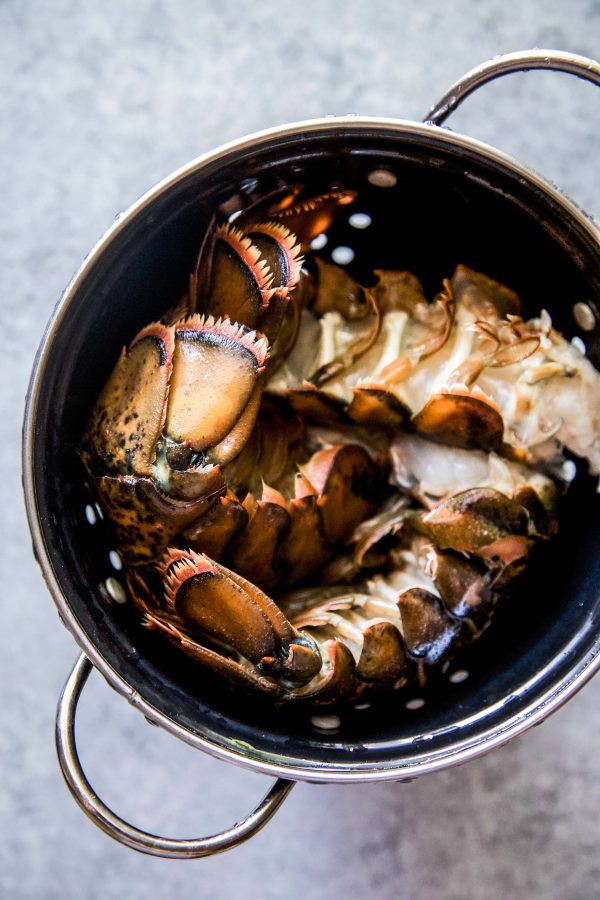 After we got home it took me all of two days to think of a lobster recipe for y'all. I have always been intimated when it comes to preparing lobster because it's expensive and the thought of over cooking it gave me anxiety. So, I decided to put my big girl panties on and made you this Lobster Croque Madame.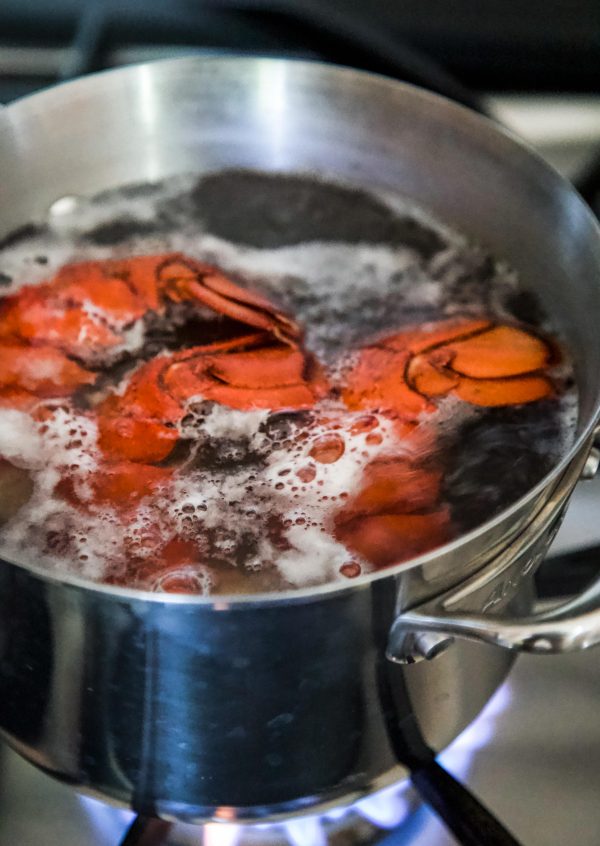 First of all, making the lobster is so freaking easy. Simply cut down the back of a thawed lobster tail, boil it for a minute or two in salted water, cool and then chop. I sprinkled the lobster on top of some prosciutto, covered it in a Dijon bechamel sauce, cheese, and a sunny-side up egg. Sweet baby Jesus this is one decadent meal that can be eaten morning, noon, or night!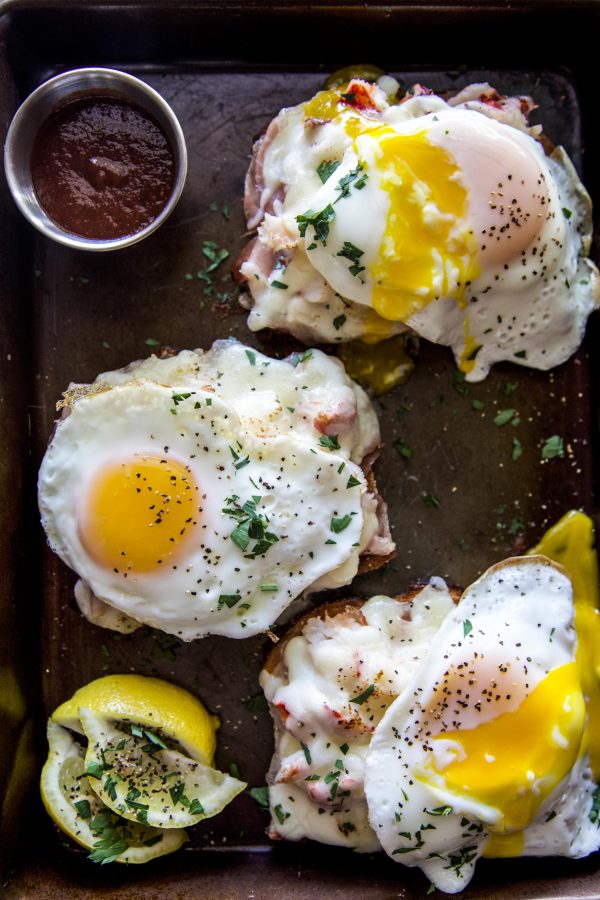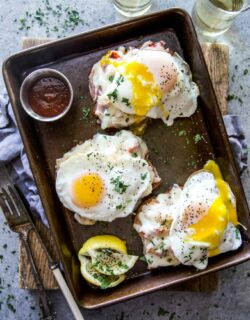 Lobster Croque Madame
Ingredients:
4 lobster tails, rinsed, prepped
4 slices whole grain rustic bread, toasted
1 stick unsalted butter
2 tbsp all-purpose flour
2 cups whole milk
salt and pepper to taste
1 tbsp Dijon mustard
1 celery stalk, chopped
1 shallot, chopped
2 garlic cloves, minced
1 tbsp fresh parsley, chopped
1 tsp fresh thyme
1 tbsp lemon zest
1/2 cup sherry
2 tsp Old Bay Seasoning
dash of hot sauce
 dash of Worcestershire sauce
8 slices prosciutto
1 1/4 cups shredded mozzarella
1/2 cup shredded Parmesan
4 large sunny-side up eggs
Fresh tarragon chopped, for garnish
Directions:
Preheat your broiler. Spray a baking sheet with non-stick cooking spray and place the bread slices on top. Spread each bread slice with about 1 tbsp of butter. Set aside.
Bring a medium stock pot filled with salted water to a gentle boil. Add the lobster tails and boil them for about one to two minutes. Remove the lobsters and place them on a plate to cool before removing the flesh. Once cooled remove the flesh and roughly chop. Place the lobster into a large mixing bowl.
Meanwhile, in a large saucepan melt 2 1/2 tbsp butter over medium heat. Whisk in the flour and gently pour in the milk creating a roux. Sprinkle with salt and pepper. Keep whisking until thick enough to coat the back of the spoon. Remove the skillet from the heat and stir in the Dijon mustard.
In another large skillet, melt the remaining 3 1/2 tbsp butter over medium-high heat. Add the celery, shallot and garlic to the skillet. Saute until softened about two minutes. Stir in the parsley, thyme and lemon zest. Continue to cook for about a minute. Next, pour in the sherry and stir to combine. Keep stirring until the sherry has been absorbed. Remove the skillet from the heat and stir in the vegetable mixture with the lobster. Add in Old Bay seasoning, hot sauce, and Worcestershire. Take about 2/3 cup of the bechamel sauce and stir it into the lobster mixture.
Take two slices of the prosciutto and place it on top of each bread slice. Divide the lobster mixture among the toast and then top each toast with a drizzle of bechamel sauce followed by mozzarella and Parmesan. Broil the toasts until the cheese has melted. Place the eggs on top and garnish with fresh tarragon.
All images and text ©