Loaded Chicken Shawarma Totchos
Loaded Chicken Shawarma Totchos are an easy and fun meal to make for dinner!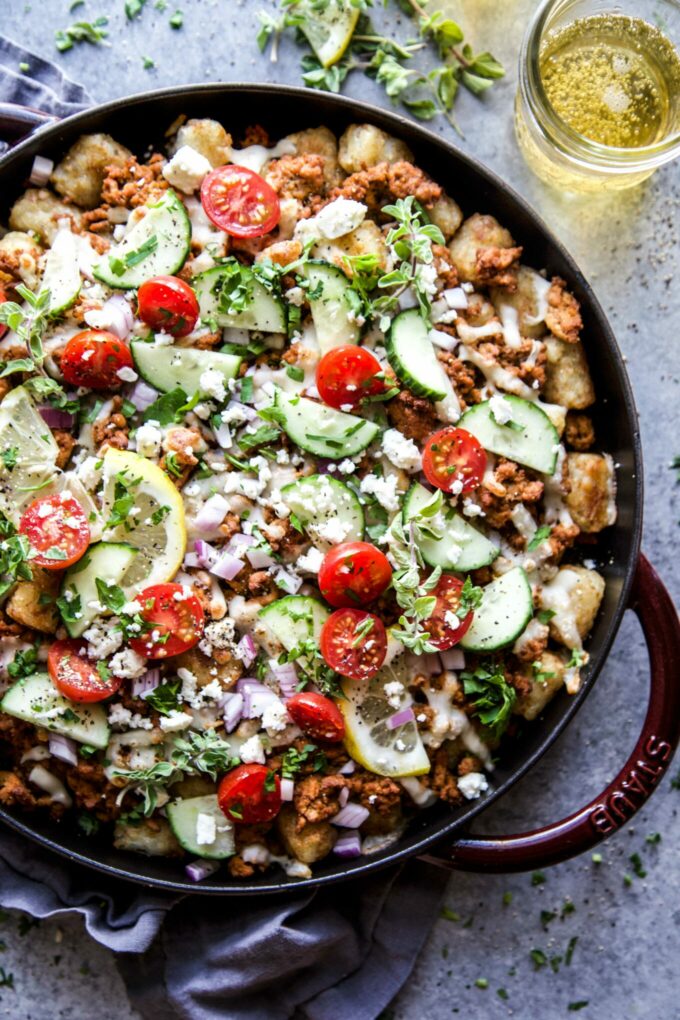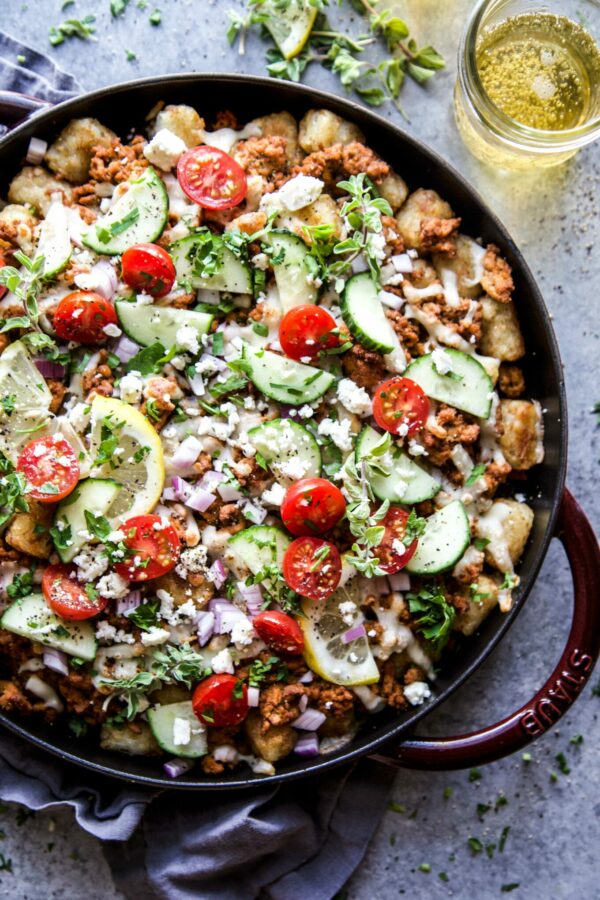 Does it feel like the longest, shortest week ever?
Not like we needed another week of feeling discombobulated. Geesh. I don't know why this week has been a struggle for me. I just can't get my ducks in a row!
Maybe it's because I have some travel coming up in July and I'm kind of freaked out. Not by getting on a plane. I actually think if you are going to fly now is the time because not a lot of people are doing it and everyone is taking cleaning to the next level.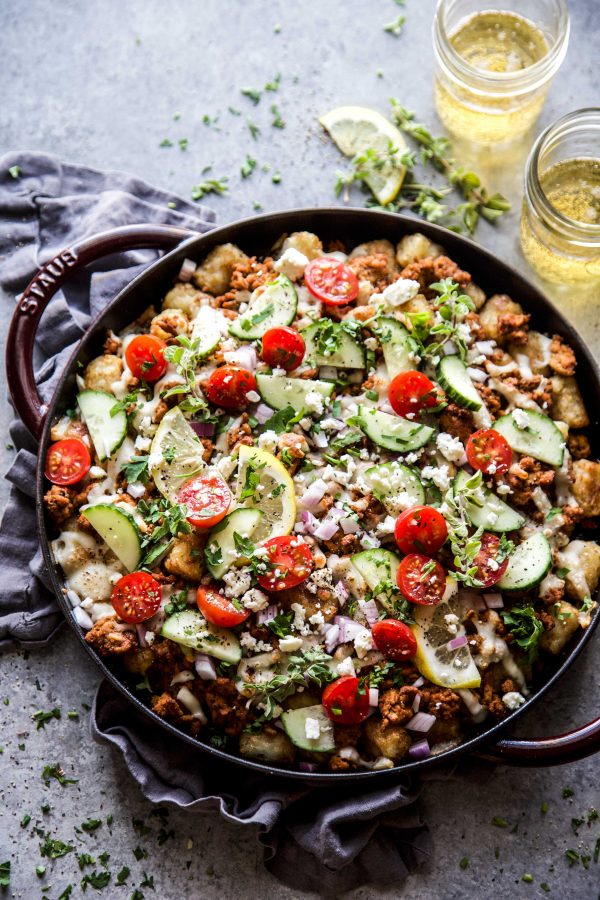 What I got freaked out with is the maintenance portion. Like I need to get a bikini wax, pedicure, haircut, making sure my regular clothes fit, and the list goes on. I got so freaking stressed about entering the "real world" that I wanted to crawl into a hole and hide. Does that sound crazy?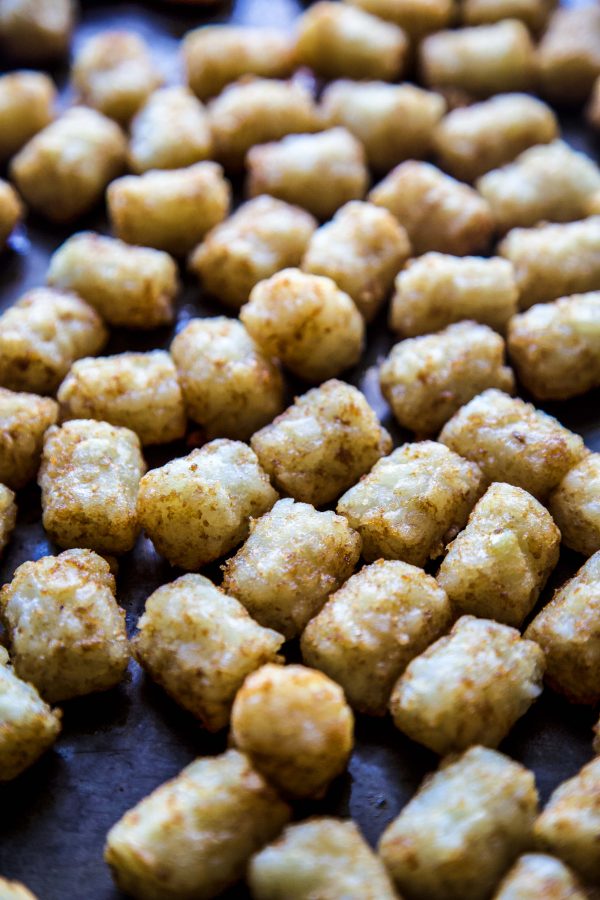 I feel like I might be going overboard on what I need to do in order to look presentable. BUT! When you haven't had to do it in the past few months those skills have not been used. Also, it kind of made me sad that we have to do all these things to "look good." Plus, spending the money also makes me cranky. Sorry for the tangent it's just a weird situation overall.
Let's talk about something that is less depressing than my gray hair and root problem. YOU GUYS!! These Loaded Chicken Shawarma Totchos are effing amazing. Like I can't even begin to tell you how much I love these totchos!
What does Chicken Shawarma taste like?
When you think of the word shawarma think of flavor! The seasoning mixture is not spicy at all. In fact the spices are on the warm side versus heat.
In the spice mix you will find:
– Cardamom, Paprika, Cumin, Coriander, and Garlic Powder
Once you mix those spices together what you get is a flavor bomb! I typically double the recipe so I can have some extra seasoning on hand to use in other recipes!
What Can Shawarma Seasoning go on?
Any protein or veggie you have on hand! It would be delightful tossed with cauliflower then roasted or potatoes. Grilled steak or lamb would be amazing now that it's summer!
For the Loaded Chicken Shawarma Totchos, I decided to toss the seasoning with ground chicken. You could sub in ground beef, turkey, lamb, or even chickpeas. All you do is saute the chicken with the seasoning and start layering your totchos. Such an easy meal to make!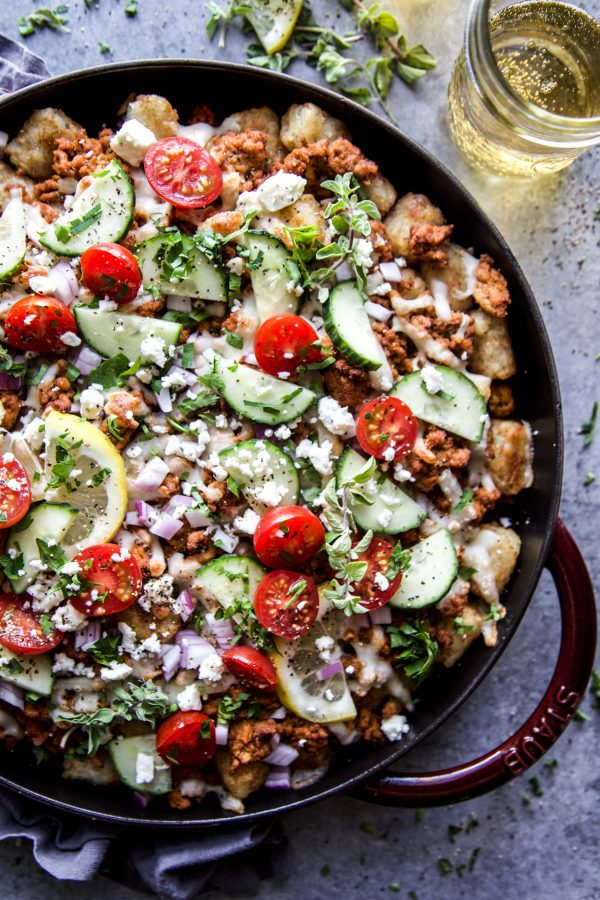 What are Totchos?
Totchos are basically nachos expect instead of using tortilla chips you use tater tots! You could certainly make your own tater tots, but to keep it simple I buy frozen and just reheat!
All you need to do is layer the tater tots with the chicken shawarma, cheese, feta, cucumbers, grape tomatoes, olives, fresh oregano, and whatever else your heart desires. Tzatziki would be a great option too!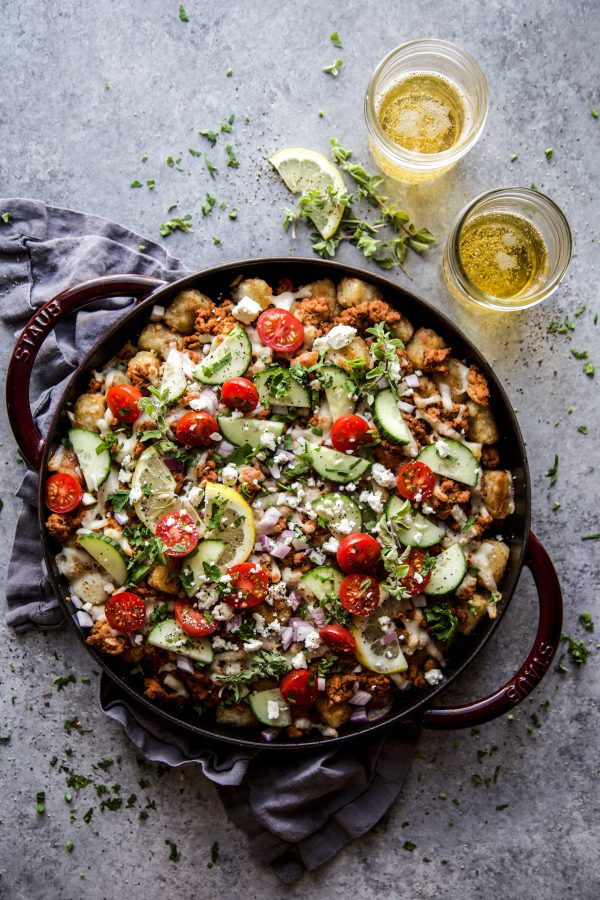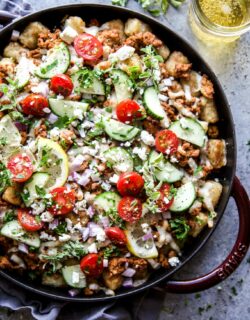 Loaded Chicken Shawarma Totchos
Ingredients:
2 packages frozen tater tots
1 tsp ground cardamom
2 tsp ground paprika
1 tsp ground cumin
1 tsp ground coriander
1 tsp garlic powder
salt and pepper to taste
1 tbsp olive oil
1 lb ground chicken
2 cups shredded cheese
Cucumber slices, for garnish
Grape tomato, for garnish
Fresh oregano or mint, for garnish
Directions:
Preheat your oven to 425 degrees. Place the tater tots on the baking sheet and cook according to package instructions.
While the tater tots cook, mix together cardamom, paprika, cumin, coriander, garlic powder, kosher salt and pepper in a small.
Preheat a skillet to medium-high heat. Add the olive oil and ground chicken to the skillet. Cook the chicken for a few minutes until no longer pink. Next, stir in the spices and let it cook for a additional minute or two. Once cooked remove the skillet from the heat.
Remove the tater tots from the oven and set aside. Let them cool slightly before removing half the tater tots onto a different plate. This way you can layer the totchos better and save time by reusing the baking sheet.
Spread half of the cook tater tots into an even layer on the baking sheet. Next, take some of the chicken shawarma an sprinkle it over the tater tots followed by a cup of cheese. Repeat again using the tater tots, chicken shawarma and cheese. Place the baking sheet back into the oven to let the cheese melt about five to seven minutes.
Remove the baking sheet from the oven and garnish with all the toppings!
All images and text ©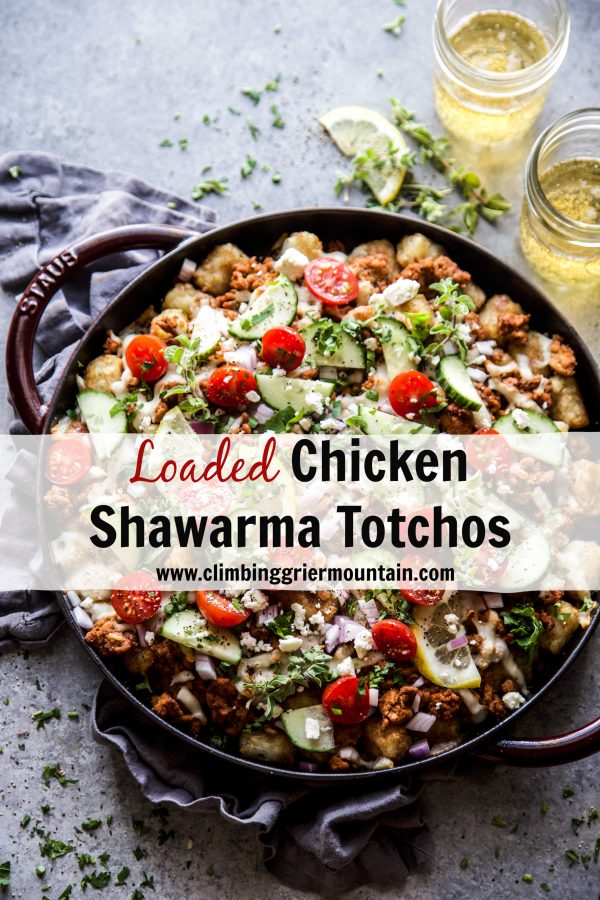 Other Shawarma Recipes to Enjoy: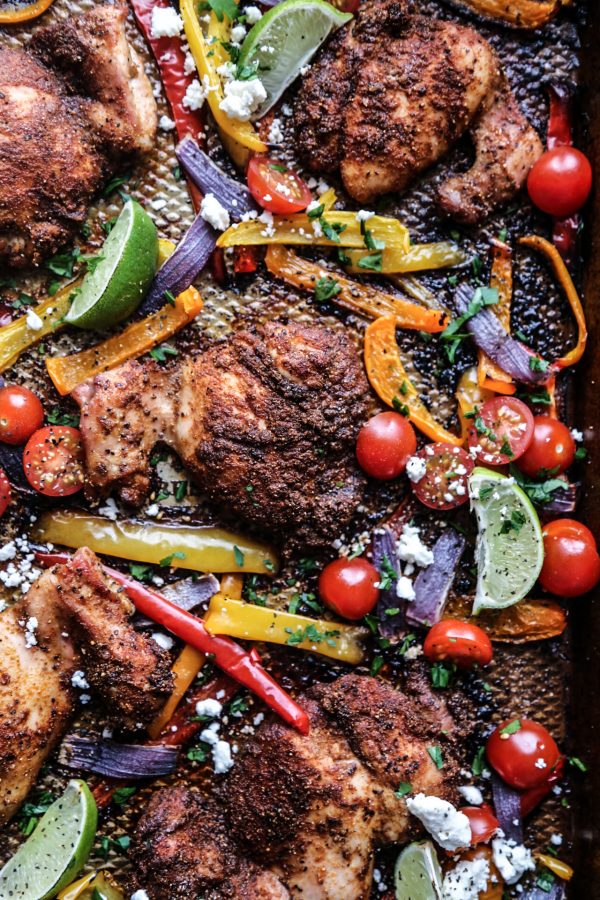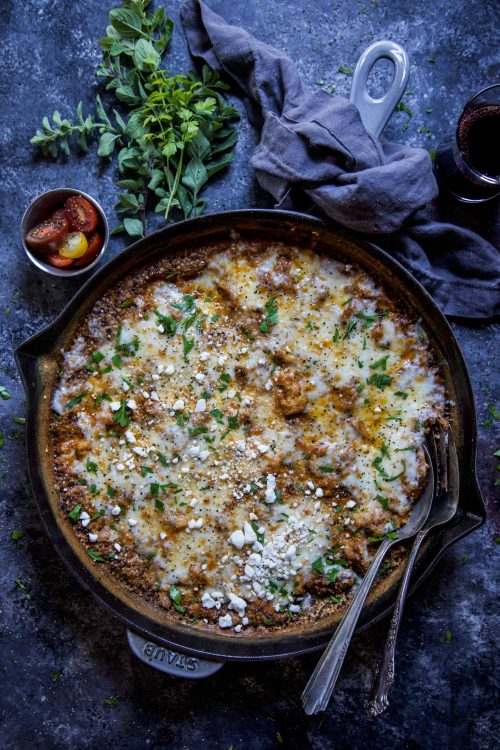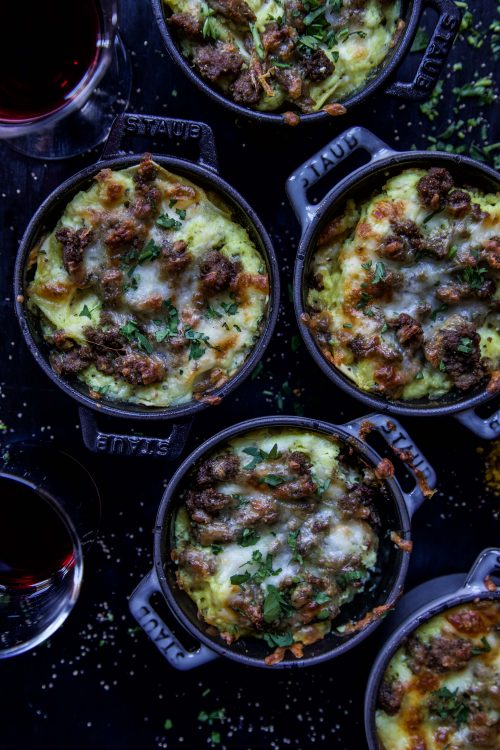 "In summary, Loaded Chicken Shawarma Totchos offers a unique fusion of Middle Eastern and American flavors that redefine comfort food. Their bold, satisfying taste makes them a must-try culinary delight for any occasion."