Tuscan Chickpea Stuffed Zucchini Boats
Tuscan Chickpea Stuffed Zucchini Boats are a delicious vegetarian meal that's easy to make and full of flavor!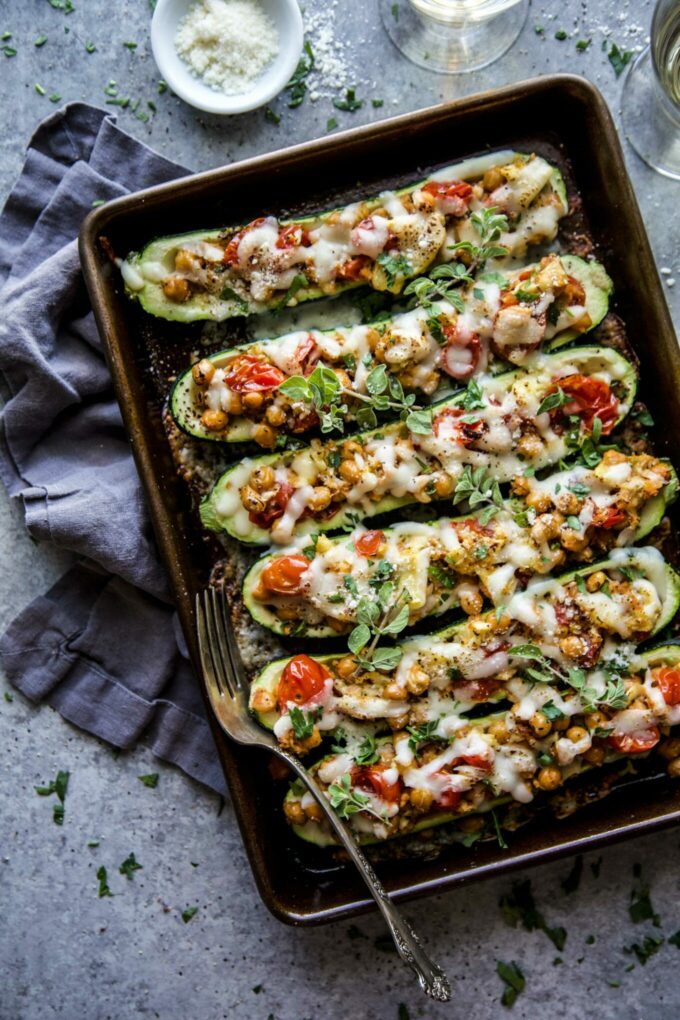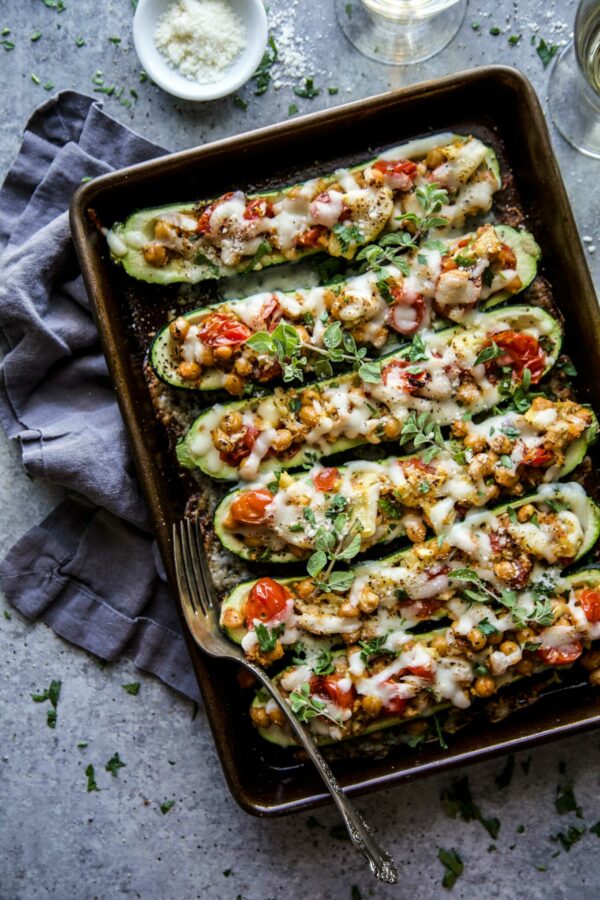 Well, I fancy meeting you here. 
June that is.
How the heck is it June? Honestly May went super fast as opposed to April. GEEZ. Wasn't April the longest month E-V-E-R? I'm okay with not doing April ever again.
With June officially here that means I have exactly four months to plan Charlie's first birthday party. Four months is enough time to plan your first child's first birthday, right? I just know if I don't do some pre-planning right now I'll forget over summer and then, BOOM. It's September.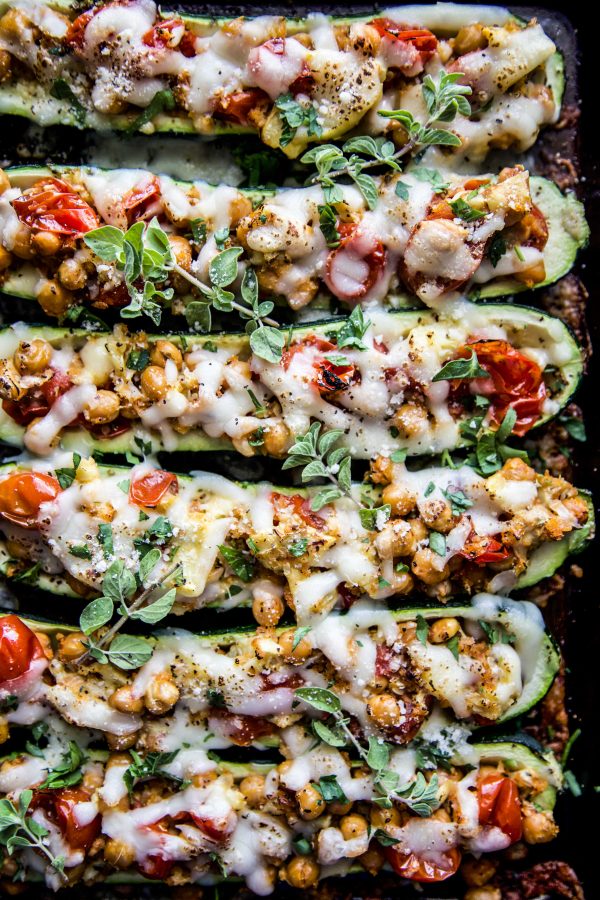 If any of you have ideas on themes for s girl's birthday party let me know! September is kind of hard because it's sort of still summer, but not full-on fall.  What I do know is that I am getting her a big a$$ cake to eat. Which reminds me, I need to get her started on trying cake!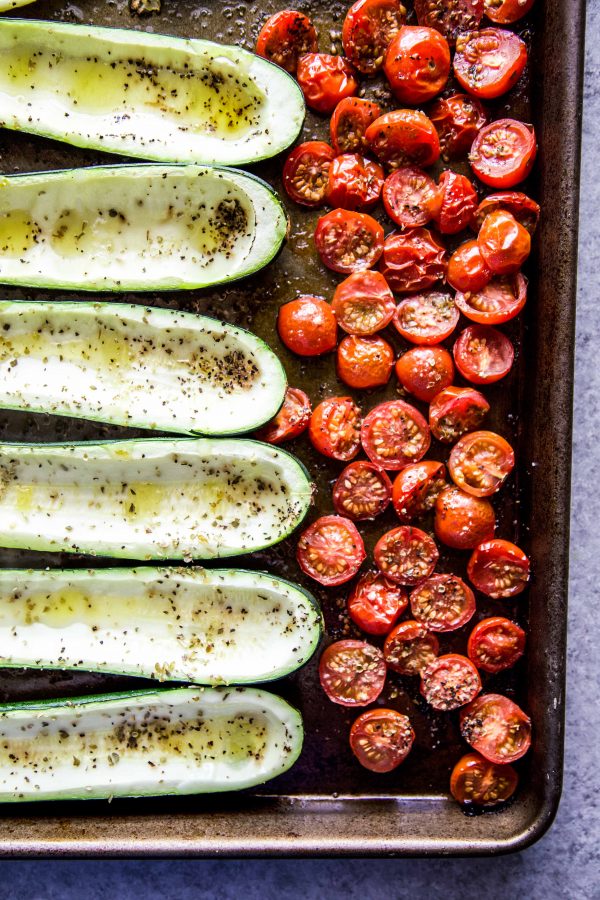 Okay, before we escape into summer bliss, I do have a super easy and delicious vegetarian meal for y'all! I know a lot of you have started gardens this year which is amazing. If you planted zucchini get excited because you will be making these Tuscan Chickpea Stuffed Zucchini Boats on repeat.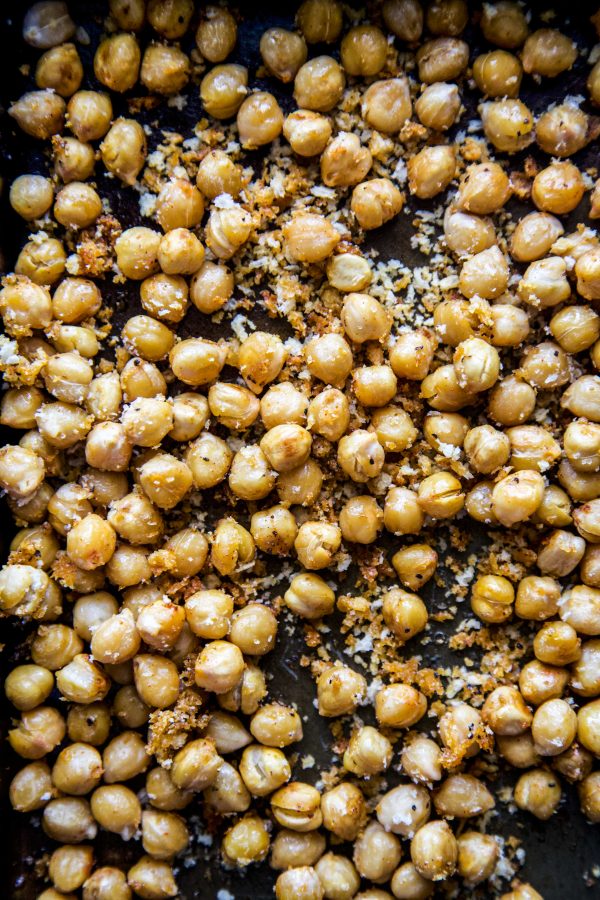 What I love about this recipe is everything is cooked on a sheet pan! Yep, yep. You'll roast all the ingredients, stuff them inside a zucchini boat, top with cheese, and then roast again. SO EASY! Not to mention flavorful because you can use up tomatoes and fresh herbs too!
Alright, if you need me I'll be on Pinterest looking at all the things for first birthdays. Wish me luck!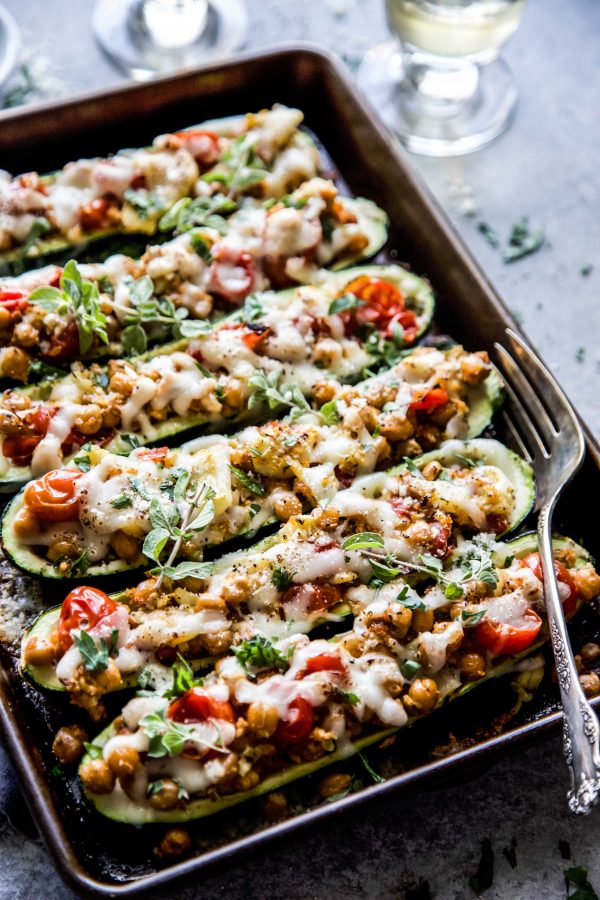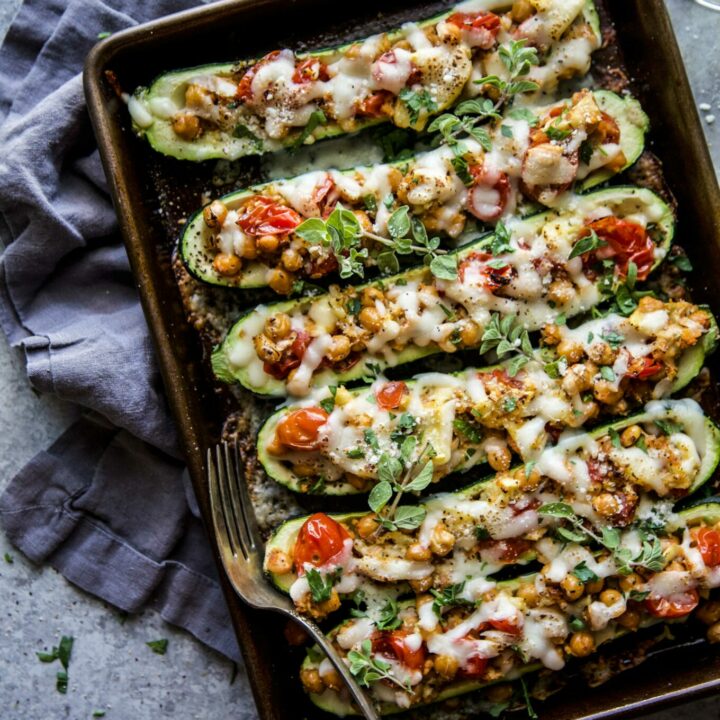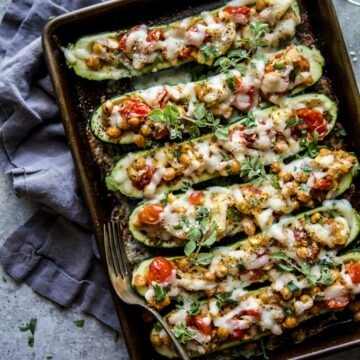 Tuscan Chickpea Stuffed Zucchini Boats
Tuscan Chickpea Stuffed Zucchini Boats are a delicious vegetarian meal that's easy to make and full of flavor! 
Ingredients
4-5 large zucchini, halved lengthwise
2 cups grape tomatoes, halved
4 tbsp olive oil, divided
1½ tsp dried oregano
½ tsp dried thyme
salt and pepper to taste
1 14oz can chickpeas, drained and rinsed
2 tsp paprika
1 tsp red pepper flakes
¼ cup panko breadcrumbs
2 tbsp chopped sun dried tomatoes
½ cup shredded mozzarella
¼ cup shredded Parmesan
Fresh chopped basil, for garnish
Instructions
Preheat an oven to 400 degrees. Spray a large baking sheet with non-stick cooking spray.

Take a small spoon or mellon baller and hollow out the center of each zucchini halve. Reserve the flesh. Place the zucchini halves on the baking sheet along with the zucchini flesh, and grape tomatoes. Drizzle the tops of everything with 2 tbsp of olive oil, dried oregano, dried thyme, salt and pepper. Place the baking sheet into the oven for 20 minutes or until the tomatoes burst.

Spray another baking sheet with non-stick cooking spray. Place the chickpeas on the baking sheet and toss with remaining 2 tbsp of olive, paprika, red pepper flakes, salt and pepper. Add the panko breadcrumbs and toss again. Place the chickpeas into the oven and roast for 20 minutes or until crisp. You can certainly cook the chickpeas and zucchini at the same time in the oven.

Once everything is cooked, bring it all out of the oven. Take the roasted zucchini flesh, tomatoes, chickpeas, and sun dried tomatoes place them into a large bowl to combine. Take the chickpea mixture and stuff it into the zucchini boats. Once filled, sprinkle tops with mozzarella and Parmesan.

Place the zucchini boats back into the oven to let the cheese melt about 10 minutes.

Remove from oven and garnish with fresh basil!
Did you make this recipe?
Please leave a comment below and share a photo on Instagram with the hashtag #thecuriousplate!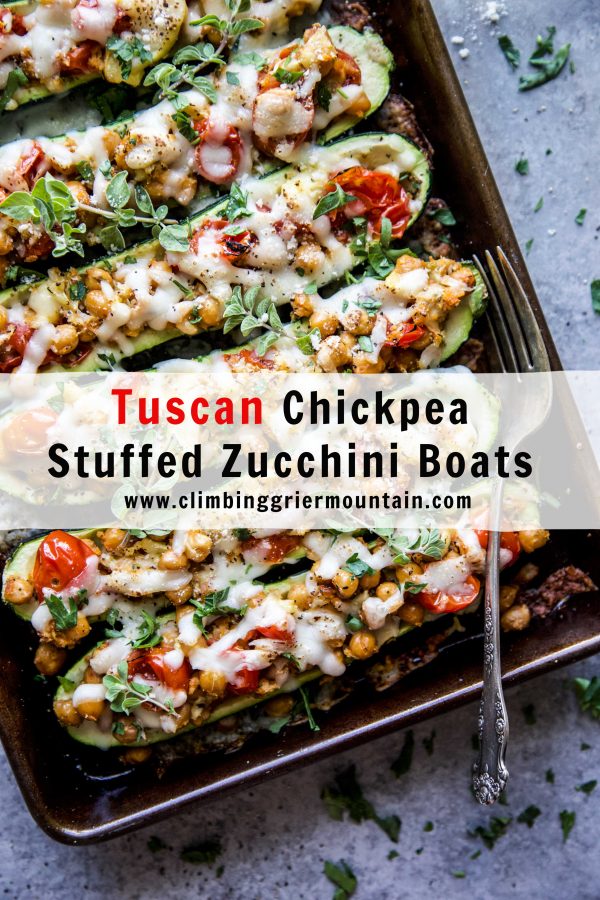 Other Zucchini Recipes to Enjoy: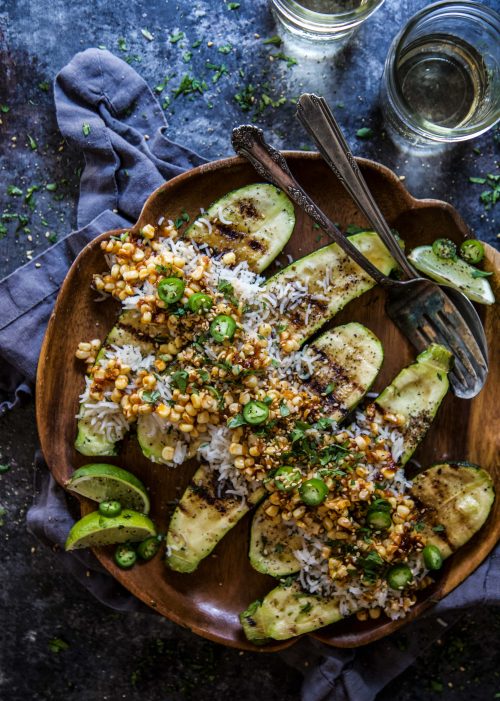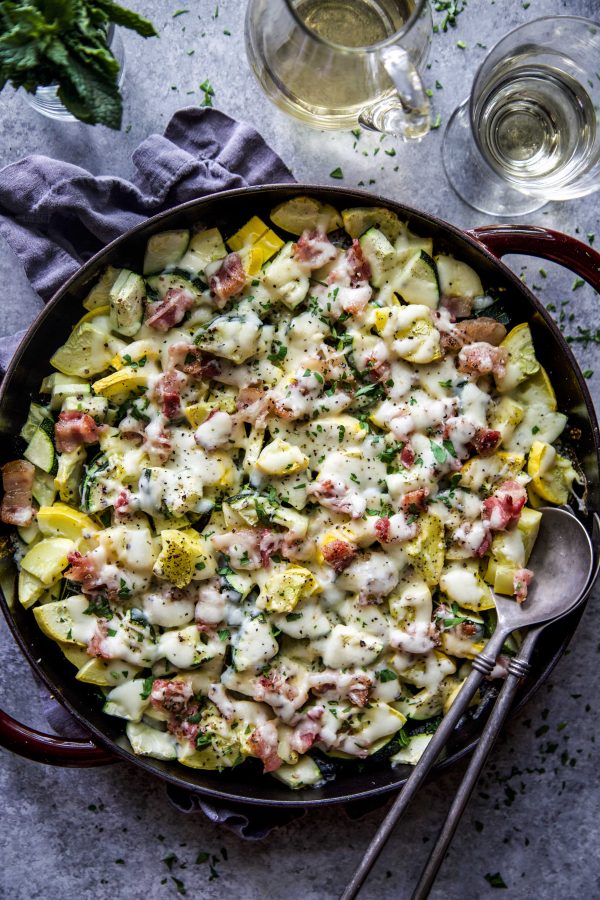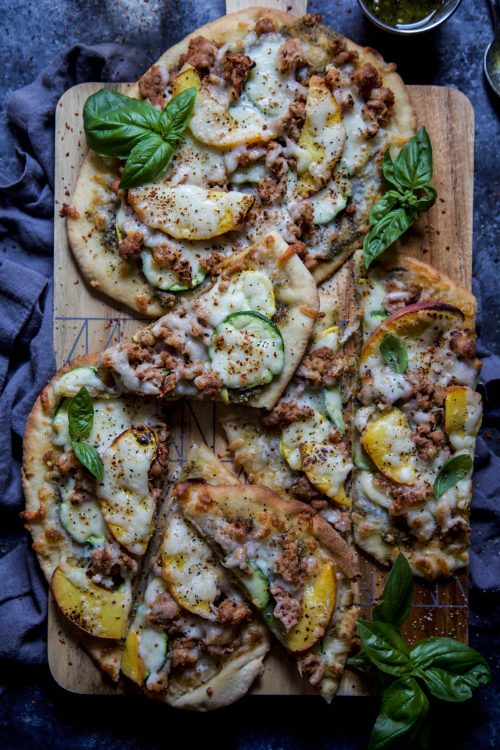 "In conclusion, Layered Antipasto Cheese Bread is a savory masterpiece that brings the Mediterranean to your table. With its enticing combination of flavors and textures, it's bound to be a crowd-pleaser at every gathering."