Layered Antipasto Cheese Bread
Layered Antipasto Cheese Bread is a delicious and cheesy appetizer that's perfect any night of the week!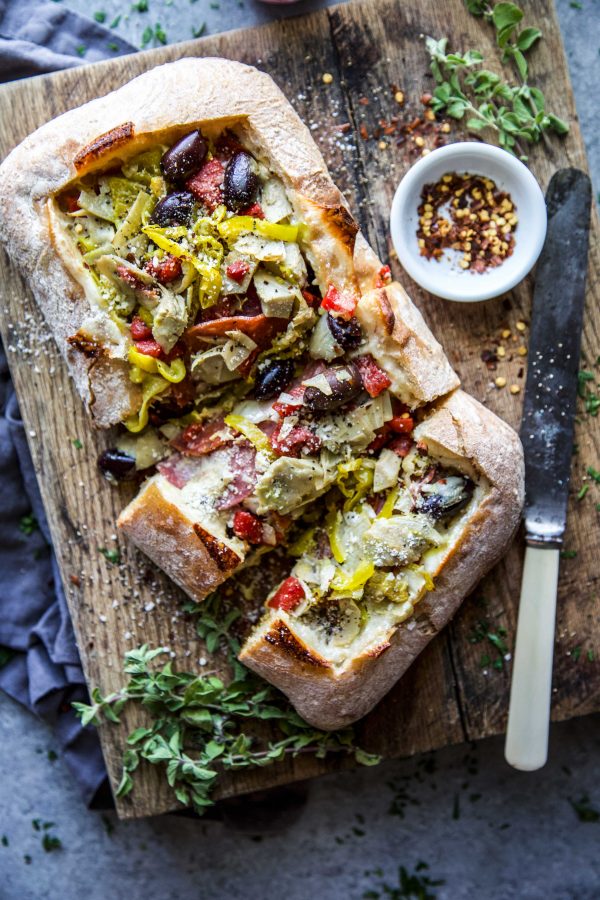 Before we dive into today's recipe post, I wanted to say thank you. This past week I decided not to share any new content because I felt it wasn't the right thing to do. Instead I spent the week listening, learning, and reflecting about the #blacklivesmatter movement.
I have a lot of work to do and action in my community is the best way to implement change. If you haven't read my post on Instagram definitely take a moment to read it. Racism will not be cured overnight, but I feel if we all take one actionable step forward we will start to see those changes compound.
Anyway, I wanted to say thank you for letting me use this platform to promote change. I truly appreciate it!
On with today's post.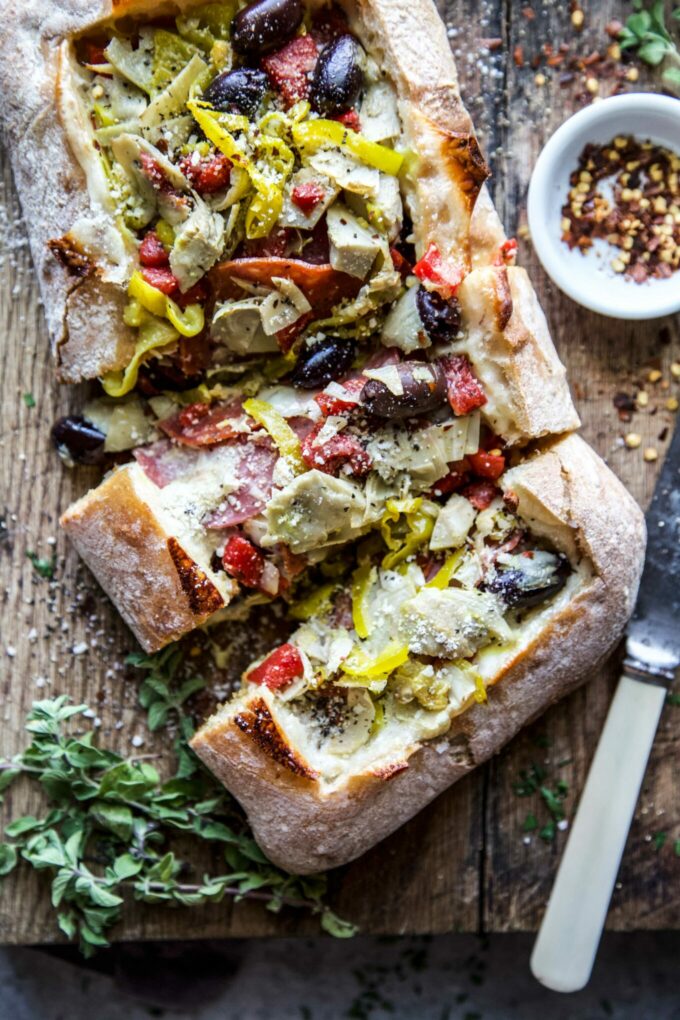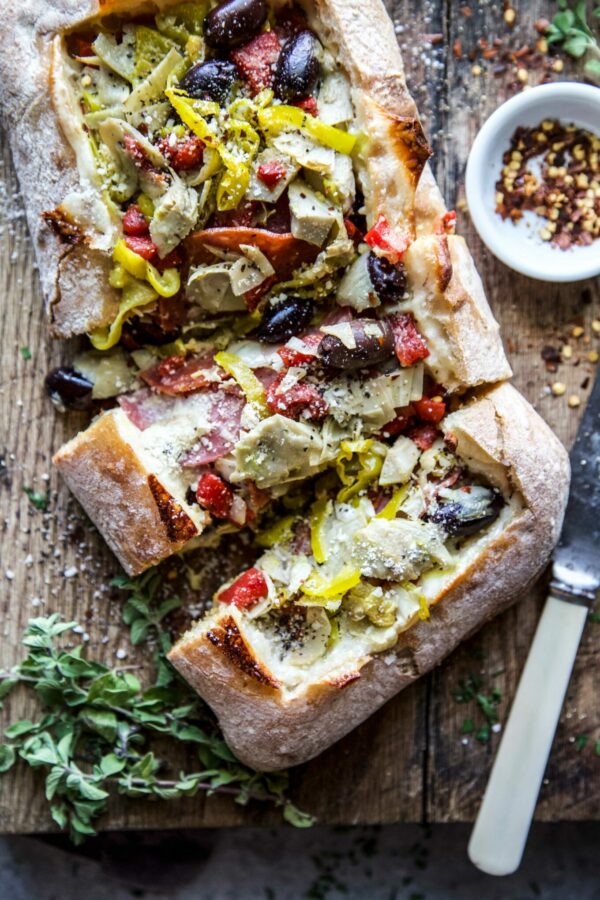 I'm here for it.
Appetizers for dinner that is.
With our second floor renovation coming to a close (can you believe it?!), my plan is to do less manual labor this summer. In fact, Mr. B and I were discussing how we are going to fill our time when we don't have a major house project staring at us every weekend???! It's such a weird feeling.
Well, my plan is to take Charlie to the zoo, go on family bike rides, hike in the foothills, and make as many appetizers for dinner as possible. Curious, what are your go-to appetizers for dinner? You can never wrong with a charcuterie board or a tasty dip. Okay, and anything on a stick for that matter.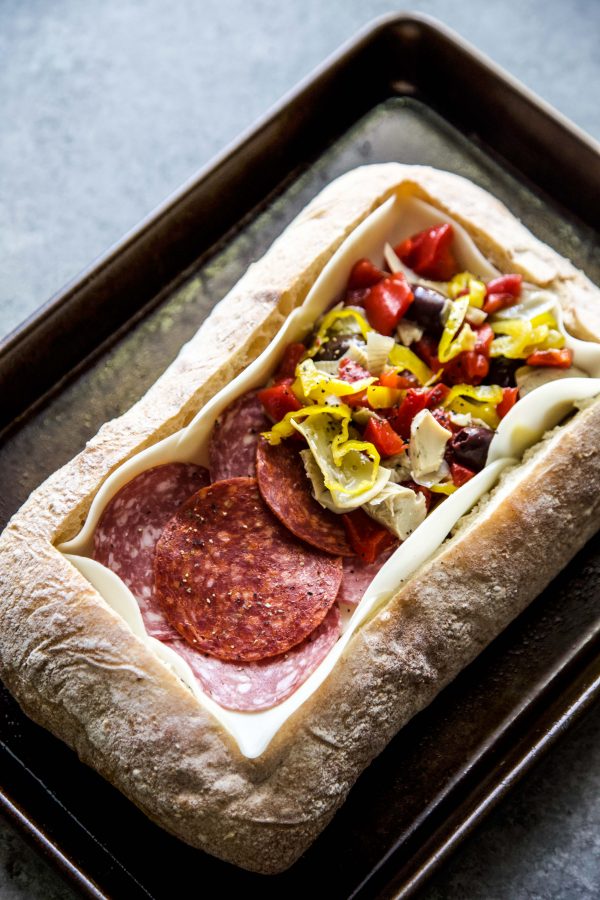 BUT! I do have a delicious recipe that you can add to your appetizer arsenal – Layered Antipasto Cheese Bread! I'm a huge fan of the antipasto flavor combo. In this layered mix is pepperoni, salami, pepperoncini, roasted red peppers, provolone, olives, and Parmesan.
Basically it's like an open-faced Italian sandwich that is fancy AF. You can certainly substitute any of the ingredients out. I used kalamative olives because I'm not the biggest fan of black olives. You could also add in hot peppers if you like things extra spicy.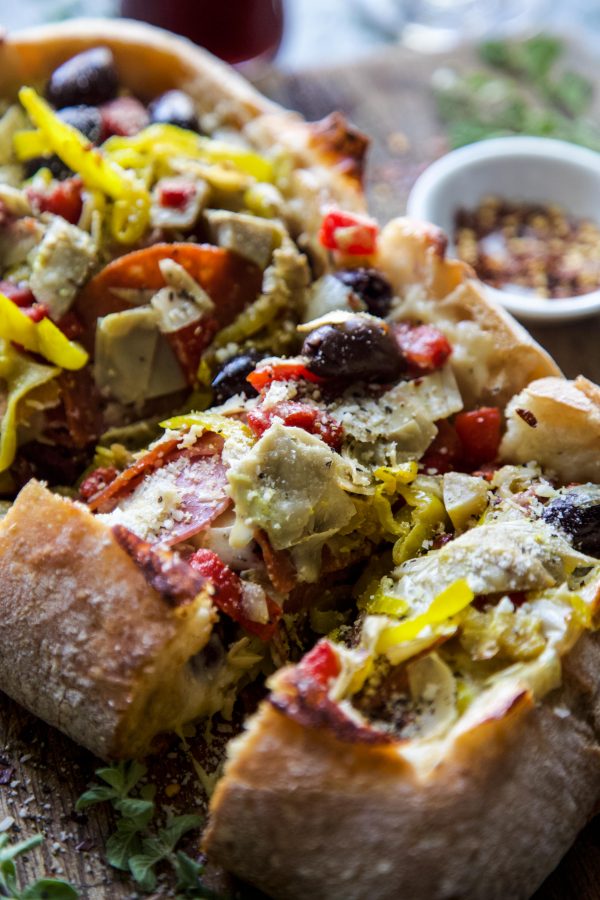 I set this out for Mr. B and I to share the other night and before I could take a bite, he gobbled this Layered Antipasto Cheese Bread up!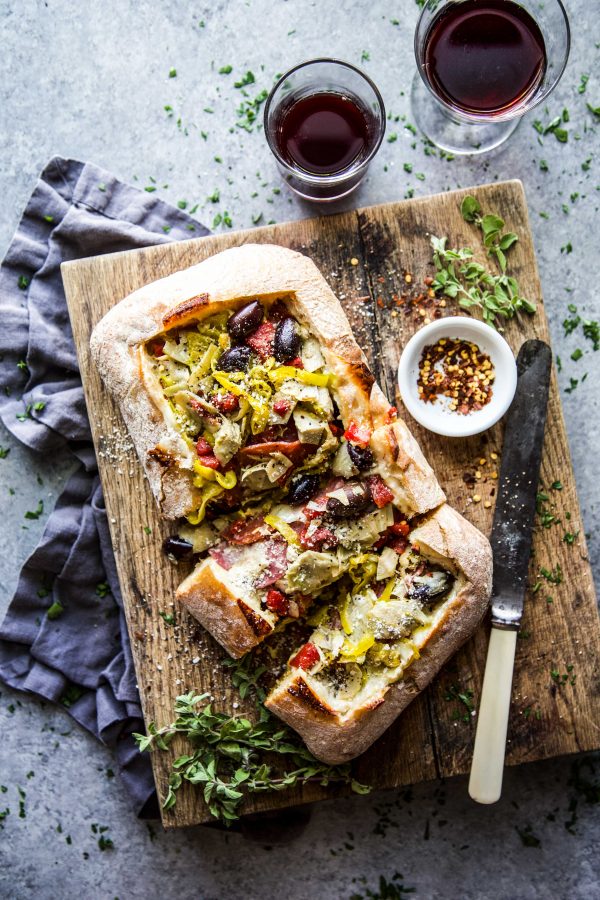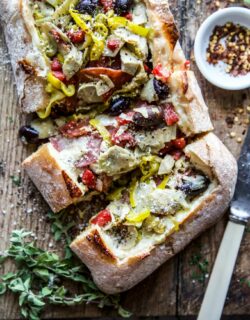 Layered Antipasto Cheese Bread
Ingredients:
1 loaf of ciabatta bread
1 cup marinated artichoke hearts, roughly chopped
3/4 cup favorite kind of olives, sliced
3/4 cup roasted red bell pepper, diced
1/3 cup pepperoncini, sliced
8 to 10 pepperoni slices, divided
8 to 10 salami slices, divided
10 to 15 slices provolone cheese, divided
2 tbsp grated Parmesan
1 tbsp olive oil
Directions:
Preheat your oven to 400 degrees. Place the ciabatta bread on the baking sheet. Using a pairing knife, score about a one-inch border around the top of the bread. Remove the crust from inside the border and a little bit more of the bread underneath.
In a mixing bowl, combine the artichokes, olives, roasted bell pepper, and pepperoncini.
Take some of the provolone slices and line the bottom of the bread loaf until covered overlapping as necessary to fit. Next, arrange some of the salami slices on top of the provolone followed by some of the pepperoni slices.
Next, take half the antipasto mixture and spread it in an even layer on top of the pepperoni slices.
Repeat step three layering followed by step four.
Sprinkle the Parmesan on top of the antipasto mixture. Brush the edges of the bread with olive oil. Cover the bread with foil and baking for about 30 minutes or until the cheese has melted.
Cool before slicing and serving!
All images and text ©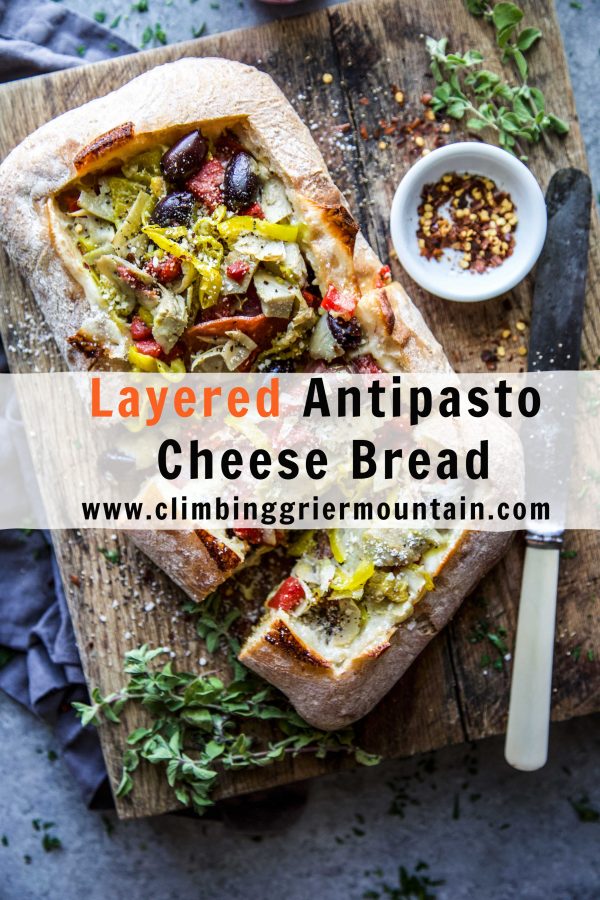 Other Delicious Appetizers for Dinner: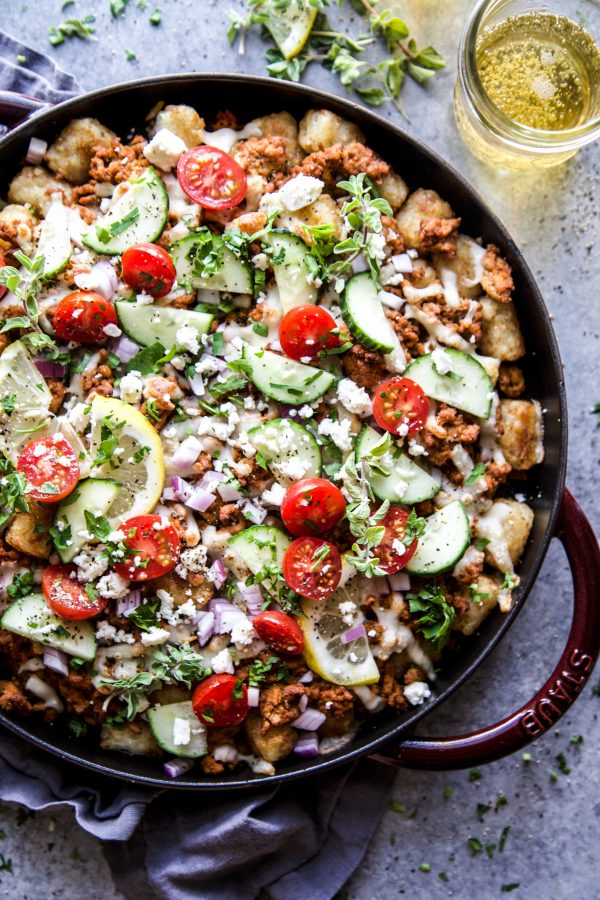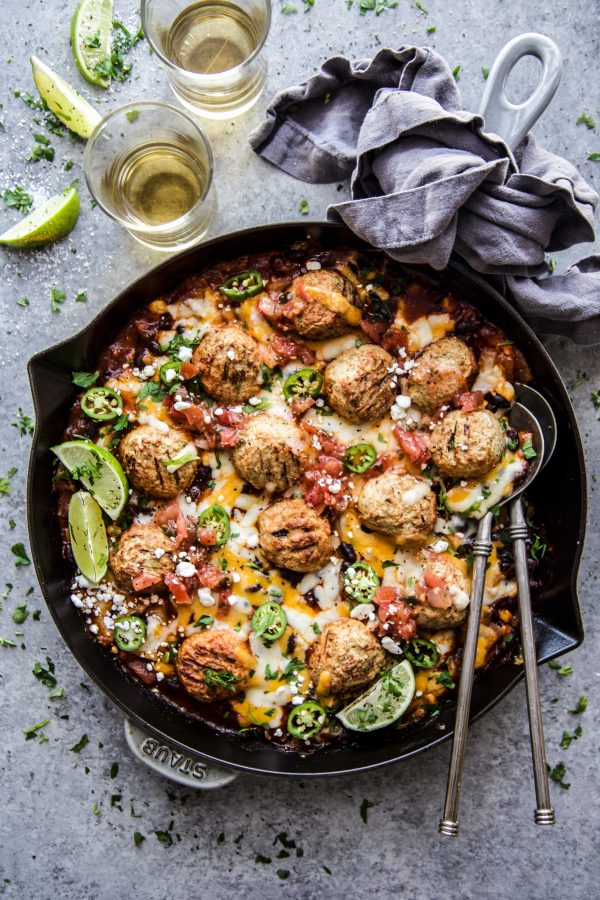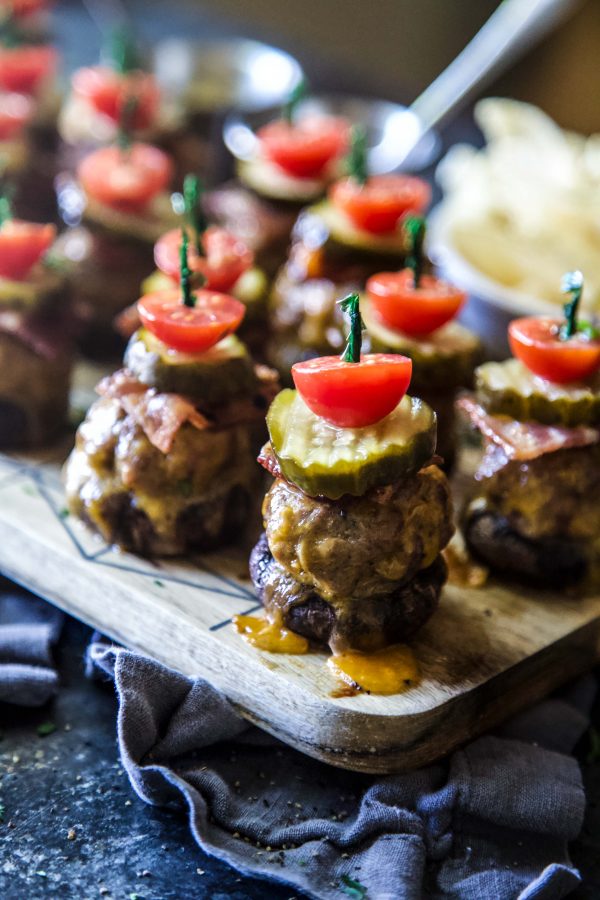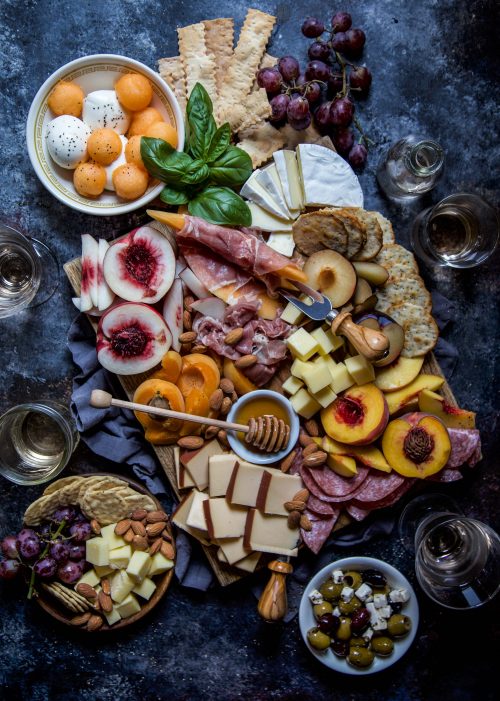 "In summary, Layered Antipasto Cheese Bread offers a Mediterranean-inspired appetizer experience that's sure to please. Its flavorful ingredients blend harmoniously to create a delightful addition to any gathering."