Pork & Kimchi Udon Noodles
Pork & Kimchi Udon Noodles are a fast and flavorful dish ready in 15 minutes!!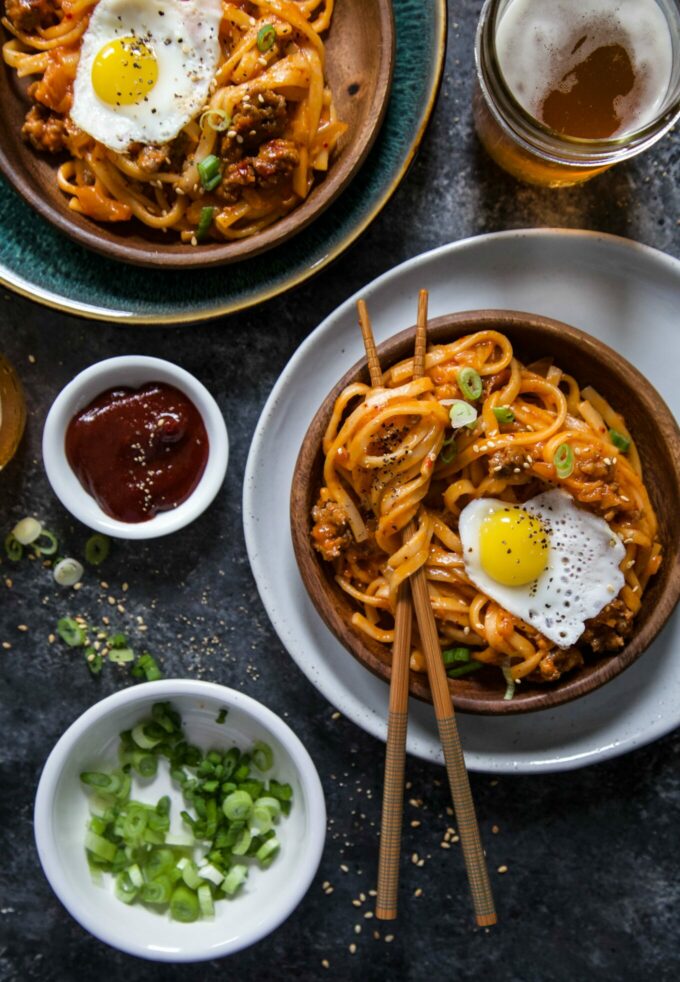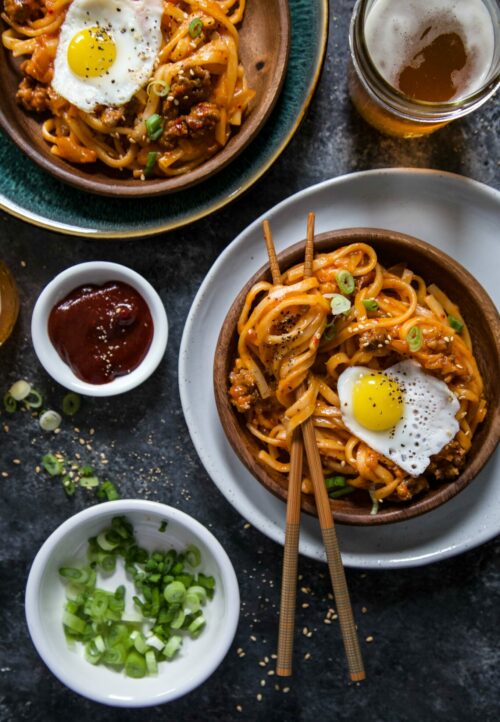 I keep forgetting!
Sometimes I wonder how I survive. Truly.
I keep forgetting that the Olympics are just a few weeks away. Now, you may be thinking, "Lauren you don't need survival skills to watch the Olympics?" True, kind of.
See, when the Olympics roll around every two years, I'm committed to watching every single event. Curling? You betcha. Biathlon? Guns and skiing…what's not to like. Figure skating? I can't take my eyes off the drama. I'm completely obsessed.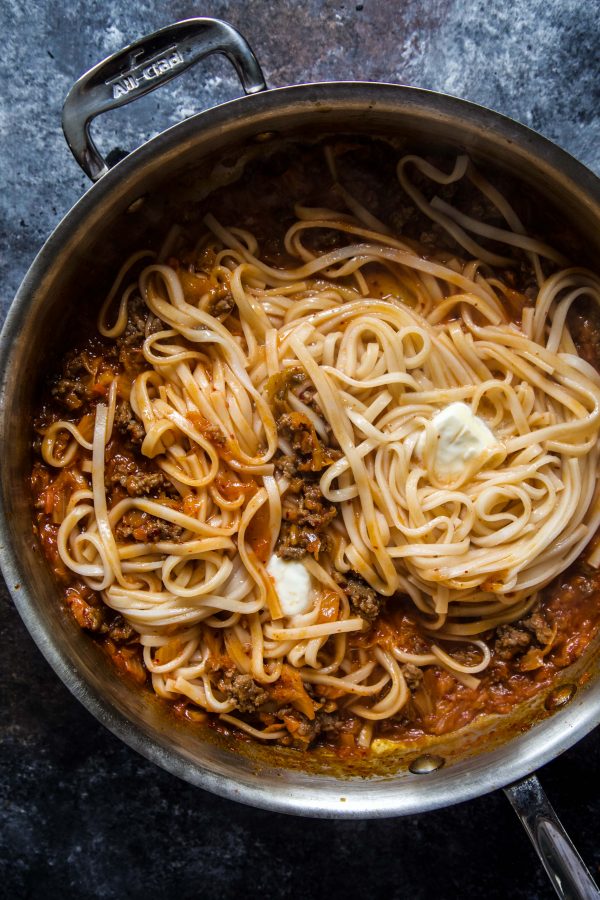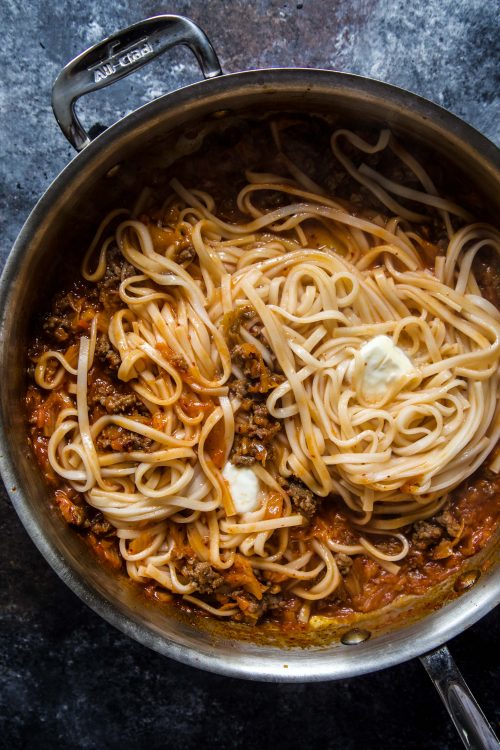 Anyway, the whole point of this is that I take Olympic spectating very seriously almost likes it's my job. So in some way I am in survival mode for at least two weeks. Am I crazy? Please tell me you watch the Olympics (and ice dancing doesn't count)!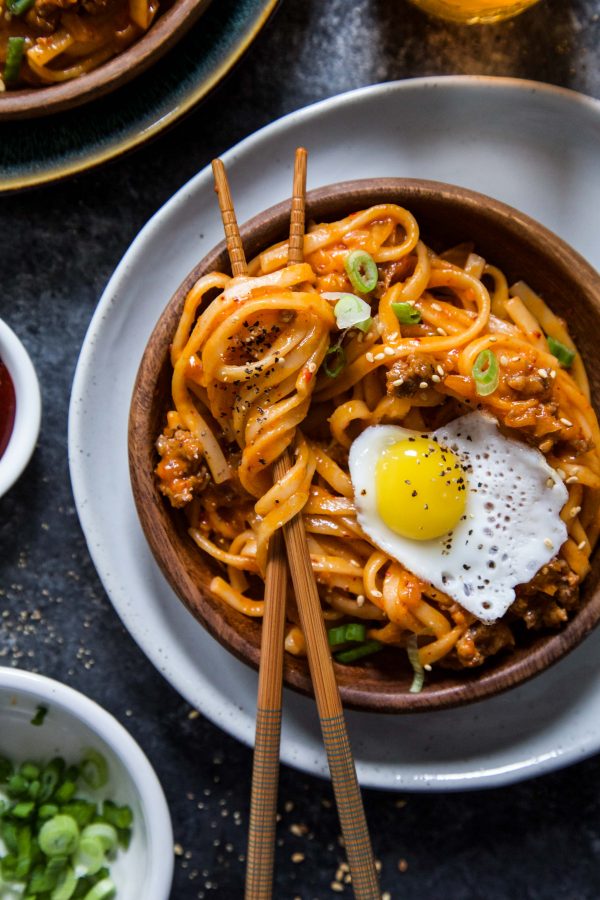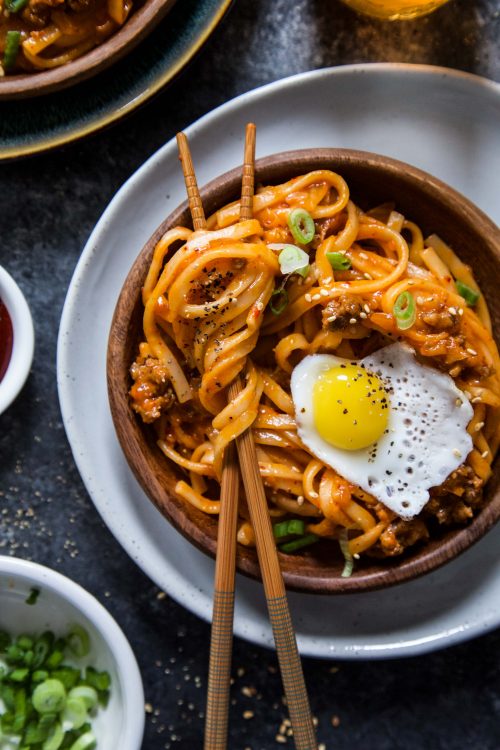 Before I take up permanent residence on the couch, let's talk about today's recipe. Since the Olympics are in South Korea I figured we need a dish with some flavor and a smidge of heat. Enter, Pork & Kimchi Udon Noodles. I should have a gotten a gold medal for the fastest time consuming these noodles.
Butter, kimchi, gochujang (Korean hot pepper paste) mixed together with ground pork and udon noodles. Simple, delicious, and easy to make. Whip this dish up, invite friends over to watch the Olympics, and dare I say, have a noodle eating contest!
**crickets***
I'm still wondering how I survive.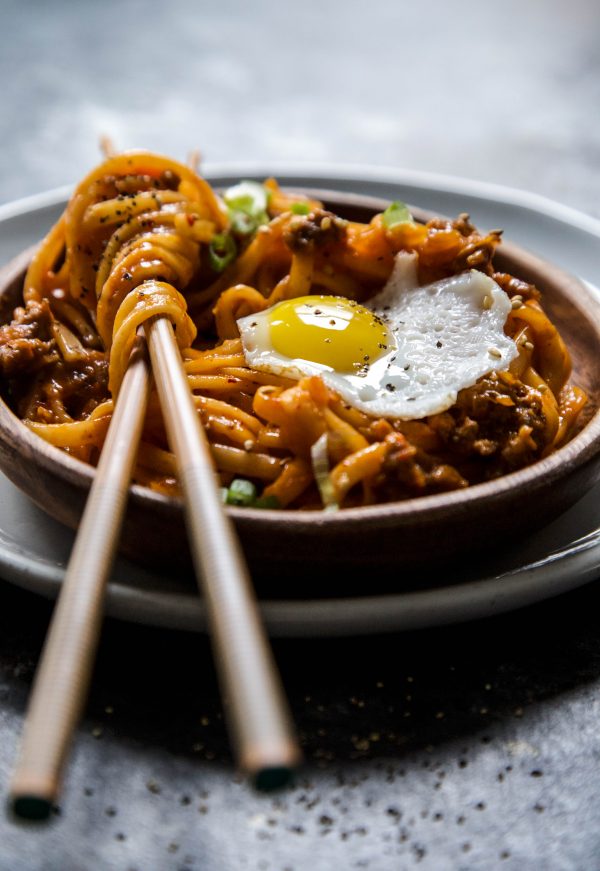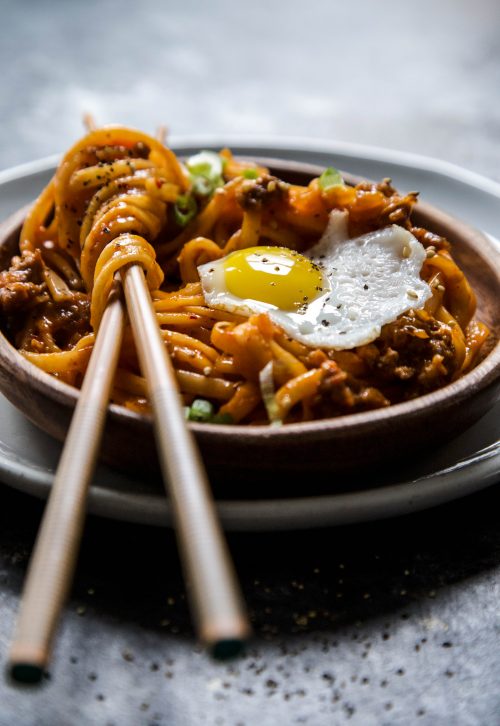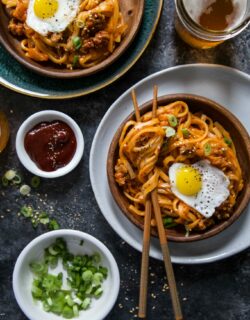 Pork & Kimchi Udon Noodles
Ingredients:
1/2 lb ground pork sausage
5 tbsp unsalted butter
1 cup chopped kimchi + 1/3 cup kimchi juice
2 tbsp gochujang
1/2 cup chicken stock
1/2 pound udon noodles
4 quail eggs, cooked over easy
Sliced scallions, for garnish
Directions:
In a medium skillet pre-heated to medium-high heat add the pork sausage. Saute the sausage, breaking it up with a wooden spoon for about five minutes or until no long pink.
Remove the sausage for the skillet and set aside. In the same skillet melt 2 tbsp butter. Add the kimchi and gochujang, stir to combine. Saute the kimchi for a few minutes until slightly caramelized. Next, add in the broth and kimchi juice and bring the sauce to a simmer. Cook the liquid for a few minutes until slightly reduced.
While the sauce simmers bring a large stock pot of water to a boil. Add the udon noodles and cook until al dente; about 10 minutes.
Add the pork sausage back into the skillet with the sauce followed by the udon noodles. It's easier to use a pair of tongs to transfer the noodles to the skillet. Next, add the remaining 3 tbsp of butter to the skillet. Stir to combine adding salt and pepper as desired.
To serve, place some of the noodles into a bowl. Add cooked quail egg on top followed by sliced garnish. Repeat until all bowls have been filled. Enjoy!
All images and text ©