Indian Spiced Turkey Pizza
Indian Spiced Turkey Pizza is a delicious, cheesy dish ready in 15 minutes!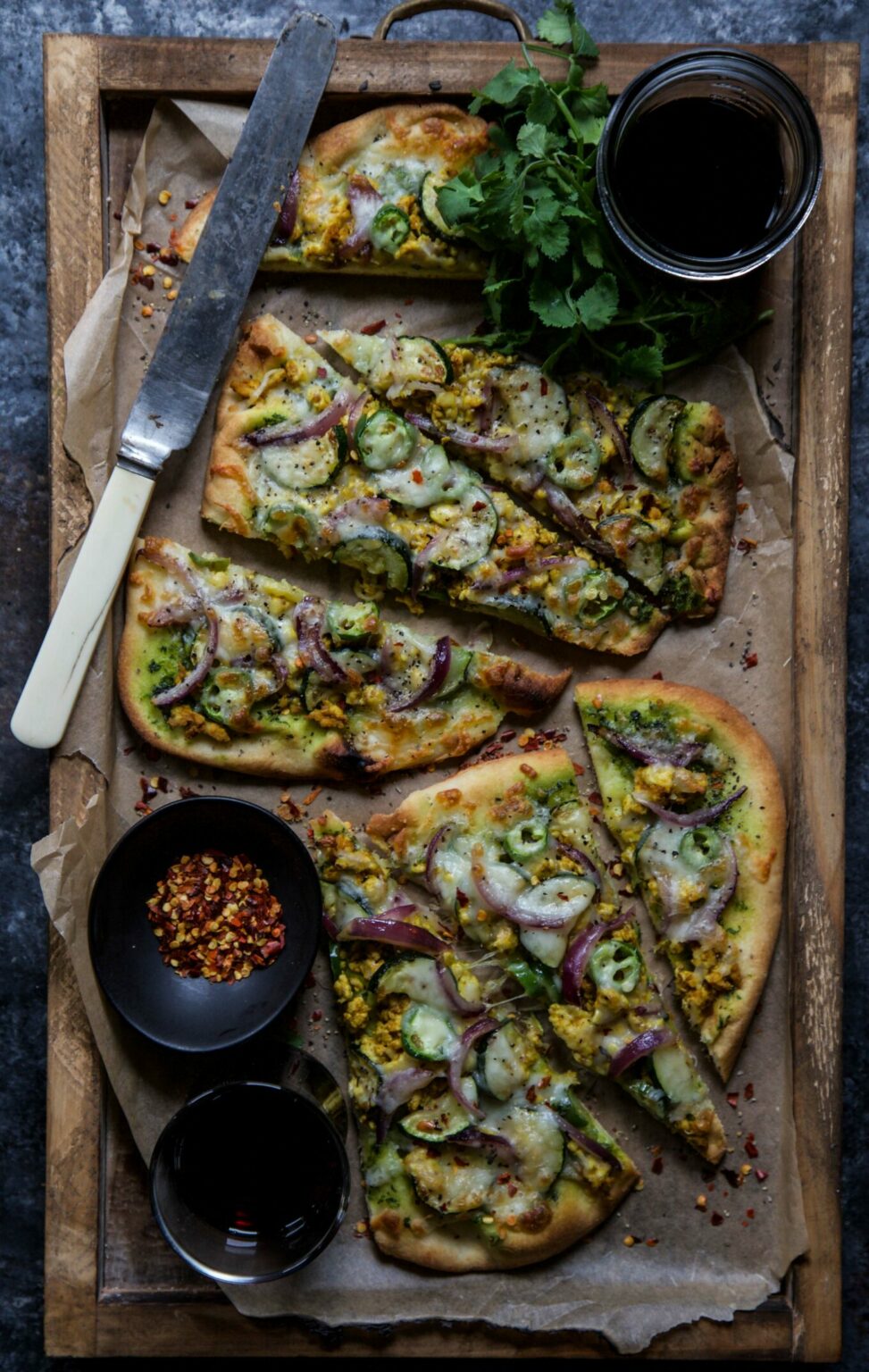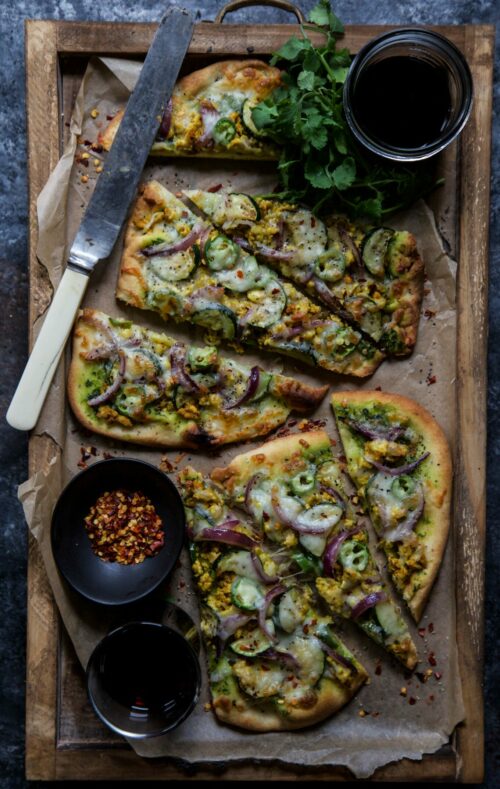 February!
We have officially made it through the January blues, kale smoothies, the Super Bowl, and now we're onto bigger and better things. Like yours truly birthday month! HOLLA!
Even though February is painfully short, I plan on celebrating all month long. Because this year I turn 35. Yes, I could look at this as I am now closer to 40. MEH. Right now in my life I feel like I am just getting started. Does that make sense?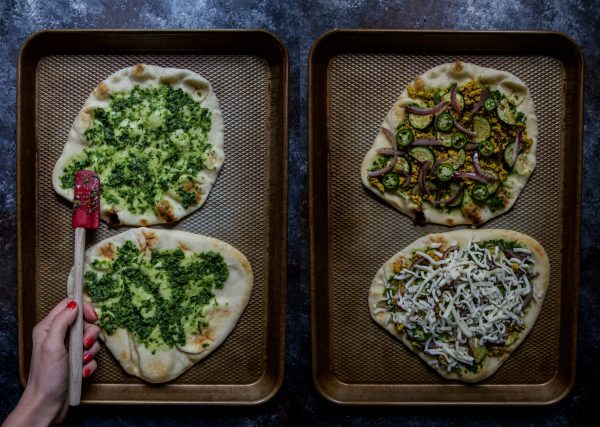 I'm finally in a place where I feel good about the future with Mr. B, our home, my career, friends, and family. If you would have asked me before the holidays how I feel about turning 35, I would have responded with, "are you mad? I'm just trying to get five hours of sleep and remember to brush my teeth. I don't have time to worry about turning another year older!"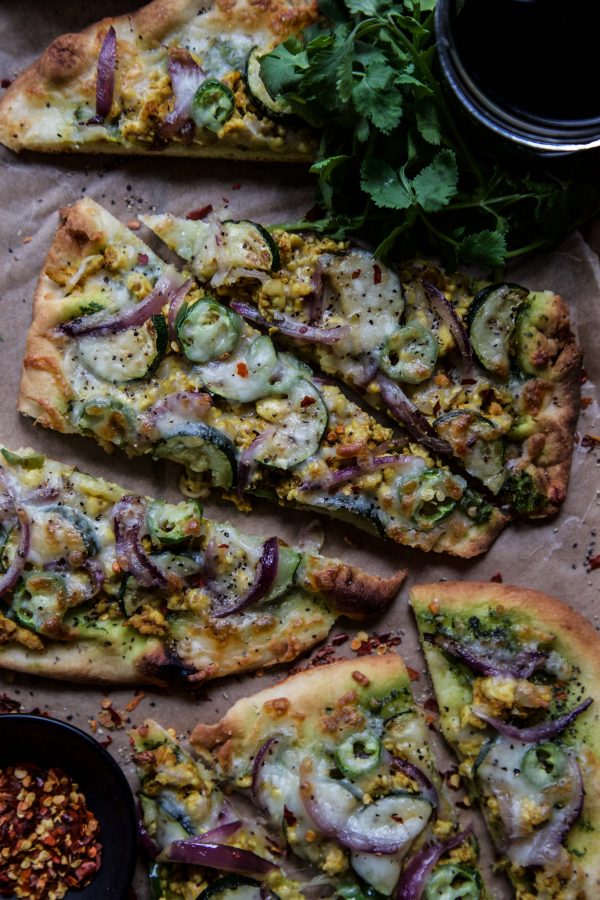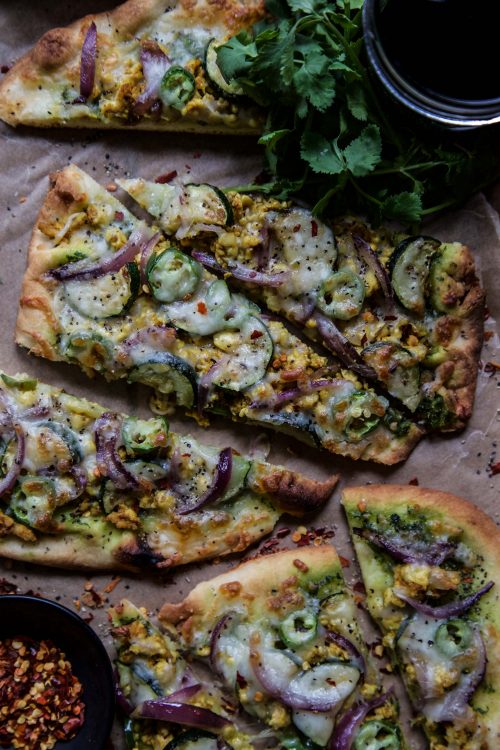 Also, that response is what we famously call "Grumpus Lauren." She comes out when she is being pulled in 17 different directions, can't sleep, can't workout, has to meet deadlines, and listen to her husband blast music at 7am (kidding babe. maybe). Personally, I hate when old Grumpus Lauren comes out, but hey, we're not all perfect. Am I right?
I think when Grumpus Lauren appears it's a reminder to chill the eff out and mediate. Or make some kind of delicious, spicy food to reset myself. Often times the latter happens, which works because then y'all get to eat this Indian Spiced Turkey Pizza for dinner!
I'm not going get to on my soapbox again about spices. You guys know that spice and heat are your two best friends. What I love about this pizza is that it's packed with flavor. Curry, jalapenos, cilantro pesto, this pizza is a dream. Not to mention painfully easy to make. So make this Indian Spiced Turkey Pizza when you have a case of the grumps or need to spice things up on Monday.
Now, who's ready for February?!
Grumpus Lauren, "not me!"
**shoves slice of pizza into mouth.**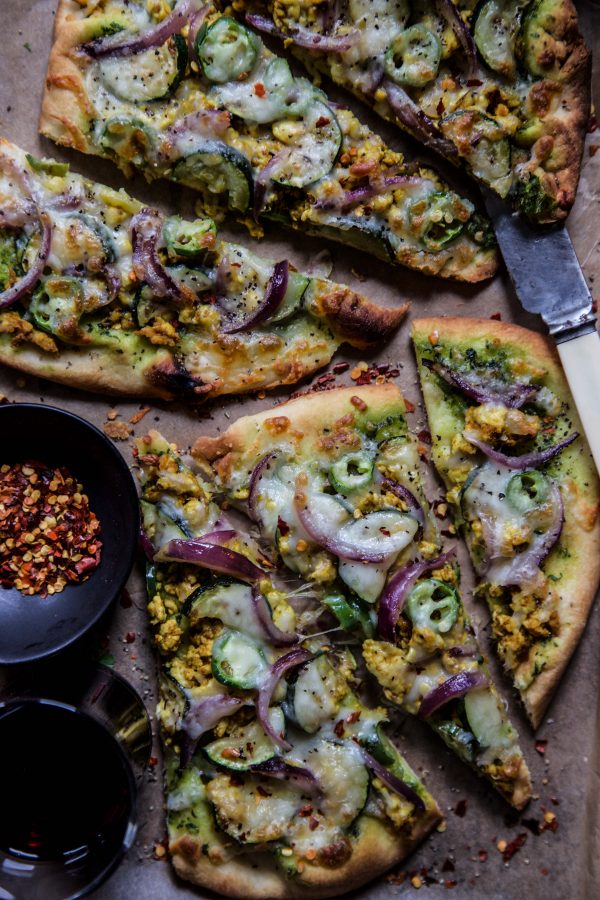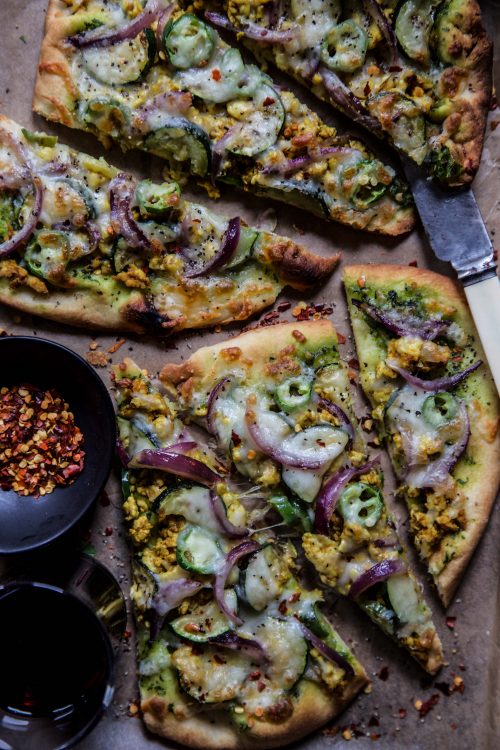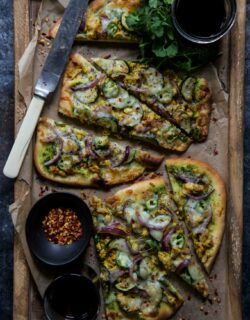 Indian Spiced Turkey Pizza
Ingredients:
1/3 cup cilantro, chopped
1 jalapeno, deseeded, chopped
1/4 cup olive oil, divided
1/2 pound ground turkey
1 1/2 tsp curry powder
1 zucchini, halved lengthwise, and sliced into 1/4-inch half moons
1/4 cup sliced red onion
1 cup shredded mozzarella
salt and pepper to taste
Cilantro, for garnish
Jalapeno rounds, for garnish
Directions:
Preheat an oven to 400 degrees. Spray two baking sheets with non-stick cooking spray and set aside.
In a small food processor add the cilantro, jalapeno, 2 tbsp olive oil, salt and pepper. Pulse to combine until smooth.
Next, preheat a skillet to medium-high heat. Add 2 tbsp olive to the skillet along with the ground turkey and curry powder. Stir to combine, breaking up the turkey.  Cook the turkey for about five minutes or until no longer pink.
Place two pieces of Naan on each baking sheet. Next, take the cilantro mixture and spread it onto to each Naan piece leaving a small border.
Divide the ground turkey, zucchini, red onion, and jalapeno rounds between all the Naan pieces. Next, top each pizza with a 1/4 cup of mozzarella. Bake the pizza for about 15 to 17 minutes or until golden brown. Garnish with fresh cilantro.
recipe inspired by Rachel Ray: https://www.rachaelraymag.com/recipe/indian-pizza
All images and text ©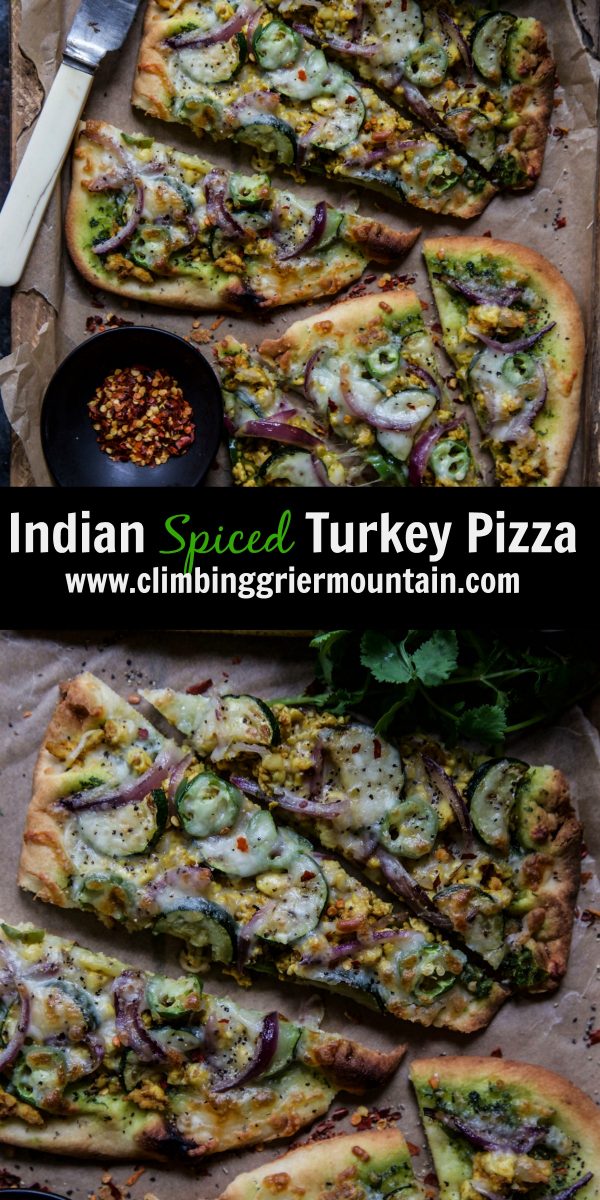 In conclusion, our Indian Spiced Turkey Pizza offers a tantalizing fusion of bold flavors with a delightful hint of Indian spices. It's a unique twist on a classic favorite, bringing a burst of exotic taste to your pizza experience. Whether enjoyed as a special treat or a regular indulgence, this pizza is sure to add a touch of culinary adventure to your dining repertoire. Savor the rich and aromatic essence of this fusion, and let it redefine your pizza cravings with its delectable Indian-inspired flair.