Lamb Shawarma Lasagna Cups
Lamb Shawarma Lasagna Cups are an easy, cheesy Middle Eastern comfort dish!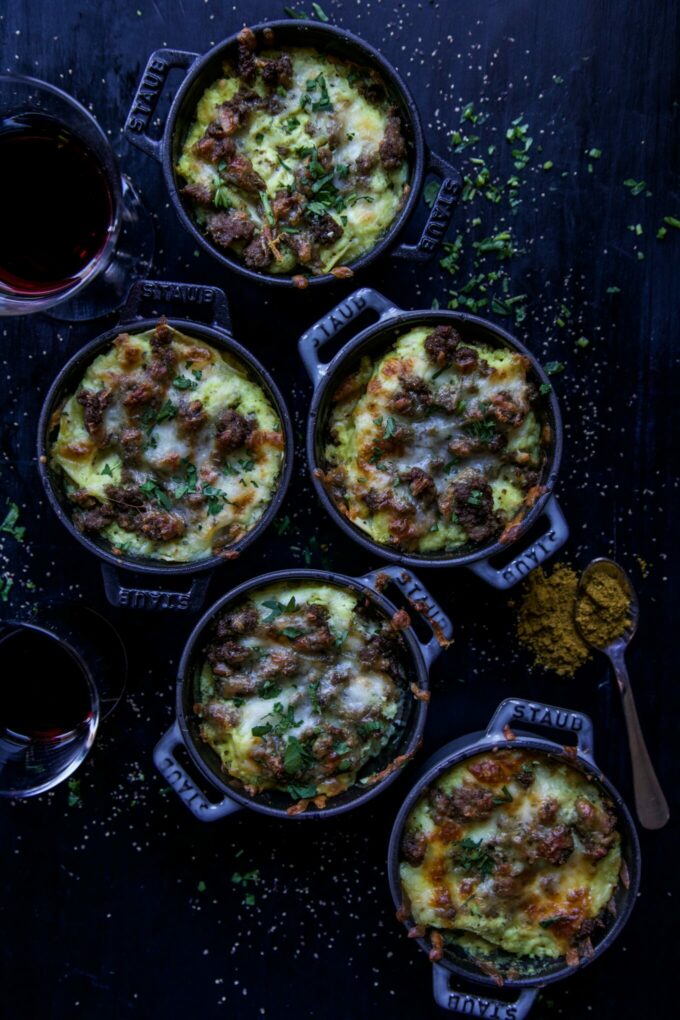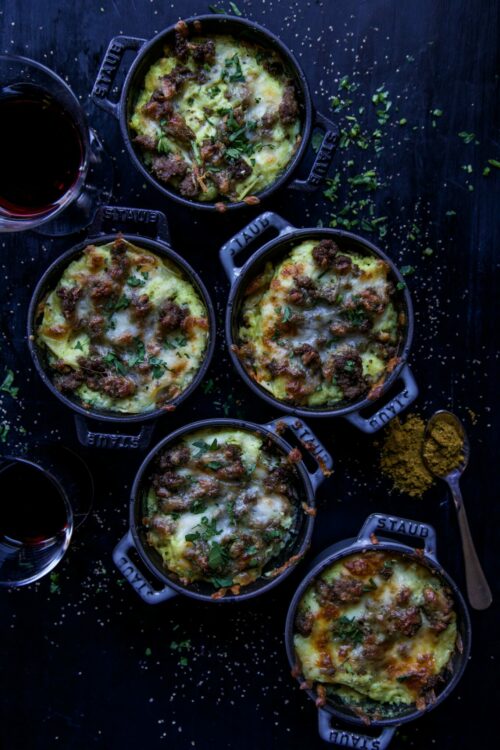 TOMORROW!!
Can you feel it?
I probably reenact that scene in real life more than I should. Another favorite is the patio door opening and shutting. I may or may not have done that while Mr. B was in the shower. I laughed for a solid five minutes. Although, I don't recall him laughing.
Anyway, I know we have talked about this topic already. BUT!! The Olympics start tomorrow. So. FREAKING.PUMPED. Right now, I have a major girl crush on Mikaela Shiffrin because she is a total badass. Word on the street she is trying to win in all four disciplines of skiing which has never been done before. I'm already nervous about her!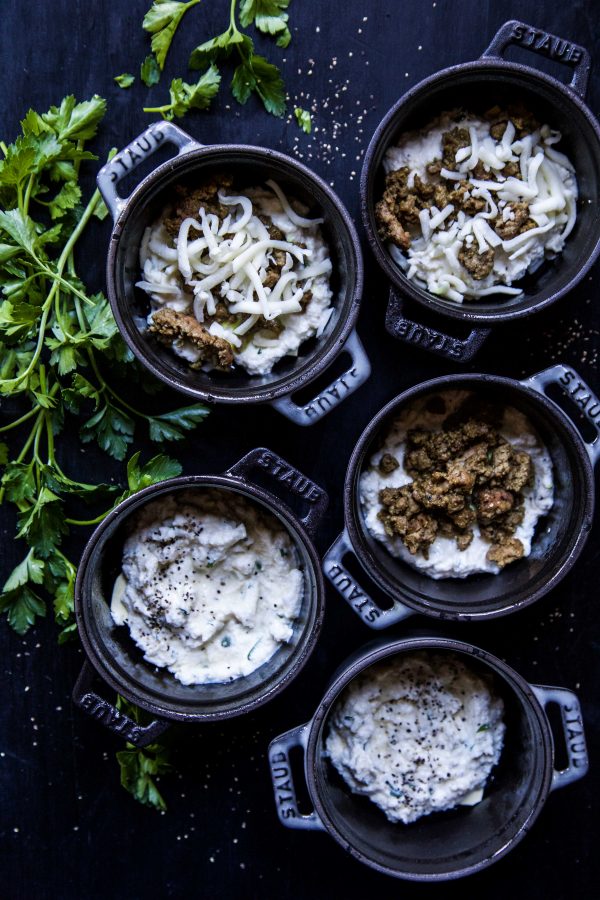 Can we chat real quick about how this will be Shaun White's fifth Olympics? I'm not quite sure how I feel about that, but you know what, I say if he wants to go after the gold let the Flying Tomato have at it.
I am not caught up on ice skating so y'all need to fill me in. Does the U.S. have a good chance at wining? Please say yes. Um, one quick question, have you seen "I, Tonya?" Dying to watch it before the Olympics start!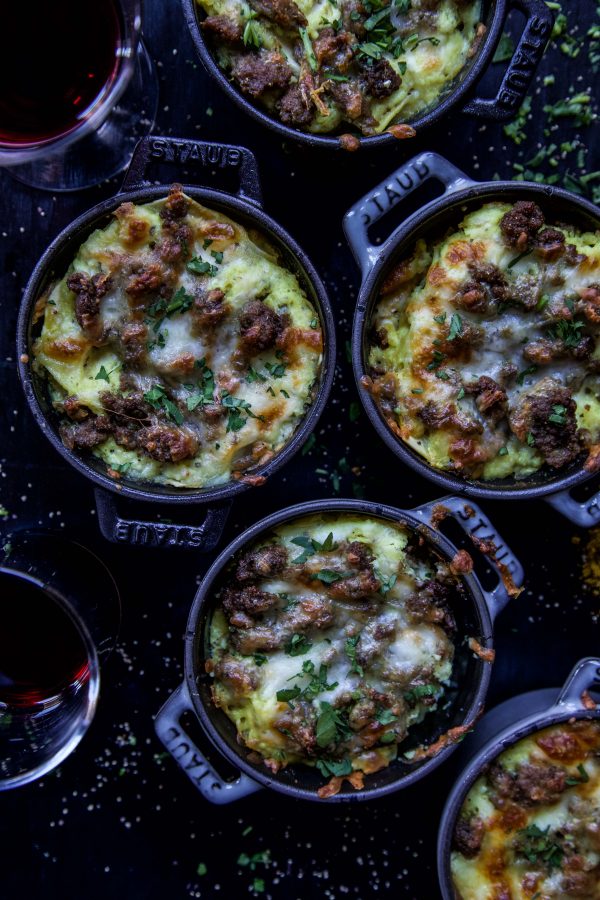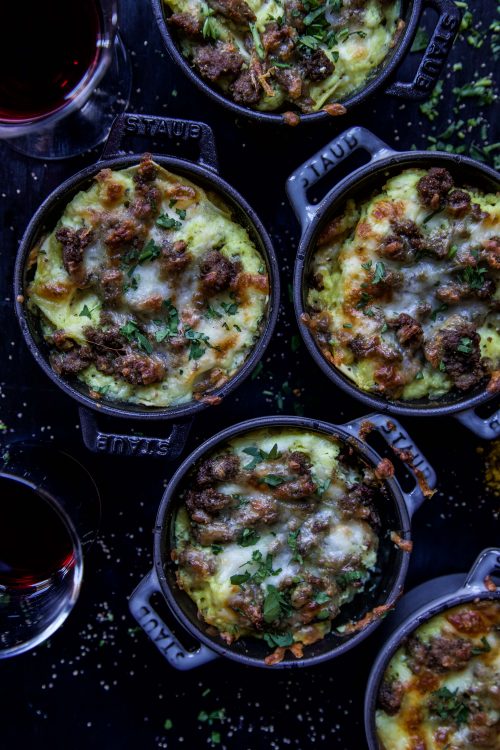 Okay, before I start sounding like Bob Costas, let's talk about today's recipe: Lamb Shawarma Lasagna Cups. The ultimate Middle Eastern comfort food. What I love about this dish is yes, the flavor. Full of all the usual suspects when it comes to shawarma flavoring. But what makes this dish so epic is the size!
Perfectly portioned lasagna cocotte filled with noodles, ricotta, lamb and spices. These Lamb Shawarma Lasagna Cups will definitely get you over a hump or two.
Can you feel it?
Sorry.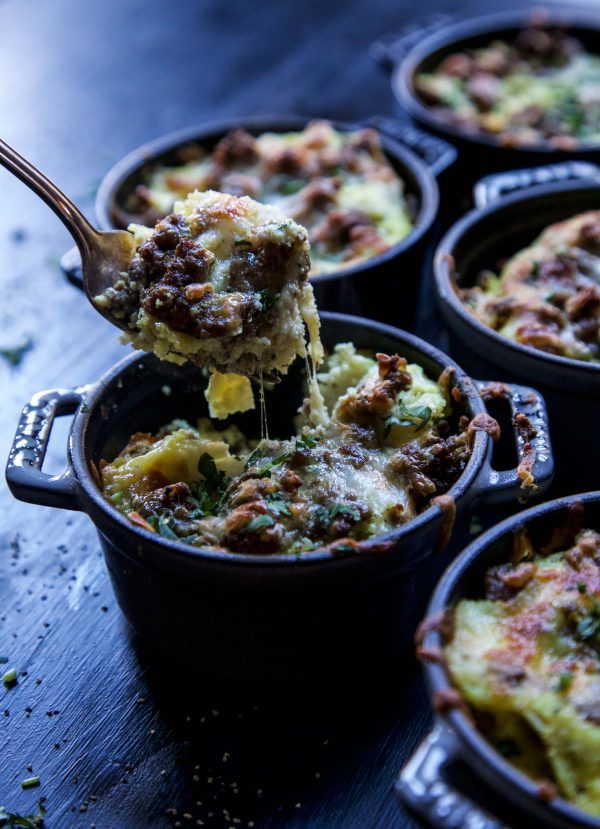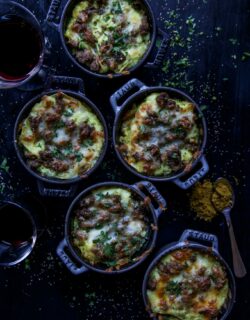 Lamb Shawarma Lasagna Cups
Ingredients:
1 tbsp olive oil
1 pound ground lamb
1 tbsp Shawarma seasoning (*find at your local Middle Eastern market)
1 15-oz container whole milk ricotta cheese
1 egg
1/2 cup shredded mozzarella (+ more for garnish)
1/2 cup shredded romano cheese
1 tbsp fresh lemon juice
1 tbsp fresh chopped mint
 5 cooked lasagna noodles
Chopped fresh parsley, for garnish
salt and pepper to taste
Directions:
Preheat an oven to 400 degrees. Spray five 8-oz cocottes with non-stick cooking spray and place on a baking sheet.
Next, preheat a large skillet to medium-high heat and add the olive oil, ground lamb, Shawarma seasoning, salt and pepper. Cook the lamb until no longer pink about five minutes. Once the lamb is cooked, remove the lamb from the skillet using a wooden spoon and place on a plate. Set aside.
In a medium mixing bowl, combine ricotta cheese, egg, mozzarella, romano, lemon juice, mint, and pepper. Next, take the noodles and slice them half width-wise and then cut each into 2 pieces so you have 4 equal-sized pieces from each noodle.
Take one noodle square and place it on the bottom of each cocotte. Top with about 1 1/2 tbsp cheese mixture followed by 1 1/2 tbsp of the lamb. Repeat this step two more times to form 3 layers into each cocotte. Take the final noodle square and place on top followed by mozzarella cheese for garnish. Repeat process for remaining cocottes.
Cover the lasagna loosely with foil and bake for 20 minutes and then uncover and continue to bake for about 10 to 12 minutes or until golden brown. Garnish the tops with fresh parsley and enjoy!
All images and text ©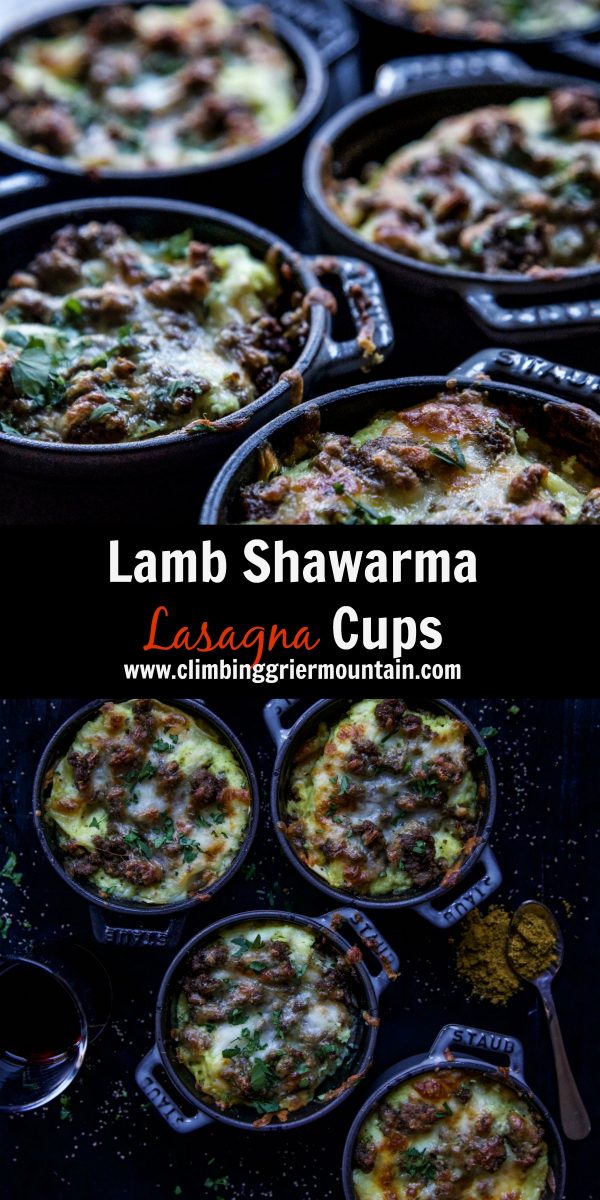 In conclusion, our Lamb Shawarma Lasagna Cups harmoniously blend the rich, aromatic flavors of Mediterranean shawarma with the comforting essence of Italian lasagna. These bite-sized delights offer a culinary journey that's both familiar and exotic, creating a memorable dining experience. Perfect for any occasion, these cups deliver a fusion of tastes that will tantalize your taste buds and leave you craving for more. Elevate your culinary adventures with this unique blend of Mediterranean and Italian cuisine, and savor the rich and aromatic essence of our Lamb Shawarma Lasagna Cups.