Thai Turkey Bacon Stack with Green Curry Mayo
Thai Turkey Bacon Stack with Green Curry Mayo is a delicious sandwich perfect for lunch or dinner!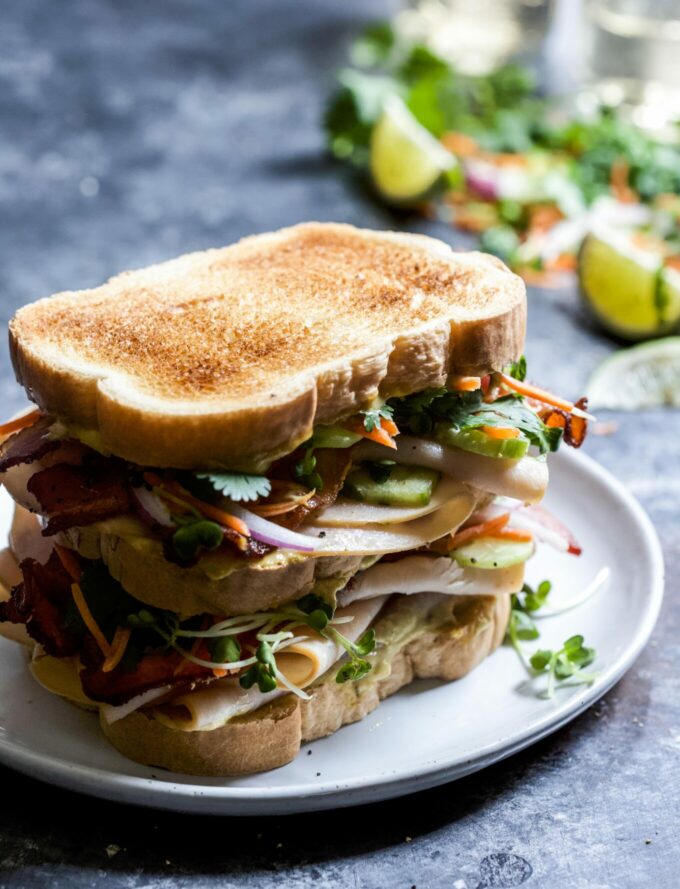 Did you know?
Know what?
Psssst. Let me fill you in.
Word on the street is that deli sandwiches have super powers.
Between you and me that's the reason why our moms put a deli sandwich in our brown paper lunch sack as a kid. It explains a lot actually. I remember as a kid wanting a simple peanut butter and jelly sandwich. Well, my mother would always insist a sandwich with all the deli meat fixings was better because it would make me stronger.
Coincidence? I think not.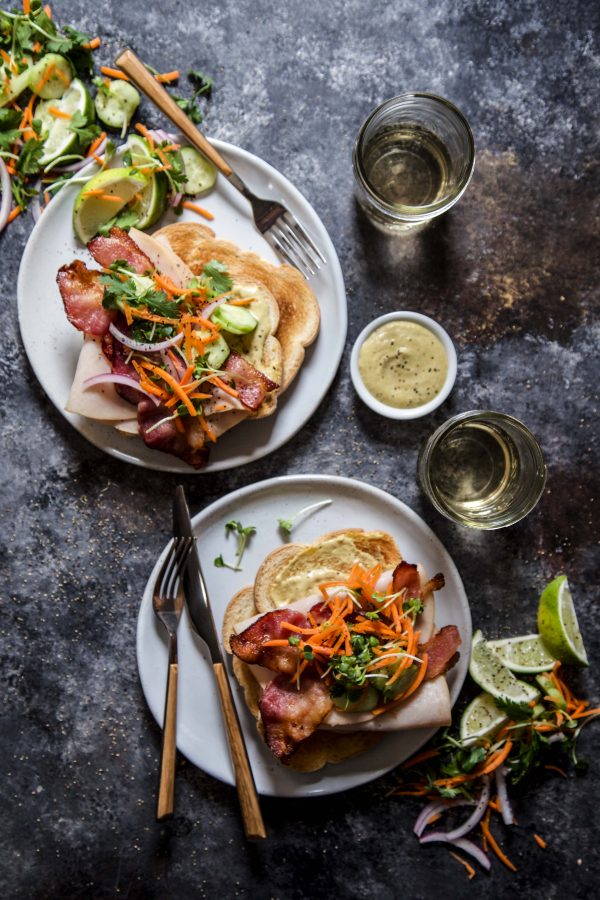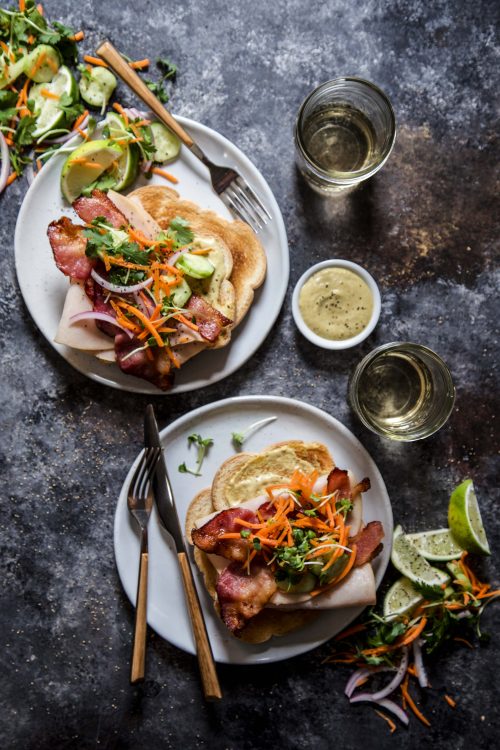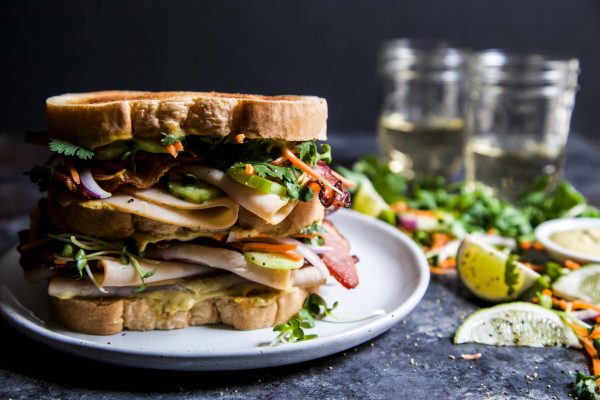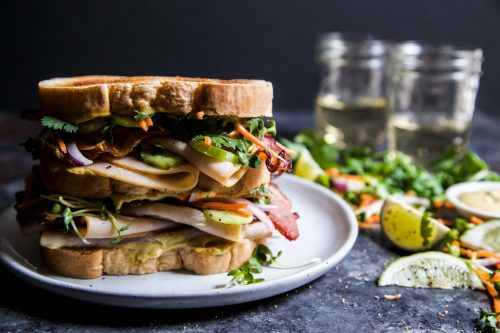 To tell you truth, if she would have just thrown in a cape with the deli sandwich, I probably would have a 86-ed the PB&J situation. Or if she told me that the deli meat was from Smithfield's Prime Fresh Deli Meat selections, I would have never protested.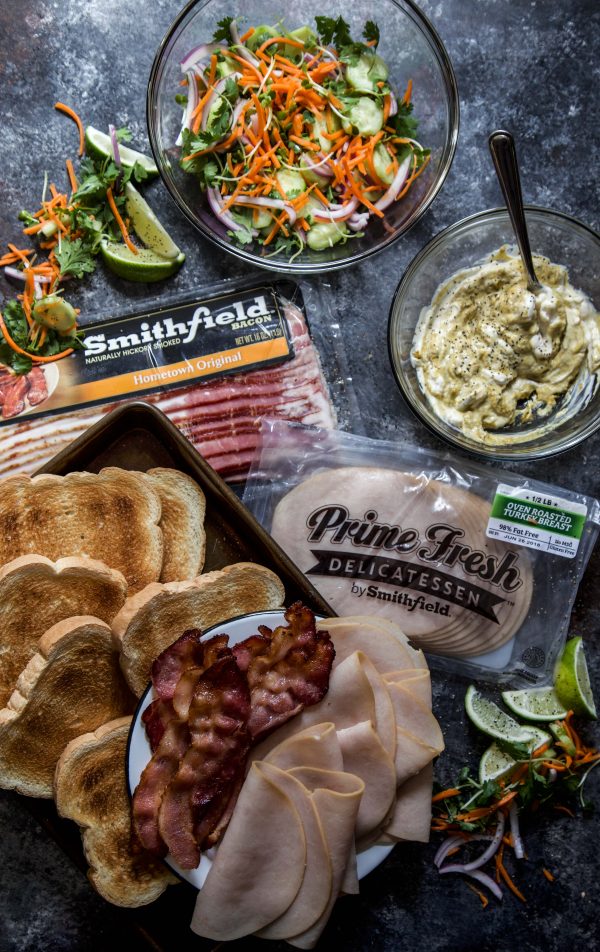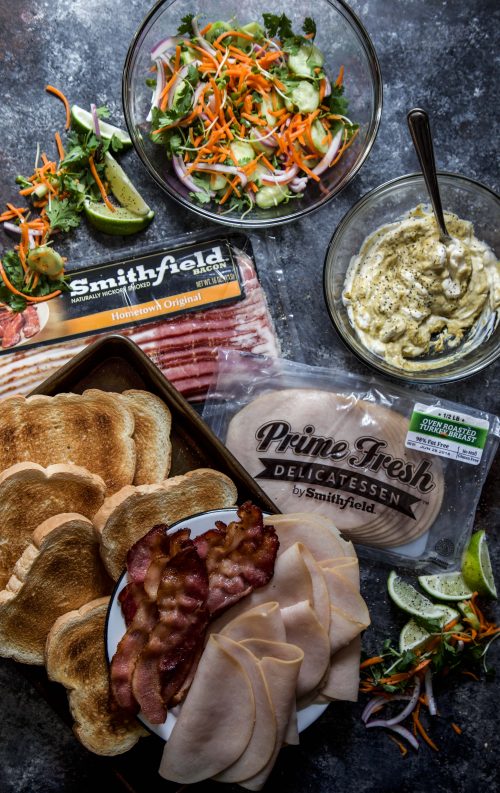 If you've never had Prime Fresh Deli Meats let me fill you in on it's superpowers. First, it's deli fresh quality meats that you can find in the refrigerated meat cape in the grocery store. Hello, no more waiting in line at the meat counter! Second, Smithfield's deli has less water is way more affordable! Lastly, it tastes amazing which is why I used it to make my own superhero sandwich.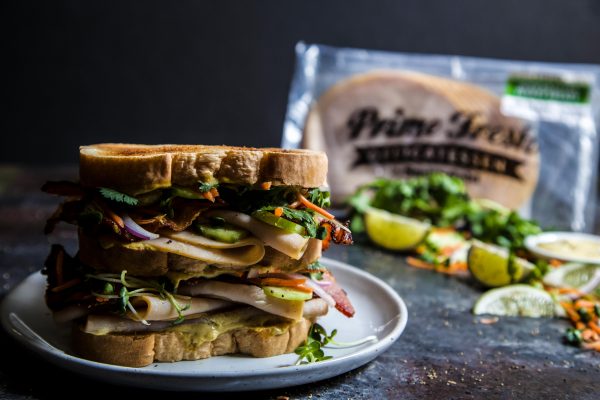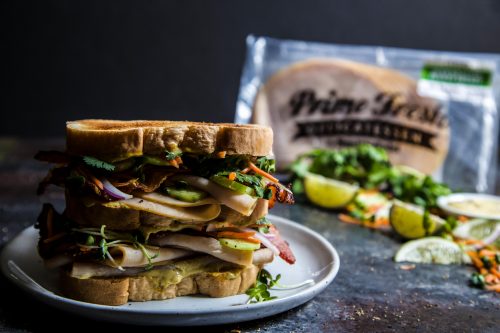 Meet the new hero on the block – Thai Turkey Bacon Stack with Green Curry Mayo. This sandwich will keep crime at bay. Prime Fresh Turkey Deli piled-high on a sourdough bread topped with Smithfield bacon, pickled vegetables, and then smothered with a green curry mayo! If this sandwich doesn't give you superpower strength, then we need to have a conversation with Stan Lee.
***This post is sponsored by Smithfield. As always all opinions expressed are 100% my own!***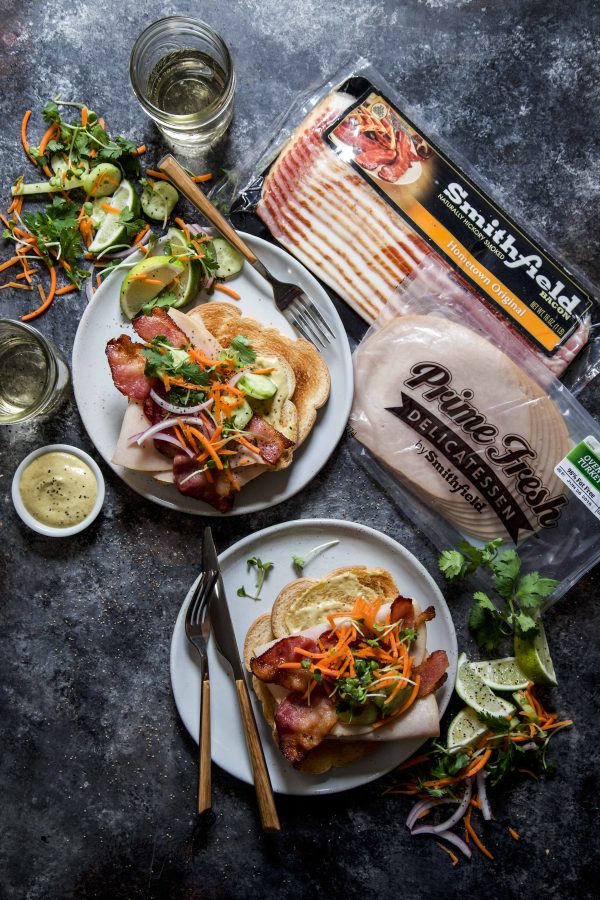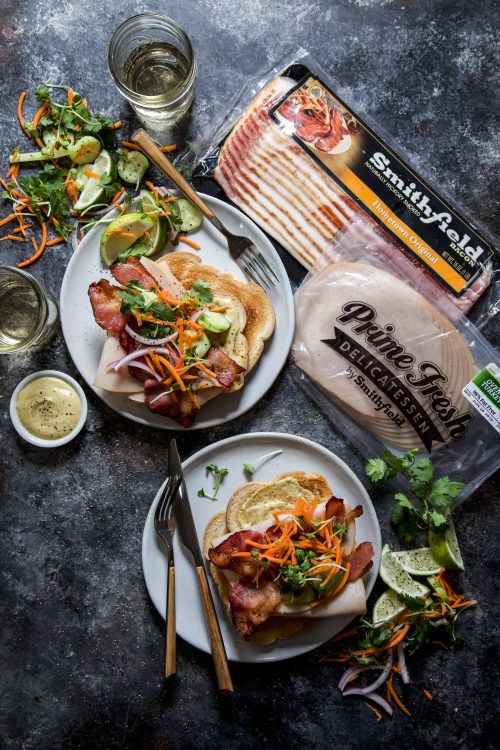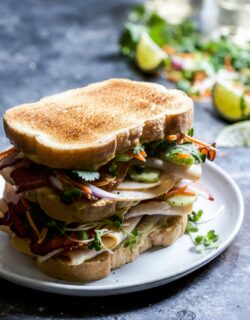 Thai Turkey Bacon Stack with Green Curry Mayo
Ingredients:
8 slices Smithfield bacon
1/2 cup mayonnaise
1/4 cup Thai Green Curry Paste
1/3 cup microgreens
1 small cucumber, julienned
1/2 cup julienned carrot
1/2 cup cilantro leaves
1/4 cup thinly sliced red onion
3 tbsp crushed salted peanuts
1 1/2 tbsp lime juice
salt and pepper to taste
2 lbs Prime Fresh Turkey Deli, divided
8 slices sourdough, toasted
Directions:
Preheat an oven to 400 degrees. Place 8 slices of Smithfield bacon on a baking sheet. Cook the bacon in the oven for about 12 minutes until crispy. Remove the bacon from the oven and place it on a plate lined with a paper towel. Set aside.
In a small bowl mayonnaise and green curry paste. Set aside. In another small bowl combine toss microgreens, cucumber, carrot, cilantro, onion, peanuts, lime juice and salt. Set aside.
To assemble a sandwich, take two slices of sourdough bread and spread some of the curry mayonnaise on each slice. Top one of the slices with 1/2 lb of Prime Fresh Turkey Deli followed by two slices of Smithfield bacon. Next, top the bacon with the vegetables followed by the remaining sourdough slice. Repeat process until all sandwiches have been assembled.
All images and text ©