Bacon and Blood Orange Pancakes
Bacon and Blood Orange Pancakes are a delicious and easy meal to make for breakfast, lunch or dinner! 
Let's show Monday who's boss.
With a stack of pancakes, naturally.
The struggle is real this morning. I would love to blame it on the fact that I stayed up into the wee hours watching the Olympics. BUT! That would mean I would have to cut back and that's not going to effing happen. So, to keep my strength up I figured a stack of flapjacks ought to do the trick.
Brinner is my go-to during the week whenever I am running on fumes. Or a nice peanut butter and strawberry jelly sandwich. I actually survived on the old school sandwich during the entire cookbook making process. Don't judge.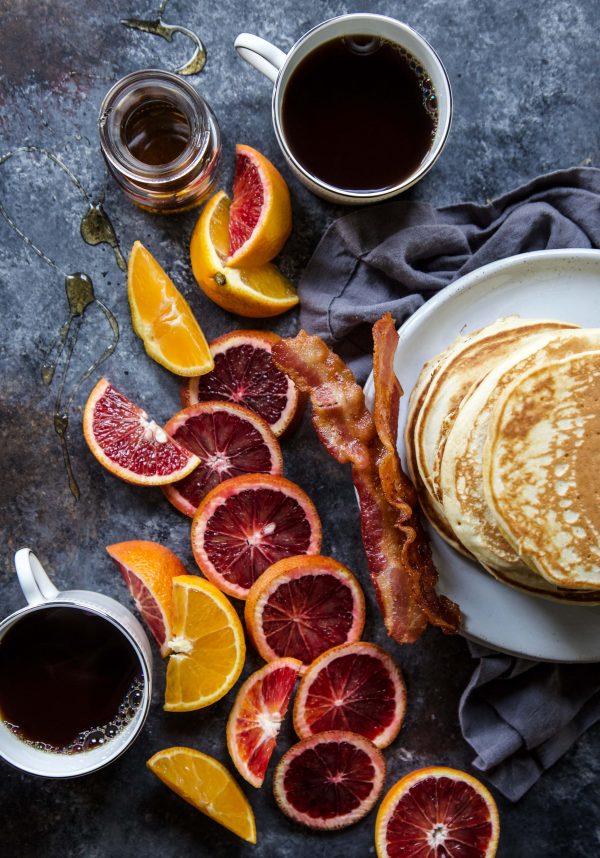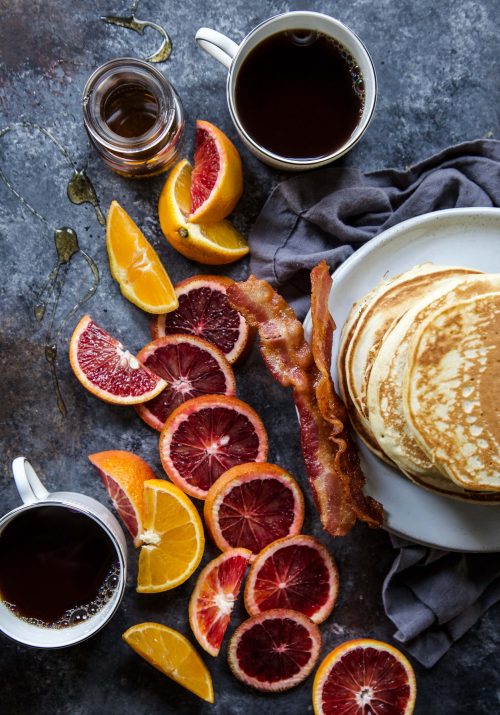 Anyway, you can always count on brinner at some point during week because there are so many options. Waffles, biscuits and gravy, scrambled eggs, and of course, pancakes. I haven't made pancakes in a very long time and with the current citrus explosion, I figured these two needed to meet.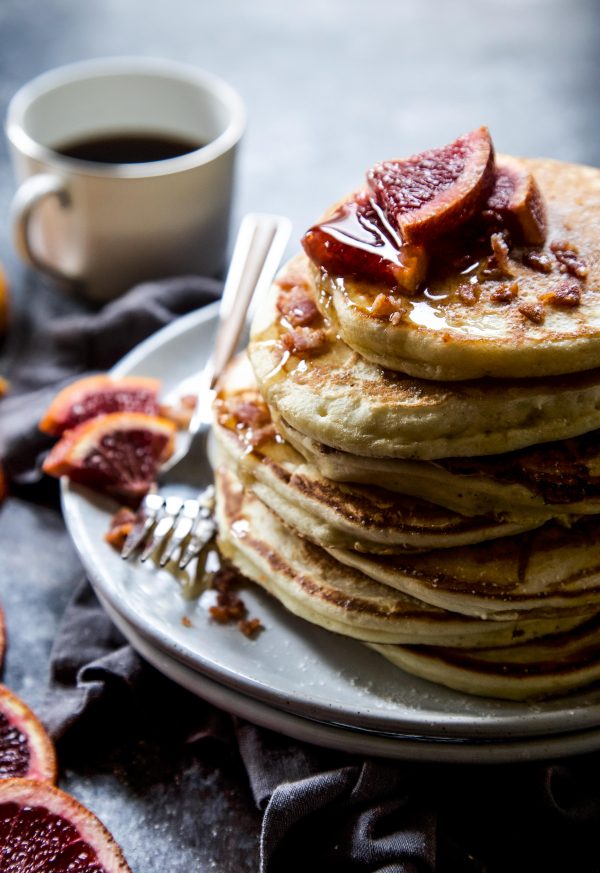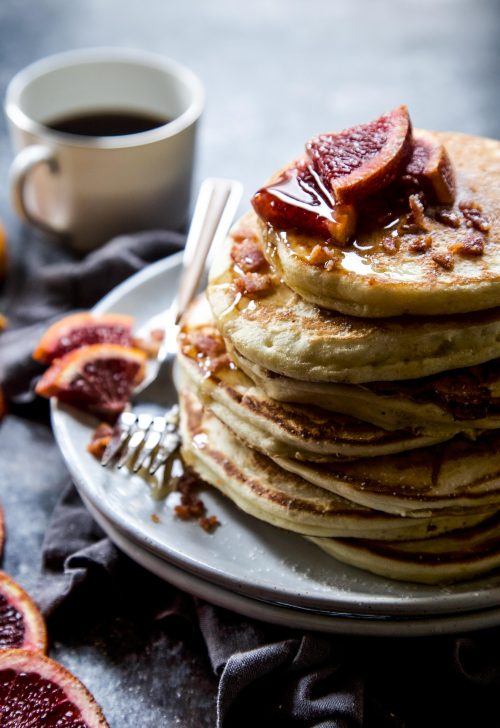 Meet your newest winter obsession: Bacon and Blood Orange Pancakes. Just take your standard pancake batter, add in blood orange zest, juice, and bacon. I love how the blood oranges turn the batter a slight orange hue. Plus, the bacon adds a little somethin', somethin'. You feel me?
Whip up a giant stack of these and make Monday your b*tch. Right? Right.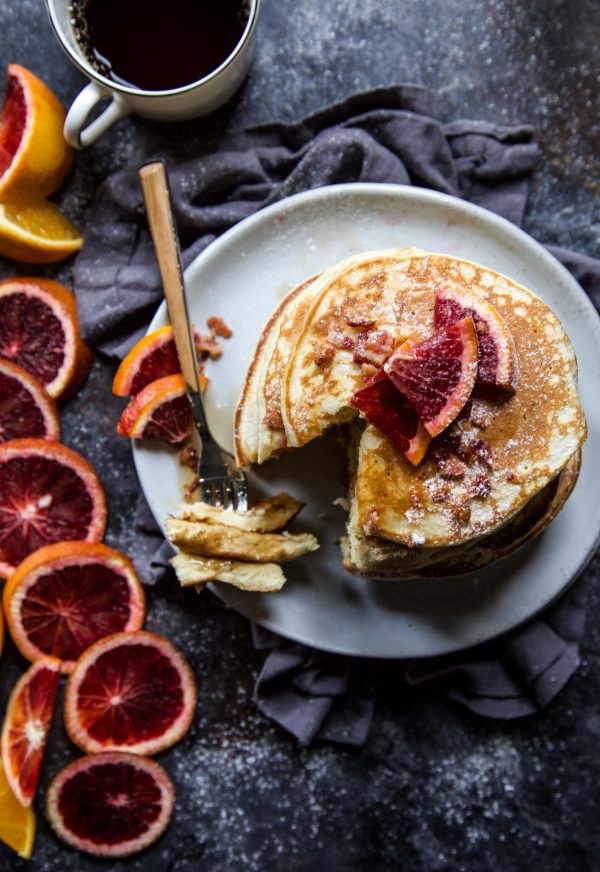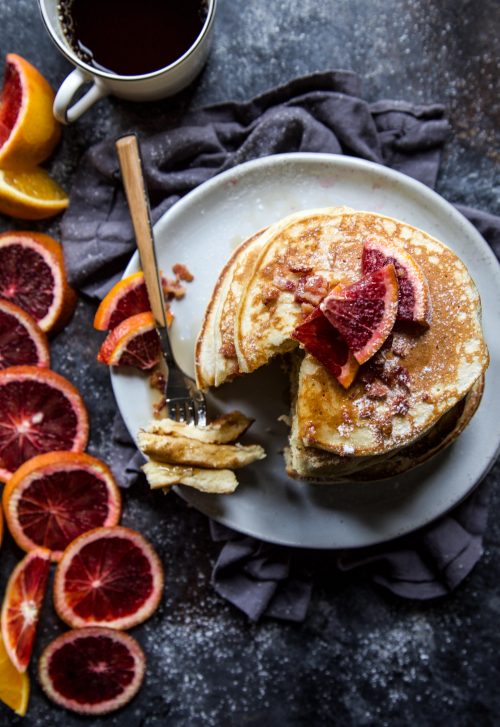 Bacon and Blood Orange Pancakes
Ingredients:
6 pieces bacon
2 cups all-purpose flour
4 tsp baking powder
1/4 cup granulated sugar
1/8 tsp kosher salt
1 egg
1 3/4 cups milk
1 tsp vanilla extract
1 tsp blood orange zest
1 tbsp blood orange juice
Maple syrup, for garnish
Confectioners sugar, for garnish
Directions:
Preheat an oven to 400 degrees. Line a baking sheet with foil and spray with non-stick cooking spray. Place the pieces of bacon on the baking sheet. Cook the bacon for about 12 minutes or until crispy. Remove the bacon from the oven and place the bacon on a plate lined with a paper towel. Once cool, roughly chop the bacon.
In a medium bowl combine flour, baking powder, sugar and salt. In another bowl combine egg, milk, vanilla extract, zest, and blood orange juice. Next, add the dry ingredients to the wet ingredients and whisk until no lump appears. Fold in the reserved bacon
Preheat a large skillet to medium-high heat and spray with non-stick cooking spray. Take about a 1/4 cup of the batter and pour it into the skillet. Once the top of the pancake begins to bubble, flip and continue to cook for another minute or until golden brown. Repeat process until all the batter has been used.
To serve, take a few pancakes and set them on a plate. Garnish with extra bacon, blood orange slices, maple syrup and confectioners sugar.
All images and text ©