Vietnamese Coffee Cake with Brown Sugar Frosting
Vietnamese Coffee Cake with Brown Sugar Frosting is a fluffy, coffee-infused cake perfect for breakfast or brunch!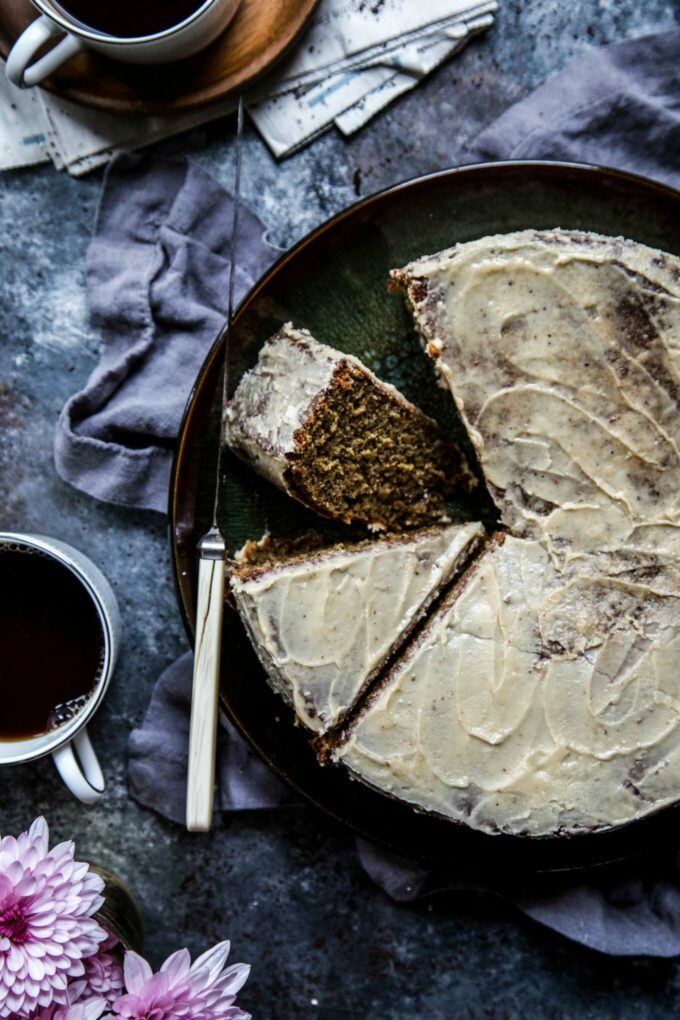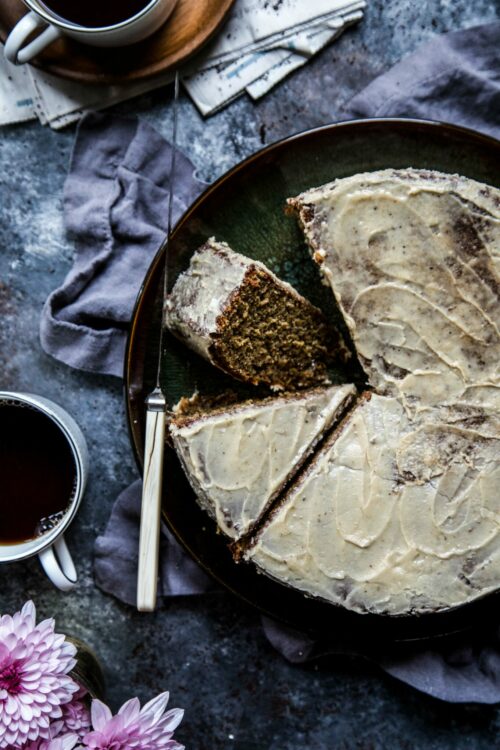 Happy Valentine's Day!
Did Cupid make an appearance at your house? If not, don't worry. I can't even begin to imagine what his schedule looks like these days. Before it was simple a dozen roses and a few chocolates. Check, check.
Now, the man has to include sexy robes (wait, isn't that just Pajamagrams?), teddy bears, appliances, chocolate covered strawberries, dinner out for two, champagne, and let's not forget all the social media attention. Talk about Insta-Cupid pressure.
I realize that some folks like to go all out on Valentine's Day which is fine. Mr. B and I on the other hand will be over here in our K-State themed pajamas, watching the Olympics, eating heart-shaped pizzas, and sipping wine for a grand total of $21.65.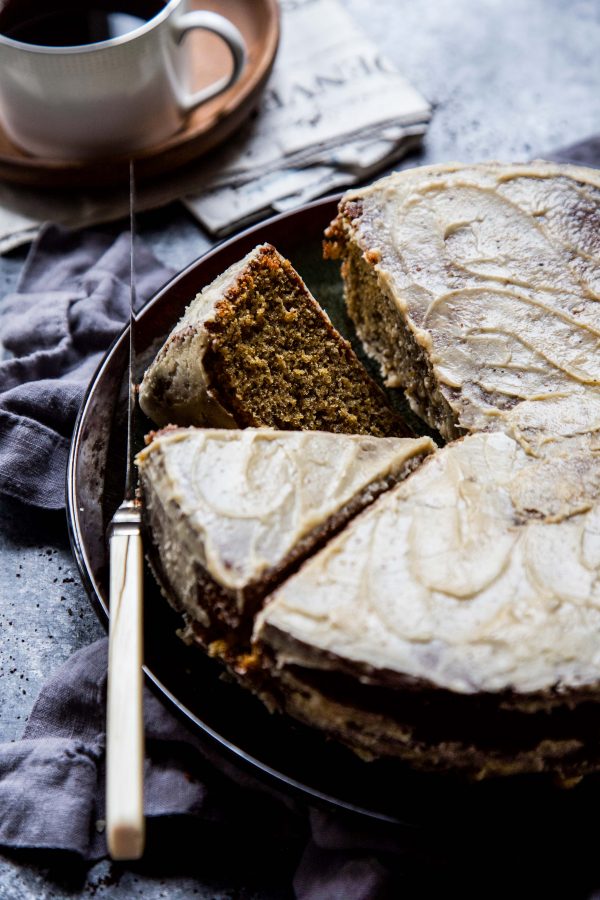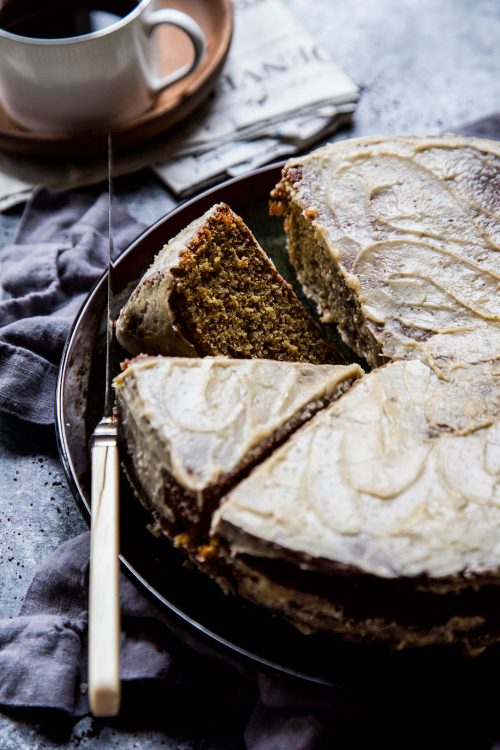 Staying in and making pizza has always been our MO. It's simple, yes, a little cheesy, but for us it works. Plus, I am going to actually make dessert this year! I wanted something with chocolate and felt this Vietnamese Coffee Cake with Brown Sugar Frosting ought to do the trick. Fluffy, dense, and with the coffee infused flavors, we might stand a good chance at staying up past 9pm.
The batter comes together very quickly. Just stir, pour, and bake. Top with frosting if desired or serve as is. Either way this cake will guarantee a little tonsil hockey. If that's your MO.
Happy Valentine's Day!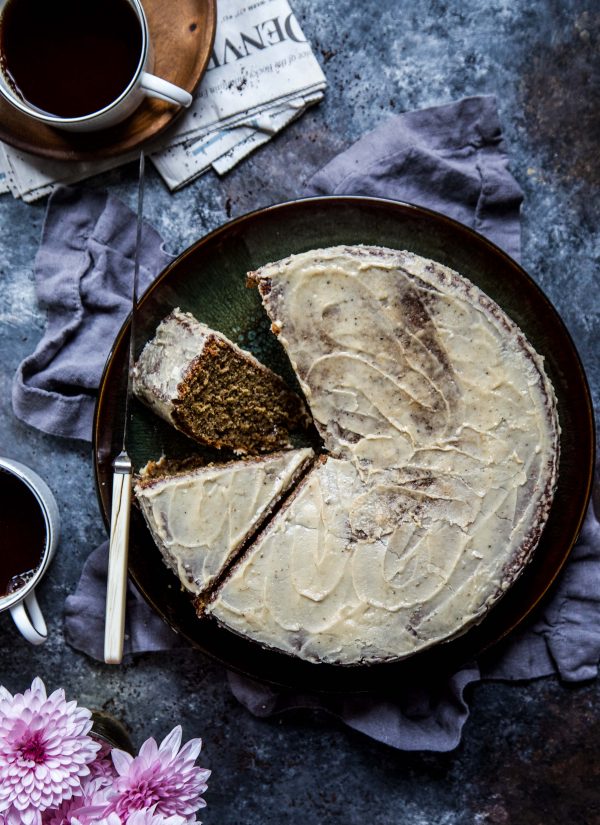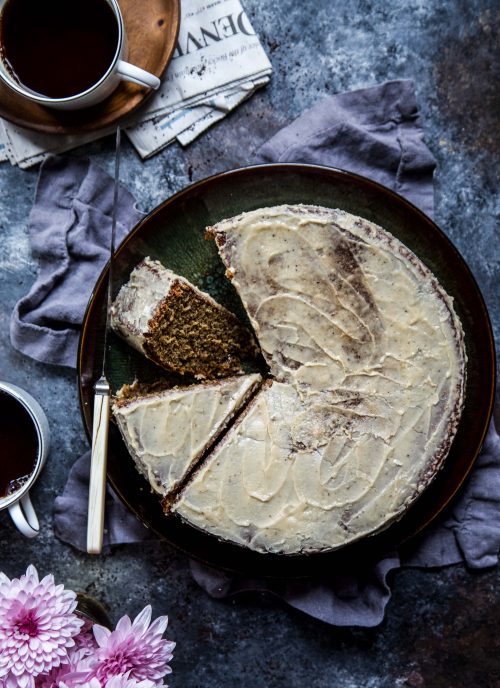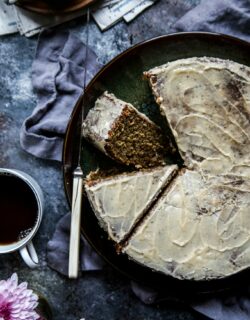 Vietnamese Coffee Cake with Brown Sugar Frosting
Ingredients:
for the cake: 
1/2 cup unsalted butter, room temperature
1/2 cup granulated sugar
1 cup brown sugar
1/2 tsp vanilla extract
2 large eggs
3 tbsp instant coffee, make sure it's powder like
1 1/4 cups plain yogurt
2 1/2 cups all-purpose flour
1 tsp baking powder
1 tsp baking soda
1/2 tsp ground cardamom
1/2 tsp kosher salt
for the brown sugar frosting:
1 cup brown sugar
4 tbsp unsalted butter
1/2 cup heavy whipping cream
2 cups confectioners sugar
2 tsp vanilla extra
Directions:
for the cake:
Preheat an oven to 35o degrees. Spray a 9-inch cake pan with non-stick cooking spray and set aside.
In a stand mixer fitted with a paddle attachment cream together the butter, granulated sugar, and brown sugar until light and fluffy. Next, the vanilla extract followed by the eggs one at a time until well combine.
Next, in a small bowl combine the coffee grounds and yogurt.
In another small bowl combine the flour, baking powder, baking soda, cardamom, and salt. With the mixer running, add the yogurt and dry ingredients alternating until all the ingredients are well combined.
Pour the batter into the prepared baking dish and bake the cake for about 35 to 45 minutes or until a toothpick inserted into the middle runs clean.
Remove the cake from the oven to cool for at least one hour. If the cake deflates in the middle it's okay. Just flip the cake over and frost the top with the brown frosting. Slice and enjoy.
for the brown sugar frosting:
Place brown sugar, butter, and cream in a medium saucepan. Bring to boil and stir making sure everything is well combined. Remove saucepan from heat. In a large bowl, add confectioners sugar and vanilla. Pour the hot brown sugar over the confectioners mixture and beat until smooth. You may want to set the icing in the fridge for about 5 minutes to let it thicken.
All images and text ©