pot roast naan pizza with caramelized onions and fontina cheese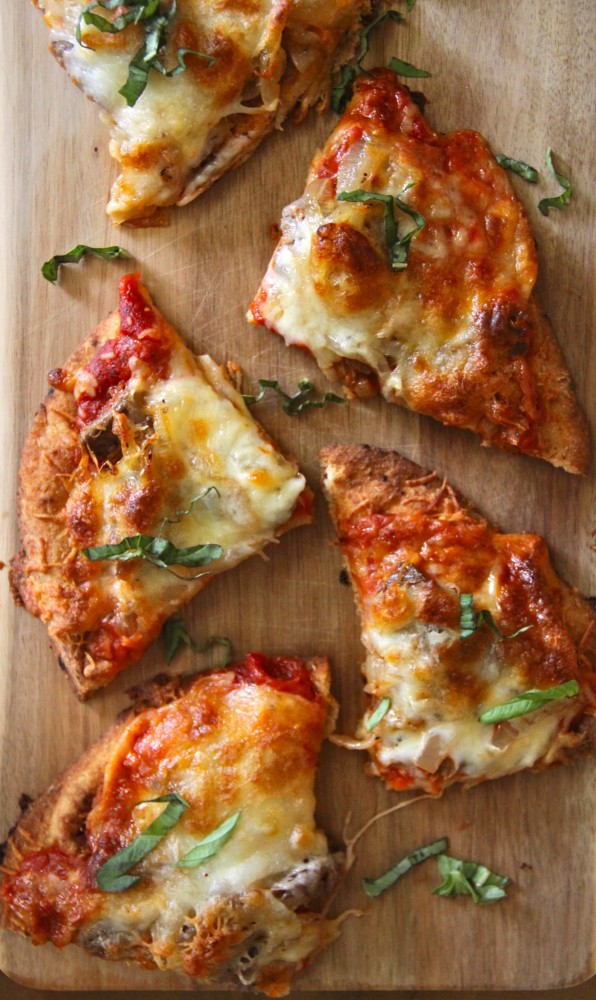 When someone says "pot roast," what comes to mind?
A warm, one-pot meal served during the frigid winter months? A weeknight go-to that could feed an army? A big piece of meat that, if over-cooked, looks like the toasted turkey from Christmas Vacation? Yikes.
Well, what if I told you that Mr. Pot Roast's allegiance is no longer to Old Man Winter? Yep, yep. Mr.Pot Roast is making a break for the warm, sunny months. I realize this may sound like foodie sacrilege to some of you. I can hear Julia Child now: "Do…wha?" But sometimes it's good to go beyond culinary expectation – and that's how pot roast naan pizza was born.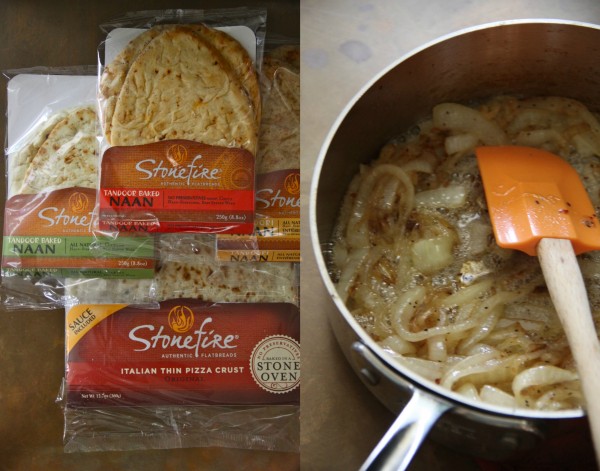 With summer in full swing, I wanted to take a one-pot "winter meal" and turn it into something that's fun to eat even on a day in the 90's. Of course, there's nothing worse than standing over a hot stove for hours on end while it's sizzling outside. Es no bueno. So, you can imagine my excitement when I was contacted by Stonefire Authentic Flatbreads a few weeks ago, who offered to send me a couple samples of their naan tandoori bread.
Do you fancy the naan? The first time I tried it was a couple years ago at an Indian restaurant. I instantly fell in love with the buttery, spiced, tear-drop shaped bread. As a self proclaimed foodie, I knew I needed to try and make naan at home. Let's just say I tried that a few times, and the results were…uninspiring. So what did I do? I went to Whole Foods and found naan in a beautiful package made by Stonefire Authentic Flatbreads. From that moment on, my naan-making days changed forever. What's more, the package reminded me of those ready-made pizza crusts you can also find at the store…now I had an idea!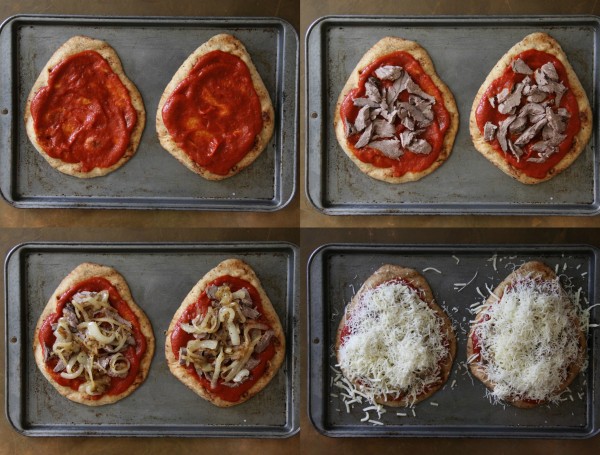 Check out how easy it is to build a naan pizza! Lay naan slices on baking sheet, check. Top with favorite sauces and toppings, check. Bake until all the cheese is melted and eat it even though it burns the top of your mouth, check and check!
The best part about Stonefire Authetnic Flatbreads naan is you can use it in a zillion different combinations – wraps, sammies, or, keep it original and slather on your favorite spread. Is this where I mention HUGE JAZZ HANDS?!
If you're looking for a fun way to spice up a weeknight meal or backyard summer party, this pot roast naan pizza with caramelized onions and (mmmmmm…) fontina cheese will knock your apron off!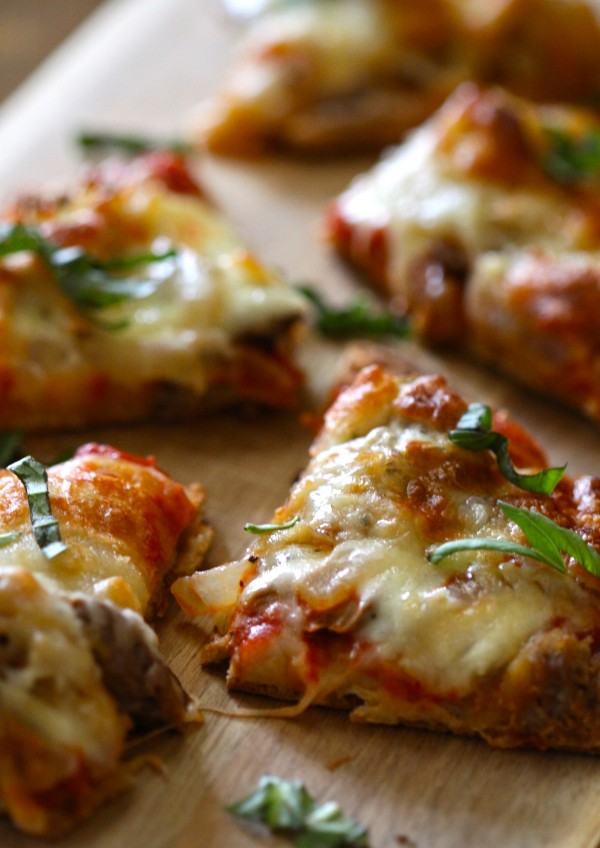 Disclaimer: I was given Whole Grain Tandoori Naan from Stonefire Flatbreads to review. I was not compensated for this post. All opinions expressed are 100% my own.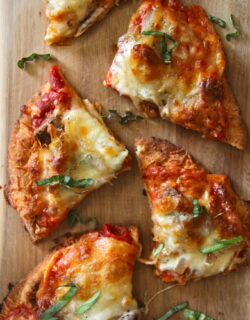 Pot Roast Naan Pizza with Caramelized Onions and Fontina Cheese
Ingredients:
for the pot roast:
3 tablespoon olive oil
3.5 lb boneless chuck roast
2 large yellow onions, sliced
4 large carrots, chopped
1 bay leaf
1/2 cup red wine
1/2 cup beef stock
3 garlic cloves, minced
salt and pepper
for the caramelized onions:
3 tablespoons unsalted butter
2 large yellow onions, sliced
2 teaspoons granulated sugar
salt and pepper
2 packages Stonefire Whole Grain Tandoori Naan
2 cups favorite pizza sauce
1 cup fontina cheese
1 cup mozzarella cheese
1/2 cup fresh basil, shredded
Directions:
for the pot roast:
Preheat oven to 300 degrees.
Set chuck roast out on the kitchen counter for a least an hour before using. This will allow the meat to cook more evenly. Salt and pepper both sides of the chuck roast. In a large Dutch oven preheated to medium-high heat, add 2 tablespoons of olive oil and chuck roast. Sear chuck roast on both sides until a nice golden color appears. Do not over cook. Once seared, take the chuck roast out and set aside.
In the same Dutch oven, add another tablespoon of olive to the pan. Add onions with some salt and pepper. Saute for a few minutes. Then add the carrots, garlic cloves, and bay leaf. Return the pot roast back to the Dutch oven. Add the wine and beef stock. Bring to a simmer and then turn off heat. Place the Dutch oven in the oven and roast at 300 degrees for 15 minutes. Then turn the heat back to 225 degrees and roast for 3 to 3/12 hours. Remove from oven, place roast on a cutting board and let it rest for about 10 minutes. Once rested, cut the roast into bite size pieces.
for the caramelized onions:
In a large skillet preheated to medium heat, add the butter. Once the butter melts, add the onions with a little salt and pepper. Let the onions cooks for about five minutes, stirring so they don't burn. Add the sugar. Stir to combine. The onions will take about 20 minutes to caramelize. Just remember to stir often so they don't burn. Set aside when caramelized.
to assemble the pizzas: place two whole grain Stonefire Tandoori Naan on a baking sheet lined with foil. Place a 1/2 cup of pizza sauce on each Naan leaving a little room for a border. Next, add pieces of the pot roast. Followed by caramelized onions and a 1/2 cup fontina and mozzarlella cheese between the two slices. Repeat the same process for the other two slices of Naan. Bake in the oven at 400 degrees for 15 minutes or until golden brown. Garnish with fresh basil!
All images and text ©