Puffed Pear Pancake
Puffed Pear Pancake is an easy and delicious treat to make for breakfast or dessert! Made with Harry & David Royal Riviera Pears this will be the star of the holiday table.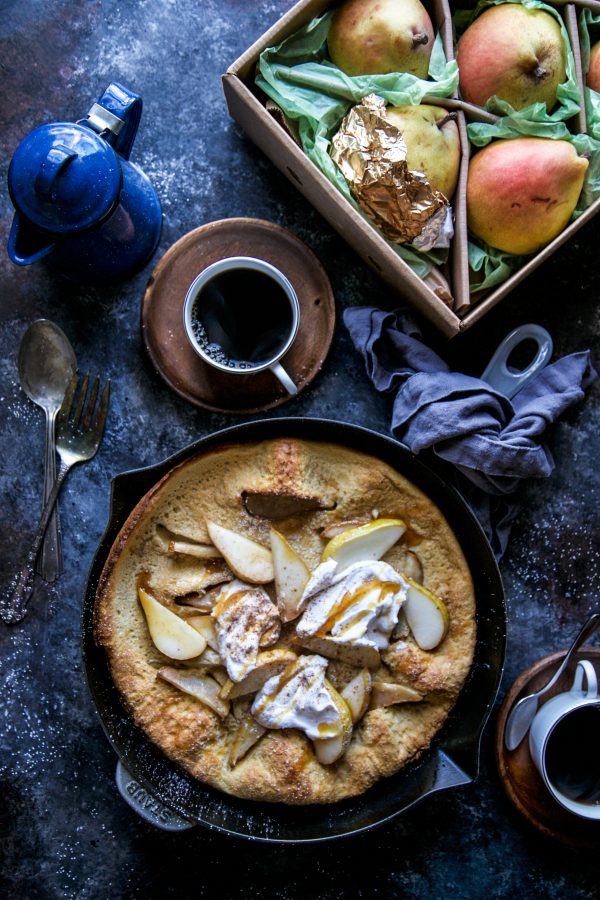 We are in the thick of it.

The holidays that is.

I am slowly chipping away at my holiday shopping list. All I can say is thank goodness for Amazon prime. As a kid I remember having to make several rounds to the mall – 1) for scouting what kind of goods were available and 2) to actually purchase said goods. It was a process indeed.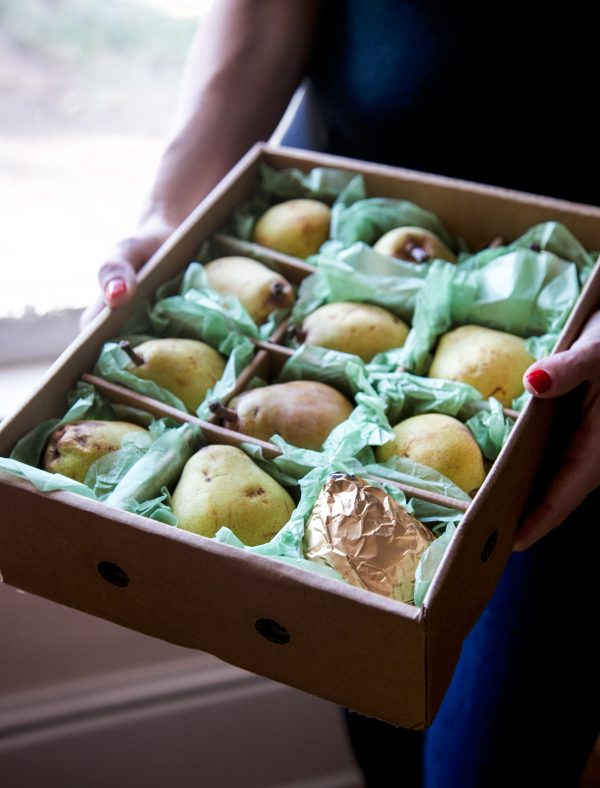 Truth: Mr. B and I still go to the mall on Christmas Eve afternoon just watch the scurry of people finish up their last minute shopping. In past we've actually come out with a few last minute gifts that were definitely 11/10 situation.

Now you can't talk about holiday shopping without mentioning one the best edible gifts out there. I'm talking about Harry and David Royal Riviera Pears. These juicy pears are the definition of gift giving because they taste like heaven and it's something anyone can enjoy all year round.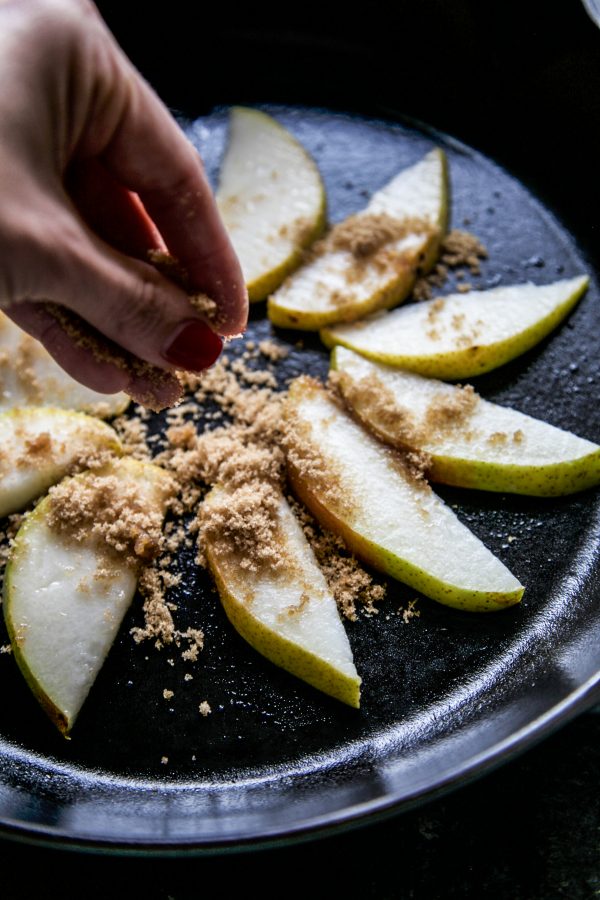 Well, the folks over at Harry and David sent me a box of these buttery, ever so sweet juicy pears and I decided to make us a Puffed Pear Pancake. You read that correctly. What's more magical than a dish that you can eat for breakfast or dessert?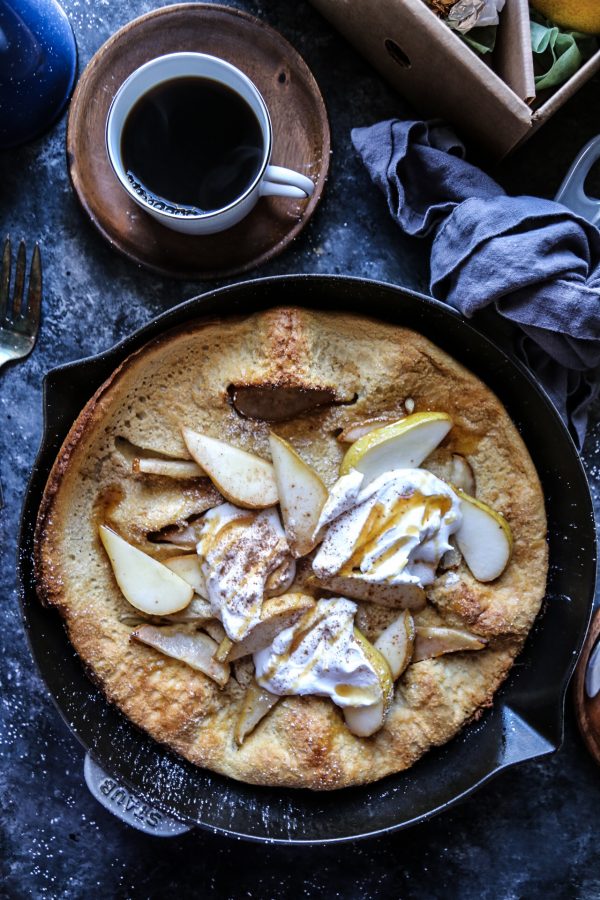 Simply whip up the batter in the blender, pour it into a hot skillet, bake and let the pancake puff up. Top with more Harry and David Royal Riviera Pears, maple syrup and whipped cream. I'm telling you this will be the star at your next holiday gathering!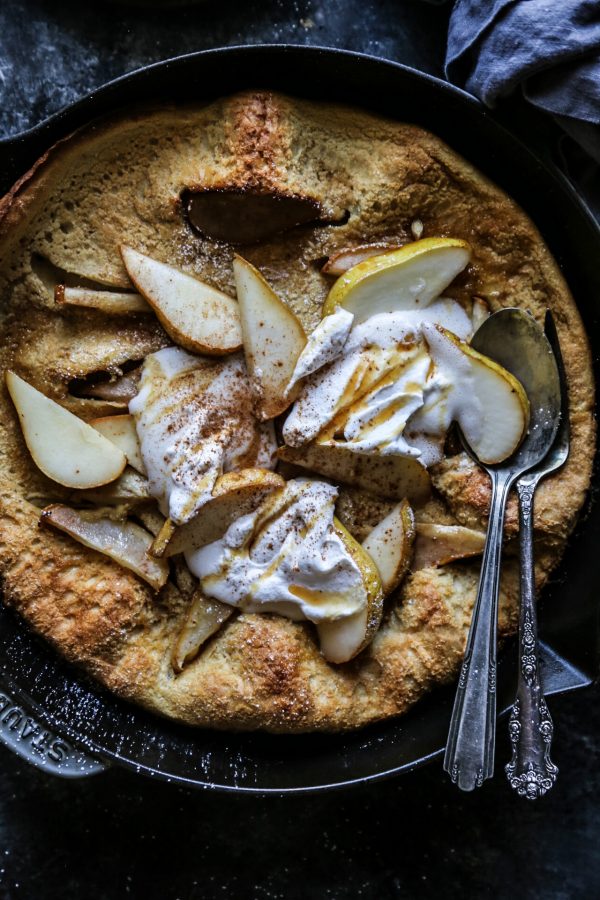 BUT! The best part? Harry and David is offering CGM readers 15% off sitewide! Which means you've got to order some pears or other goodies for yourself or someone special! Just use the Promo Code: GRIER when checking out! So easy!
Now, someone pass me a slice of that puffed pear pancake!
***This post is sponsored by Harry and David. As always all opinions expressed are 100% my own. ***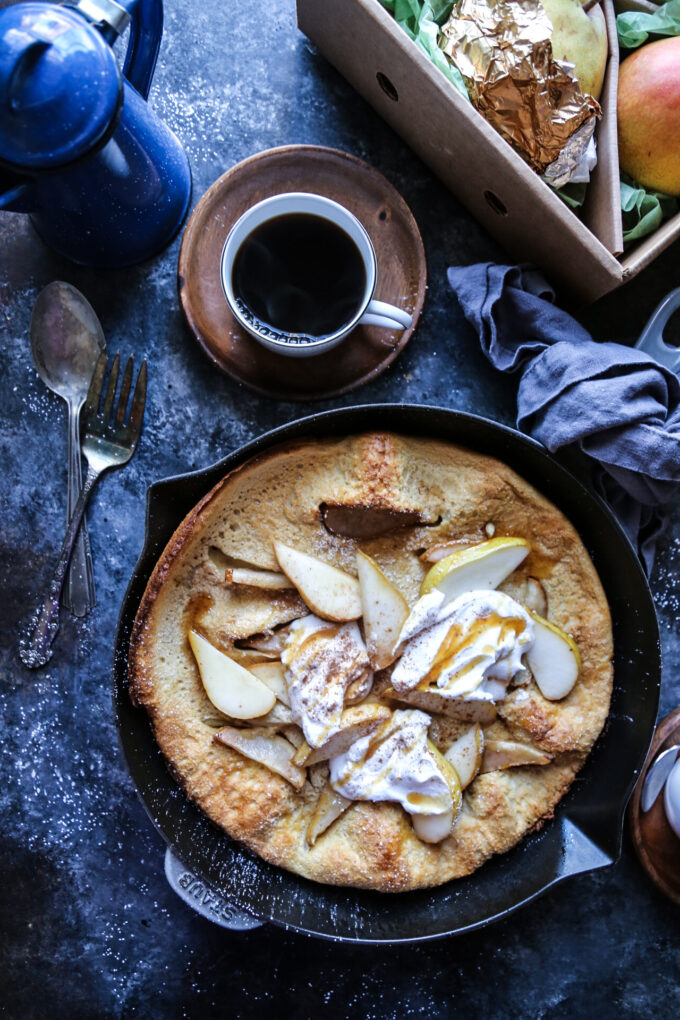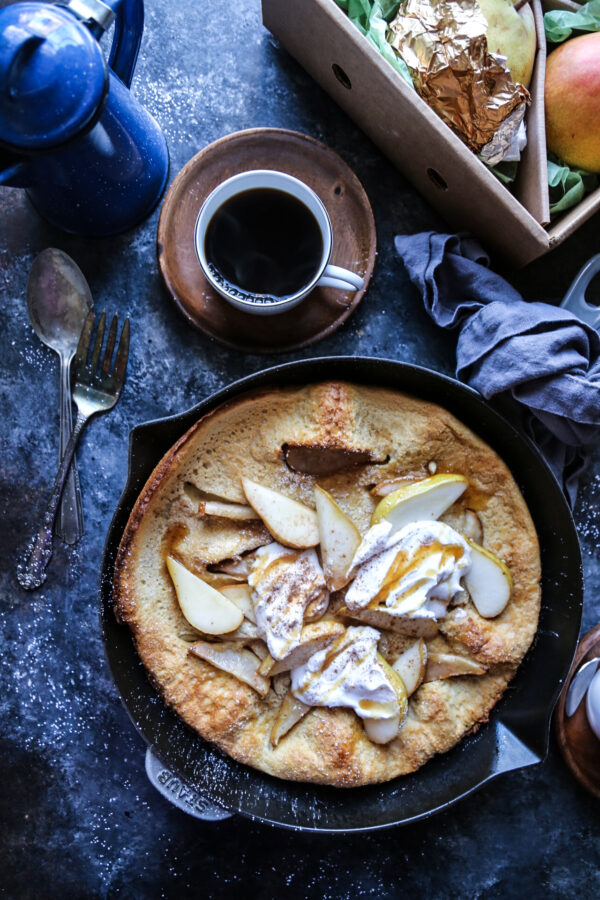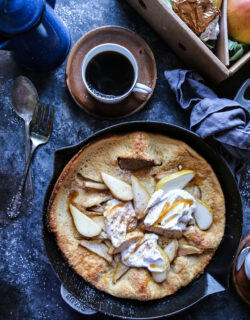 Puffed Pear Pancake
Ingredients:
1 large Harry and David Royal Riviera Pears (roughly 6 to 7 slices) + more for garnish
1 tbsp brown sugar
2 tbsp unsalted butter
2 tbsp unsalted butter melted, slightly cool
4 large eggs
2/3 cups whole milk
2/3 cups all-purpose flour
2 tsp vanilla extract
1/2 tsp ground cinnamon
1/2 tsp kosher salt
whipped cream, for garnish
maple syrup, for garnish
Directions:
Preheat an oven to 450 degrees.
Place a 10-inch cast-iron skillet into the oven for about 10 minutes. You want the skillet nice and hot.
Meanwhile, in a food processor or blender add the eggs, milk, all-purpose flour, vanilla, cinnamon, salt and 2 tbsp melted unsalted butter. Blend everything together until smooth.
Remove the skillet from the oven. Add 2 tbsp unsalted butter to the hot skillet making sure the butter has evenly coated the skillet. Quickly place the sliced pears in skillet. Pour the batter mixture over the pear slices. Sprinkle the brown sugar on top. Place the skillet back into the oven and cook for about 15 to 20 minutes or until puffed and golden brown.
Remove the skillet again from the oven and garnish with more pear slices, whipped cream and maple syrup.
All images and text ©