Pomegranate & Ginger Glazed Chicken Thighs
***This post is sponsored by Just BARE Chicken®. As always all opinions expressed are 100% my own.***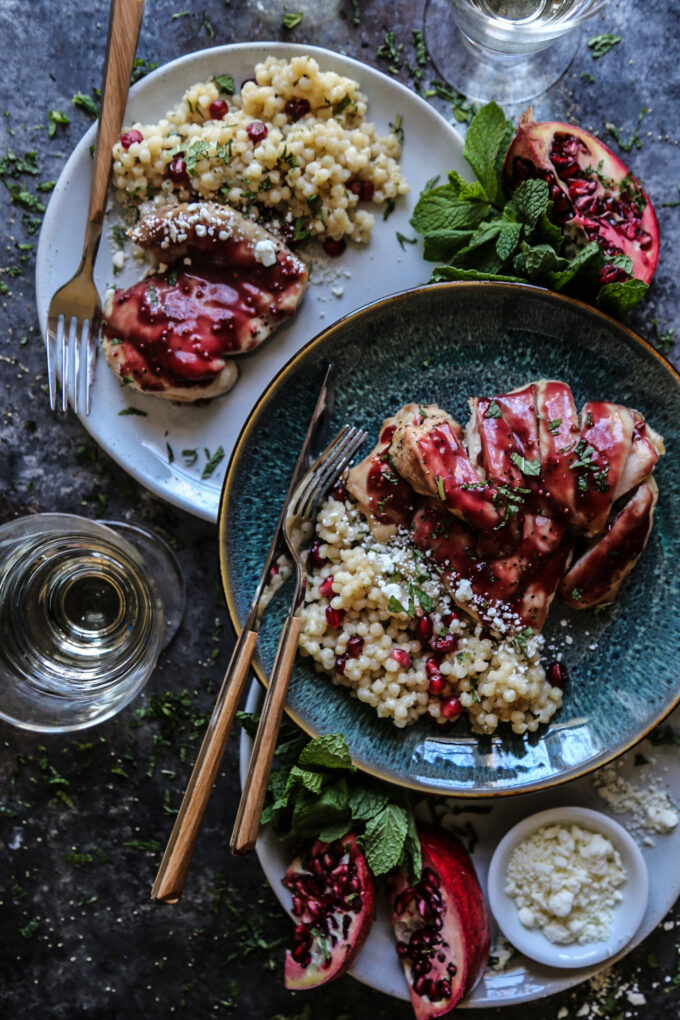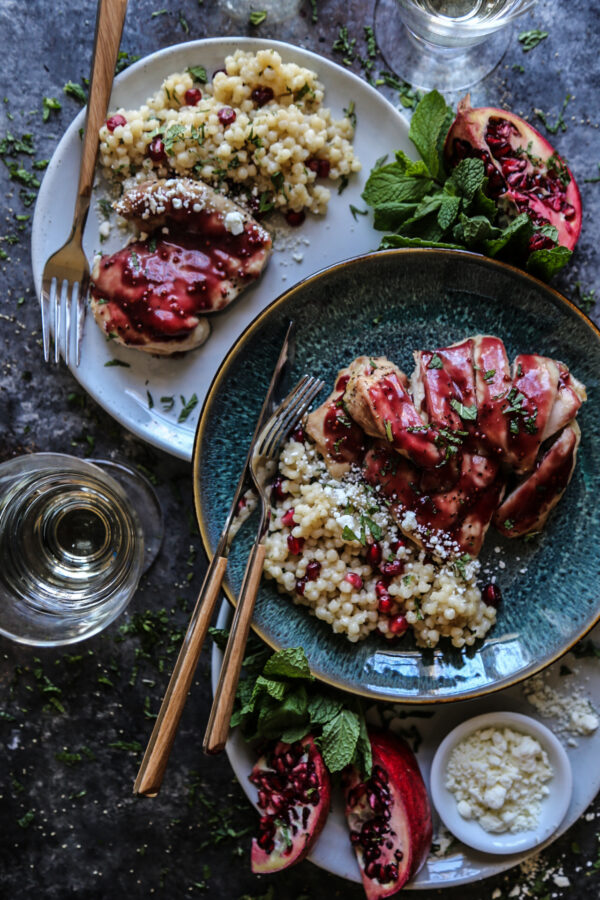 Holiday shuffle.
We are all in it.
Whether you're running to the mall to grab a picture with Santa, making a pit stop at an office gathering, or deciding what to wear for this year's family greeting card, the holidays can make us feel discombobulated. Sometimes I think we should all get on a plane to Mexico and leave all the shuffling behind!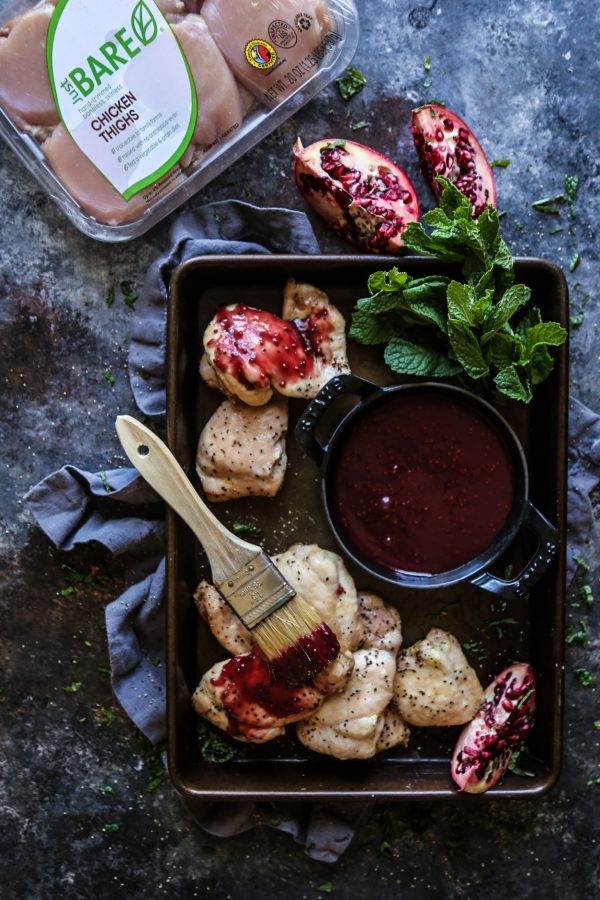 Even though I do enjoy a good Pacific sunset there's something to be said about freshly fallen snow, the smell of pine, holiday lights, and gathering with friends and family. Which is why I find it crucial to make a meal that will give substance without being naughty.
My go-to meal when I need something that is delicious, healthy, but not lacking flavor is always chicken. Like these Pomegranate & Ginger Glazed Chicken Thighs. Isn't it gorgeous? That red hue from the pomegranate ginger glaze makes me swoon. But what makes this dish truly amazing is indeed the chicken thighs.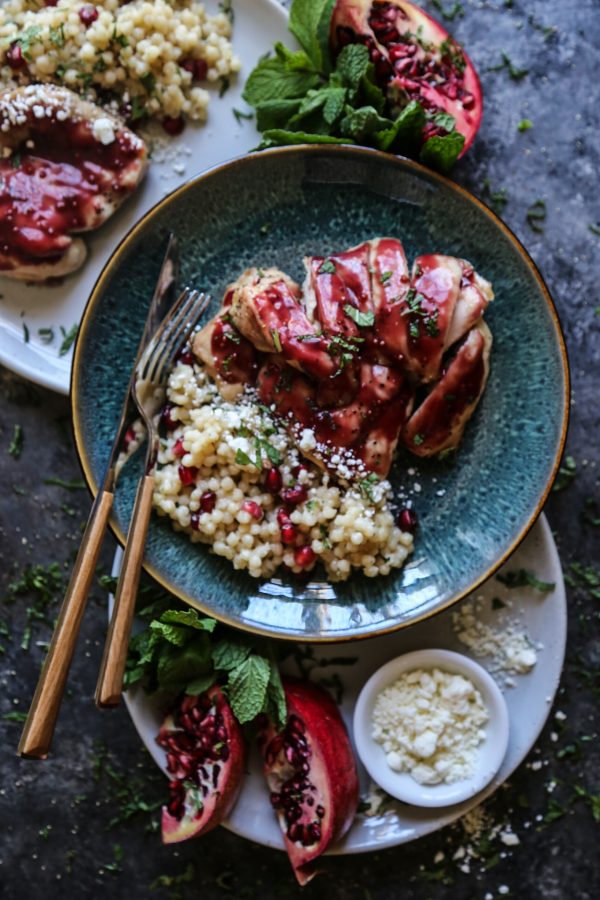 You guys know that I adore Just BARE Chicken. Past few recipes I've made with them are Tahini Marinated Chicken Breasts and Slow Cooker Chipotle Chicken Wings. Well, these chicken thighs are from Just BARE Chicken and are flipping fabulous!
Hand-trimmed chicken that is ready to cook right out of the package. Every package of Just BARE's All Natural chicken features a unique traceability code which means you can trace your chicken back to where it came from. Also, Just BARE chickens are raised with no antibiotics – ever!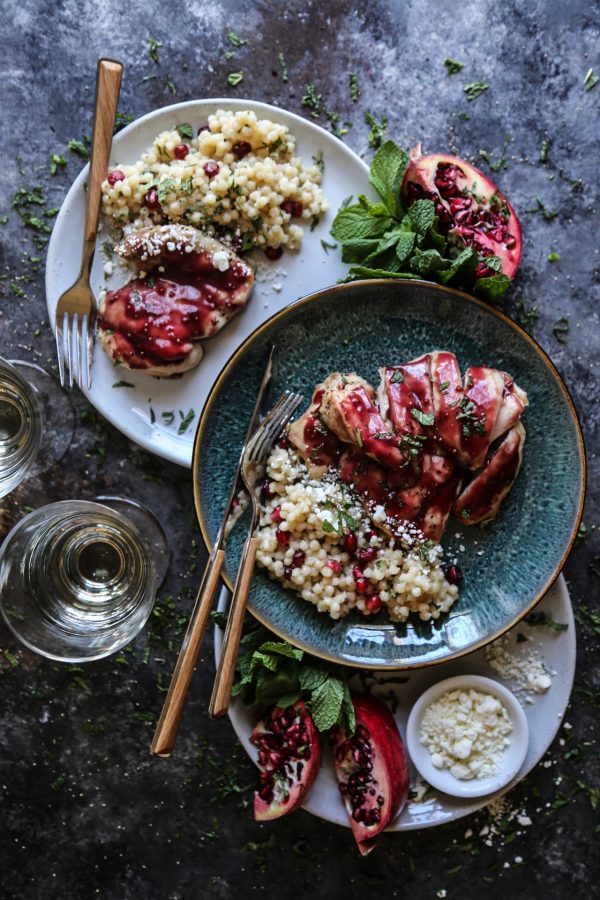 So make the most of your holiday season by whipping up a delicious dish on the fly! To find out more about Just BARE products check out their website. Also, to find a local retailer near you click on the Where to Buy page!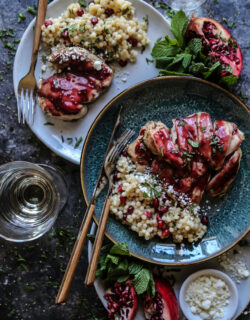 Pomegranate & Ginger Glazed Chicken Thighs
Ingredients:
1 cup pomegranate juice
1 tbsp grated fresh ginger
1 tbsp brown sugar
2 tbsp water
1 tsp all-purpose flour
1 tbsp whole grain mustard
1 tbsp unsalted butter
2 tbsp olive oil
salt and pepper to taste
Israeli couscous, for serving
Fresh mint, for garnish
Pomegranate arils, for garnish
Directions:
Preheat your oven to 400 degrees. Spray a baking sheet with non-stick cooking spray. Place the Just BARE Chicken thighs on the baking sheet. Sprinkle the top of each thigh with olive oil, salt and pepper. Cook the chicken thighs for about 20 to 25 minutes. Remove from oven and set aside.
Meanwhile, in a medium saucepan add the pomegranate juice, ginger and brown sugar. Bring to a boil, whisking occasionally until reduced by half. About 10 minutes. In a small bowl whisk together water and flour. Next, add the flour mixture to the pomegranate sauce. Keep whisking for about a minute. Remove the saucepan from the heat and stir in the whole grain mustard and butter.
Brush the pomegranate ginger glaze on each chicken thigh. Serve the chicken thighs with couscous, fresh mint and pomegranate arils.