Pumpkin Doughnuts with Chocolate Glaze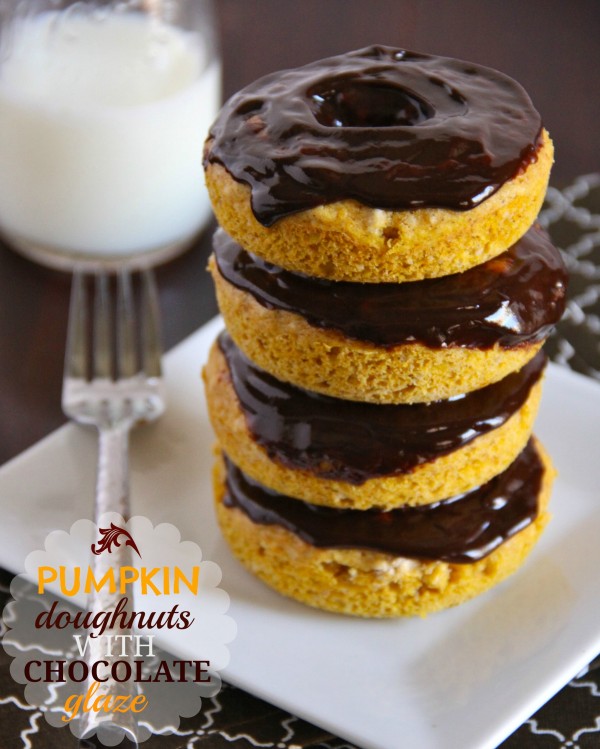 Well, friends, Fall has arrived.
In my mind that is.
I realize it doesn't technically feel like fall due to the 90 degree temperatures we are currently experiencing (seriously, Mother Mature, can we dial back the heat craziness?). Even though we have a few weeks before the fall foliage appears, and temperatures nestle back down to a more appropriate temperature, I'm wasting no time in diving into all things fall.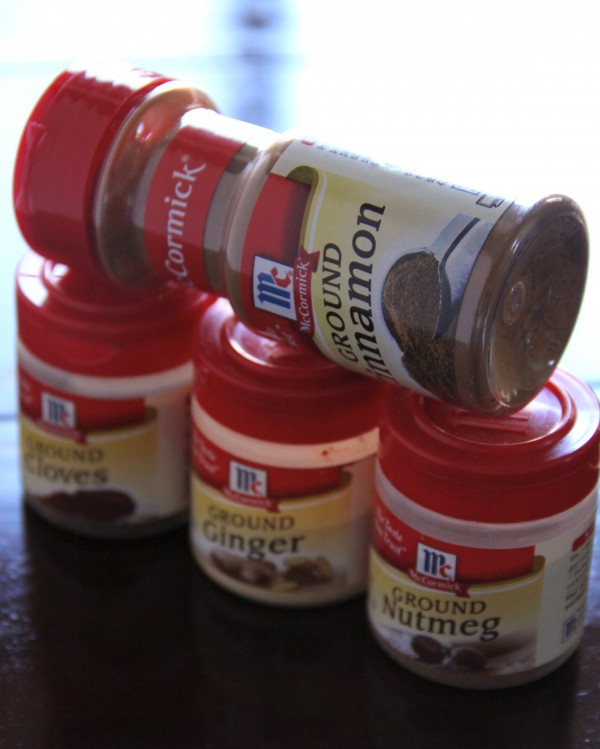 In case you hadn't guessed, it's my favorite season of the year. I mean let's be honest, what's better than pumpkin lattes, boots, college football, and big ol' pots of hearty chili? Yes, summer is quite epic because of the whole – let's hang out on a rooftop patio, sip gin and tonics, and watch the Rockies play ball. However, given all of those things, you can't beat pumpkin patches, dressing up for Halloween, or wearing layers! Am I right? Right.
So, in order to start this fall season off on the right foot, I thought I would share with you a new recipe that I conjured up over the summer. As a kid, my mother would always make this chocolate pumpkin bread that would totally blow your mind. I remember my brothers and I devouring it in 2.2 nano seconds when it came out of the hot oven. Yes, it burnt our tongues just a wee, but we got over that quick, fast, and in a hurry when the chocolate started oozing out.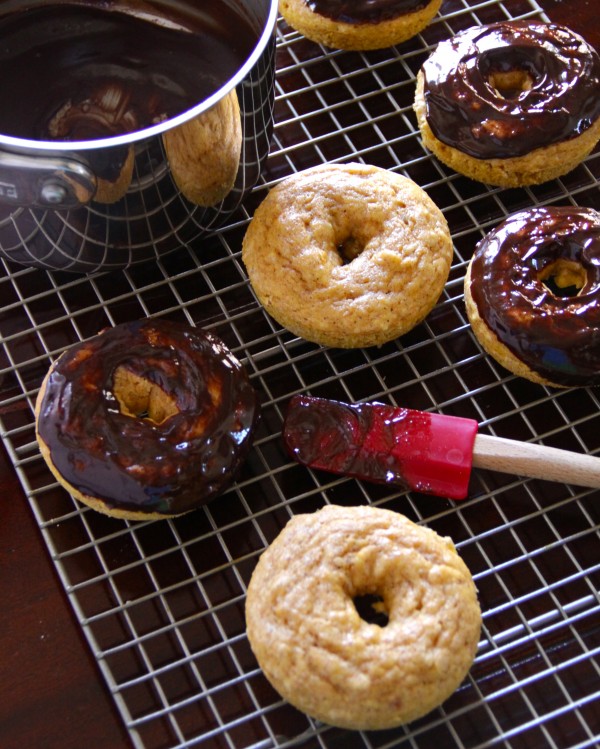 Anyway, as I was brainstorming over the summer trying to forget about the heat, I thought it would be fun to turn this chocolate pumpkin bread into a doughnut. Pretty sweet, huh? I took the basic doughnut recipe I've used before on the blog, but added a few of the Fall Suspects to the batter. Cinnamon, nutmeg, ground ginger, ground cloves, and the star of the fall season, pumpkin!
But the fun doesn't just stop here, my friends! You can't forget about the chocolate glaze. I'm pretty sure there's nothing better than melted chocolate on top of a hot doughnut. Just ask any cop. They wouldn't lie.
If you're excited about fall like I am, you should totally go to Uncle Nordy's wearing your alma mater vintage t-shirt and buy the new Fergie boots, come home and make these doughnuts. Fall, it's major.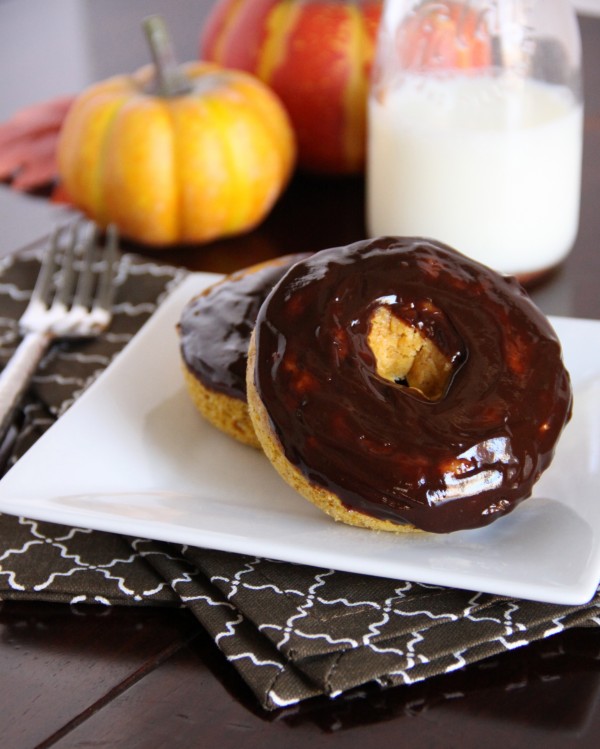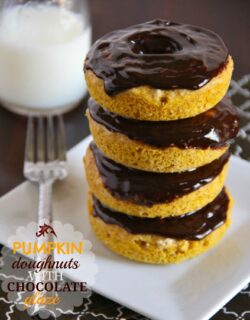 Pumpkin Doughnuts with Chocolate Glaze
Ingredients:
for the pumpkin doughnuts:
2 cups cake flour
2 teaspoons baking powder
1/2 teaspoon nutmeg
1/4 teaspoon ground cloves
1 teaspoon cinnamon
1/4 teaspoon ground ginger
1 teaspoon kosher salt
3/4 cup buttermilk
2 eggs
3/4 cup pumpkin puree
2 tablespoons unsalted butter, melted, cooled
for the chocolate glaze:
1/4 cup semisweet chocolate chips
1 tablespoon butter
1 tablespoon corn syrup
2 teaspoons hot water
Directions:
for the doughnuts:
Preheat oven to 425 degrees. Spray doughnut pan with nonstick cooking spray. In large mixing bowl, sift together cake flour, sugar, baking powder, nutmeg, cloves, cinnamon, ginger, and salt. Add buttermilk, eggs, pumpkin puree and butter. Beat until just combined. Fill each doughnut cup approximately 2/3 full.
Bake 10 to 12 minutes or until the top of the doughnuts spring back when touched. Let cool in pan for 4 to 5 minutes before removing. Finish doughnuts with chocolate glaze.
for the chocolate glaze:
In a saucepan, add chocolate chips, butter, and corn syrup. Turn saucepan to medium heat, and stir frequently until all ingredients are incorporated. Add hot water and stir until glaze is smooth. Add more hot water if glaze is too thick. Glaze doughnuts immediately.
adapted from doughnut pan purchased at William Sonoma
All images and text ©