spicy kimchi micheladas
Spicy Kimchi Micheladas are a fun cocktail to make for any occasion. Kimchi juice mixed with tomato juice and light beer is a must for happy hour!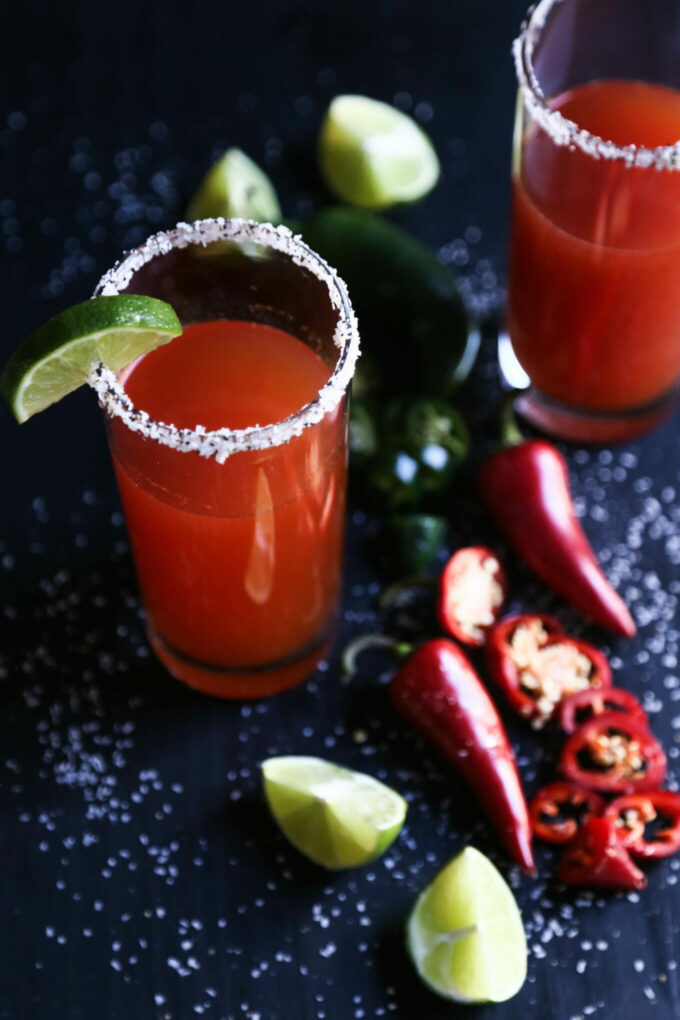 The other day, I was pushing my obnoxiously loud shopping cart through the aisles of Target.
I always make the poorest choice when it comes to selecting a cart. Mine always sounds like a screaming banshee being run over by a fire truck. I feel as though people mean mug me not only because you can hear me coming from a mile away, but that my cart picking skills are not up to par.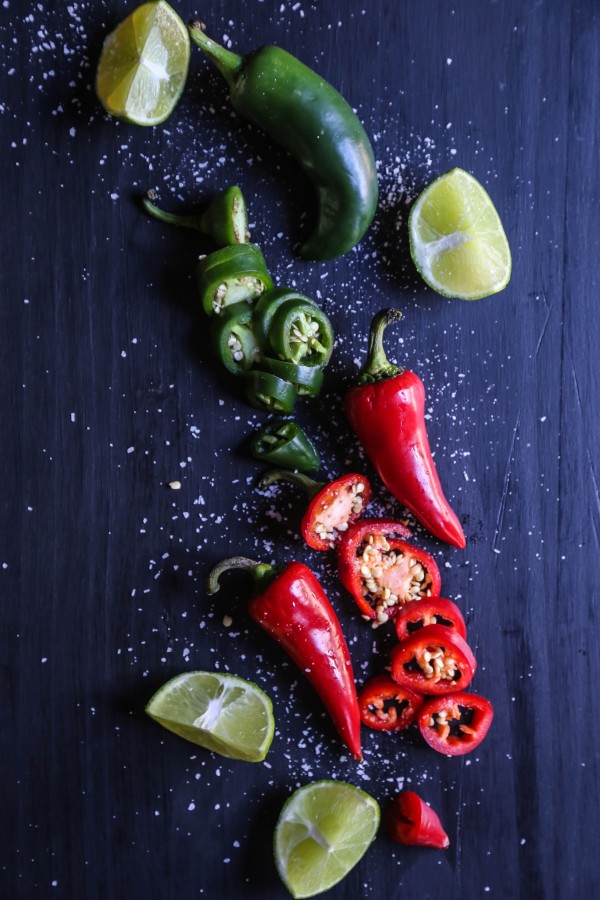 Truth: sometimes I grab a basket because I am deathly afraid of having a loud cart. I'd rather have an overflowing, 52lb basket to lug around then incur one more annoyed stare. Whoa, that feels good to admit.
ANYWAY, I was pushing my ridic cart and noticed out of my peripheral a pair of floral bell bottoms hanging in the clothing section. I chuckled for a moment and thought to myself there's no way those are actually bell bottoms. Well, I stopped, turned, and gave these pants a good mean mug once over. And sure enough, my brain revealed it was indeed bell bottoms. So, for reals, are these in? Because if they are you can bet your sweet tookus I am not purchasing pair. I thought these died a horrible death?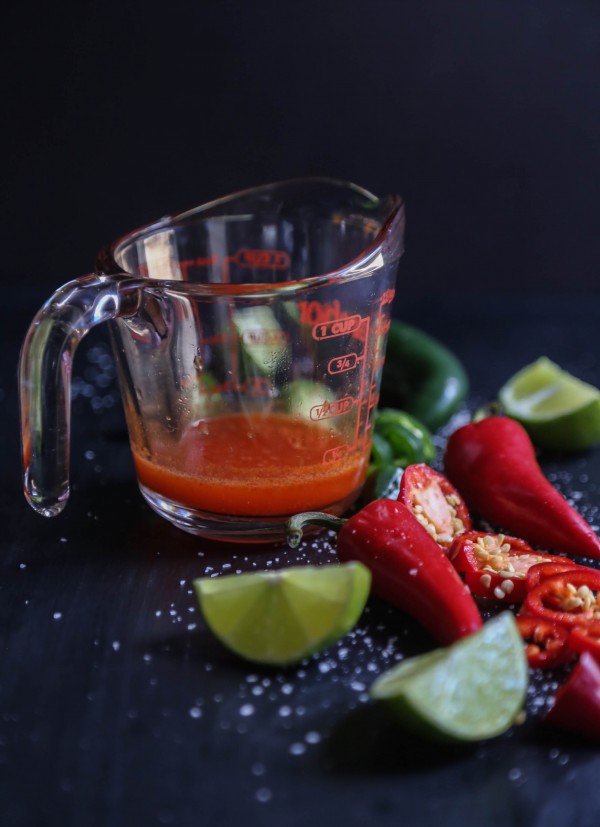 Meh. What can you do? Oh, I know! Why not pretend bell bottoms don't exist and make one of these Spicy Kimchi Micheladas instead? This cocktail is sort of smash-up of a Bloody Mary and a standard Michelada. I added kimchi juice, tomato juice, and Corona to this giggle juice concoction. This bad boy is best served on those days where you feel like lounging under the sun and with zero distractions. Just sip, and forget about the noisy cart and bell bottoms.
Cheers!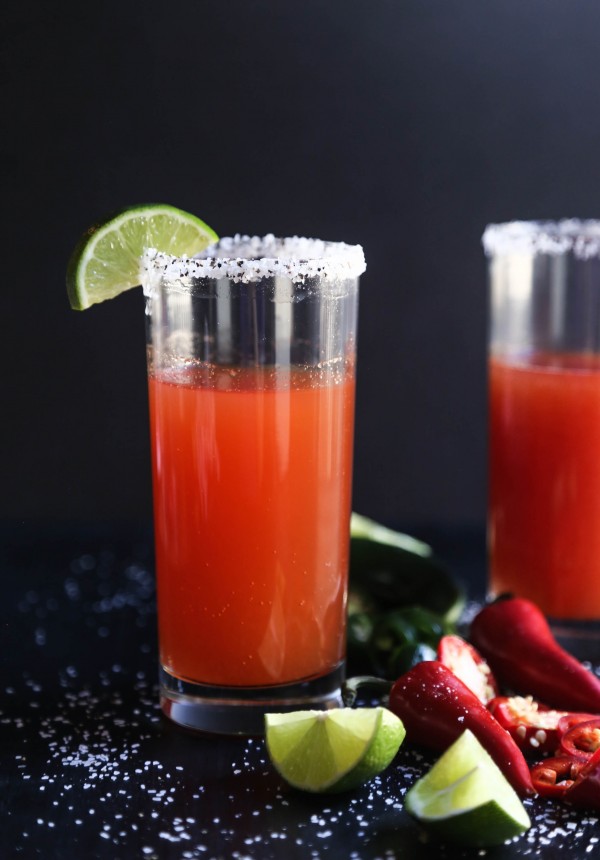 Spicy Kimchi Micheladas
Ingredients:
2 12oz cans Corona (or any light Mexican beer)
1/2 cup kimchi juice
1/2 cup tomato juice
2 tablespoons lime juice
1 Serrano, pureed
1/2 jalapeno, pureed
Kosher salt
Coarse ground pepper
Lime wedges, garnish
Ice (if desired)
Directions:
In a large pitcher, combine kimchi juice, tomato juice, lime juice, Serrano, and jalapeno. Place pitcher in the fridge and let the flavor combines for at least 30 minutes. Place a fine mesh strainer over another pitcher and pour the chilled kimchi mixture through the strainer. Next, pour kosher salt and pepper onto a small plate mixing with your fingers. Take a lime wedge and rub the edges of a cocktail glass. Flip the glass upside down and dab the top into the salt/pepper mixture. Repeat with other glass. Next, divide the kimchi strained mixture between the two glasses (should fill halfway) and pour Corona to fill the glass. Garnish with a lime wedge and serve.
All images and text ©
"In conclusion, Spicy Kimchi Micheladas offer a bold and unique twist to a classic cocktail, delivering a zesty flavor experience that's sure to tantalize your taste buds."