Steak Fajita Chili
Steak Fajita Chili is a delicious, one-pot meal perfect to serve during the week or weekend!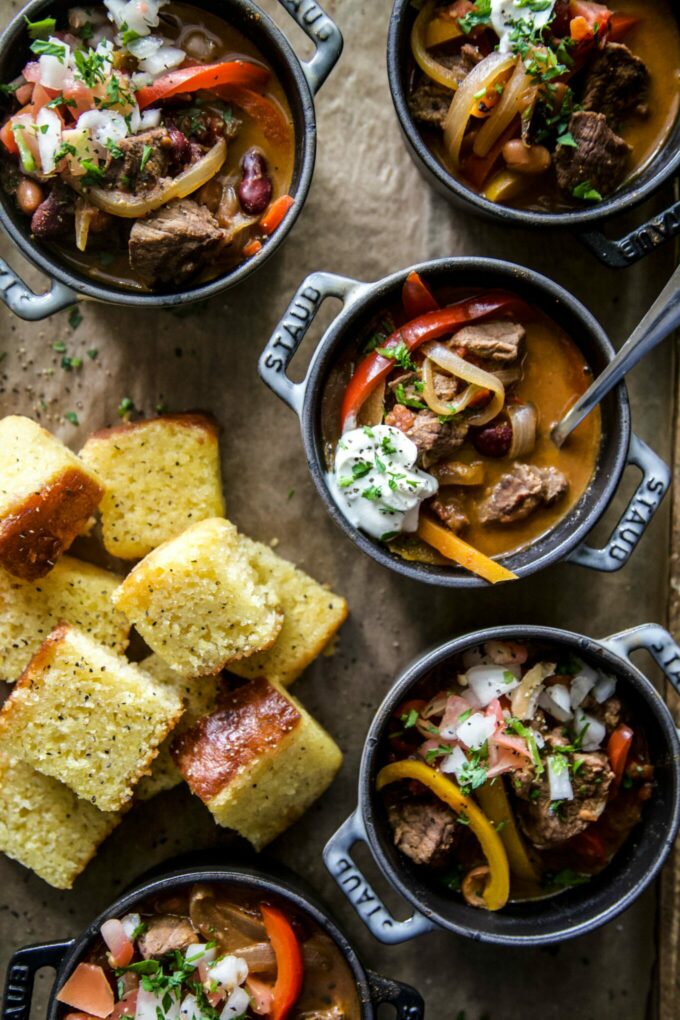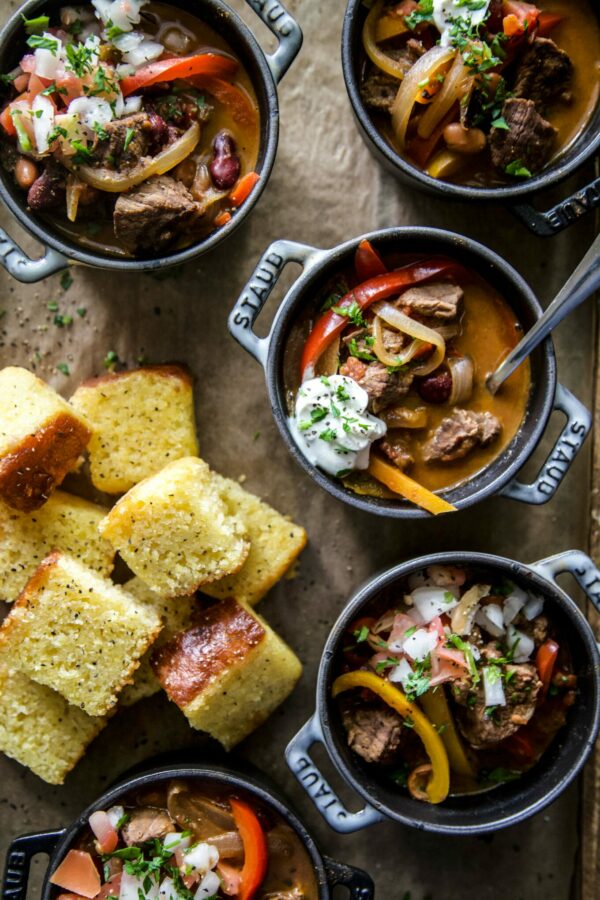 Who's excited?
For Halloween that is. Can you believe it's this Thursday? 

As you all know my love for Halloween runs deep. Growing up my mother always went all out to celebrate this ghoulish holiday. By the way today is her birthday! "Happy Birthday, MOM!"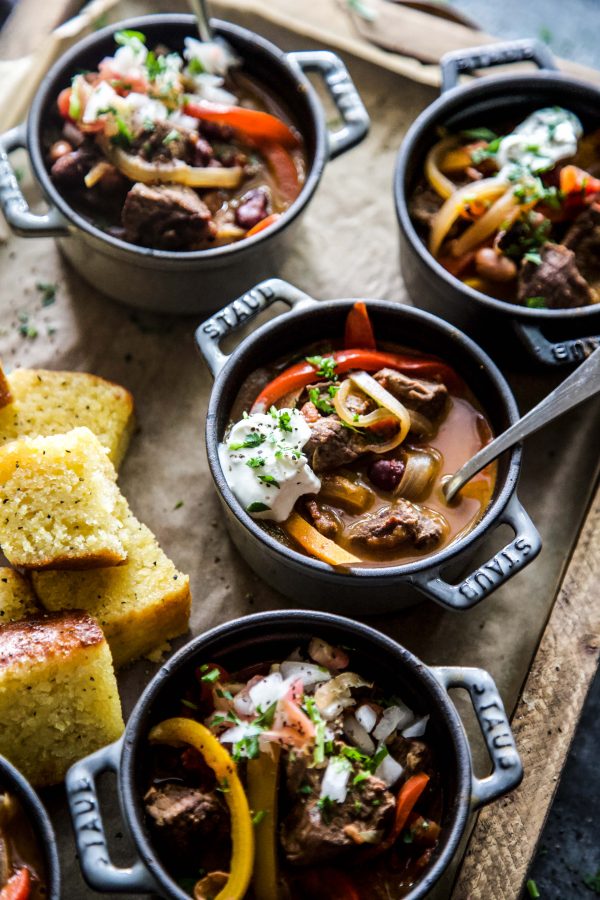 We decorated a dummy named Ferdinand who resided on our front porch, carved pumpkins, played the Monster Mash song on repeat, went on haunted hayrack rides and ate a lot of candy. It felt way more magical than Thanksgiving and Christmas. Don't get me wrong, I love those holidays. BUT! Halloween just has a special place in my heart.
Now that I am mom, I can't wait to have Charlie experience all the fun things I did as a kid. Starting with costumes of course. YOU GUYS are going to flip over our costumes this year. The idea was totally Mr.B's and I must say he nailed it. The theme is from a cult classic movie. I can't wait to show you on Thursday!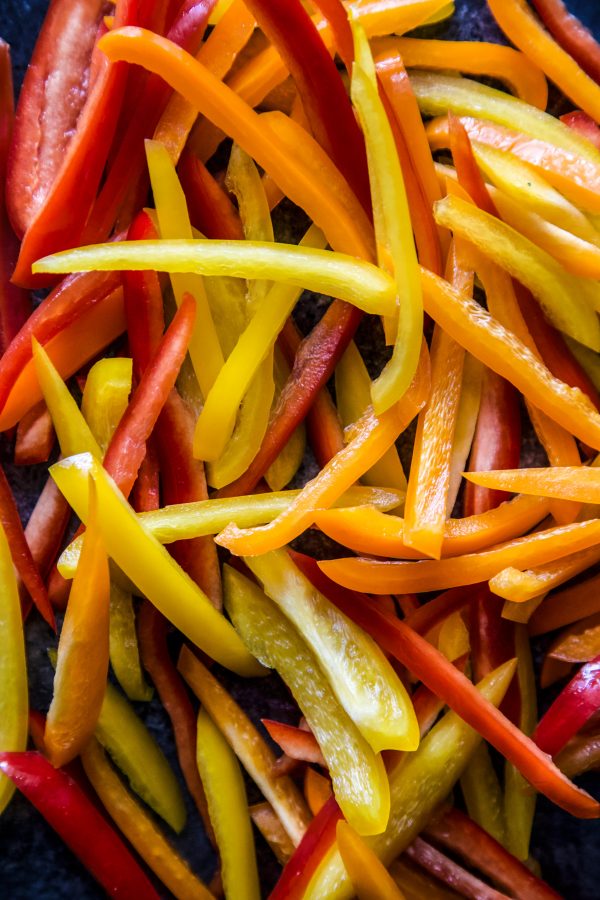 The costumes are a must when it comes to celebrating Halloween, but another tradition is making a big pot of chili. We gobbled it up when I was kid. Which now I get because it's a warm dish that's basically protein to help keep children full while hitting the streets looking for candy.
Anyway, we are having a few folks over and my plan is to make a slightly different version from last year. Steak Fajita Chili is taking two of my favorite dishes – fajitas and chili and mashing them together. Making this one-pot dish is still super simple. All you need to add is more peppers and spices. That's it! 
Serve it as big a$$ chili bar with all the fixings and then get your BOO on!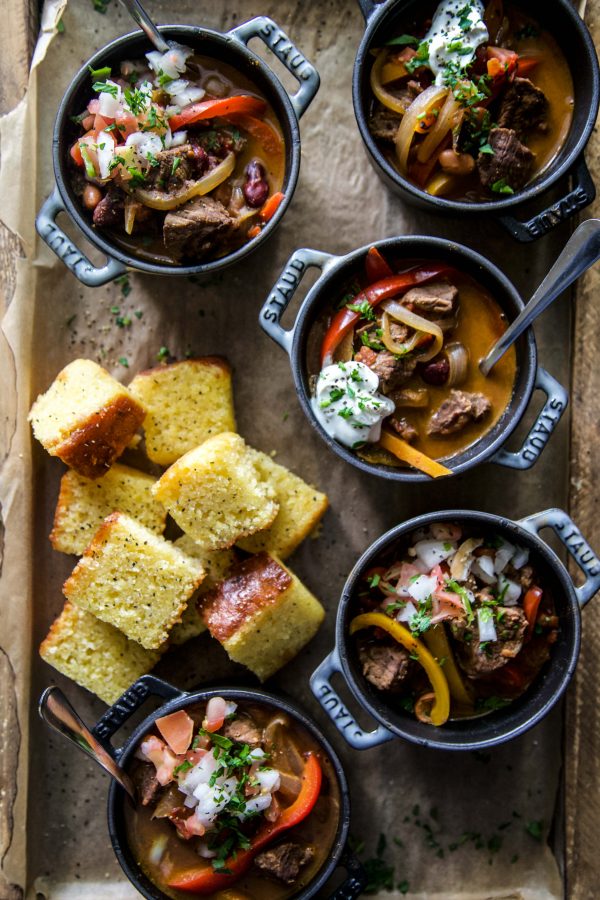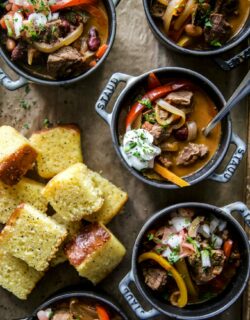 Steak Fajita Chili
Ingredients:
1 tbsp olive oil
1.5 lbs beef cubes (about 1-inch pieces)
1 yellow onion, sliced thinly
4 garlic cloves, minced
2 tbsp chili powder
1 tbsp chopped canned chipotle chile in adobo sauce
2 tsp ground cumin
2 15oz cans kidney beans, rinsed and drained
1 28oz can fire roasted diced tomatoes, undrained
2 cups chicken stock
1 1/2 tsp kosher salt
2 yellow bell peppers, cut into strips
1 red bell pepper, cut into strips
1 green bell pepper, cut into strips
Sour cream, garnish
Cilantro, garnish
Directions:
In a large Dutch oven preheated to medium-high heat, add the olive oil and half of the beef cubes. Cook the beef for a few minutes until browned. Remove beef from the pan and repeat the step with remaining steak. Once browned, place beef on a plate and set aside.
In the same Dutch oven add the onion and garlic. Cook for a few minutes or until the onion is tender. Next, stir in the chili powder, chipotle chile and cumin. Cook for about a minute.
Add in the kidney beans, tomatoes, stock, pinto beans, and kosher salt. Bring the mixture to a boil. Return the beef to Dutch oven, cover and reduce heat to low and simmer for 30 minutes.
Stir in the bell peppers and continue to cook for an additional 30 minutes. Once cooked, ladle the chili into a bowl and top with garnishes.
All images and text ©