Roasted Butternut Squash & Poblano Three Cheese Pizza
Roasted Butternut Squash & Poblano Three Cheese Pizza is a delicious, cheesy autumn meal that's easy to prepare!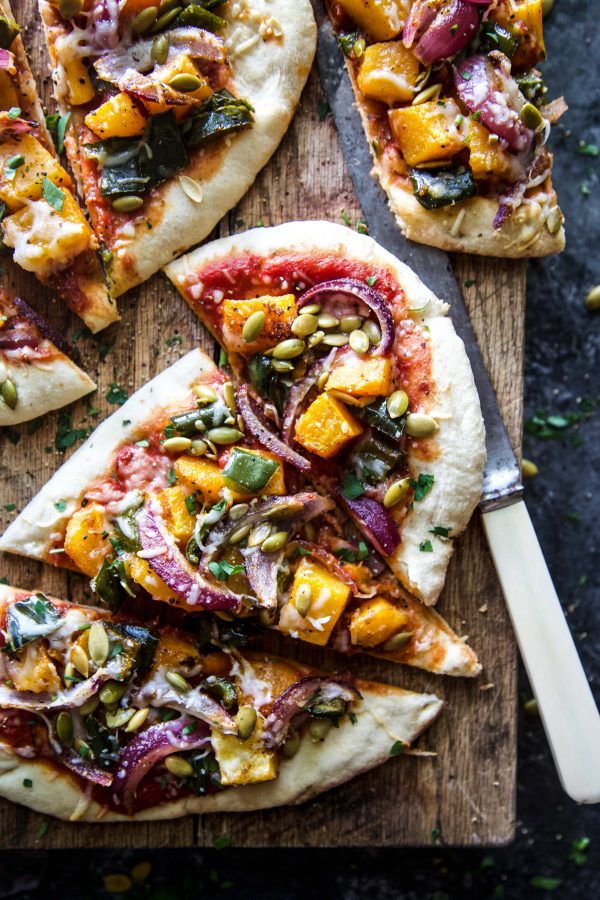 Three months.
No seriously.
There are only three months left in this decade. DO WHAT? When Mr. B casually brought that to my attention other day, I kind of freaked out for a minute. Like, where the hell did the time go? Did I accomplish enough in ten years? Does it even matter? It's a lot to process.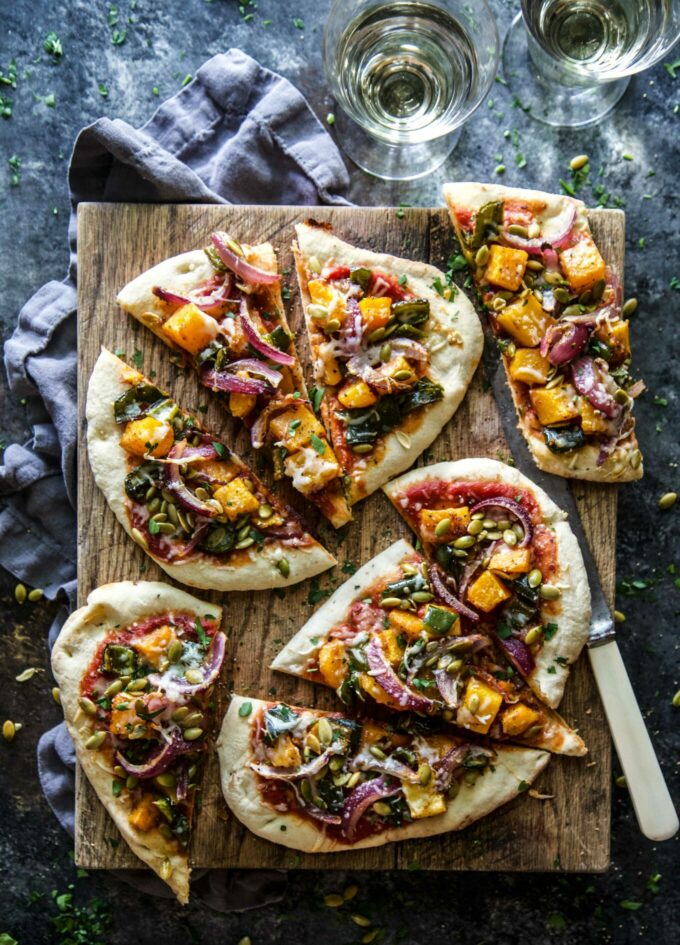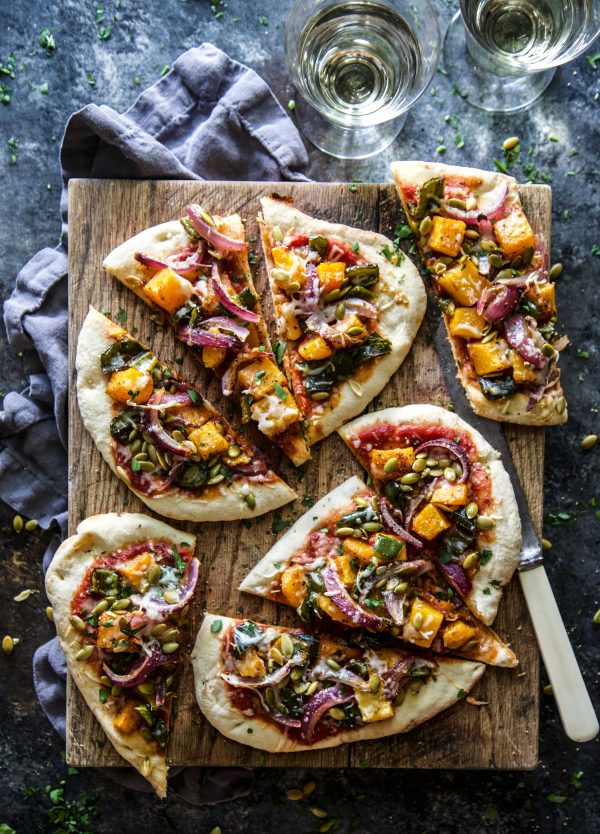 I took a deep breath and realized I started blogging ten years ago. Can I get a high-five? I also quit my full-time job in finance to become a cookbook author. What else…..oh! Went to Jordan to celebrate our ten year wedding anniversary. Moved three times in the same zip code. Welcomed a dog and a baby. So this decade has been busy!
With that, I think these last three months I'm just going to Netflix and chill. Or something basic because after having Charlie I need a moment to just be. You know, regroup and refocus before we start down another decade. Does that make sense? What are you doing these last three months besides surviving the holidays?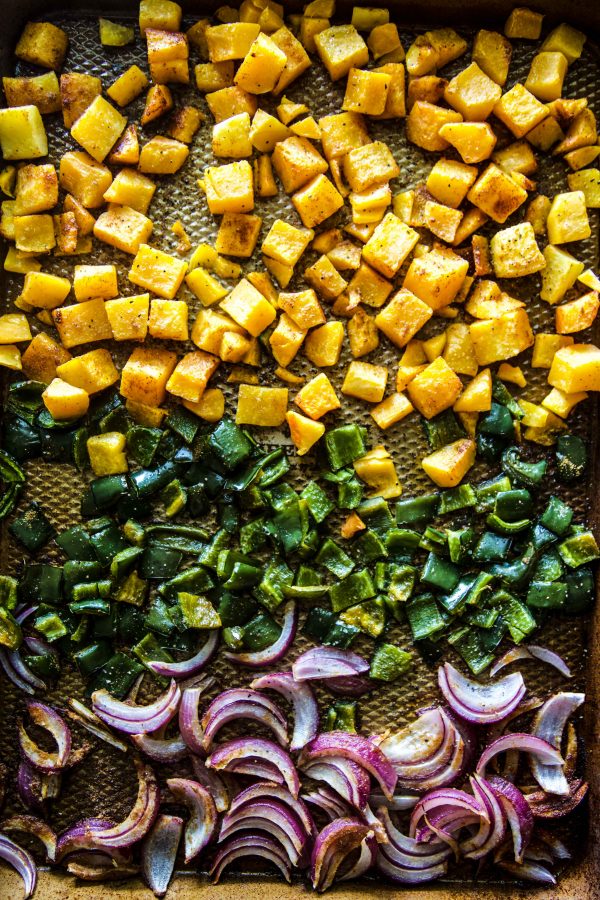 If you need something to do you might want to make this Roasted Butternut Squash & Poblano Three Cheese Pizza. What's not to like about roasted squash, peppers, and copious amounts of cheese? The flavor of this pizza is full of autumn spice and is super easy to prepare. Just roast the veggies, pile it on some flatbread and bake.
Love this as a quick appetizer to serve at your next harvest gathering. Also, it's great washed down with an apple cider cocktail.
Alright, the countdown is on.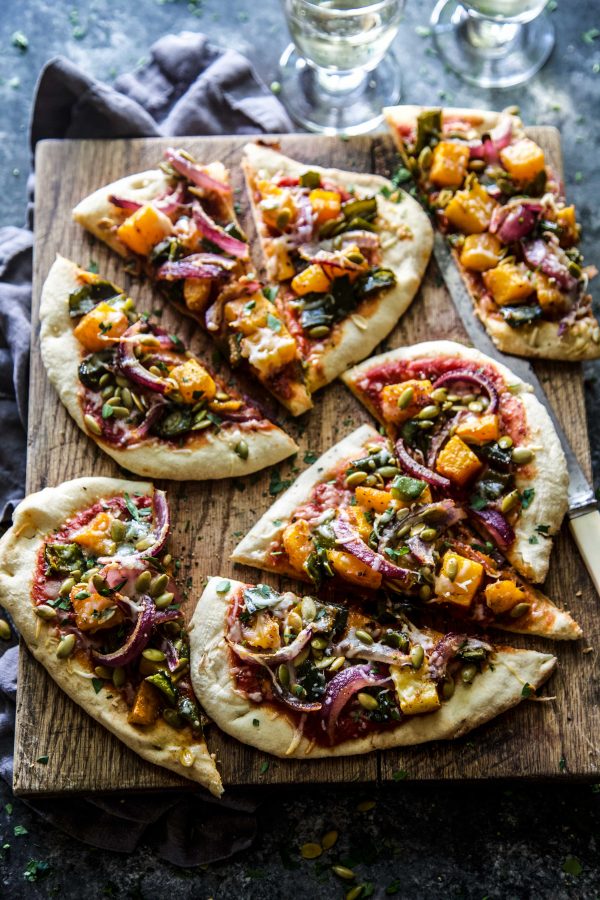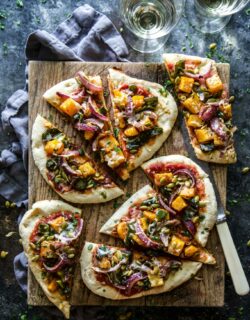 Roasted Butternut Squash & Poblano Three Cheese Pizza
Ingredients:
2 cups peeled and cubed butternut squash
1 poblano chile, seeded and chopped
1 small red onion, chopped
1 1/2 tbsp olive oil
3/4 tsp ground cumin
1/2 tsp paprika
1/4 tsp ground cinnamon
1/4 tsp kosher salt
1/8 tsp cayenne pepper
1 cup favorite pizza sauce, divided
1 cup shredded mozzarella, divided
1 cup shredded provolone, divided
1 cup shredded white cheddar, divided
4 pieces Naan flatbread
Queso fresco, for garnish
Fresh cilantro, for garnish
Roasted pepitas, for garnish
Directions:
Preheat an oven to 400 degrees. Spray a baking sheet with non-stick cooking spray. In a large bowl combine the butternut squash, poblano, red onion, olive oil, cumin, paprika, cinnamon, kosher salt and cayenne. Take the squash mixture and spread it evenly onto the baking sheet. Cook the veggies for about 20 minutes (or until golden) tossing midway.
Remove the baking sheet from the oven and set aside. Next, place the pieces of Naan on another baking sheet. Divide 1/4 cup of the pizza sauce onto each piece of Naan. Top the sauce with a mixture of veggies and about 1/4 cup mozzarella, 1/4 cup provolone and 1/4 cup white cheddar. Place the baking sheet back in the oven for about 10 minutes or until the cheese has melted. Remove from oven and garnish with queso fresco, cilantro and pepitas. slice and serve.
All images and text ©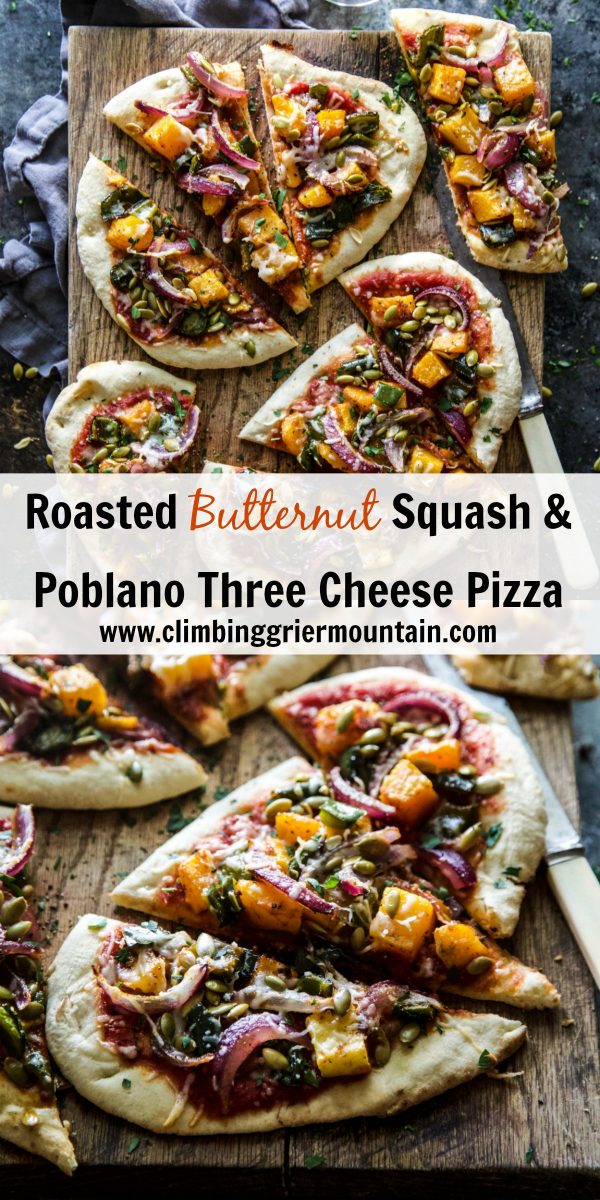 In conclusion, our Roasted Butternut Squash & Poblano Three Cheese Pizza is a culinary masterpiece that tantalizes your taste buds with a harmonious blend of roasted squash, smoky poblano peppers, and three luscious cheeses. A savory delight that leaves a lasting impression.