Leftover Turkey Tamale Pie
Leftover Turkey Tamale Pie is a delicious, cheesy one-pot meal that's a great way to use up Thanksgiving leftovers!
I know.
Here I am the day before Thanksgiving and I'm already talking leftovers.
But! Let's be real. The reason we have Thanksgiving is because of the leftovers, right? Thought so. Personally, I think everything tastes better the next day and that's saying a lot coming from a person that is not super into leftovers the rest of the year.
So, I'm curious, what's your go-to way of eating Thanksgiving leftovers? Are you the brunch style and toss an egg on top? Are you traditional and make another turkey feast day plate? Or are you build and sandwich a mile high with all the fixings? If I had to pick I would slap an egg on top and call it good. There's nothing better than a runny egg over stuffing.
Anyway, given all these variations of leftovers, I thought it would be fun to add another option. Because you can't have too many ways of turkey consuming. This Leftover Turkey Tamale Pie is damn good y'all. I tossed the turkey with my favorite Mexican spice mixture that hails from my cookbook. Combine the spiced turkey with gravy, black beans, stuffing and enchilada sauce. Spread this mixture over polenta and bake until cheesy! Time for the turkey dance!
Hope y'all have a wonderful Thanksgiving! Cheers!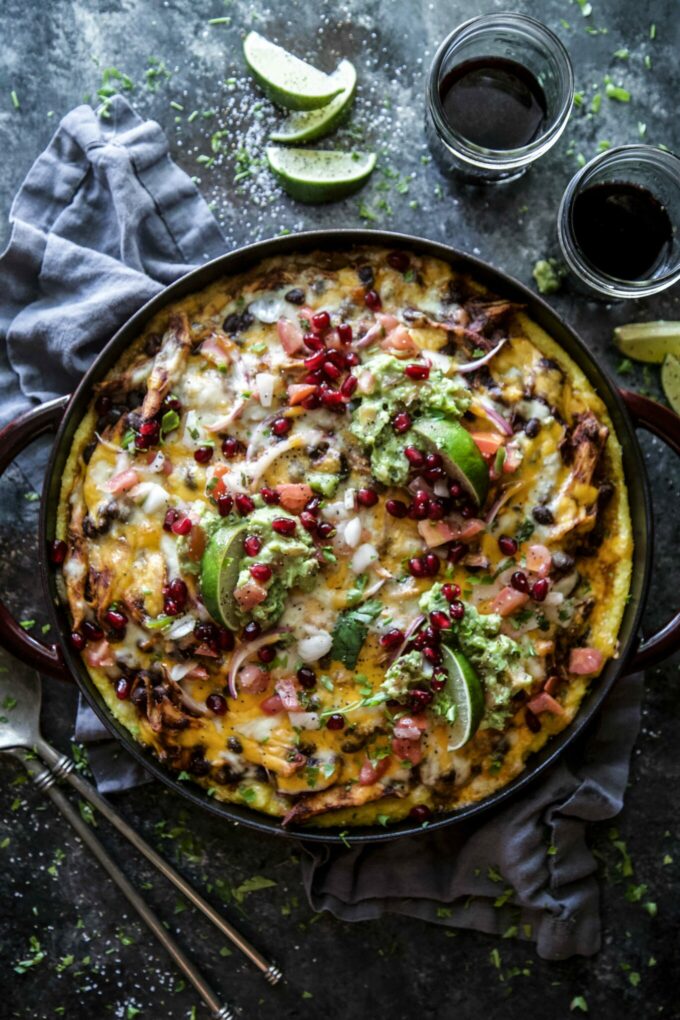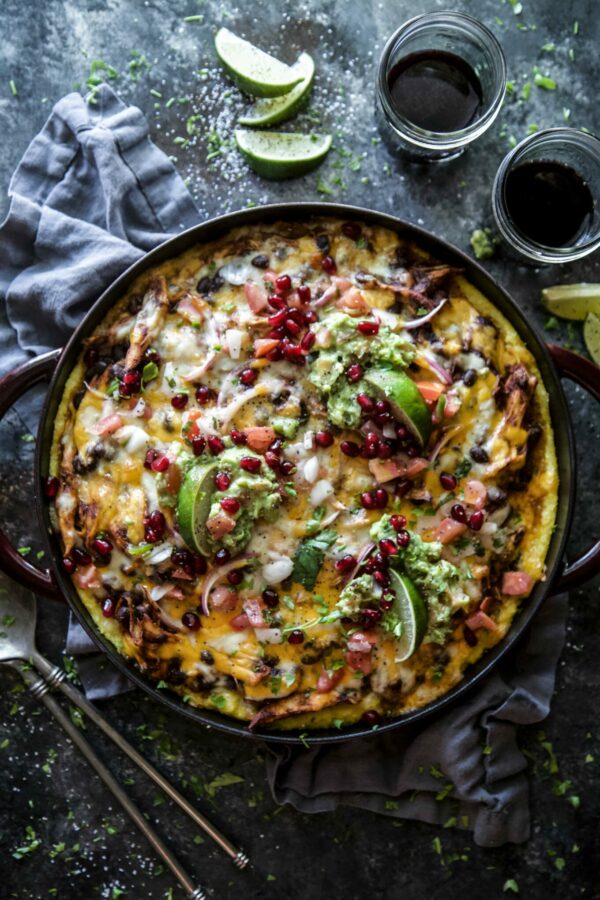 Leftover Turkey Tamale Pie
Ingredients:
for the polenta: 
3 cups water
1 cup quick cooking polenta
1 tbsp unsalted butter
1/4 cup whipping cream
1/2 cup shredded white cheddar cheese
salt and pepper to taste
for the turkey:
2 tbsp ground chili powder
2 tsp ground cumin
2 tsp ground coriander
2 tsp ground paprika
2 tsp garlic powder
salt and pepper to taste
2 1/4 cups leftover shredded turkey
1 cup leftover gravy
1 1/2 cups red enchilada sauce
1 15oz can black beans, drained, rinsed
1/2 cup leftover stuffing
1 1/2 cups shredded Mexican cheese
for the toppings:
avocado slices
radish slices
cilantro
sliced jalapenos
pomegranate arils
Directions:
for the polenta:
Add water to a large stock pot and bring to a boil. Pour the polenta into the stock pot and stir to combine. Continue to stir until the polenta has absorbed the water and is nice and thick. Turn off the heat and stir in the butter, cream, cheese, salt, and pepper.
for the turkey filing:
Preheat your oven to 375 degrees. Spray a non-stick, oven proof skillet with non-stick cooking spray. In a mixing bowl combine chili powder, cumin, coriander, paprika, garlic powder, turkey, gravy, enchilada sauce, black beans, stuffing, salt and pepper. Next, once the polenta is done cooking take the polenta and spread it into an even layer in the skillet. Pour the turkey filling on top of the polenta and spread it into an even layer. Top the filling with cheese and then bake for about 30 minutes or until the cheese has melted. Remove from oven and garnish with desired toppings!
All images and text ©