Carrot Apple Muffins with Citrus Glaze
Carrot Apple Muffins with Citrus Glaze are a healthy breakfast treat that are easy to make ahead of time for a meal on the go!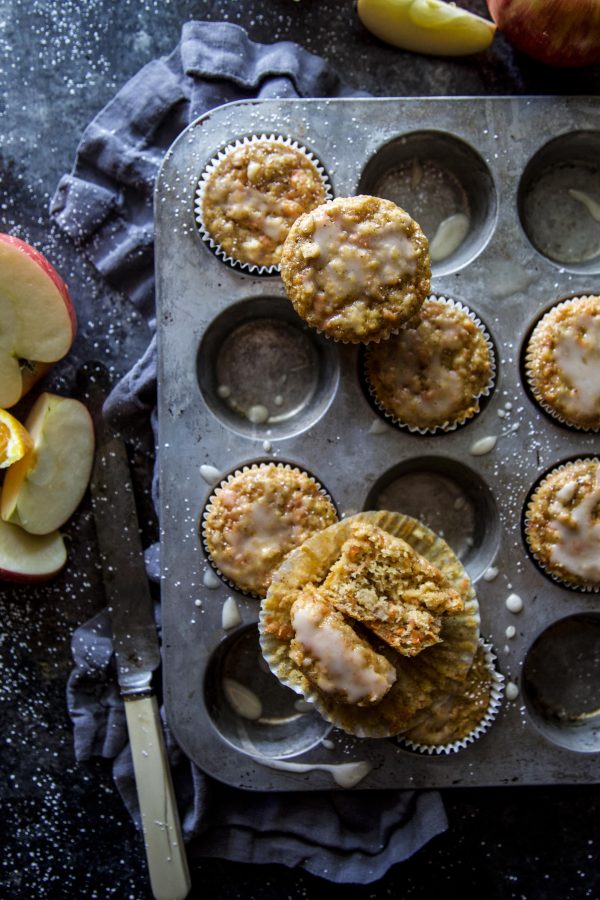 Whoa.
This Monday is coming in HOT, y'all.
Not only are we all trying to stay awake after consuming a giant turkey feast all weekend. BUT! It's December!!! Crazy, right?
Wait. Crap. Not to mention there are only two full shopping weekends left in December. With Thanksgiving being so late its really put on the added pressure to get gifts purchased and wrapped.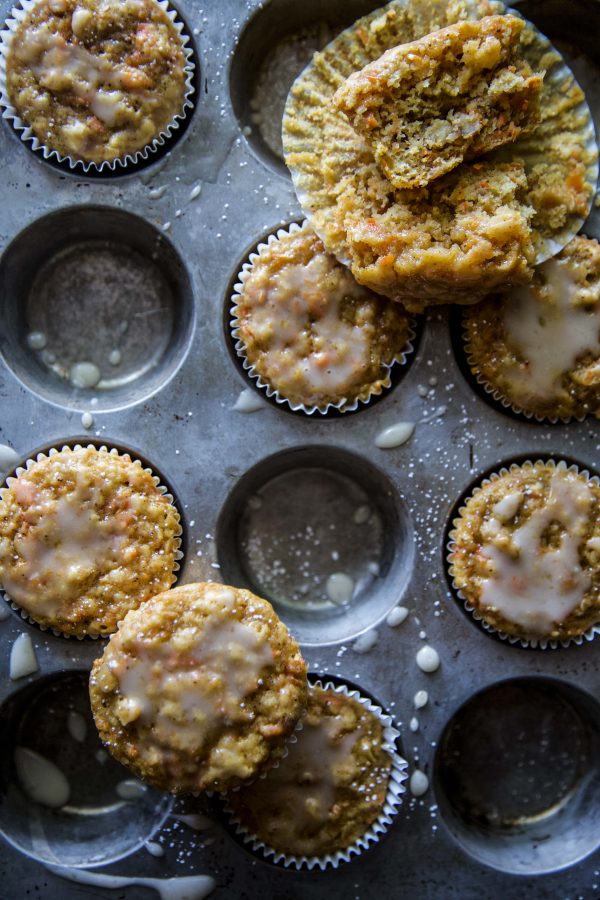 Maybe this kind of talk is a little heavy for this AM?
Let's chat about Thanksgiving holiday. How was it? Did you host or bring a side to a feast? We hit the road again for the Kansas tour. First stop, Manhattan then on to Kansas City then back to Manhattan. I will say we managed the long car ride with Charlie, Juniper, and 800lbs of stuff quite nicely. We get to do it all over again for Christmas so hopefully we will be pros by then. Fingers crossed.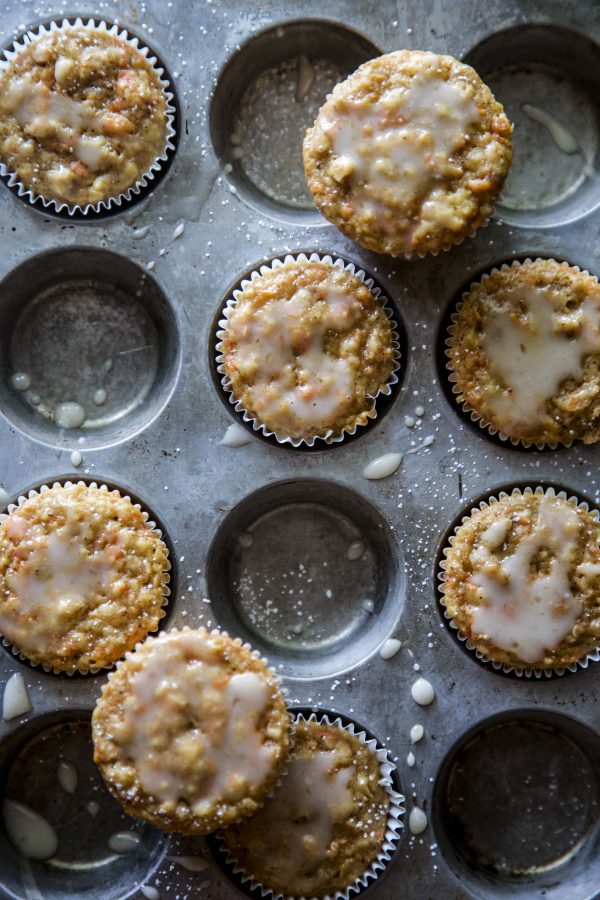 Since we've got a lot going on this Monday morning I figured we'd need an easy recipe to kick off the week. These Carrot Apple Muffins with Citrus Glaze ought to do the trick. Made with carrots and apples which means you are eating your fruits and veggies. Can you say wining? Plus, with the citrus glaze on top makes you feel as though you can show Monday who's boss.
Okay, I'm off to Christmas shop. Also, don't forget I have a few gift guides on the blog if you need some inspiration on gift giving!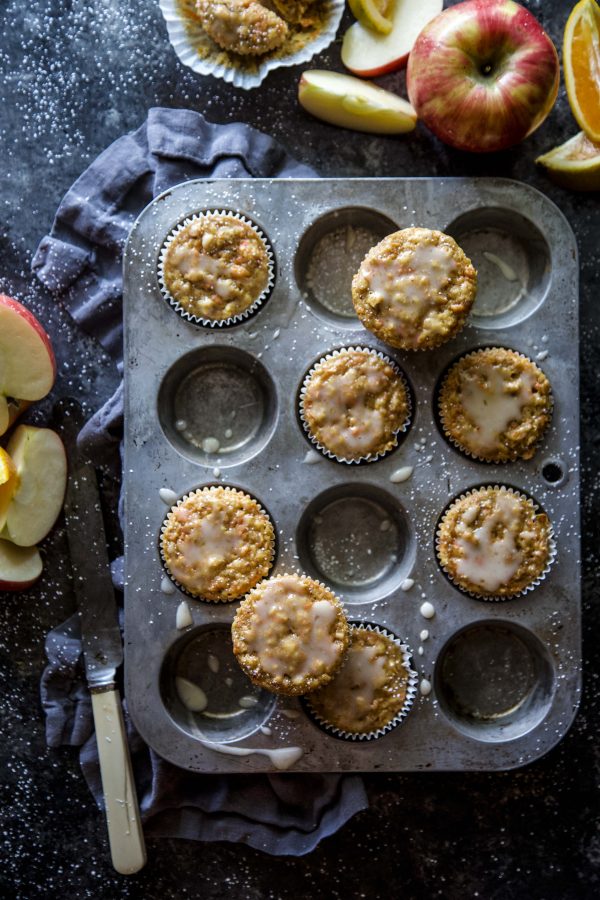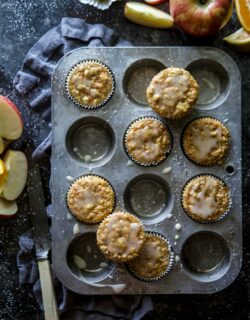 Carrot Apple Muffins with Citrus Glaze
Ingredients:
3/4 cup finely shredded carrot
3/4 cup shredded peeled apple
1/2 cup packed light brown sugar
1 1/2 cups all-purpose flour
1 1/2 tsp baking powder
1 tsp garam masala
1/2 tsp kosher salt
1/4 tsp baking soda
3/4 cup buttermilk
3 tbsp olive oil
1 tsp vanilla extract
1 large egg, whisked
1 1/2 tsp orange zest, plus 1 tbsp orange juice, divided
1/2 cup powdered sugar
Directions:
Preheat an oven to 375 degrees. Line a 12-cup muffin pan with cupcake liners.
In a large bowl combine carrot, apple and brown sugar. In another large bowl combine flour, baking powder, garam masala, kosher salt and baking soda.
Next, take the buttermilk, olive oil, vanilla, egg and 1 tsp orange zest to the carrot mixture and stir to combine. Take the carrot mixture and it to the flour mixture. Stir until all the ingredients are combined.
Divide the batter among the cupcake liners. Bake the muffins for about 20 minutes. Remove from oven and cool on a wire rack.
In medium bowl combine powdered sugar, orange juice and remaining 1/2 tsp orange zest. Drizzle the citrus glaze over the muffins and enjoy!
All images and text ©